Peanut Butter Frozen hot chocolate is an easy but rich blended drink that is creamy, decadent, made with hot chocolate mix, chocolate milk, peanut butter, and topped off with whipped cream and Reese cups.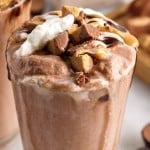 This version of frozen hot chocolate combines hot cocoa mix, with creamy chocolate milk, peanut butter, and mini Reese's that blended to perfection. This decadent treat can be enjoyed during the warmer months, through the holidays, or any time you are craving that hot chocolate taste.
If you've never tried a frozen hot chocolate recipe before, you are in for a real treat! Some like to compare it to a thinner Frosty you would get from Wendy's, while others may say milkshake. Either way, this frozen drink is a winner year round! The peanut butter flavor really takes the treat to a whole other level! You can use the leftover candy to make a peanut butter chocolate layer cake, which is sinful!
Looking for more peanut butter chocolate indulgence? Roll up some buckeye balls and plunk a few on top of this chocolate peanut butter cheesecake. Goodness, sooooo good.
For all my boozy friends, you would probably enjoy the Dirty Snowman a little better (spiked apple cider is always good too in the fall)! If you want something a little more traditional but fun, make a batch of hot chocolate bombs! Kids love these!
Why You'll Love This Frozen Hot Chocolate Recipe
Quick and easy!
Tastes amazing while still having hot cocoa flavors.
Great year-round.
Will satisfy an ice cream craving when you don't have any on hand!
What Ingredients do I Need for Peanut Butter Frozen Hot Chocolate?
chocolate milk – we prefer whole milk because it's creamier, but you can use dairy free if needed.
hot chocolate packets
mini peanut butter cups
creamy peanut butter
ice cubes
Whipped cream – can use canned whipped cream, homemade, or Cool Whip.
Hot fudge sauce
Pro Tip: High-speed blenders such as Vitamix work best for this recipe.
How to Make Homemade Frozen Hot Chocolate
COMBINE INGREDIENTS AND BLEND: Add all of the ingredients to a blender. Pulse until it's smooth and creamy.
GARNISH AND SERVE: Split the chocolate mixture into two tall glasses. Top with whipped cream, hot fudge, and chopped Reese's, and enjoy!
Other topping ideas include dark chocolate ganache, chocolate chips, chocolate curls, whipped cream and sprinkles, caramel, and white chocolate shavings.
To cut down on calories you can use low-fat or sugar-free milk, however, the drink will not be as creamy.
The easy way to make peanut butter drizzle: Microwave a couple of tablespoons of creamy peanut butter for 10 seconds.
You can use any size of Reese's cups. If you are using mini you will need 10, for the full size you will use 4 or 5, and you'll need about ½ cup if you are using the extra small ones.
To spike frozen hot chocolate, add Kahlua.
The recipe will make (2) 16-ounce servings or (4) 8-ounce servings.
Fun Fact
Ancient recipes of hot chocolate were actually savory instead of sweet and date back to the Aztec times.
Why is it called frozen hot chocolate?
Even though this drink is a cold, blended beverage it uses a hot chocolate mix (some make theirs with cocoa powder), which is the best of both worlds!
How long does frozen hot chocolate last?
We don't recommend storing this frozen beverage or making it ahead of time. Instead, whip it up just before serving.

More Tasty Beverages That Are a Must Try
Peanut Butter Frozen Hot Chocolate
Peanut Butter Frozen hot chocolate is an easy but rich blended drink that is creamy, decadent, made with hot chocolate mix, chocolate milk, peanut butter, and topped off with whipped cream and Reese cups.
Ingredients
2 cups chocolate milk
4 packets hot chocolate mix
½ cup mini peanut butter cups about 10 miniature Reese's, plus more for garnish
¼ cup creamy peanut butter plus more for garnish
3-4 cups of ice
Whipped cream
Hot fudge sauce for garnish
Instructions
Combine chocolate milk, hot chocolate mix, mini peanut butter cups, creamy peanut butter, and ice in a high-powered blender.

Pour between two tall drink glasses.
Notes
Storage:
Prepare this drink just before serving. Notes: Use a high-powered blender (Vitamix, Blendtech, etc.) to break down the ice into nice, even pieces. This is rich, peanut butter filled, and delicious. I recommend chocolate milk (whole milk) for an extra-rich drink, but you can also use low-fat milk and/or sugar-free chocolate syrup to cut back the calories. Any type of Reese's peanut butter cups can be used in this recipe. You need about 10 of the miniature size, 4-5 of the standard size, or simply measure out ½ cup of the extra mini Reese's. To make it easy to drizzle the peanut butter, simply microwave a couple of tablespoons for 10-15 seconds, or until runny.
Nutrition
Calories: 1713kcal | Carbohydrates: 318g | Protein: 54g | Fat: 62g | Saturated Fat: 22g | Polyunsaturated Fat: 13g | Monounsaturated Fat: 22g | Trans Fat: 0.01g | Cholesterol: 34mg | Sodium: 647mg | Potassium: 5314mg | Fiber: 157g | Sugar: 76g | Vitamin A: 6321IU | Vitamin C: 11mg | Calcium: 6020mg | Iron: 133mg