These easy no bake energy balls make a big batch using only a handful of ingredients and are a perfect healthy snack! Peanut butter oat balls have oats, honey, flaxseed meal, peanut butter, and even chocolate chips!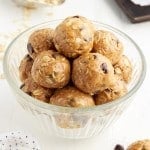 These tasty peanut butter oat balls make for an easy snack that calls for wholesome ingredients like oats, honey, flaxseed meal, and peanut butter, making them a healthier option and a good alternative to prepackaged snacks. The best part is that you don't have to turn the oven on, they can be made in so many different flavors, and they store well so it's perfect for meal prep!
Whether you need an energy boost, to satisfy a sweet tooth or a great pre-workout snack, this easy no bake energy ball recipe checks off all of the boxes! I love making these because it's an easy grab when we need a pick-me-up and the simple ingredients are much healthier than most snacks. Kids love these too, and no protein powder is needed since there is a decent amount of protein by using simple ingredients.
If you like these no-bake energy bites, you'll love trail mix bars, our buckeye balls recipe, and for something a little more in the dessert category, birthday cake cheesecake bars and lunch lady peanut butter bars. For another easy protein option, we love air fryer chicken bites or healthy deviled eggs.
Jump to:
🥜 Ingredients:
peanut butter – we like to use creamy kind so the balls are smooth. There's enough crunch with the chocolate chips!
honey – a great way to add more natural sweetness compared to sugar and helps to keep the bites together.
vanilla extract – just a tad brings the whole flavor profile together!
oats – old-fashioned oats work the best for these healthy energy balls. They add texture and have just the right amount of chewiness! Instant oats tend to get mushy, and steel-cut oats are way too chewy.
shredded coconut – toasted coconut would add a ton of flavor, but sweetened or unsweetened will work as well.
ground flaxseed meal – provides omega-3s, protein, and fiber, along with being easy to mix. Plus, whole flax seeds are harder for our bodies to digest.
chocolate chips – we used semi-sweet because they provide just the right amount of sweetness! Dark chocolate chips, milk chocolate, or white chocolate chips could be used as well.
For a complete list of ingredients and their measurements, please refer to the printable recipe card 📋 at the bottom of the post.
Equipment Needed:
Cookie scoop – this helps to make even-sized balls and is a little less messy.
Substitutions and Variations
Add-Ins – Cinnamon, nutmeg, raisins, cranberries, dried fruit, and M&Ms all make great additions.
Vegan Friendly – Swap the honey for maple syrup.
Gluten-Free – Use gluten-free rolled oats.
Nut Free – sunflower seed butter can be substituted for peanut butter.
Nut butters – while the flavor will change some, creamy almond butter, cashew butter, or pumpkin seed butter can be used in place of peanut butter.
Seeds – for more nutrition and added crunchiness, some like to mix in hemp seeds, chia seeds, and/or sunflower seeds.
Chocolate flavored – Mix in a little cocoa powder for a more chocolatey version.
Make energy bars – instead of rolling into balls, press the mixture into a greased dish and smooth it with parchment paper. Slice into squares once they have set.
🔪 Instructions:
Step 1: Mix the peanut butter, vanilla, and honey in a large bowl.
Step 2: Add the rest of the ingredients and stir until combined. Chill for 30 minutes in the refrigerator.
Pro Tip: If you toast your coconut, be sure it has cooled before folding it in so it doesn't melt the chocolate.
Step 3: Scoop the dough using a tablespoon or cookie scoop and roll between your palms to form balls.
Step 4: Serve or store the no-bake oatmeal energy bites in the fridge or freezer.
Tips for No Bake Peanut Butter Oat Balls
No-bake energy protein balls have to have binders for the base ingredients, but you can use almond butter along with the honey and achieve the same results.
Mixing the peanut butter, vanilla, and honey first isn't necessary, but it sure does make mixing the other ingredients easier!
Chilling the balls in the fridge helps all of the ingredients bind and also softens the oats. If desired, you can add rough scoops to a parchment-lined baking sheet, chill, then roll between your hands.
Your local grocery store will have the flaxseed meal in the section where gluten-free flour is found. It is ground flax seeds, and is easier to work with. Personally, I don't love whole flax seeds, but the flaxseed meal is great!
Fun Fact
Did you know that it takes about 540 peanuts to make a regular container of peanut butter?
Recipe FAQs
How to store peanut butter energy balls?
Keep the power balls in an airtight container or in ziplock bags in the refrigerator for up to 7 days. To freeze, place the balls on a baking sheet and into the freezer until they are solid. Then transfer them to a freezer bag and store up to 3 months.
Are peanut butter oat balls actually healthy?
Yes! No bake oatmeal balls have fiber, healthy fats, protein, and amino acids. They are a great way to sneak in healthy ingredients!
If you try these Peanut Butter Oat Balls or any other recipe on my website, please leave a 🌟 star rating and let me know how you liked it in the 📝 comments below.
Peanut Butter Oat Balls
These easy no bake energy balls make a big batch using only a handful of ingredients and are a perfect healthy snack! Peanut butter oat balls have oats, honey, flaxseed meal, peanut butter, and even chocolate chips!
Ingredients
1 cup creamy peanut butter
½ cup honey
2 teaspoons vanilla extract
1 cup old-fashioned rolled oats
½ cup coconut toasted optional, sweetened or unsweetened
¼ cup flaxseed meal
⅔ cup semi-sweet chocolate chips
Instructions
In a large mixing bowl, combine the peanut butter, honey, and vanilla extract. Add the remaining ingredients and stir to combine.

Refrigerate for 30 minutes.

Use a cookie scoop or tablespoon to scoop the "dough" and roll between your palms to form the energy balls.

Keep in an airtight container in the refrigerator.

Storage: Store in the refrigerator for up to 1 week or in the freezer for up to 3 months – use airtight containers to keep energy balls sealed.
Notes
Customize peanut butter oat balls to suit your taste preference – peanut butter and honey are needed for binding, but you could substitute almond butter if preferred. Add in cinnamon or nutmeg. Use toasted coconut for added flavor. Cranberries, raisins, M&Ms, or chopped dried fruit would all be great additions. You don't have to mix the peanut butter, honey, and vanilla first, but I feel like it helps combine those ingredients more evenly so that it's easier once you start stirring in the bulky ingredients. Refrigerating for 30 minutes before rolling the balls gives the ingredients a little time to bind together and soften the oats. You can also make rough scoops of the "dough" and lay it out on a parchment paper lined baking sheet then refrigerate and then give them a quick roll between your palms. The flaxseed meal is typically available in your local grocery store with the specialty flours like almond flour, coconut flour, or gluten-free flour. The consistency of the flaxseed meal is soft and easy to mix into the energy balls. The flavor is also more subtle than using whole flaxseeds. Flaxseed meal is an excellent source of protein.
Nutrition
Calories: 172kcal | Carbohydrates: 17g | Protein: 4g | Fat: 11g | Saturated Fat: 3g | Polyunsaturated Fat: 2g | Monounsaturated Fat: 4g | Trans Fat: 0.004g | Cholesterol: 0.4mg | Sodium: 58mg | Potassium: 150mg | Fiber: 2g | Sugar: 11g | Vitamin A: 3IU | Vitamin C: 0.1mg | Calcium: 18mg | Iron: 1mg