Cheesy bacon cheddar soup is made with only a few flavorful ingredients, is thick, creamy, and ready in under an hour! Top with bacon, chives, and cheese for extra richness!
It doesn't have to be a cold night to enjoy a big bowl of thick and creamy bacon cheddar soup! This recipe calls for simple ingredients and can be on the dinner table in just 45 minutes! Each bite is cheesy, comforting, and full of flavor!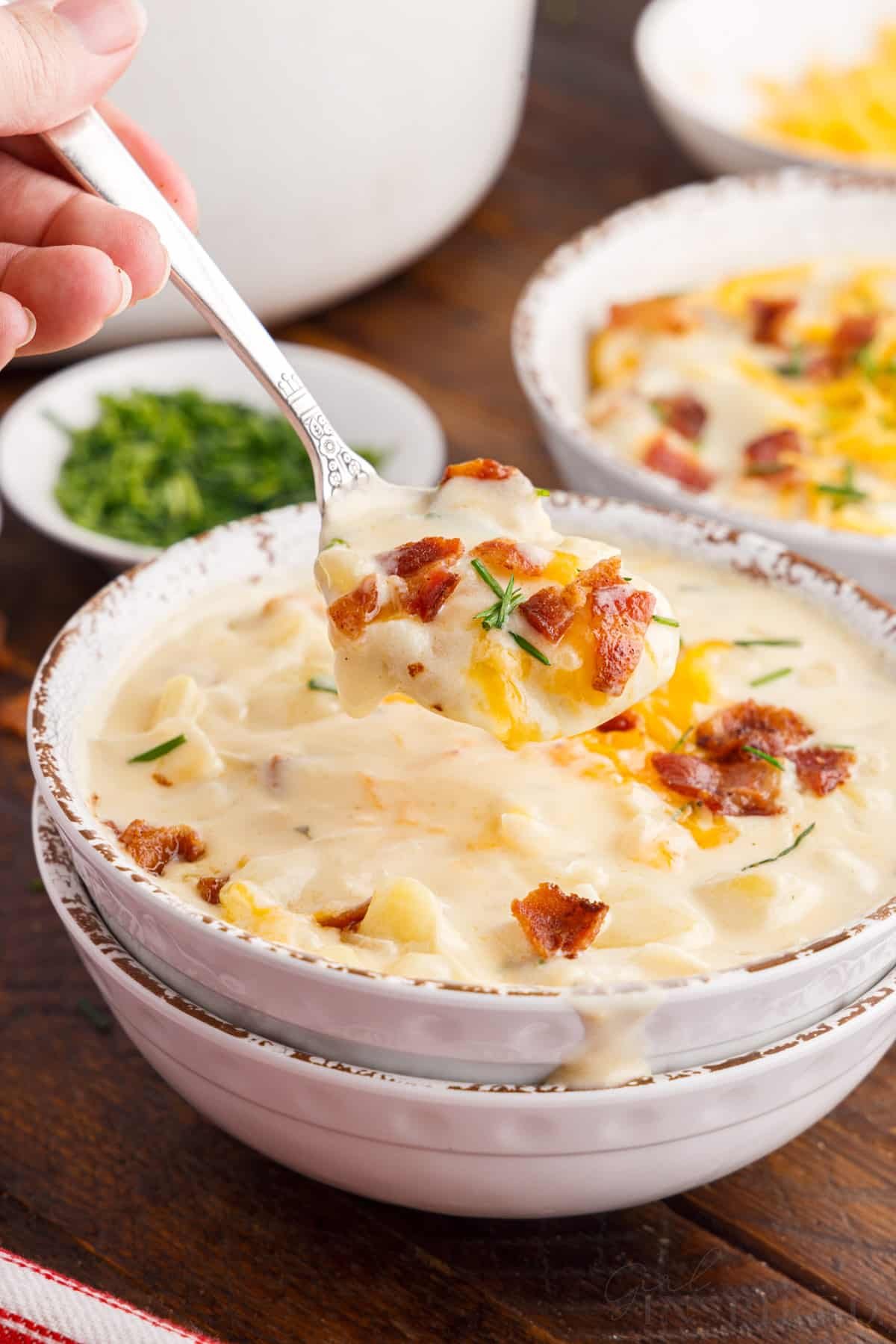 Good potato soup recipes can be hard to come by! So when the chilly nights sunk in, I decided to create the creamiest stove-top potato soup that is ready in just 45 minutes! It's such an easy dinner that the whole family can enjoy any night of the week. Because of all the choices of delicious fixings, it's also perfect for parties and game day.
Am I the only one that always has leftover potatoes? While you could go the classic route and use them for baked potatoes or mashed, I love making Duchess potatoes! They are so fancy (but simple) and great for special occasions. Another easy way to take them to the next level is Hasselback style or make-from-scratch wedges. If you would rather not eat soup alone, try jalapeno grilled cheese sandwiches or a simple salad.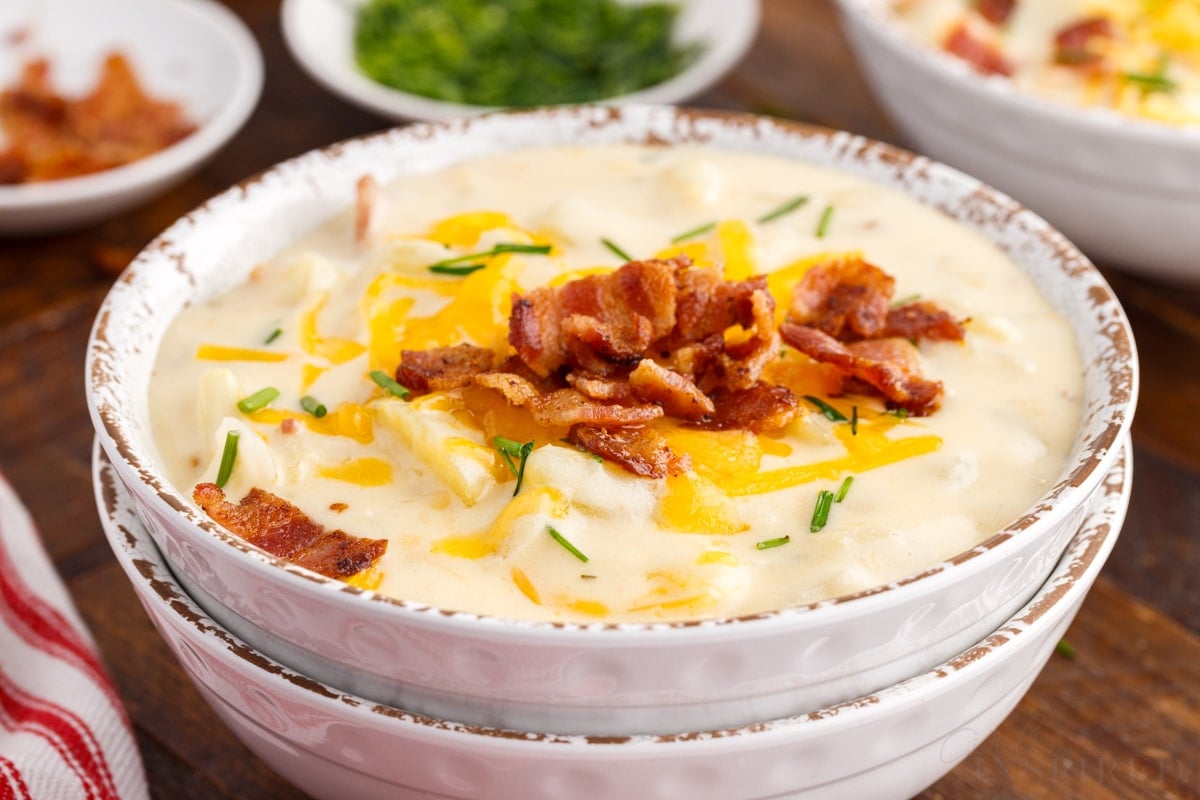 What do I Need for this Recipe?
🍜 Ingredients:
bacon – cook the bacon ahead of time so it's nice and crispy when it's time to stir it in.
unsalted butter – this is just our preference. Salted butter would work just as well.
onion – even if you don't love onions, cook them anyway! They add so much flavor and are super soft in the soup so you don't have to worry about the crunch.
minced garlic – if needed, use garlic powder instead.
Yukon Gold potatoes – we find these to be the best potatoes because they are so tender. However, Russet potatoes will also work. Both have almost the same amount of starch and are somewhat "all-purpose". They also fall apart less easily compared to other varieties, such as red potatoes (which have less starch).
salt and black pepper – taste before serving to see if you need a little more
all-purpose flour – this is the star ingredient for making the roux so the soup is thicker.
chicken stock – low sodium or vegetable broth will work.
milk – we prefer using whole milk for this recipe.
cheddar cheese – use medium or sharp cheddar cheese. For the best flavor, buy a block and shred it yourself!
heavy cream – half n half is also a great alternative. This just helps to get the creamy texture and reminds you of pure comfort food.
chives – adds a whole new layer of flavor and pairs perfectly with any potato recipe.
Optional Garnish:
Chives, cheese, extra bacon, sour cream, or green onions.
Equipment Needed:
Potato masher – we like leaving our potatoes a little chunky so the masher works perfectly! For a less chunky soup, you can puree in batches using a blender, or directly in the pot with an immersion blender.
Variations and Substitutions:
Vegetarian friendly – leave out the bacon and swap the chicken broth for veggie.
Slow cooker cheesy potato soup – Want to make this baked potato soup in your slow cooker? Follow my crockpot recipe! You can also use a pressure cooker (like the Instant Pot) on the slow cooker function to make it as well.
Add a kick – Sprinkle a dash of cayenne pepper or red pepper flakes for a spicier soup.
Lighter version – to cut down on a few calories, use reduced-fat milk and/or skip the heavy cream.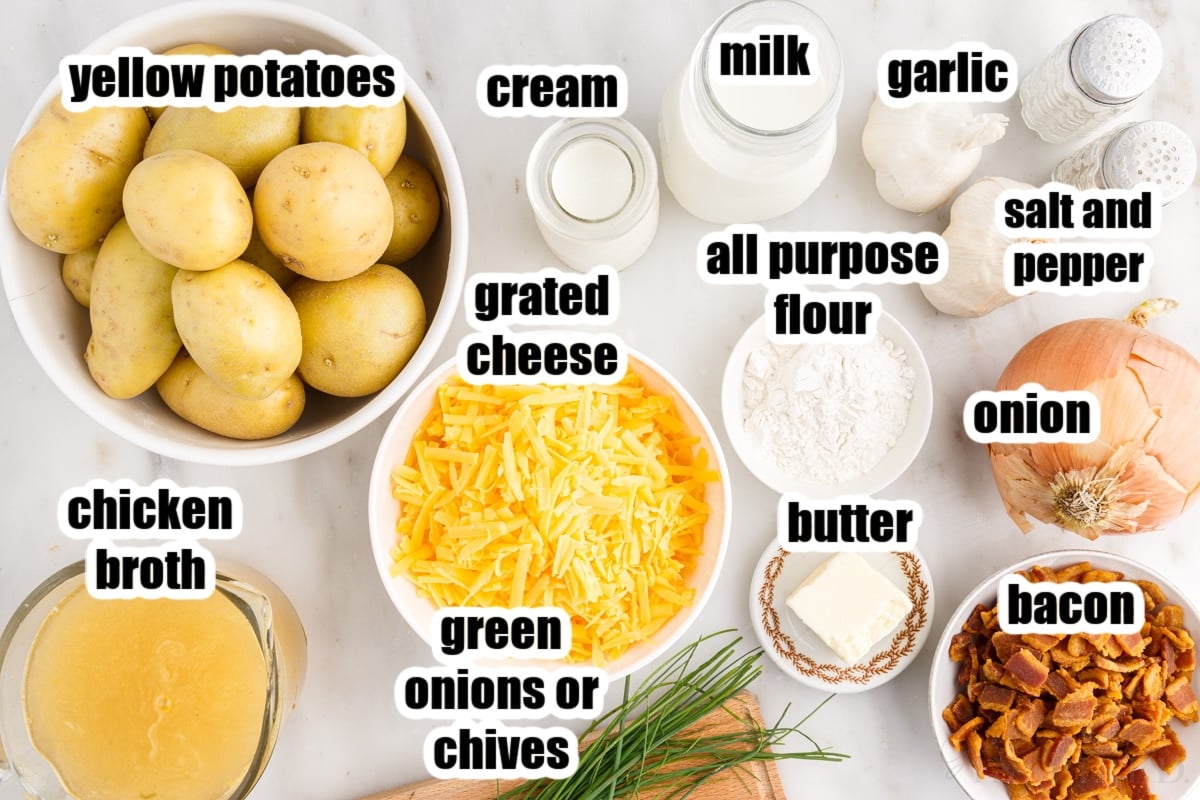 🔪 Instructions:
PREP: Rinse the potatoes and pat dry with a paper-towel. Peel and dice them into ½ inch pieces. Mince the garlic and finely chop the onion.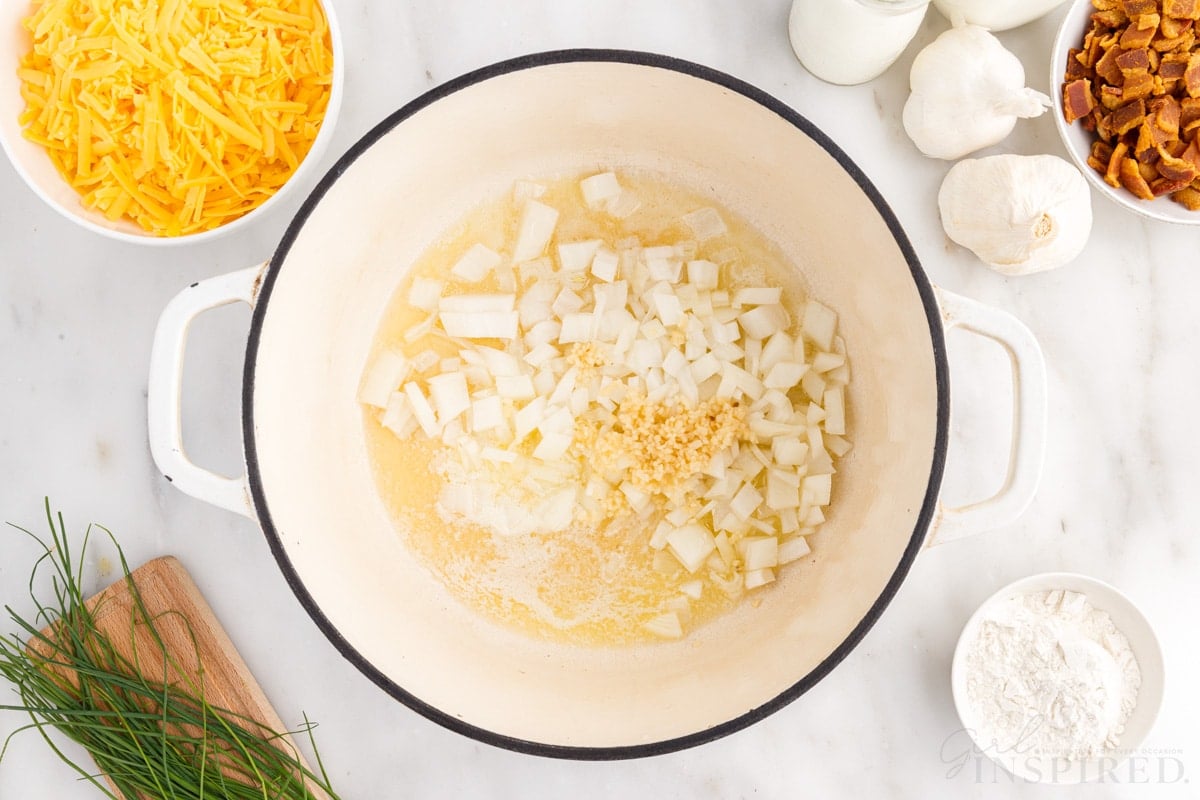 Step 1: Melt the butter over medium heat in a dutch oven or large pot. To add more flavor, stir in a tablespoon of reserved bacon grease. Add the onions and minced garlic, and cook until softened over medium-high heat.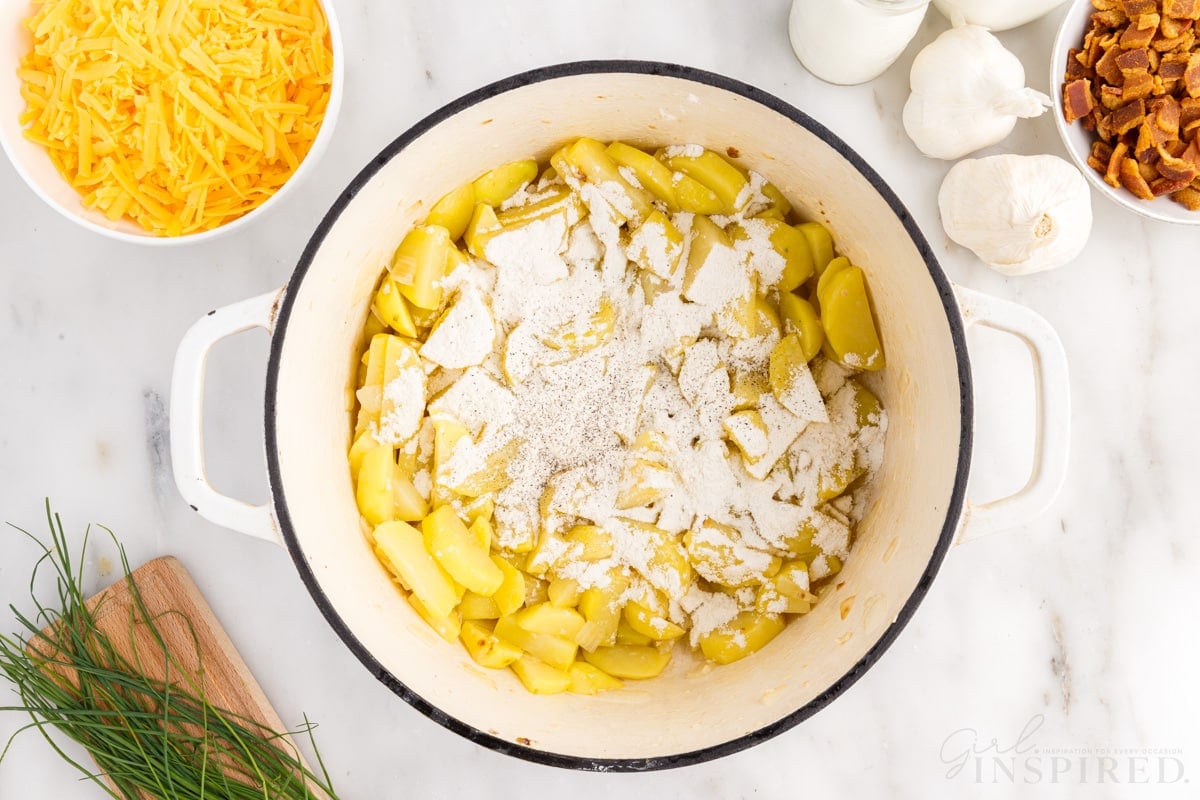 Step 2: Pour in the potatoes. Stir frequently while cooking until they are tender. Sprinkle the flour, salt, and pepper over top and stir so the mixture is evenly distributed.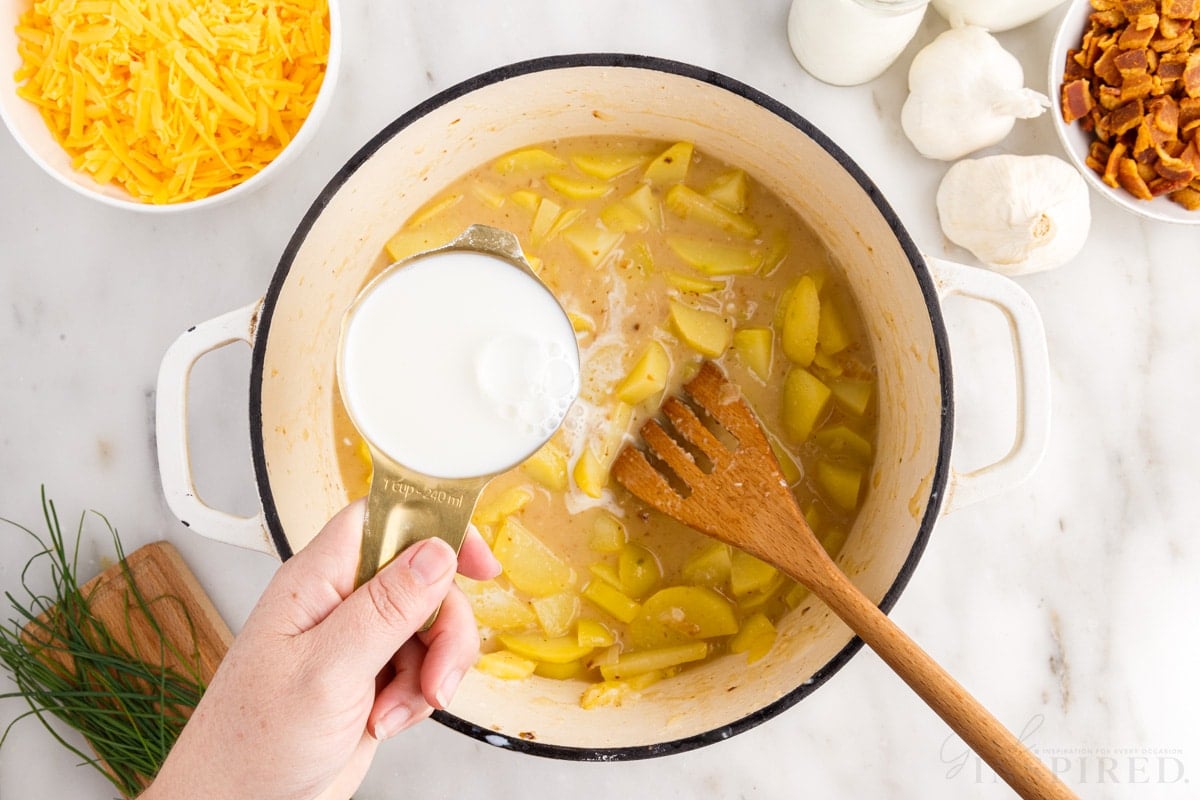 Step 3: Slowly pour the milk and chicken broth adding a little at a time. Stir occasionally to help the flour mix in with the liquid for a thicker soup.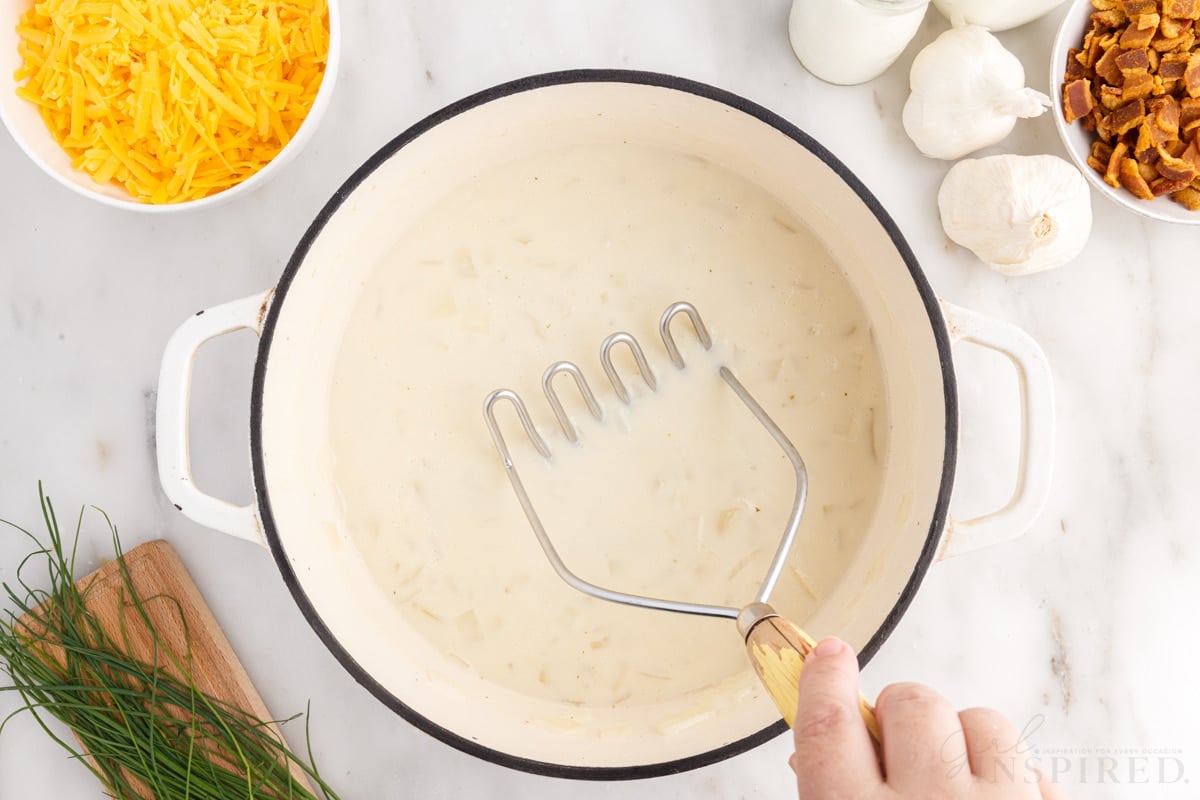 Step 4: Use a potato masher to break apart the chunks of potato. Mash a little or a lot! It just depends on the texture of the soup you would like.
Pro Tip: You can make crispy bacon in the air fryer or microwave and avoid the grease splatter! This is a great idea if you aren't going to use the fat for more bacon flavor.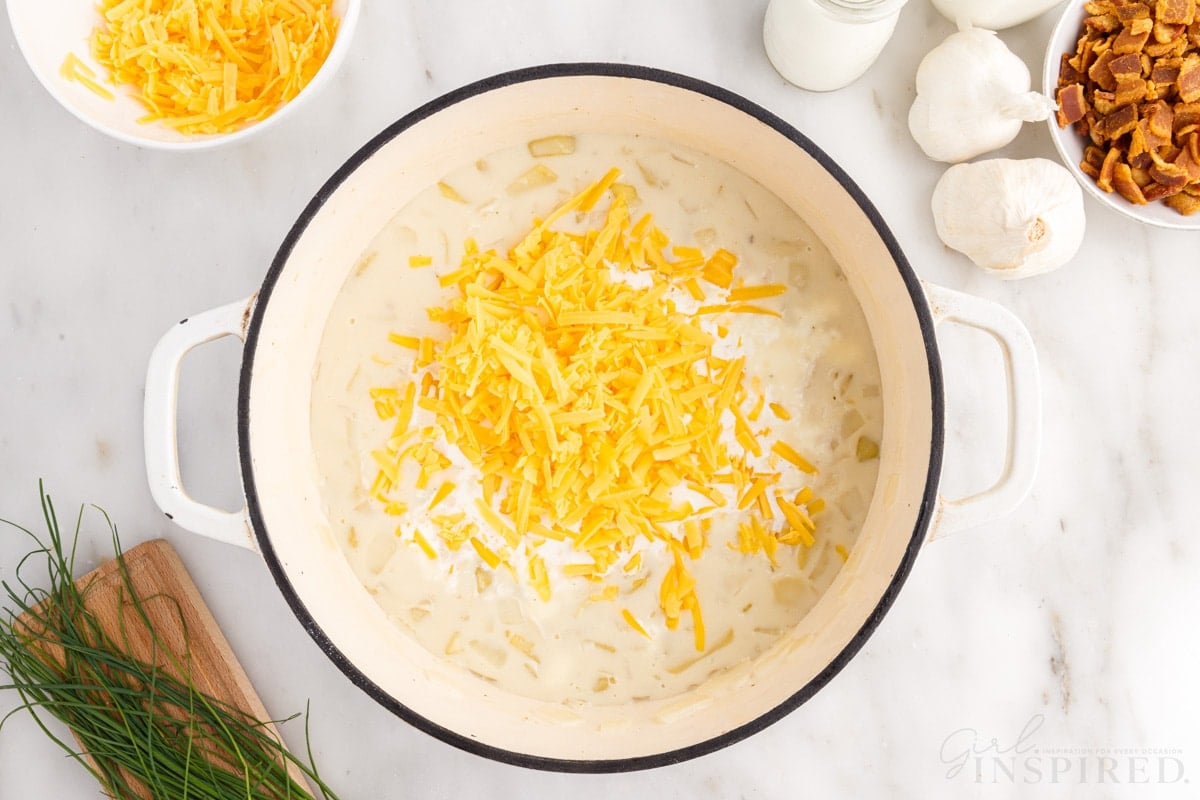 Step 5: Whisk in the heavy cream and shredded cheese while cooking over low until it has melted.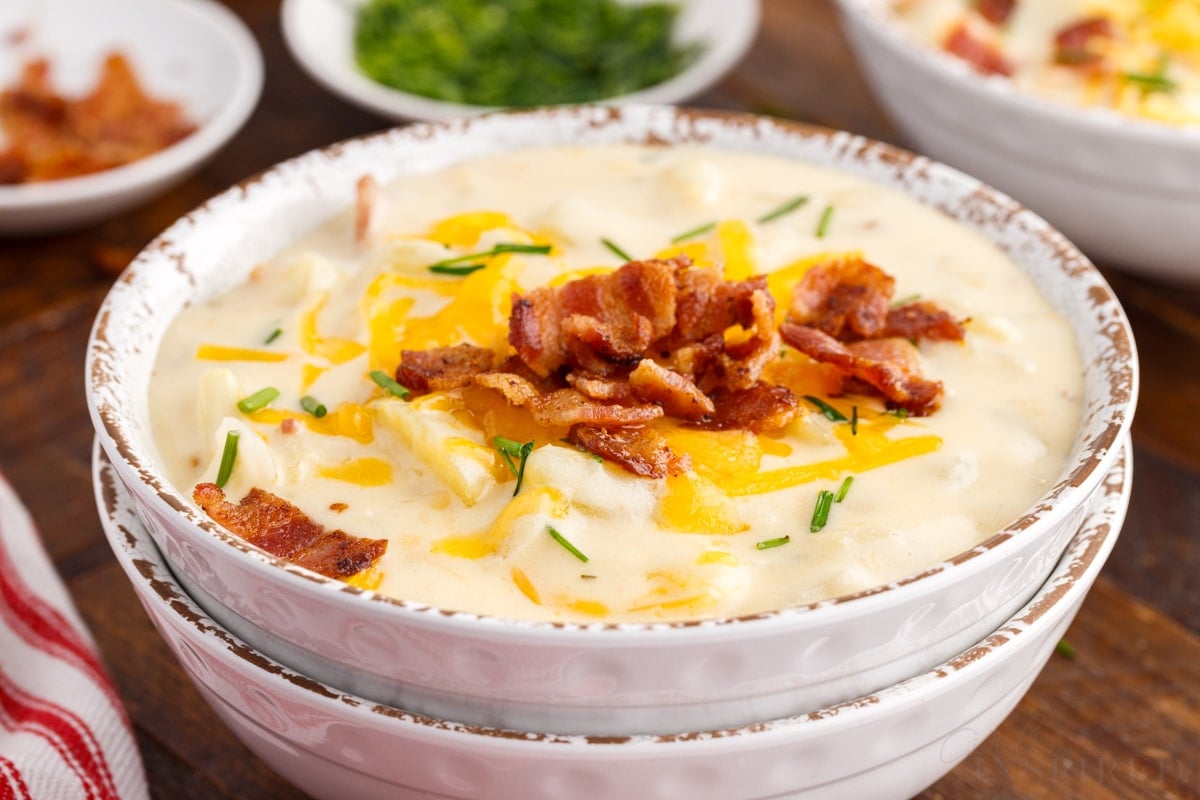 Step 6: Stir in half of the crisp bacon, saving the rest for a topping.
SERVE: Ladle the soup into bowls and serve with your favorite toppings such as extra bacon, chives, green onions, or sour cream.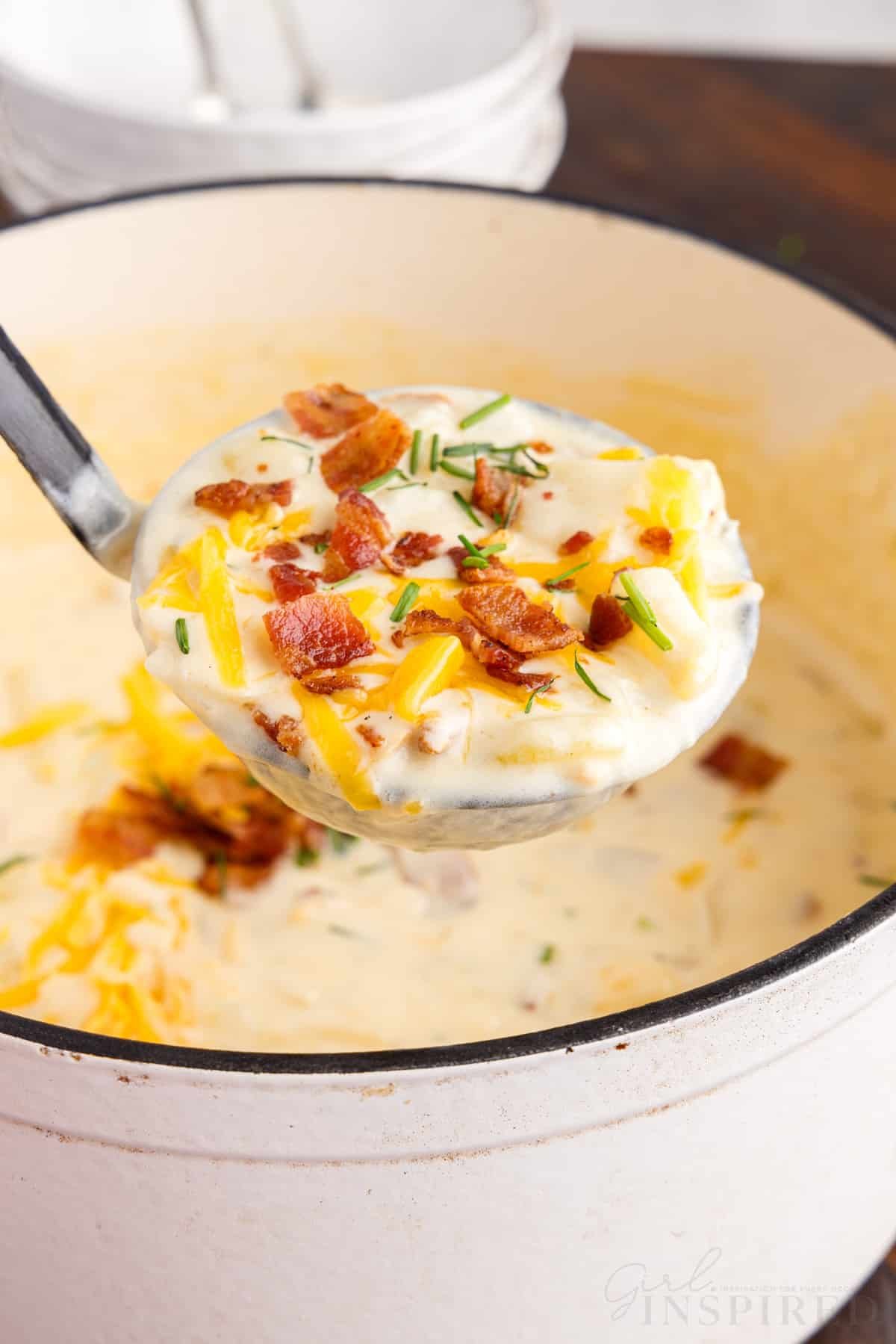 If you want to use a regular blender to puree the soup, you can work in small batches, then add everything back to the large soup pot before serving.
To get the best-rendered bacon fat, cook the bacon slowly over moderate heat in a skillet so you can save the grease, and remove the strips with a slotted spoon while still staying crisp.
Avoid turning up the heat too high when cooking the veggies. This will cause more sticking than you would like. Scrap the bits off the bottom to deglaze when adding the chicken broth. The browned bits add flavor but might change the color of the soup.
Fun Fact
Potatoes with sprouts are still okay to eat as long as they are firm when you squeeze them. Simply cut the sprouts off and prepare as usual!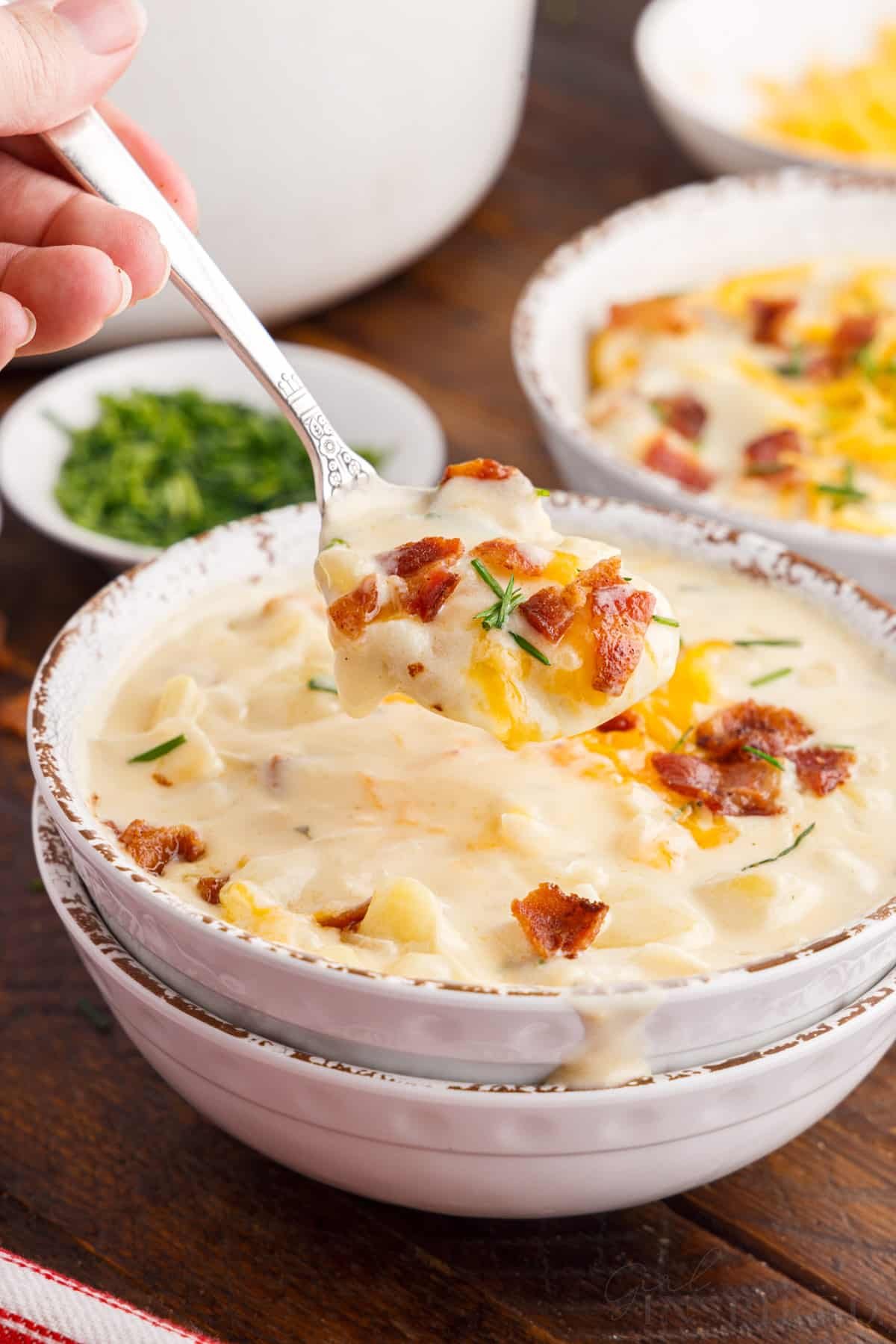 How to store creamy potato soup?
Keep leftovers in an airtight container in the refrigerator for 3-4 days. We do not recommend freezing potato soup because the dairy ingredients do not thaw well.
What cheddar cheese melts the best?
Because mild and sharp cheddar contains less moisture, they melt much easier (than extra sharp) and make for a nice texture.
Why is my potato soup watery?
This could be because you aren't using a thickener, such as flour or cornstarch. You also want to use liquids such as broth, cream, and/or milk to add creaminess and richness.
More Creamy Soups You'll Love
Bacon Cheddar Potato Soup
Cheesy bacon cheddar soup is made with only a few flavorful ingredients, is thick, creamy, and ready in under an hour! Top with bacon, chives, and cheese for extra richness!
Ingredients
½ pound bacon cooked and crumbled (reserve 1 tablespoon bacon fat, if desired)
4 tablespoons unsalted butter
½ yellow onion finely chopped
2 cloves garlic finely minced
2 pounds Yukon Gold potatoes peeled and diced into ½" pieces
½ teaspoon black pepper
1 teaspoon salt
⅓ cup all-purpose flour
2 cups chicken broth
2 cups whole milk
8 ounces grated cheddar cheese medium or sharp cheddar, plus more for garnish
1 cup heavy cream
½ cup chives finely chopped
Instructions
In a large stockpot or Dutch oven, melt the butter over medium heat. You can add 1 tablespoon of reserved bacon grease, if desired, to add flavor.

Add onions and garlic to the melted butter and saute for 2-3 minutes, until onions soften.

Add the diced potatoes to the pot, and cook, stirring frequently, over medium low heat. Cook for about 10 minutes, until potatoes are softened.

Sprinkle flour, pepper, and salt over the vegetables and cook 2-minutes more, stirring to cook the flour and distribute it evenly throughout the pot.

Slowly add the chicken broth and the milk to the pot, adding just a little at a time and stirring to combine the liquid with the flour, which will thicken the soup.

Simmer over medium low for 5-10 minutes more, until the potatoes are cooked through and are soft.

Use a potato masher to break apart the potato chunks – you can mash them quite a bit or just a little, depending on how chunky you want your soup.

Stir in the heavy cream and the cheddar cheese, cooking over low until the cheese is melted and the soup is thick.

Stir in ½ of the bacon pieces, reserving the rest for topping the soup.

Serve soup with reserved bacon, extra cheese, and chives.
Notes
Storage: Store in an airtight container in the refrigerator for 3-4 days. Do not freeze soup – the dairy products in the soup will not thaw well. Notes: Bacon grease in the soup is optional, but it does add another dimension of flavor and is recommended. Keep the vegetables cooking over medium-low heat. If the heat is too high, or if you do not stir, you'll get some sticking to the bottom of the pot. If there is some browning on the bottom of the pot, don't worry – it will incorporate into the soup once the liquids are added (the broth will deglaze the pan). Browned bits will add flavor to the soup, but the soup's appearance will not be as light and creamy. Burned bits on the bottom of the pan will make the soup bitter. If you have burned bits in your pan, I recommend transferring the cooked vegetables to another container, washing the pot, and then proceeding to add the chicken broth, milk, etc. Substitute vegetable broth for the chicken broth and omit the bacon for a vegetarian soup. You can use reduced fat milk and/or omit the heavy cream for a lighter soup.
Nutrition
Calories: 537kcal | Carbohydrates: 30g | Protein: 17g | Fat: 40g | Saturated Fat: 21g | Polyunsaturated Fat: 3g | Monounsaturated Fat: 12g | Trans Fat: 0.3g | Cholesterol: 104mg | Sodium: 921mg | Potassium: 715mg | Fiber: 3g | Sugar: 5g | Vitamin A: 1119IU | Vitamin C: 25mg | Calcium: 321mg | Iron: 1mg