These air fryer chicken bites are an easy way to get dinner on the table in less than 30 minutes, using minimal ingredients, and can be paired with any side dish.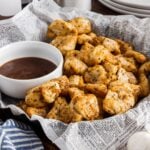 Boneless air fryer chicken bites are super simple to make, ready in 20 minutes. They are juicy, flavorful, and made with simple ingredients. They make a delicious appetizer and leftovers can also be used for salads and tacos.
Our whole family goes crazy for air fryer chicken nuggets. They are so good, budget friendly, are nice for a quick lunch and even make the perfect appetizer when entertaining. Even though I love good southern fried chicken, air frying is a healthier alternative and reduces the cooking time greatly, so this is a go to for busy nights and an excellent low carb option.
For a quick dinner, serve with Amish macaroni salad or make a baked potato in the air fryer. If you are making this air fryer chicken bites recipe for an appetizer, you can't go wrong with jalapeno poppers or pigs in a blanket. When serving at a party don't forget this party punch recipe and strawberry daiquiri jello shots.
Jump to:
🍗 Ingredients:
chicken – we like using chicken tenderloins because they thaw easily and you can cut them quicker. You can also use boneless chicken breast.
olive oil – plus extra for spraying the basket.
Seasoning: sea salt, ground black pepper, onion powder, garlic powder, smoked paprika, Italian seasoning
For a full list of ingredients and their measurements, 📋 please view my printable recipe card at the bottom of the post.
Optional Garnish: Serve homemade chicken nuggets with bbq sauce, homemade ranch dressing, honey mustard, or your other favorite sauce. These are also a great addition to salads and pasta.
Substitutions and Variations
Buffalo – once the crispy chicken bites come out of the air fryer, toss in Frank's Buffalo Sauce for an added zing of flavor.
Lemon Pepper – skip the other seasonings and coat the chicken with a lemon pepper seasoning blend.
Breading – for crispy air fryer chicken bites use the ingredients and method that I use for popcorn chicken (that recipe calls for bread crumbs), but skip the deep frying and use the air fryer. You could also use panko mixed with parmesan cheese for the outer crust. Spray the coated chicken pieces liberally with Pam or another non-stick cooking spray like avocado oil before cooking them in the air fryer.
Taco – use a packet of taco seasoning and olive oil instead of other seasonings.
BBQ – make a dry bbq rub then toss in sauce when they are ready.
Fresh Herbs – rosemary, thyme, and lemon would also be delicious.
Oven baked – add the coated chicken to a parchment-lined baking sheet. Bake at 375 degrees for 10-12 minutes. Flip and continue cooking until the internal temperature reaches 165 degrees.
🔪 Instructions:
PREP: Spray the air fryer basket with a light spritz of oil or non stick cooking spray.
PRO TIP: Brine the chicken pieces by soaking them in 1 quart of water mixed with 1 tablespoon of kosher salt for 15-20 minutes beforehand. Drain and dry pieces well. This will ensure extra moist chicken after cooking.
Step 1: Rinse the chicken and pat dry with a paper towel. Dice the tenders into bite-sized pieces and place in a medium bowl.
Step 2: In a small bowl, whisk the oil and seasonings together.
Step 3: Pour the mixture over the chicken chunks and toss to coat so each piece of chicken is totally covered.
Step 4: Add the chicken in a single layer to the air fryer basket.
PRO TIP: Patting the chicken dry in the beginning helps to get a crisp outside.
Step 6: Air fry at 380 degrees F for 8-10 times. Shake the basket halfway through.
SERVE: Garnish with parsley and serve with your favorite sauce or side dish.
Try to cut the pieces of chicken similar in size for even cooking.
If you have a smaller air fryer, or if you are doubling the recipe, you may need to work in batches.
Use a meat thermometer to make sure the internal temperature of the chicken reaches 165 degrees.
These reheat well and are a great option for meal prep.
Fun Fact
Air fried foods can have up to 80% less calories than those that are deep fried. Since the hot air circulates to cook, there's no need to drench the food in oil.
Recipe FAQs
How to store air fryer boneless chicken bites?
Keep leftover chicken bites in an airtight container in the fridge for 3-4 days. Reheat in the oven or air fryer. You can also keep the cooked chicken bites in the freezer for up to 2 months.
More Savory Air Fryer Recipes
If you tried this Air Fryer Chicken Bites Recipe or any other recipe on my website, please please leave a 🌟 star rating and let me know how you liked it in the 📝 comments below.
Air Fryer Chicken Bites
These air fryer chicken bites are an easy way to get dinner on the table in less than 30 minutes, using minimal ingredients, and can be paired with any side dish.
Ingredients
1 pound chicken tenders or boneless skinless chicken breast
2 tablespoons olive oil
½ teaspoon sea salt
¼ teaspoon ground black pepper
¼ teaspoon garlic onion powder
¼ teaspoon garlic powder
½ teaspoon smoked paprika
1 ½ teaspoon Italian seasoning
Instructions
Spray air fryer with non-stick cooking spray.

Rinse chicken and pat dry with paper towels. Cut chicken tenders into bite size pieces (1-inch pieces) and place in a large bowl.

Place olive oil, salt, pepper, onion powder, garlic powder, smoked paprika, and Italian seasoning in a small bowl and whisk to combine well.

Pour the seasoning mixture over the chicken and toss to coat all the pieces as completely as possible.

Working in batches to ensure the chicken is not overcrowded, place some (about half) of the chicken bites in the air fryer basket.

Cook at 380°F for 8-10 minutes, shaking chicken halfway through. Cook until the internal temperature of chicken reaches at least 165°F.

Serve with your favorite dipping sauce.
Notes
Notes: Cube the chicken so they are even in size. This way they cook evenly. If there are larger pieces, the small ones will dry out before the bigger pieces get done. Use whatever seasoning blend you would like. Choose olive oil or avocado oil. Try mixing it with taco seasoning or a bbq rub. We like using tenders because they thaw quickly and are easy to cut in bite size pieces, you can use chicken breasts as well.
Nutrition
Calories: 195kcal | Carbohydrates: 1g | Protein: 24g | Fat: 10g | Saturated Fat: 2g | Polyunsaturated Fat: 1g | Monounsaturated Fat: 6g | Trans Fat: 0.01g | Cholesterol: 73mg | Sodium: 423mg | Potassium: 441mg | Fiber: 0.5g | Sugar: 0.1g | Vitamin A: 171IU | Vitamin C: 1mg | Calcium: 19mg | Iron: 1mg