Charcuterie Cups provide a creative twist the everyday charcuterie board! Load clear plastic cups with assorted snacks of choice for a decorative and fun hand-held party appetizer.
Most are familiar with and have enjoyed the variety of snacks offered from a traditional charcuterie board but have you ever tried these same or similar snacks as Charcuterie Cups?! I've even heard them called….Jarcuterie! Ha!
Simply select the ingredients listed in my recipe and assemble them into clear plastic cups. Your guests get to walk around with their own cup of tasty snacks, not to mention what a fun and visually effective way this is to showcase your party appetizers!
I love taking a traditional recipe and putting a personal spin on it and these Charcuterie Cups sure do get some raving reviews for creativity and fun! Try it for yourself and let me know how it goes 🙂
If you want to give your charcuterie cups a holiday theme, be sure to include snacks such as these Sugared Cranberries!
What are Charcuterie Cups?
The French term "charcuterie" typically involves a decorative placement of mixed meats, cheeses, artisan bread, fruit, and nuts, on a serving plate/board as an appetizing assortment of snacks!
For this recipe, we assemble the ingredients using single-serving clear plastic cups instead. It's such a fun way to show off the various delicious ingredients, allowing each guest to walk around with their very own charcuterie cup!
After all, nothing quite says "party time" like a Charcuterie Cup!
Variations and Substitutions
Opt for different cheese ideas such as blue cheese, goat cheese, or cheddar. Anything that won't be too difficult to pick out of the plastic cups will work.
Instead of charcuterie cups, consider making "jarcuterie." Essentially, you'll assemble the snacks in a jar instead of clear plastic cups!
Add ham, pepperoni, prosciutto, or other deli meat instead of salami.
Walnuts, pecans, or other candied nuts can be used.
Other fresh fruit that would be delicious in these charcuterie cups include blueberries or strawberries, while dried fruit such as dried apricots would be equally great additions and add interesting textures.
Pickles are also great alongside both green and black olives.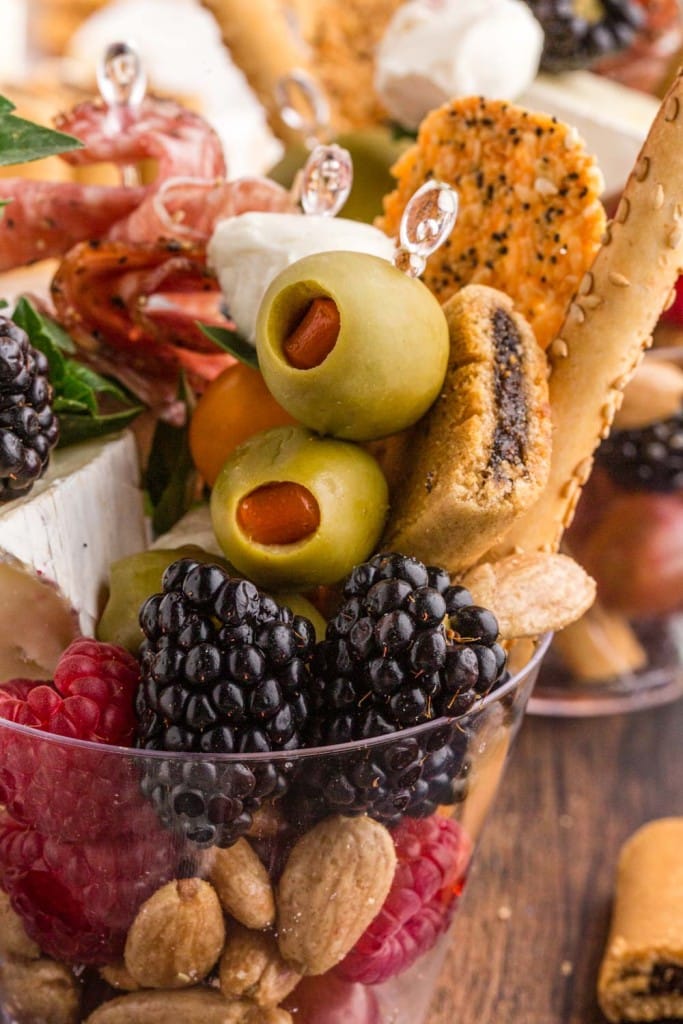 How Should I Store These Charcuterie Cups?
These Charcuterie Cups can be refrigerated until you're ready to serve them, keeping in mind that this is only intended to be for a short period of time, assembling them as close to serving time as possible for optimal ingredient freshness.

If you have any leftover charcuterie cups, simply disassemble them and store the components in airtight bags or containers. You can use up these ingredients in other meals or snacks for the days ahead.
How Should I Assemble Charcuterie Cups?
This may sound pretty obvious but the bulk of weight from your assembled cups will rest on the ingredients placed at the bottom of the cups.

It's therefore best to place the heavier, and more sturdy ingredients such as nuts, hard cheese, or dried fruit towards the bottom as a base in which you can wedge and balance softer, more delicate ingredients!
What Should I Consider When Selecting Ingredients for These Charcuterie Cups?
Unlike ingredients placed on a platter or board, the assortment of food items in these charcuterie cups is obviously going to be packed in together.

For this reason, it's best to opt for ingredients that are "dry" so that juices and flavors aren't mingling or going to compromise other ingredients in the cups. If you're going to use fresh fruits, just ensure that they have been positioned in such a way in the cups that they won't get squashed.
Tips For Making Charcuterie Cups
With the ingredient considerations in mind, still try to use a balance of meats, cheeses, crackers, nuts, and berries/vegetables. Honestly, the sky's the limit with what you could use. Feel free to add or swap ingredients based on your food preferences.
Opt for a mix of sweet and savory ingredients in your cups or stick with one kind!
If you want to jazz up any of your berries, consider dipping them into white or dark chocolate.
Serve your fully assembled Charcuterie Cups on an appetizer table. Add toothpicks and cute mini paper napkins that match your party theme.
Alternately, provide all of the fixings for these individual cups and allow guests to assemble their own snack in a cup!
For softer and smaller food items such as fresh berries, assemble on cocktail skewers or toothpicks. These can then be better positioned in the cups.
Have a few gaps in your Charcuterie cups? Consider adding in some fresh herbs on their stalks as decoration.
More Delicious Appetizers
More Addictive Appetizers to Try!
Charcuterie Cups
Charcuterie Cups provide a creative twist the everyday charcuterie board! Load clear plastic cups with assorted snacks of choice for a decorative and fun hand-held party appetizer.
Equipment
8 short clear plastic cups

1 package of toothpicks or food picks
Ingredients
10 ounce variety package of salamis I used peppered and felino salami
1 jar green and kalamata
4 oz. round of brie cheese
5 oz. rosemary and sea salt "fancy" almonds
8 oz. sugar snap peas
1 lb. red seedless grapes
12 oz. blackberries
12 oz. raspberries
3 oz. package of everything seasoned parmesan crackers
4 oz. package of sesame breadsticks
8 fig newtons
8 oz. fresh, mini mozzarella balls
fresh basil leaves
½ cup cherry tomatoes
fresh herb sprigs for garnish rosemary, lavender, basil, or oregano work well
Instructions
Open the packaging for all of your charcuterie components so that they are easily accessible while building your charcuterie cups.

Spread out your cups – the short plastic cups work well to hold plenty of goodies and also look impressive.

Fill the bottom of each cup with a few almonds (these are nice and dry so they won't mind the other components resting in them and they also weight down the bottom of the cup a bit.)

Add your tall components (in this case, the breadsticks.) The breadsticks will frame the back of the cup. Add crackers to the cup also.

Fold pieces of salami into fourths and poke onto a food pick. Line up 4-5 pieces of salami on each pick (or whatever fits). Tuck the salami picks into the charcuterie cup.

Cut the brie into eight wedges. Place a wedge of cheese and some berries or grapes onto a pick. Make cheese/fruit picks and add them to the charcuterie cups.

Make olive picks and add them to the cups.
Nutrition
Calories: 591kcal | Carbohydrates: 60g | Protein: 21g | Fat: 32g | Saturated Fat: 11g | Polyunsaturated Fat: 4g | Monounsaturated Fat: 10g | Trans Fat: 1g | Cholesterol: 52mg | Sodium: 1163mg | Potassium: 541mg | Fiber: 8g | Sugar: 29g | Vitamin A: 589IU | Vitamin C: 41mg | Calcium: 209mg | Iron: 4mg