A throwback to every kid's FAVORITE blue ice cream - full of bubble gum flavor and colorful bubblegum balls!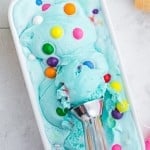 This homemade bubble gum ice cream recipe is a throwback to every kid's FAVORITE blue ice cream – full of bubble gum flavor and colorful bubblegum balls! This is a traditional ice cream recipe with eggs, milk, heavy cream, sugar, and bubblegum add-ins!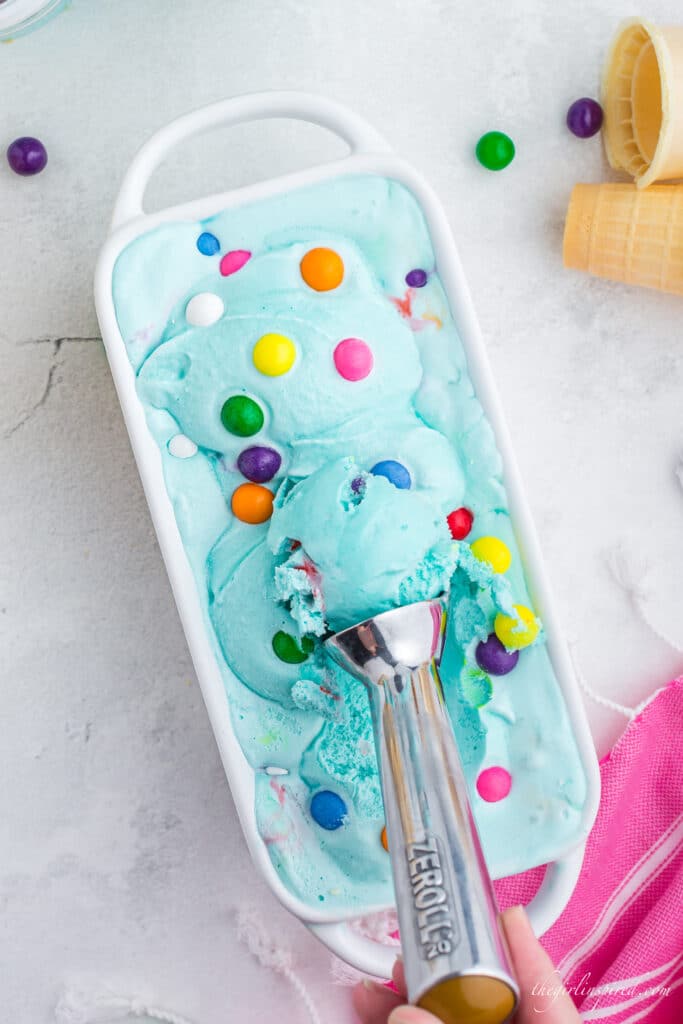 This classic, but easy recipe is bright and fun with a generous amount of bubblegum balls (affil) tossed into the mix for added visual effect, offering another layer of bubblegum flavor and texture to your scoop of ice cream!
We use our favorite ice cream maker (affil)- it is quick and compact. You simply freeze the tub for 24 hours in advance and then the ice cream maker does all the work and you can have ice cream ready to eat in 30 minutes!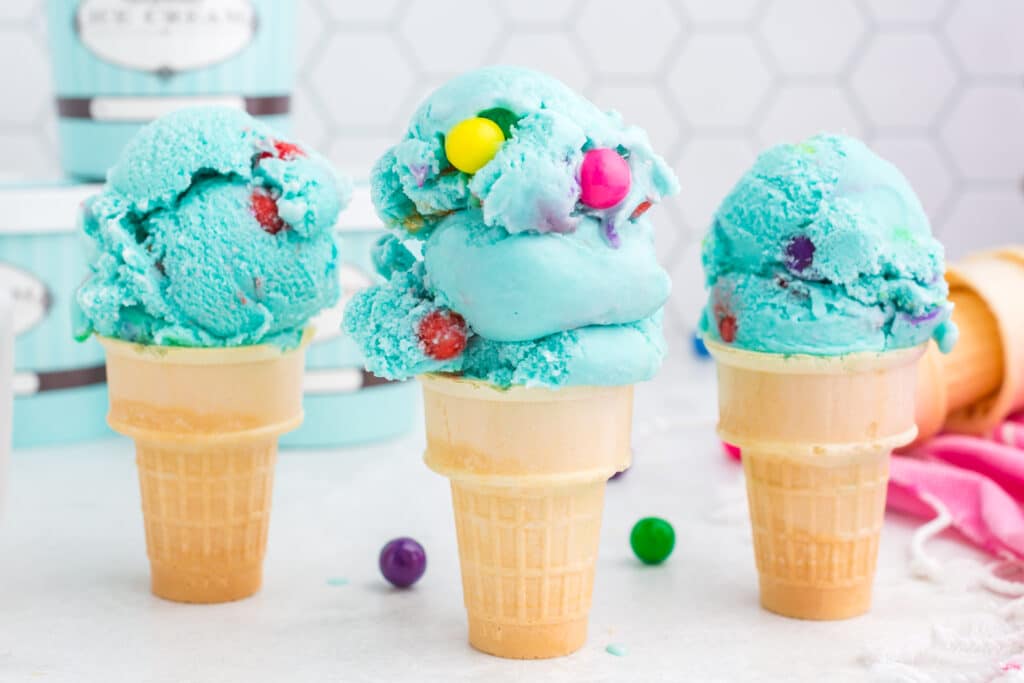 I think it's safe to say that you'll never go wrong serving ice cream as a delicious summer treat or dessert. After all, ice cream is pretty much loved by everyone!
Serve your blue bubble gum ice cream in sugar cones or waffle bowls to reduce cleanup or simply serve in a normal dessert bowl.
While this Bubblegum Ice Cream is always a hit at kids parties, I know quite a few adults (including myself!) who would be equally excited about this being served at the next backyard BBQ this summer! It is sooooooo good and nostalgic!
Alright, let's get to it! Use the table of contents above to navigate to the different sections in this post to answer all of your questions about this delicious bubblegum treat! Or skip on down to the recipe and get mixing!
Ingredients for this Ice Cream
This recipe uses fresh, real ingredients – milk, eggs, cream, and sugar – with the totally necessary and completely artificial flavor and bubblegum balls thrown in! haha! We found bubble gum extract and the bubble gum pieces right on Amazon (affiliate links included here) and added some blue food coloring in! The result was absolute perfection – just like the bubblegum ice cream from my favorite childhood ice cream parlor!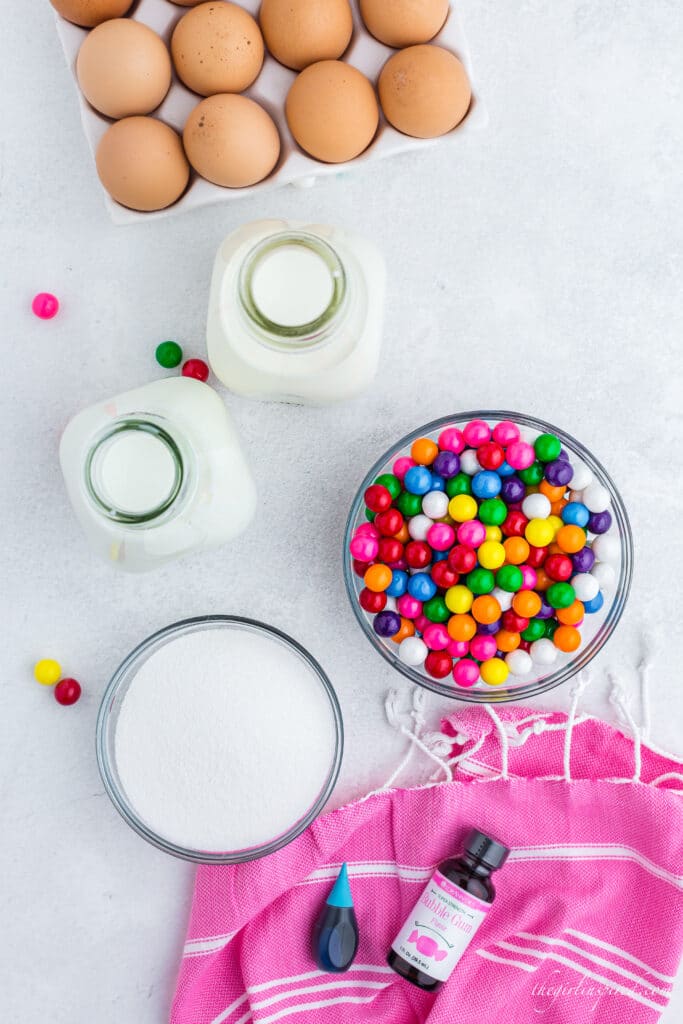 How To Make this Perfect Treat for Summer!
I know that a no-churn ice cream recipe might be all the rage right now, but I really love the flavor and texture from making ice cream in an ice cream maker that churns the liquid ingredients while freezing them into creamy ice cream perfection. The process is simple – we just whisk together all of the ingredients and then pour them into the pre-chilled carafe of the churner. If you want a super fun summer activity with the kids, use rock salt and ice and layer it up around an old-fashioned ice cream maker – I have such good memories making homemade ice cream with my parents as a kid!
I also have some tips for making ice cream without an ice cream maker at all, so check those out below if you like.
No matter how you make the ice cream base, I would recommend holding off completely on adding the actual gum balls until the ice cream is set and frozen. The artificial color on the gum ball coating will bleed into the ice cream. To avoid this, I froze my base in the ice cream maker and then scooped it into a loaf pan and sprinkled loads of gum balls between all of the scoops. Then, I stored the whole thing in the freezer to firm up one last time. This worked really well.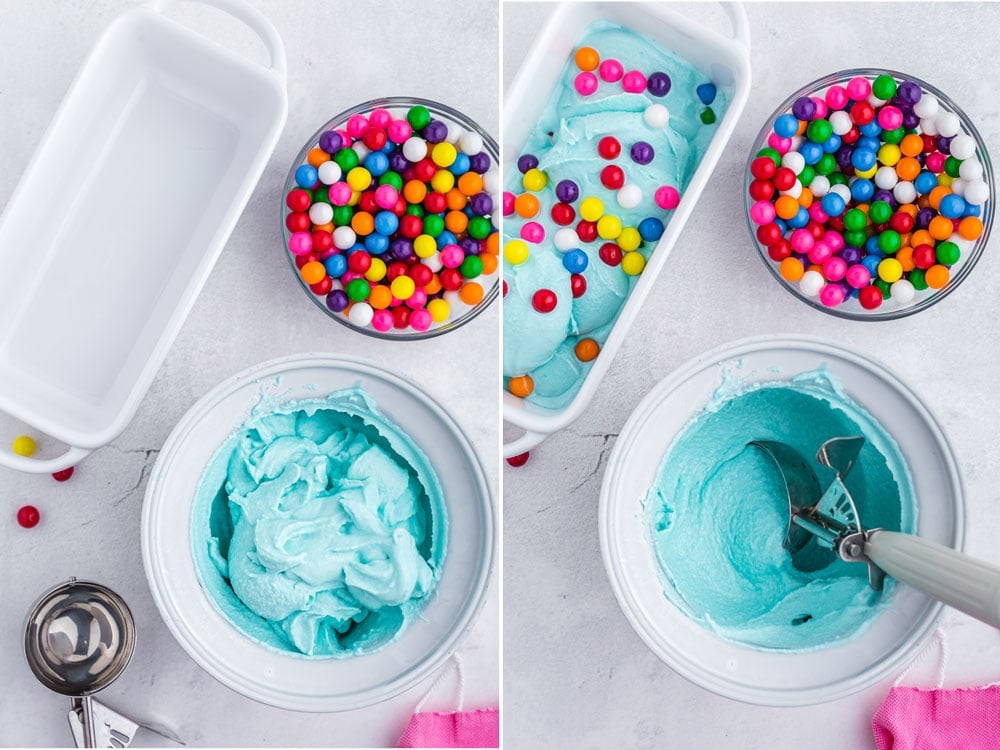 More Treats for Ice Cream Lovers
The Difference Between Bubblegum And Chewing Gum
Bubble gum was invented around 1928 as a less sticky and chewy gum recipe. It can be used to blow bubbles, hence the name "bubble gum", while chewing gum contains a lower gum base and is therefore only for chewing purposes.
Is It Safe To Eat The Bubblegum Balls In The Ice Cream?
Despite what many of us were told growing up, there isn't any harm in ingesting chewed gum. You can therefore opt to consume the gum with the ice cream, remove them or chew the gum and then discard it in between mouthfuls of your ice cream.
If you are serving this to young children who may choke on small food items, then it's definitely recommended to omit the bubblegum balls entirely from this recipe.
What If I Don't Have An Ice Cream Maker?
Don't have an ice cream maker? No problem! Here are two best alternative methods that you can make use of depending on your freezer space and the kitchen appliances available to you.
The best alternative method of making any ice cream without an ice cream maker is to do so using a food processor. Here's what you need to do:
Make up your bubblegum ice cream base and then freeze it flat in a Ziploc bag for about 2 hours.
Once frozen, break up your frozen ice cream base into chunks and give it a good pulse using your food processor.
Place your processed ice cream into a freezer-safe container and leave to freeze overnight. This method gives you as close a result as you'll get to an ice cream maker.
Of course, the first method depends on you having a food processor. If you don't, then the next best method involves an ice bath and hand mixer. Here's what you need to do:
You'll need to replicate an ice cream maker by using a large bowl filled with ice and ice cream salt and then a smaller bowl placed inside the larger bowl where you'll assemble your ice cream base.
Set the ice cream bowl into the ice bowl and mix with a hand mixer until the ice cream base freezes.
Then, place both bowls as is into the freezer for 45 minutes which will give you some delicious ice cream!
The downside to using this bowl-in-bowl method is the fact that it takes up quite a fair amount of freezer space and you will have to make more effort in making your ice cream this way as you'll essentially be building your own ice cream maker!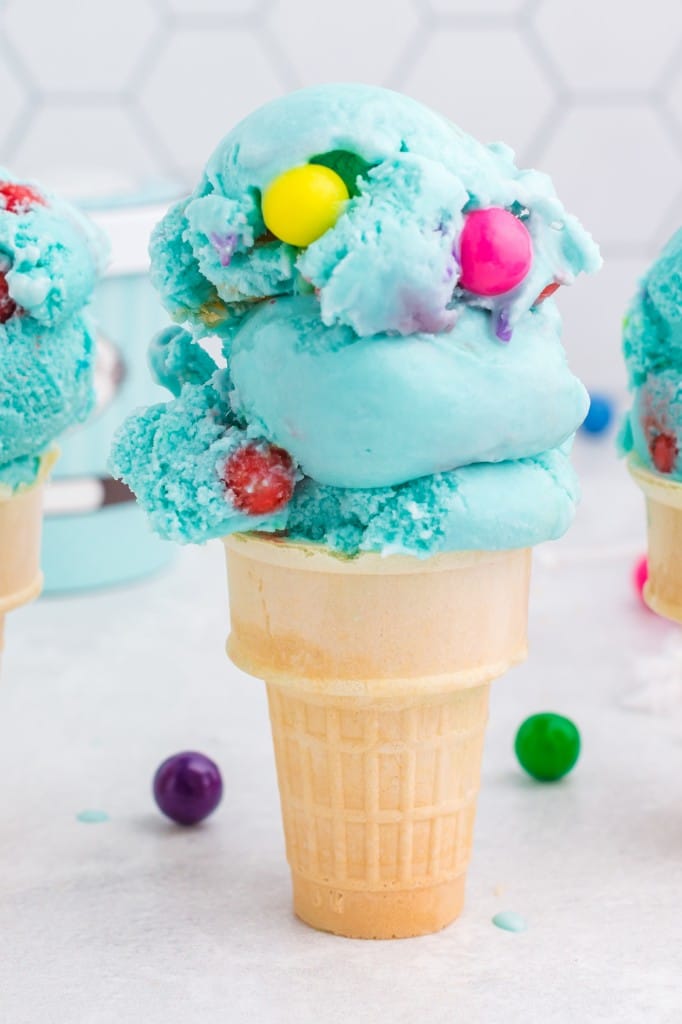 Can I Use Actual Bubblegum Instead Of Bubblegum Extract?
Absolutely! Replace bubblegum extract with real bubblegum if you don't mind the additional step involved.
Simply combine bubblegum pieces with warm milk in a medium saucepan, preferably a stainless steel pot (to help lessen the cleanup required from bubblegum residue sticking to your cookware). Simmer over the stove top while whisking.
The bubblegum will dissolve after about 15-20 minutes of cooking, leaving you with real bubblegum flavored milk that you can then combine with the other ingredients (once cooled down) to proceed with step 5 of my recipe directions.
While most of the bubblegum will dissolve, remove any remaining pieces by pouring the milk through a fine mesh strainer before adding to the other ingredients.
Tips For Making Bubblegum Ice Cream
Small food items such as the bubblegum balls can be a choking hazard for young children. You can easily omit these balls from the recipe if you are concerned about the risk.
While I love adding the blue food coloring for this bubblegum ice cream, you can opt to omit it. In fact, if you want to make a vanilla ice cream instead, then ditch the food coloring and bubblegum extract and rather add in vanilla extract. You could even make pink bubble gum ice cream!
Ice cream makers differ in terms of churn times and the length of time required to freeze your ice cream bowl so make sure that you follow the directions of your specific ice cream maker. With that said, you will need to plan ahead somewhat when making this bubblegum ice cream since it can take up to 15 hours to freeze your ice cream maker bowl.
Be gentle when folding in your gum balls as they can bleed if mixed with a heavy hand which could affect the beautiful and bright blue color of the ice cream.
Feel free to adjust the amount of bubble gum flavoring to customize this cold treat just the way you like it!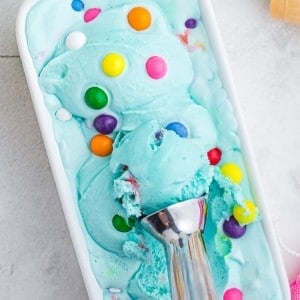 Bubblegum Ice Cream
A throwback to every kid's FAVORITE blue ice cream – full of bubble gum flavor and colorful bubblegum balls!
Ingredients
2 large eggs
1 cup granulated sugar
2 cups whole milk
1 cup heavy whipping cream
1 ½ teaspoons bubblegum extract
2-5 drops blue food coloring
2 cups bubblegum balls
Instructions
Add sugar and continue whisking until mixture has thickened.

Add milk and heavy cream and whisk until combined.

Transfer mixture to the chilled bowl of an ice cream maker and churn until ice cream thickens and mixer slows or stops.

Scoop spoonfuls of thickened ice cream and layer with bubblegum balls into a freezer-safe container. (Be careful stirring in the bubblegum balls as the color will bleed.)

Freeze ice cream for 24 hours to harden well.
Nutrition
Calories: 346kcal | Carbohydrates: 59g | Protein: 3g | Fat: 11g | Saturated Fat: 7g | Polyunsaturated Fat: 1g | Monounsaturated Fat: 3g | Trans Fat: 1g | Cholesterol: 70mg | Sodium: 59mg | Potassium: 97mg | Fiber: 1g | Sugar: 44g | Vitamin A: 476IU | Vitamin C: 1mg | Calcium: 77mg | Iron: 1mg