Learn how to make delicious cake mix donuts using a few simple ingredients and a box of cake mix.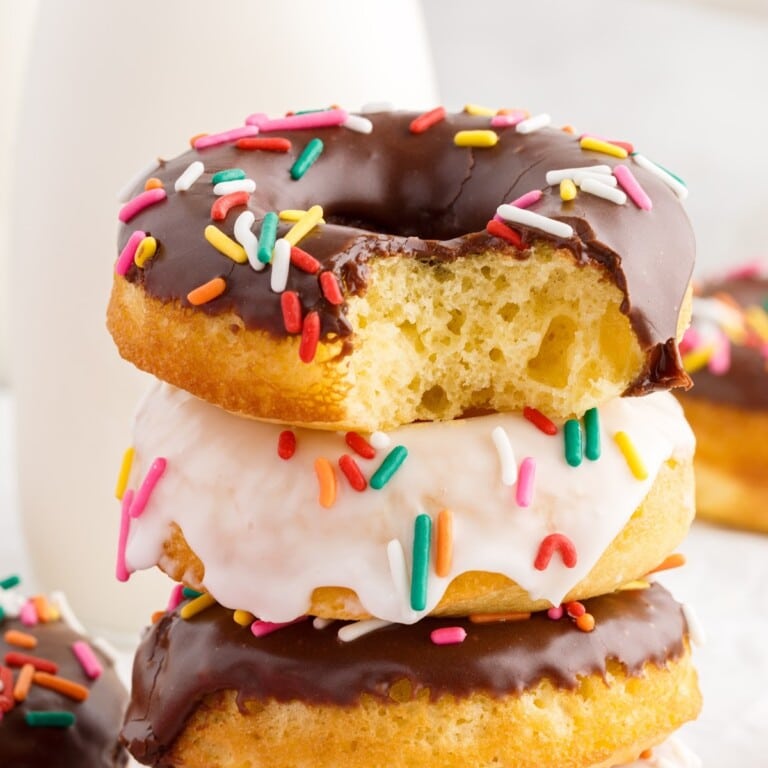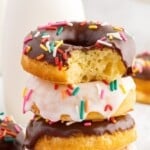 These easy cake mix donuts require minimal ingredients that you probably already have on hand and are so simple to make. No deep frying required! Their cupcake-like texture pairs perfectly with a simple glaze and makes the best sweet treat. So grab a box of cake mix and let's get baking!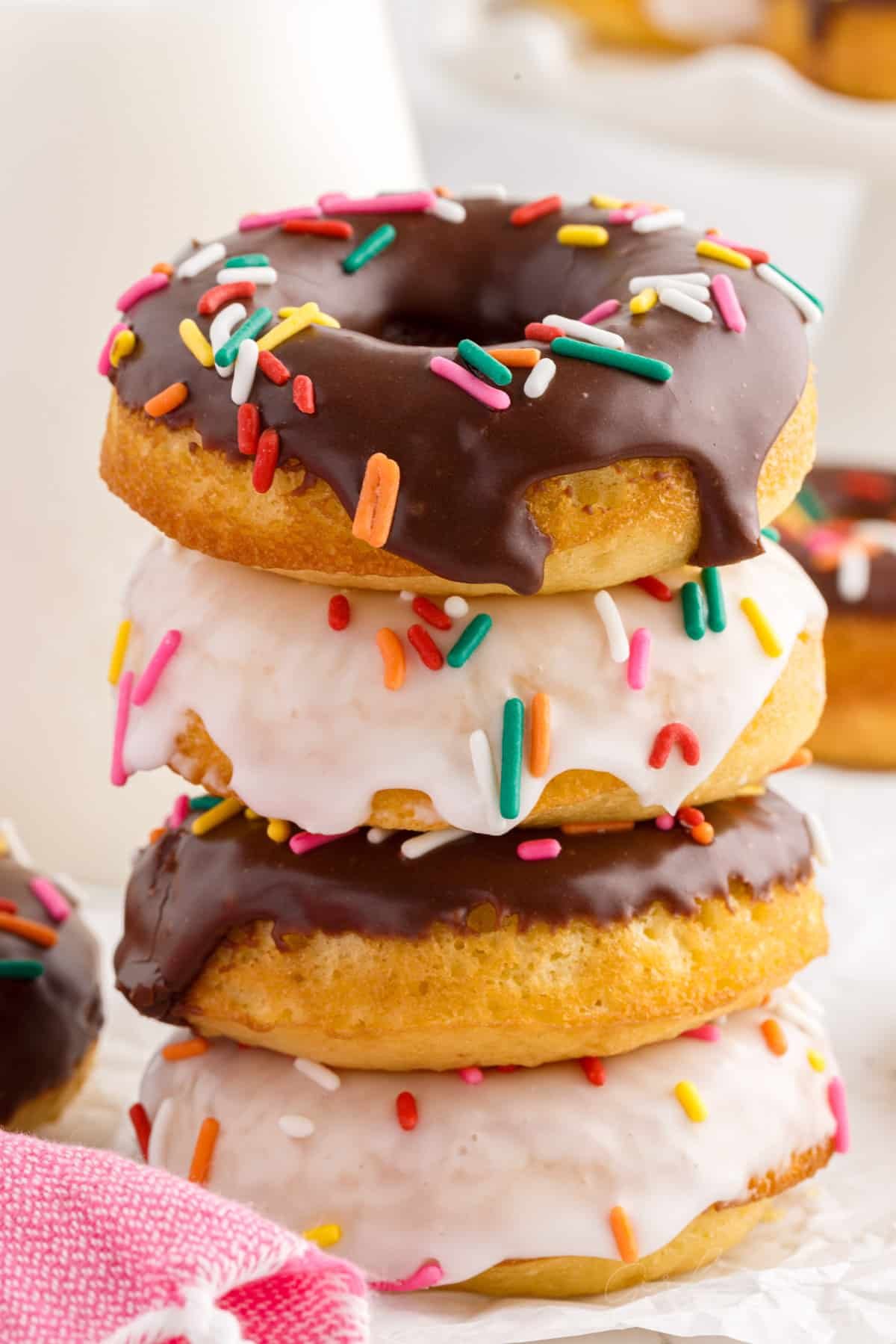 Even though I am a huge fan of regular donuts, these are such an easy recipe, I can't pass them up. The nice thing is that you don't have to deal with deep frying and one batch is ready in less than 30 minutes.
You thought these were simple… did you know you I have a recipe for 2-ingredient applesauce donuts? They are amazing and perfect when you don't have the other ingredients on hand. I also have a super cute tutorial on how to make beehive stacked donuts, without any fancy equipment! These can jazz up a dessert table and are great if you are hosting a bee-themed event. When Fall rolls around, I make my two ingredient pumpkin donuts on repeat.
For more sprinkle-coated favorites, try our Funfetti cake recipe!
Jump to:
🍩 Ingredients:
box cake mix – we used yellow cake mix. See the variations for other flavors that pair well together.
oil – the best oil to use is vegetable or canola because it's neutral and doesn't overpower other ingredients.
milk – most of the time we prefer to use whole when baking. The extra fat content adds flavor and provides great texture. You can use milk with lower fat content. We haven't tested this recipe with non-dairy milk alternatives, but any of your favorite milk substitutes should work; you can even use water.
eggs – room temperature eggs will incorporate best into the batter and also incorporate more air, giving better rise to the donuts.
sour cream – keeps the donuts moist and fluffy similar to a cupcake.
Chocolate and Vanilla Glaze:
powdered sugar – add sweetness
milk – thins the texture; you can use half 'n' half or heavy cream as well.
unsweetened cocoa powder – omit if you only want to make the vanilla glaze.
For a full list of ingredients and their measurements, 📋 please view my printable recipe card at the bottom of the post.
Optional Garnish:
Use our simple glaze for the tops of the donuts, then decorate with sprinkles according to the occasion!
Equipment Needed:
Donut pan – this is the donut pan that I use (aff)
Substitutions and Variations
Store-bought frosting – I really like the glaze, but frosting goes nice with the cake-like texture and flavor. You can warm it in the microwave and use it like a glaze too if you don't want to mess with making it from scratch.
Cake Mixes – feel free to swap out the cake mix for your favorite. Kids love Funfetti cake mix with rainbow sprinkles on top. Red velvet and spice cake mix pairs well with a cream cheese buttercream frosting.
Mini Donuts – use the mini sized donut pan. Follow the same instructions but expect double the amount!
Special Occasion – tint the glazes with gel food coloring and use different sprinkles depending on the celebration. Use pink or red coloring for Valentine's Day. You can also decorate them with the chocolate glaze and add spooky Halloween sprinkles.
Toppings – go beyond colorful sprinkles and top them chocolate chips, cookie crumbles, shredded coconut, or regular nuts.
🔪 Instructions:
PREP: Preheat the oven to 350 degrees and grease the donut pan with non stick cooking spray.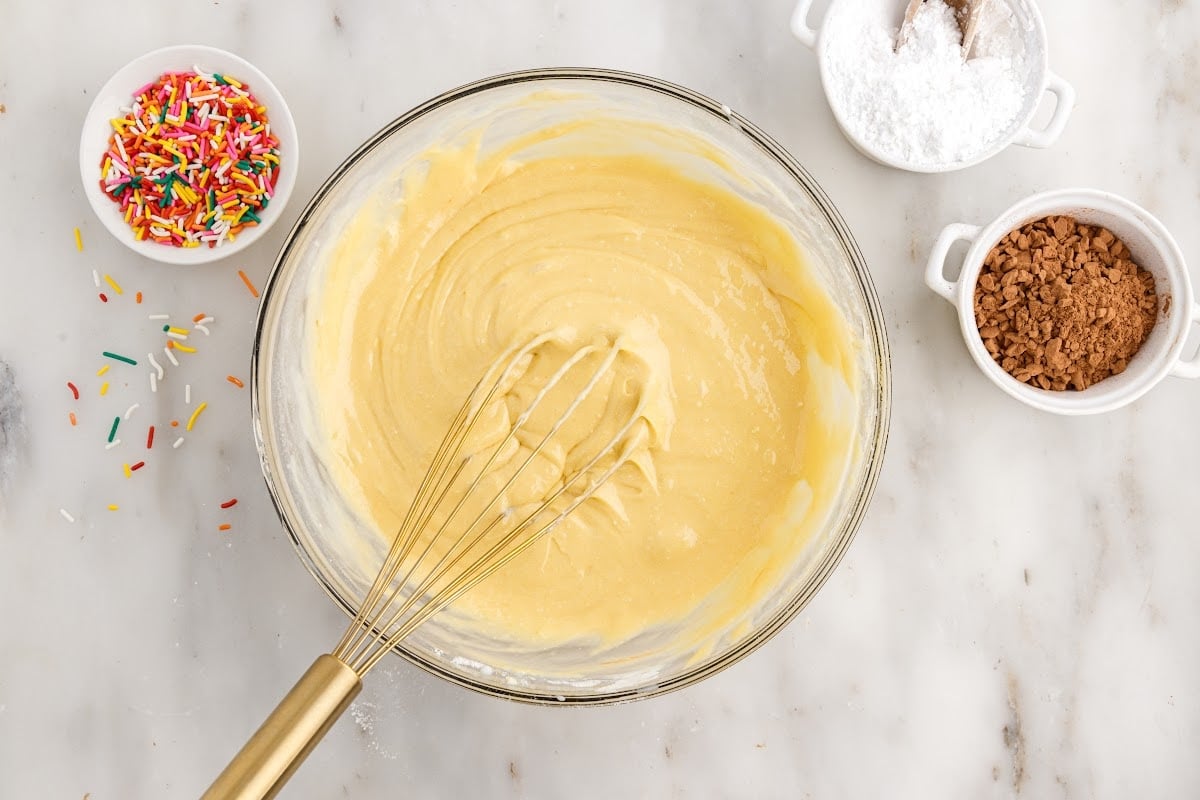 Step 1: Whisk together the oil, milk, eggs, sour cream, with box of cake mix in a large bowl.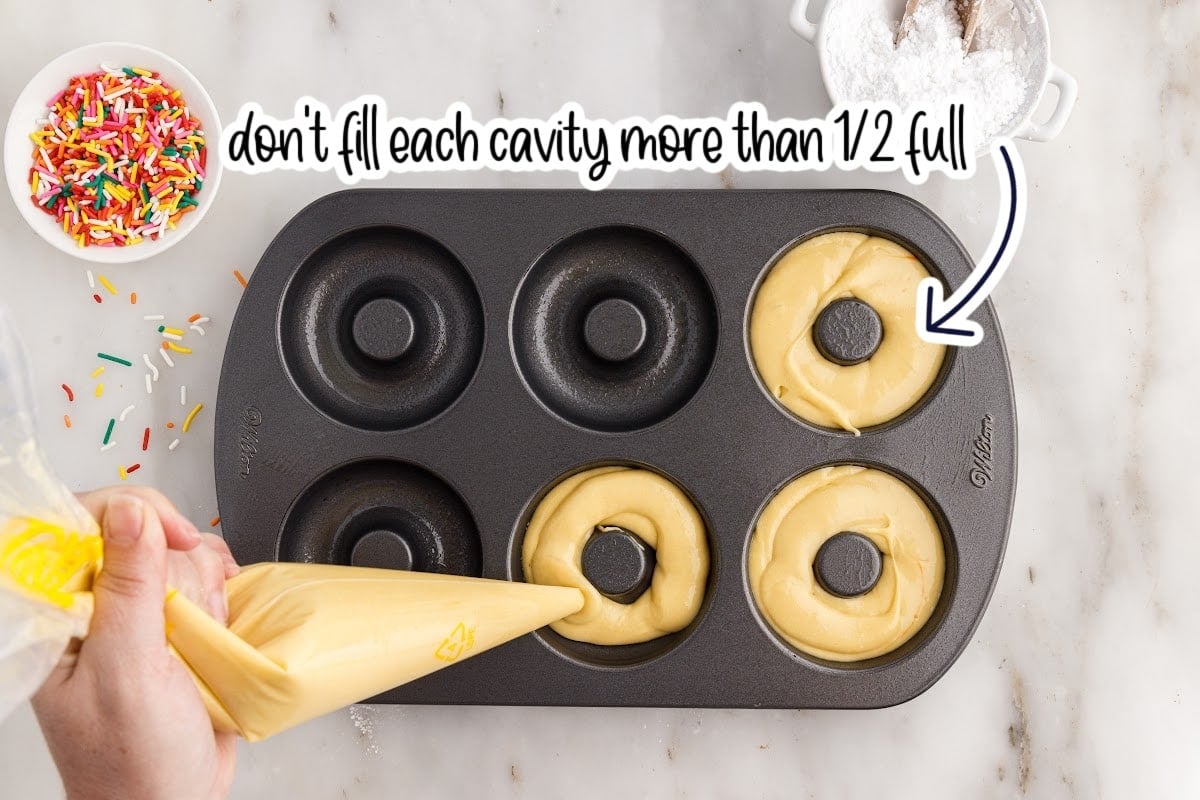 Step 2: ​Add the donut batter to a piping bag. Pipe a ring of batter into each cavity of the greased donut pan so they are half way full. If you overfill the pan, the donuts will be too bulky and won't turn out with that signature donut shape we love.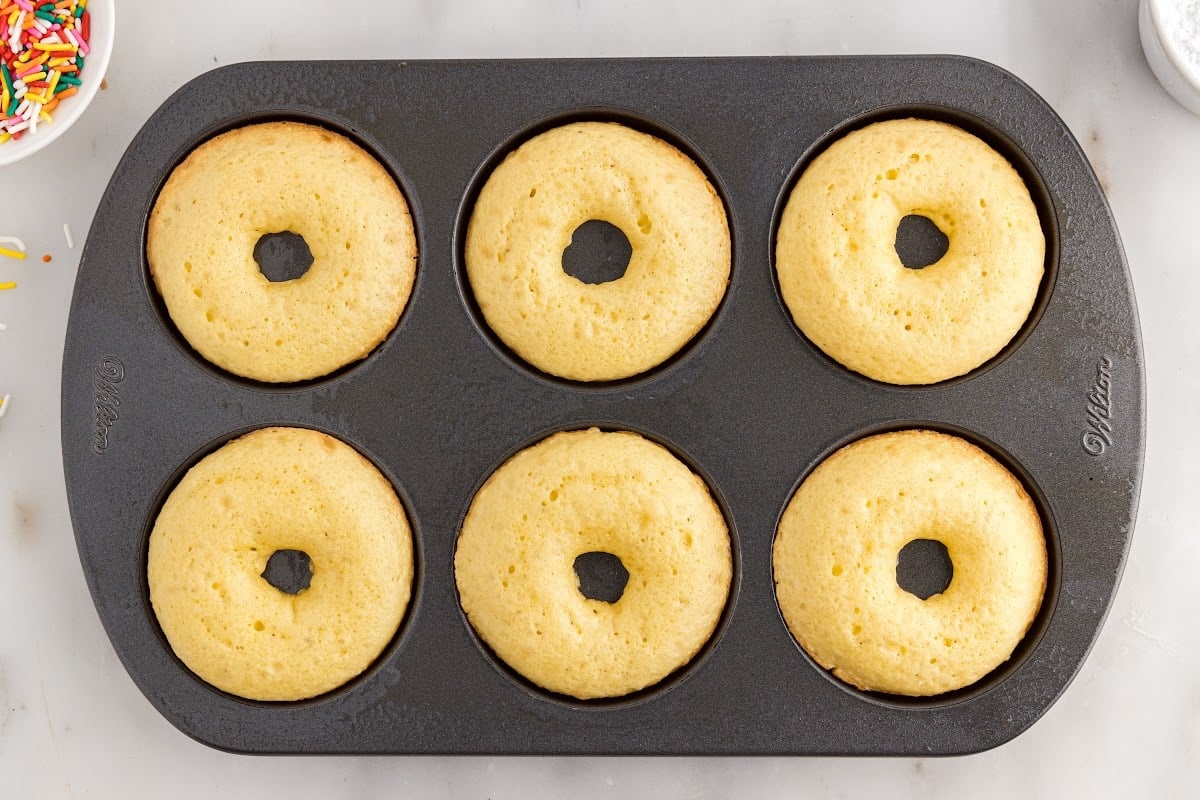 Step 3: Bake for 10 minutes or just until they start to turn golden and are puffed.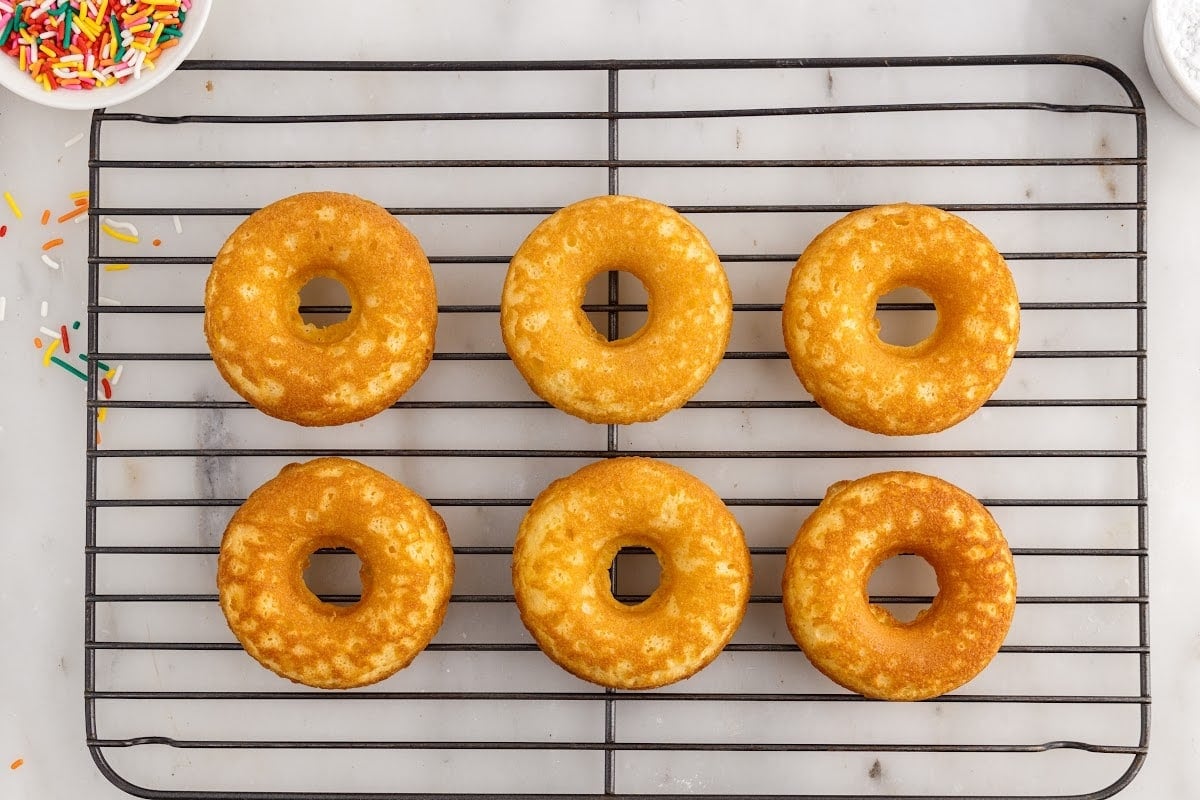 Step 4: Remove from the oven and turn onto a wire rack. Repeat for the remaining batter.
Pro Tip: Don't turn out the donuts too quickly; be gentle so they don't break apart.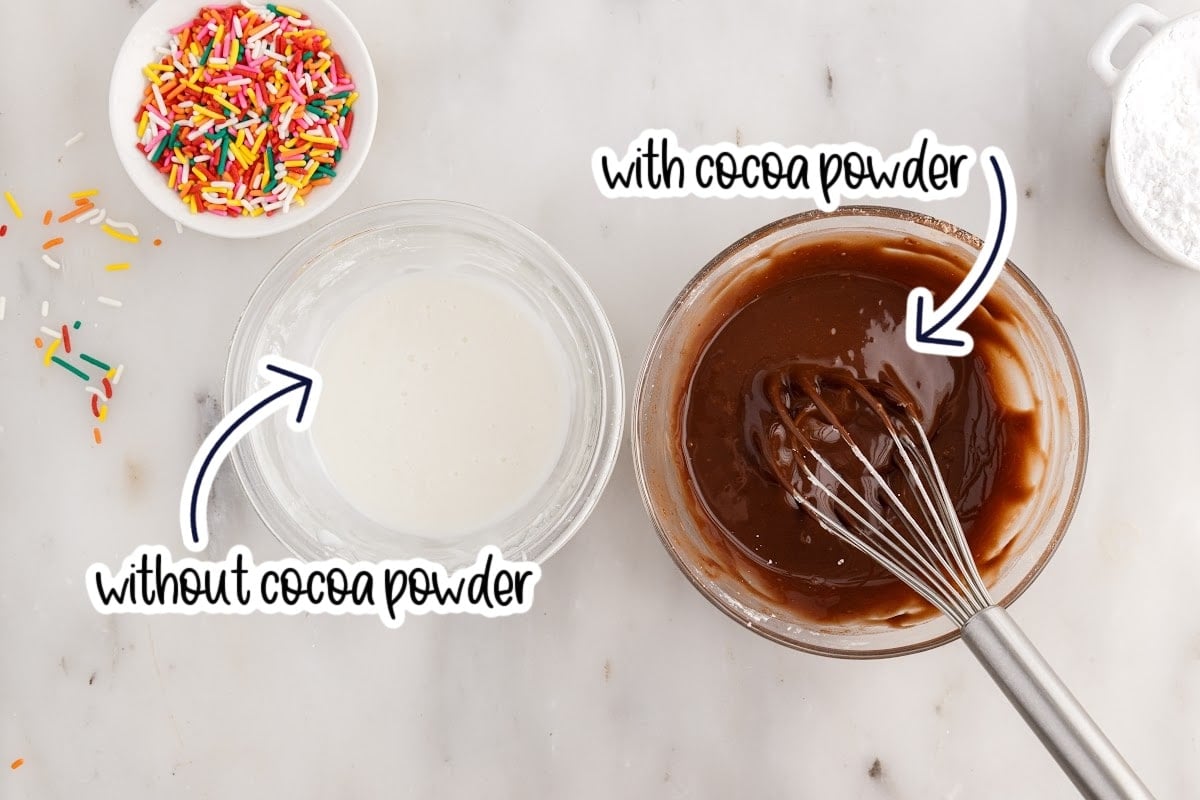 Step 5: Whisk the powdered sugar, milk and cocoa powder in a separate bowl.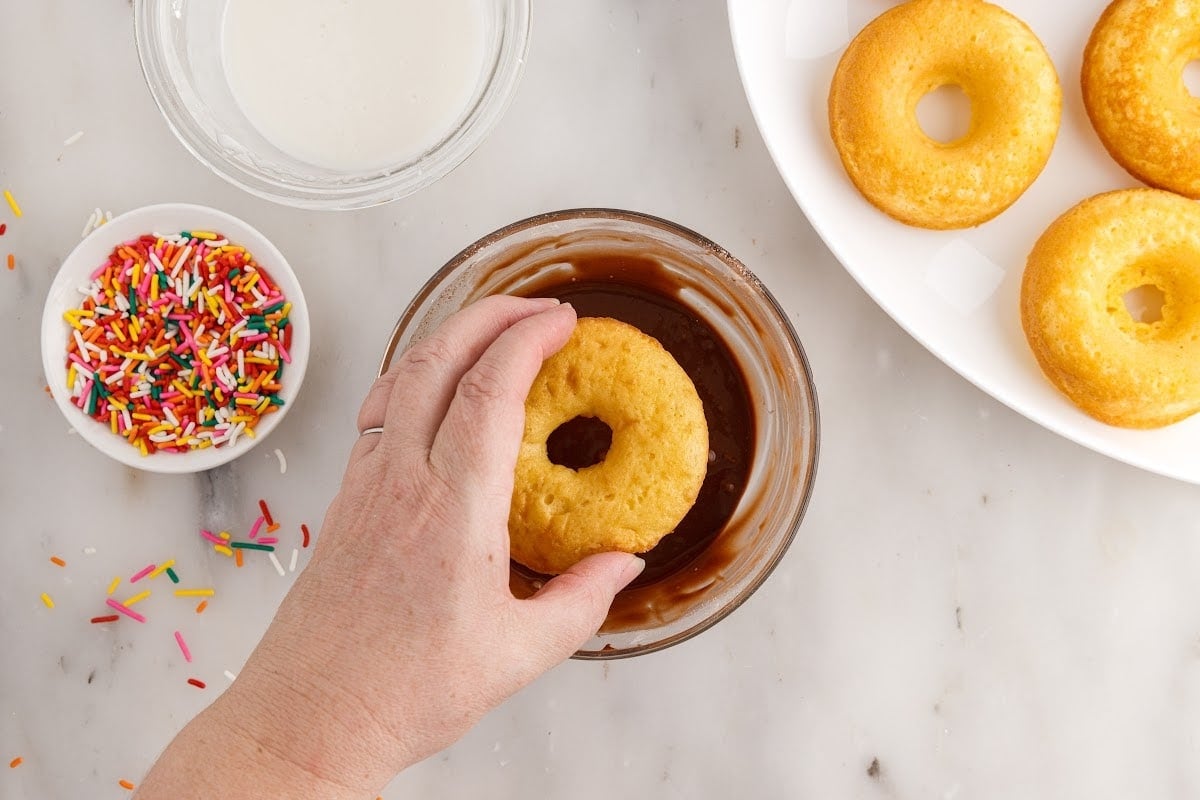 Step 6: Once the donuts have cooled, dip the smoothest side into the glaze.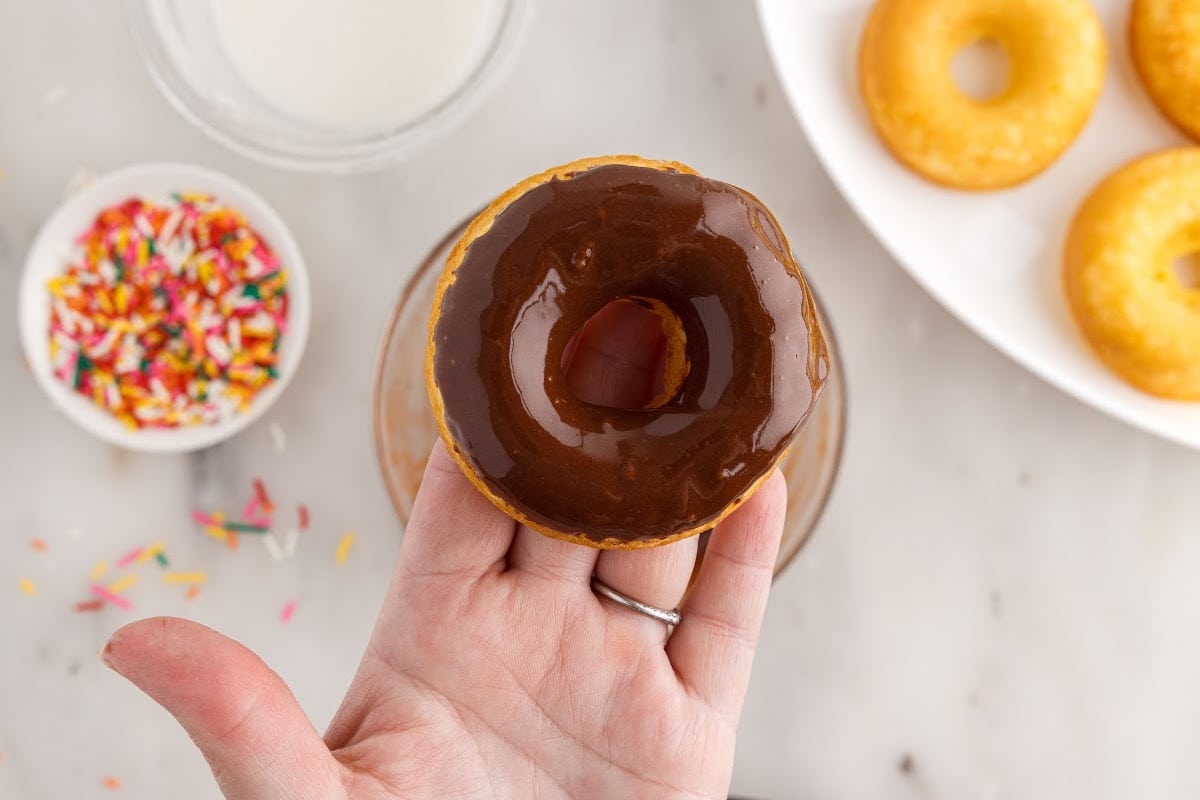 Step 7: Let the excess glaze drip off, then place on serving tray or back on the rack.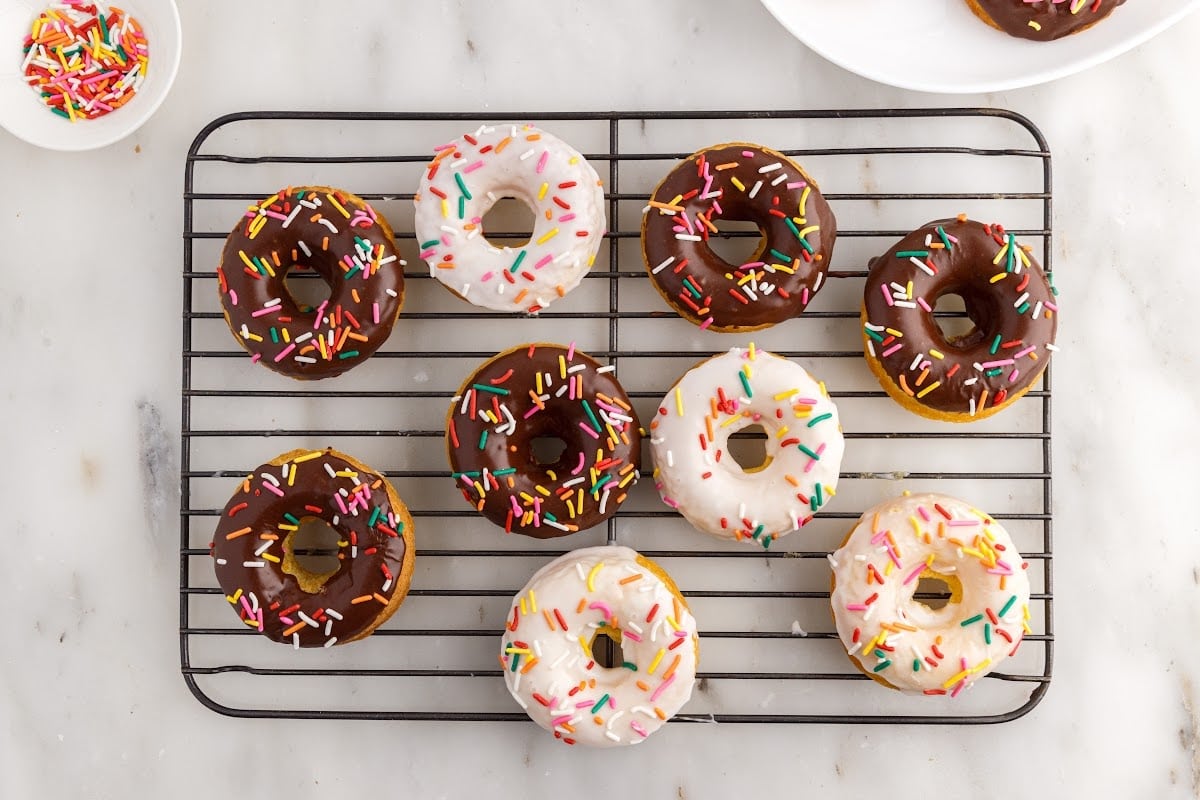 Step 8: Top with sprinkles immediately. The glaze will set rather quickly and it is the glue that holds the sprinkles on.
SERVE: Once the glaze has set, they are ready to eat!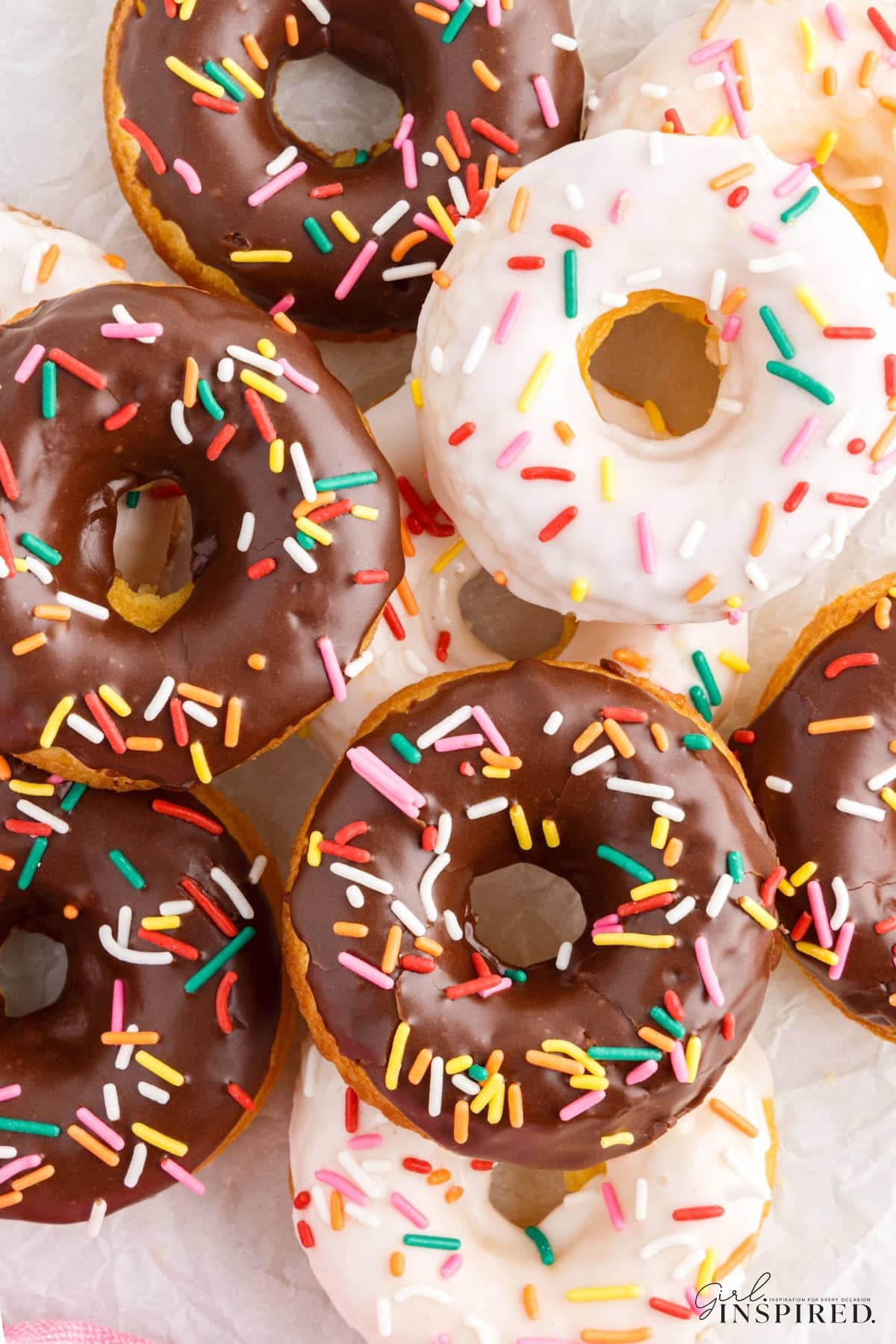 Be sure to allow them to cool. Hot donuts will make the glaze run off and will not set properly.
Unlike traditional donuts or yeast donuts, ours taste very much like cupcakes.
Add the sprinkles before the frosting glaze sets so they don't fall off.
Avoid over filling the pan. They puff up quite a bit while baking. If you add too much they will have a weird shape and spill over the top.
If you don't have a piping bag, add the batter to a Ziploc bag, then snip the tip off.
You can also make them in a mini donut maker if you have one.
To make easy baked donuts without a maker or special pan, use a muffin tin and ball up small pieces of tin foil for the middle piece. Fill them a little less than halfway so they keep their shape.
Fun Fact
Did you know that over 10 billion donuts are consumed every year?! -Shipley Donuts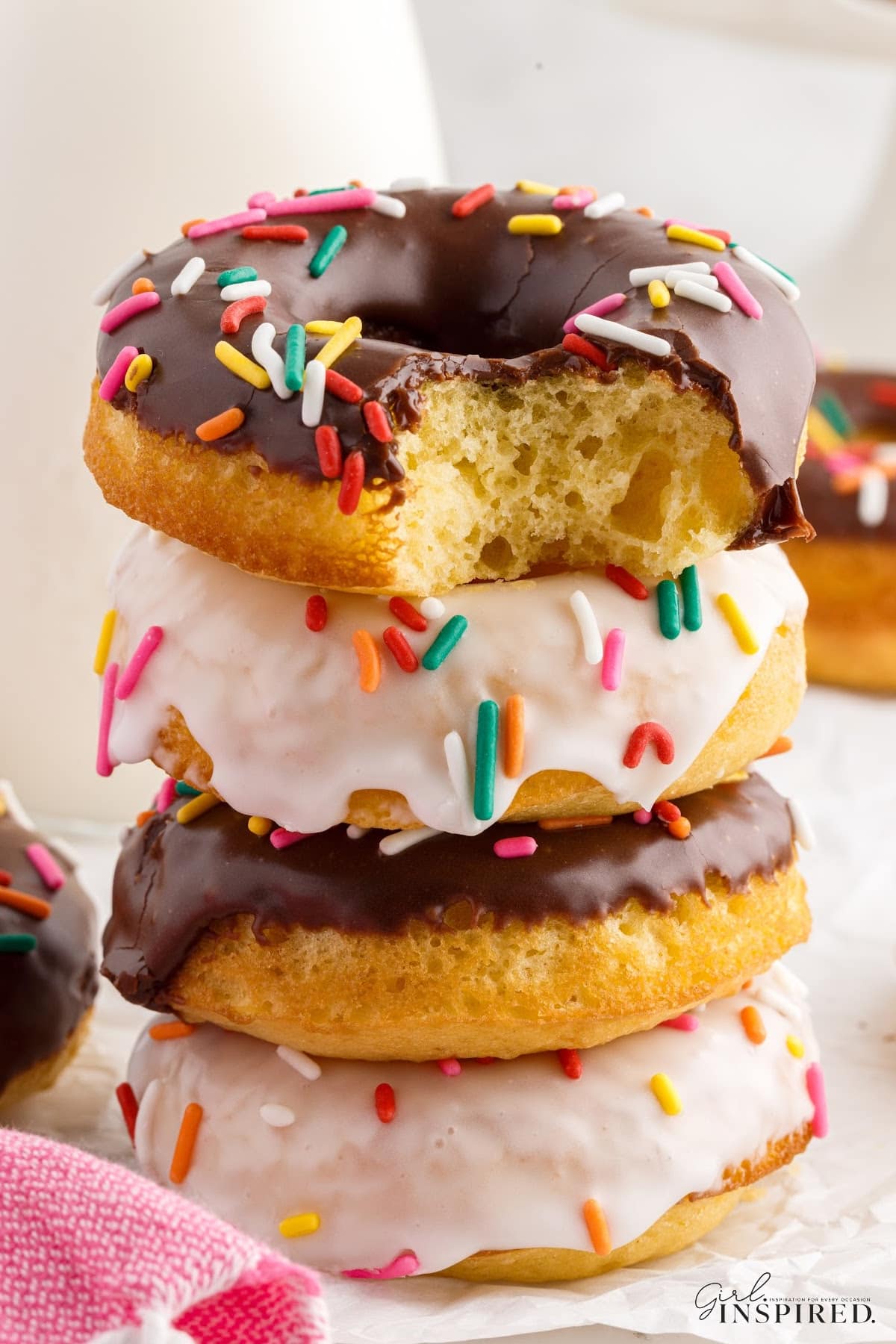 Recipe FAQs
How to store homemade donuts?
​Keep the leftovers in an airtight container, in a single layer for up to 3 days on the counter.
What is the difference between cake donuts and yeast donuts?
The main difference between cake donuts and yeast donuts is their texture. Cake donuts have a denser and more compact texture similar to a cake or muffin, while yeast donuts have a light, fluffy, and chewy texture due to the yeast fermentation process.
More Boxed Cake Mix Recipes
If you tried this Cake Mix Donut Recipe or any other recipe on my website, please please leave a 🌟 star rating and let me know how you liked it in the 📝 comments below.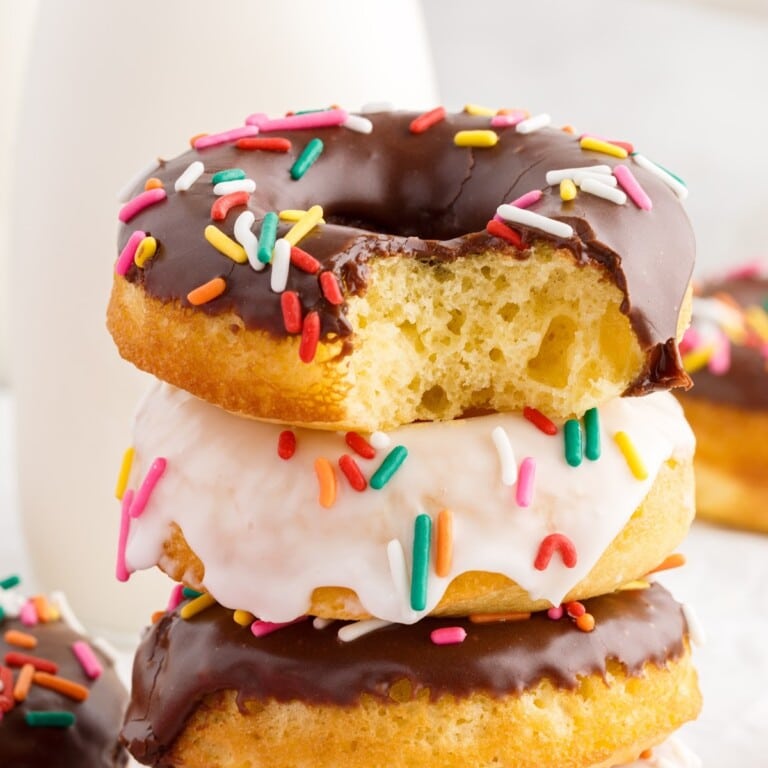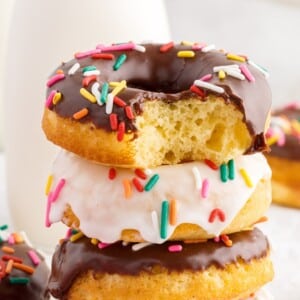 Cake Mix Donuts
Learn how to make delicious cake mix donuts using a few simple ingredients and a box of cake mix.
Donuts
Ingredients
Cup Cake Ingredients:
15.25 oz. box of yellow cake mix
¼ cup vegetable oil
¾ cup whole milk
2 large eggs
½ cup sour cream
Chocolate Glaze:
1 ½ cups powdered sugar
2-3 tablespoons milk
3 tablespoons unsweetened cocoa powder
Vanilla Glaze:
1 ½ cups powdered sugar
2-3 tablespoons milk
Sprinkles for decorating
Instructions
Preheat the oven to 350°F.

In a large mixing bowl, whisk together the cake mix, oil, milk, eggs, and sour cream until fully combined.

Transfer batter to a piping bag.

Spray a donut pan with non-stick baking spray (the kind with flour works best). Pipe a ring of batter into each donut cavity. Do not fill each cavity more than ½ full.

Bake donuts for 10 minutes, until puffed and just beginning to turn golden.

Remove from oven and turn out onto a cooling rack. Continue baking batches of donuts.

Prepare the glaze by whisking together powdered sugar, milk, and cocoa powder, if using.

Dip the smoothest side of the donut into the glaze, allowing some excess to drip off and then place on a cooling rack or platter. Decorate immediately with sprinkles before the glaze sets.
Notes
Storage: Keep leftover donuts for up to 3 days in an airtight container. Place in a single layer, separate with parchment paper if needed. Notes: These donuts taste more like cupcakes, even though the sour cream gives them a moist and denser texture. Donuts should be cooled before dipping in the glaze so it's doesn't run off. You can also drizzle it over if needed. Make sure the glaze is somewhat thin. The thicker it is the harder it is to dip and keep the donuts together. Add sprinkles within a couple minutes of dipping, or else they will not stick. Avoid filling the donut pan cavities more than ½ full. They will puff up and turn to an odd shape if there's too much batter.
Nutrition
Calories: 167kcal | Carbohydrates: 31g | Protein: 2g | Fat: 4g | Saturated Fat: 1g | Polyunsaturated Fat: 1g | Monounsaturated Fat: 1g | Trans Fat: 0.1g | Cholesterol: 18mg | Sodium: 142mg | Potassium: 44mg | Fiber: 0.4g | Sugar: 23g | Vitamin A: 65IU | Vitamin C: 0.05mg | Calcium: 58mg | Iron: 1mg