You know how much I love a little treat that tastes delicious and looks fun, too! As I shared in my Black and Yellow Inspiration post this weekend, I have had bumblebees on the mind. I was mulling over how I could make a cute bee-focused dessert without an assortment of special equipment, and these stacked donuts beehives popped into my mind.
The hive is simply constructed of three donuts stacked on top of one another and drizzled with a glaze made from powdered sugar, water, and yellow food coloring. The glaze helps to hold the bees on the donuts. I also used a bit of the glaze as "glue" to hold the wings on the bees.
The bees are made from: yellow Jordan almonds, black gel icing, wings cut from wafer paper, and black jelly bean "heads."
They're quick to assemble and I love that most of the ingredients can be found right at the grocery store. The exception is the wafer paper I used for the wings – more on that in a second. Assembly of the bees is simple – slice a little piece off the end of each jelly bean and stick it onto the wide end of the almond for the head (it's self-sticking!). Drizzle horizontal lines with the icing writer for the bees' stripes.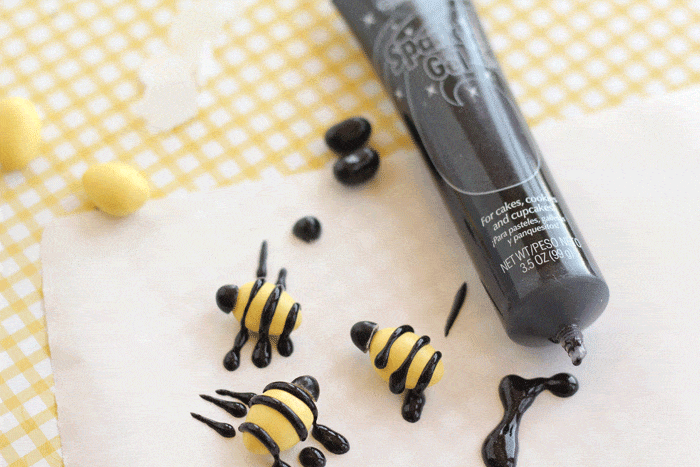 Now for the wafer paper wings: I had some remnants leftover from these cookies. (My cute friend Joanna also sells wafer paper cake/cookie toppers at her etsy shop.) Just fold a piece of it in half, cut out a wing shape, and open. "Glue" the wing along the fold onto the back of the bee!
As I mentioned before, I used the glaze "glue" to help hold the bees in place on the tops of the stacked donuts. To adhere the bees on the sides of the donuts, I melted a few peanut butter candy melts and dabbed a dot onto the side of the donut. I held the bee in place for a minute or so until the candy hardened – worked like a charm!
And there you have it! The cutest little edible bees and beehives you ever saw! And in case you were wondering, it's perfectly acceptable to eat a whole stack of donuts yourself!