We're going to do something new around here, okay? If you've been reading along, you know I love a good celebration. And you know I love to dabble in a whole lot of everything artsy craftsy. My need to get elbow deep in frosting, fabric, and paper on a more regular basis has sparked the foundation for a new direction here at girl. Inspired. – Party Inspiration! Beginning today, I am going to be crafting up celebrations to share with you. I will put together a "look" centered around a theme, and then throughout the week, I'll show you how to create many of the components of that look. Sound good? Exciting? Okay, then, here we go. First up…..a Vintage Circus Party – I couldn't resist.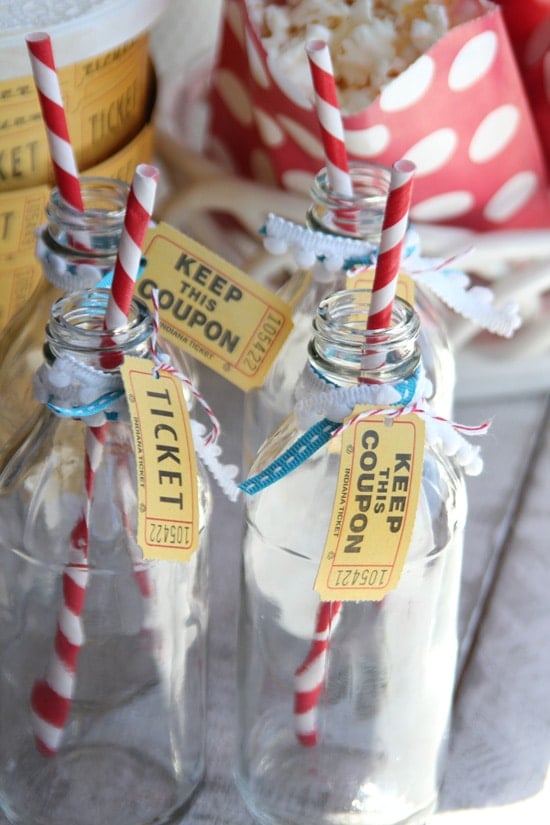 Glass Bottles with Red Striped Straws and Ribbon/Ticket Ties
This party grouping includes:
Glass Beverage Bottles with Ribbons and Tickets – the tickets would be great for writing party guests' names and they look super fun, too!
Wooden Dowels with knots of colorful ribbons pinned to the top make quick and festive table decorations
Cupcakes with a big swirl of fluffy icing and "cake pop" style cherries on top
A Ruffled Party Hat to coordinate with the party theme and dress
The Party Dress (here, a size 12-18 months) in a vintage-inspired blue floral bodice and yellow and white striped skirt, detailed with a rolled edge on the neck and sleeves, shirring around the neck and waist, and white pom detailing on the hem.
Bright, red polka dot bags of Popcorn
A Big Roll of Tickets
Circus Striped Cake
Quick Shirred Circus Dress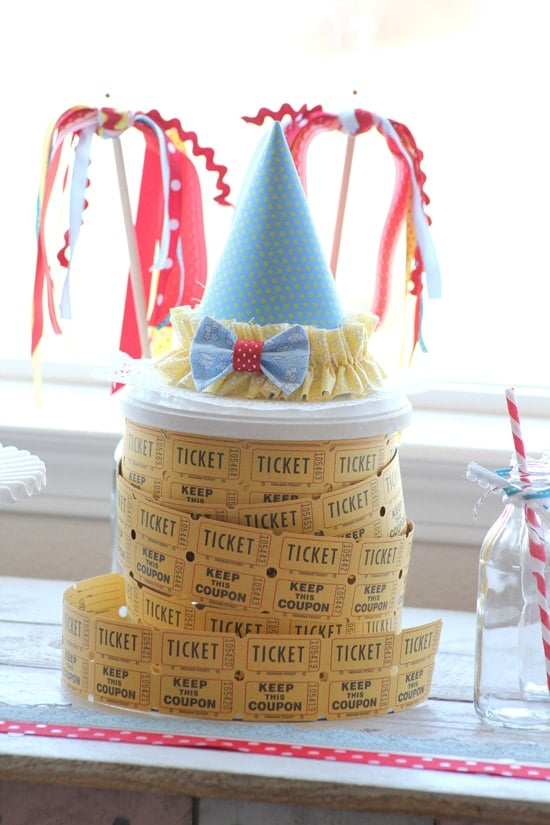 Ruffled Party Hat
Over the next week, I'll be sharing the how-to on the dress, hat, and the cake, as well as details on the fabric and where you can buy some of the party supplies I included.
Other posts for the Vintage Circus Party include: