Did you know you can pick up wafer paper printed with edible ink in a variety of images? I picked out some cute bunnies to try and I couldn't resist the vintage Easter images so I purchased some of those, too!
I'm definitely less experienced in the cookie-making arena and this was a good beginner project. The girls and I mixed up a batch of sugar cookie dough and we each set to work with our own rolling pins. They made bunnies and chicks and huge Easter eggs. I was boring with my ovals. I probably need a better oval cutter since I just squished one of my round fluted cutters into a not-so-perfect oval. After baking up the cookies, I frosted them with a flood of royal icing (more not-so-perfect ovals) and left them to dry overnight. The next day, I handed out piping bags of colored icing to the kids and while they went wild, I set to work with the wafer paper.
Application was simple. Cut out the design, brush corn syrup on the back of the image, and smooth onto the cookie. Set the cookies face down for 15 minutes and then turn them up to dry for a while longer.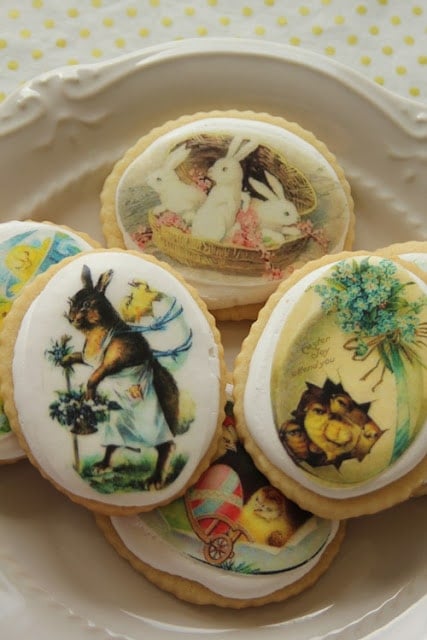 Then, you can put a beaded border around the perimeter of the image if you want.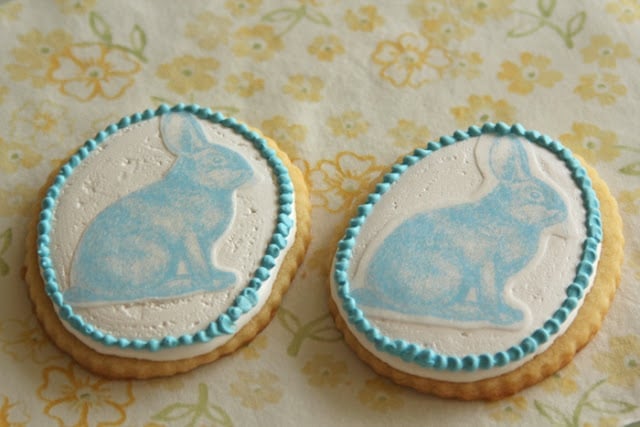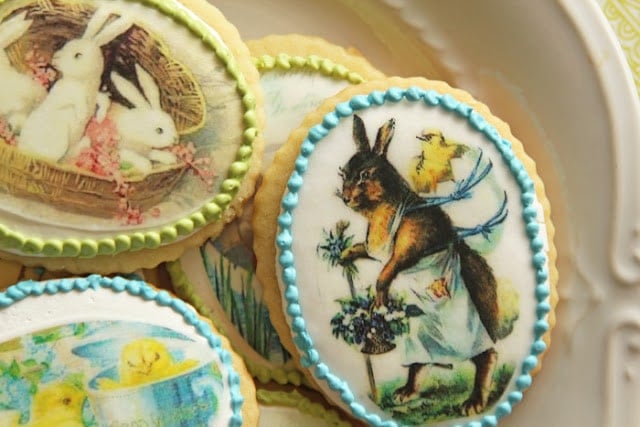 So, the critic in me wishes that I'd used a better cookie cutter and that my hand would somehow become steadier with the piping. But, really, when the whole plate of cookies is set out together, you rarely notice the individual imperfections. Definitely a fun activity with pretty results and something that I could do side by side with my little helpers. Double bonus points!!
I purchased my wafer paper at Fancy Flours.