Summer adventures have left little time for creating at home, but our family has been creating lots of memories as we take advantage of the break from school.  This year, we did summer vacation like I did as a kid – road-tripping and sightseeing.  We listened to audio books and scouted out license plates for all 50 states as we drove from California to Wyoming, and explored Yellowstone and the Grand Titons National Parks.  Road trips and car snacks go hand in hand, so I baked up a batch of these Ginger Molasses Sugar Cookies that my mom made for every road trip/camping trip when I was young.  These cookies are chewy and dense, they're full of spiced flavor, AND they stay fresh for two weeks!  You can't say that about most cookies!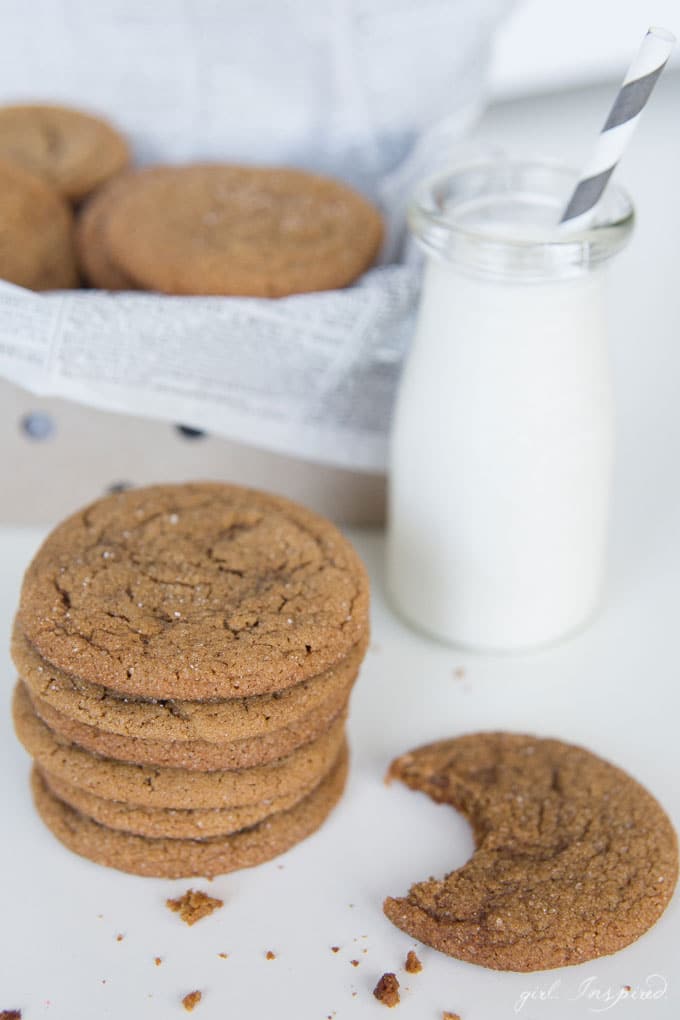 They're a piece of cake to make!  Ready to mix up a batch?
Ginger Molasses Sugar Cookies
1/2 cup butter (1 stick), softened slightly
1 cup granulated sugar
1 egg
1/3 Cup molasses
1 teaspoon vanilla
2 cups flour
2 teaspoons ground ginger
1/2 teaspoon salt
1 teaspoon baking soda
Instructions:
Beat together the butter and sugar until light and fluffy.  Add vanilla and 1 egg and combine.  Add molasses.  Sift together the flour, baking soda, salt, and ginger.  One spoonful at a time, add the dry ingredients to the butter/molasses mixture and beat until thoroughly mixed.  The dough will be sticky.  Scrape together into a log and refrigerate in plastic wrap for 30-60 minutes.  While the dough is chilled, use a sharp knife to slice the dough into 1/2″ sections.  Roll each section into a ball and then roll in granulated sugar and place on an ungreased baking sheet.  Bake at 350 degrees for approximately 12-15 minutes or until the edges of the cookies begin to brown and the centers are set, but soft.  Cool slightly before removing cookies from the baking sheet.  Store in an airtight container up to 2 weeks.  Makes about 2 dozen cookies.