This copycat recipe of Lofthouse cookies is as close as it gets to the real thing - pillowy soft, airy, with just the right frosting.
Can't you just taste it? The soft pillowy sweetness, the crumble, the thick slather of perfect icing as you sink your teeth into everyone's favorite sugar cookie – Lofthouse sugar cookies. In all the cookies I've every tried, none are quite like those special soft sugar cookies. After much testing and tweaking, I am confident in saying I've created a lofthouse cookie recipe with exactly the taste and texture of the real thing.
There are several deviations in this recipe from a traditional sugar cookie – and those tweaks are what make the soft and airy texture that is so distinct in Lofthouse cookies.
Ingredients:
½ cup salted butter, softened
1 cup powdered sugar – this creates a very tender cookie
½ cup vegetable oil – the oil adds moisture and changes the flavor to a lighter cookie
1 large egg
3 cups cake flour – the cake flour makes a super fluffy, almost cake like cookie while all purpose flour will give you a denser, chewier cookie
1 teaspoon baking soda
1 teaspoon baking powder
1 teaspoon cream of tartar
1 teaspoon clear vanilla flavoring – this helps to keep that light, near white color in the dough and also gives some of that artificial flavor that we love in an original lofthouse cookie (wink wink).
Mixing the Dough:
In a large mixing bowl or the bowl of a stand mixer, beat butter and powdered sugar until light and fluffy.
Add the vegetable oil, egg, and vanilla flavoring. Beat well, scraping down the sides of the bowl as needed.
Sift together the dry ingredients: flour, baking soda, baking powder, and cream of tartar.
Beat into the butter mixture. The dough will have a sticky and soft texture, almost like cake batter at room temperature.
Divide the dough into two sections. Form each section into a disc shape by wrapping in plastic wrap and gently flattening.
Refrigerate for at least 1 hour and up to 24 hours.
Preheat the oven to 375 degrees Farenheit.
After the dough is chilled, it will have just a bit more structure to shape into the cookies. You can scoop dough balls with a cookie scoop and flatten them with a spatula, but for an authentic Lofthouse cookie look, I prefer to roll the dough and cut out perfect circles with a cookie cutter.
Roll the sticky dough between two sheets of parchment paper to at least ½" thick. You can roll it a bit thinner, but a thick cookie will have the best results. Use corn starch to prevent sticking if needed.
Cut dough into 3 ½″ round circles and gently transfer to baking sheet. See below for my best trick on getting the soft dough circles intact to the baking sheet.
Bake for 8-9 minutes. Cookies should be matte with very little browning visible on the bottoms. Do not overcook these babies. Homemade lofthouse cookies can go from soft, fluffy, delicious sugar cookies to crumbly cookies with even a minute of over-baking. As soon as the dough loses its sheen, they're ready to get out of the oven.
Allow cookies to rest on baking sheet for several minutes before transferring to a cooling rack. Cool before frosting.
Cut-out Cookie Trick:
Ok, here's a great trick to keep your perfect cutouts intact. Sometimes with a soft dough – and even with a firmer dough – you cut out the perfect shape, but then it gets warped when you scoop it off your cutting board onto the baking sheet.
Instead, cut your parchment paper to perfectly fit on your cookie sheet. Roll the dough out directly on the prepared baking sheet. Cut out your cookies with enough space between them to puff during baking. Remove the excess dough around each shape. Repeat in sections if necessary to fill the parchment paper. Then, simply lift the parchment paper and place it directly onto the pan – cookies in perfect shape ready to bake!
Less messing with the dough will yield a soft cookie and with such a delicate dough, it's nice to not have to transfer a cut out cookie. Another technique would be to roll the dough balls between your palms, then place them on the prepared baking sheet and use the flat bottom of a glass to press the cookies into uniform circles.
Now then, your cutouts are all baked up into perfect copycat Lofthouse cookies and cooling on a wire rack. We need frosting!!! I noticed in many of the recipes that I found online for copycat recipes that they used a standard buttercream frosting to top their cookies. Buttercream is easy peasy and definitely yummy – butter, powdered sugar, a little heavy cream – but you know what you get? A delicious, BUTTERY frosting. The real Lofthouse cookies do not have a buttery rich frosting.
Also, the frosting on the original cookies get a nice crust to it so they can be stacked and handled without messing up the frosting. Have you noticed that?
So, I peeled through my file folder of family recipes and came out with a "buttercream" that doesn't use butter at all. It uses shortening. Shortening, powdered sugar, cream, and clear vanilla extract will give you an absolutely pure white, perfect copycat icing for this Lofthouse cookie recipe. Simply beat the frosting ingredients up all together and slather it on the cookies!
If what you want is yummmmmy, creamy frosting – hey, go for a buttercream. But if you want that sugary sweet, grocery store copycat frosting, this is the recipe for you.
Add just a drop of gel based food coloring if you'd like to tint your frosting. I used just a bit of a neon pink to get a color reallll close grocery store bakery. Add some rainbow sprinkles and eat up!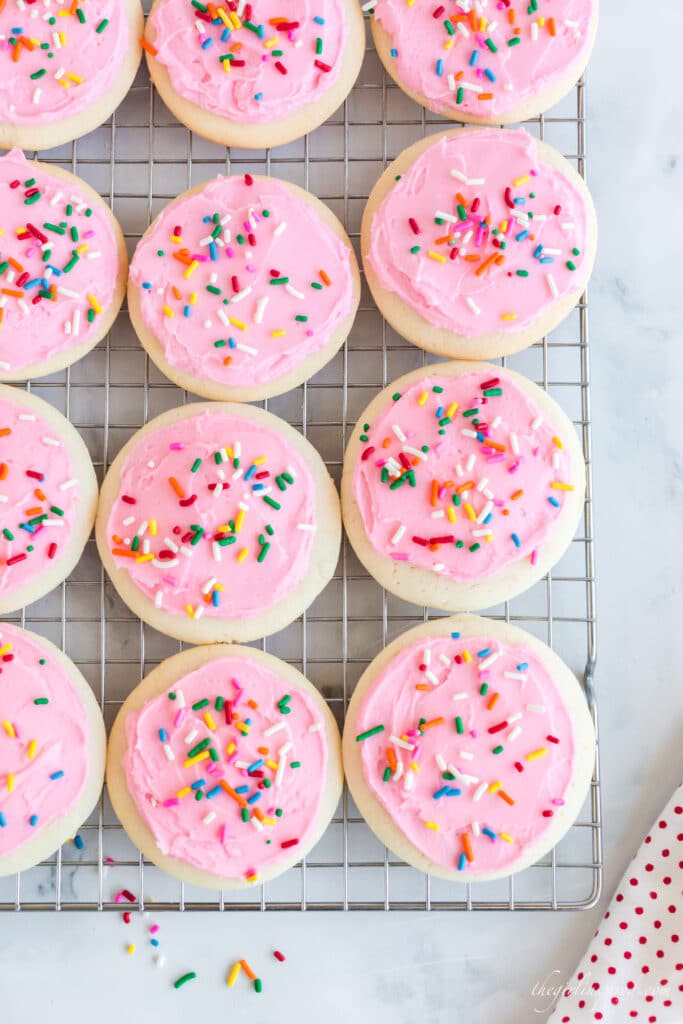 This Lofthouse cookie recipe makes about 16 nice, thick cookies – more if you roll them thinner. It's best to store them in an airtight container once the frosting has crusted over to maintain that pillow soft fluff. They are also best eaten right away. By the next day, they start to get more crispy.
Change up your frosting and sprinkles for Halloween, Valentine's Day, or ANY holiday!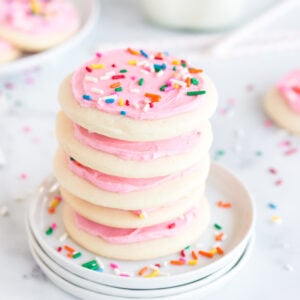 Lofthouse Cookies
This copycat recipe of Lofthouse cookies is as close as it gets to the real thing – pillowy soft, airy, with just the right frosting.
cookies
Ingredients
Cookie Ingredients
½ cup salted butter softened
1 cup powdered sugar
½ cup vegetable oil
1 large egg
1 teaspoon clear vanilla flavoring
3 cups cake flour
1 teaspoon baking powder
1 teaspoon baking soda
1 teaspoon cream of tartar
Frosting Ingredients
½ cup shortening
3 cups powdered sugar
1 teaspoon clear vanilla flavoring
4 tablespoons heavy cream or milk
pinch salt optional
sprinkles
Instructions
Cookies
Beat softened butter and powdered sugar fluffy.

Add eggs, oil, and vanilla flavoring and beat until combined.

Sift together remaining dry ingredients and mix into butter mixture.

Chill dough for a minimum of 1 hour.

Preheat oven to 375 degrees.

Roll dough to ½" thick between two sheets of parchment paper.

Cut cookie shapes with round cookie cutter.

Bake on cookie sheet for 8 minutes, cookies should barely be forming color on the bottom.
Frosting
Beat together shortening, powdered sugar, and vanilla flavoring. Add cream while mixing until a thick, smooth consistency is achieved.

Add food coloring if desired and whip to distribute color evenly.

Spread thick layer of frosting on cooled cookies and top with sprinkles.
Nutrition
Calories: 386kcal | Carbohydrates: 47g | Protein: 3g | Fat: 21g | Saturated Fat: 12g | Cholesterol: 31mg | Sodium: 152mg | Potassium: 61mg | Fiber: 1g | Sugar: 29g | Vitamin A: 247IU | Calcium: 24mg | Iron: 1mg