Salted Caramel Chocolate Chip Cookie Bars are irresistibly soft, chewy and moist with gooey caramel centers! Enjoy with whipped cream or vanilla ice cream.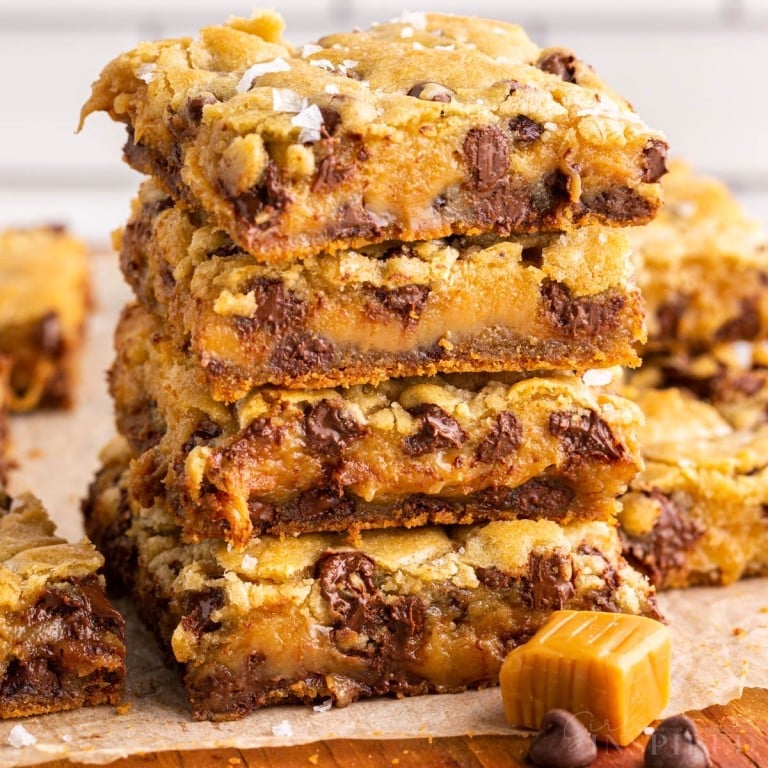 These salted caramel chocolate chip cookie bars are irresistibly soft, chewy, and moist with gooey caramel centers! They can be dressed up for special occasions with an added drizzle of creamy caramel, packed as a treat in a lunch box or picnic basket, or stored in the freezer, ready to be enjoyed whenever the cravings call.
The combination of caramel and chocolate has been a popular mix of pleasurable sweetness in many forms for some time, however, the inclusion of salt, especially sea salt flakes, takes one on a gratifying culinary Aladdin's Cave experience. These salted caramel cookie bars can easily be adapted – remove the caramel layer and add some coconut flakes to make these Easy Chocolate Chip Coconut Cookie Bars!
If you love the idea of cookie bars, be sure to try these Peanut Butter Cup Cookie Bars, Lemon Cream Cheese Cookie Bars, or Christmas Bar Cookies!
🍪 Ingredients:
Unsalted butter
Sugar – Granulated sugar and packed light brown sugar
Eggs – Large eggs at room temperature
​Vanilla extract
All-purpose flour – Use gluten-free flour if you like.
Coarse sea salt – Flaked sea salt or kosher salt can also be used.
Baking soda – Check the expiry date for this ingredient.
Chocolate chips – I've used semi-sweet chocolate chips but you could also use semi-sweet chocolate chunks. Peanut butter chips are another option.
Homemade caramel sauce – Combine chewy caramels with sweetened condensed milk and sea salt flakes (I like the Maldon brand).
For a complete list of ingredients and their measurements, please refer to the printable recipe card 📋 at the bottom of the post.
Optional Garnish:
I've topped these sweet treats with sea salt flakes but you could also top them with a bit of caramel sauce, chopped nuts, a dollop of freshly whipped heavy whipping cream, or coconut flakes.
Equipment Needed:
9×13 baking dish or baking pan, your preferred electric mixer i.e. stand mixer or hand mixer, medium bowl or large bowl, and medium saucepan.
Variations and Substitutions
Use white chocolate chips instead of semi-sweet chocolate chips. You could even cut up your favorite candy bar to add to the chocolate chip cookie dough instead of chocolate chips.
If caramel doesn't do it, consider using a different sweet spread or sauce, such as chocolate sauce, or Nutella spread, for the cookie bar's thick layer.
You could opt for thicker cookie bars by using a smaller square pan but then you will definitely need to increase the baking time and test the chocolate chip cookies with a toothpick to ensure that they are cooked through before serving.
🔪 Instructions:
PREP: Preheat the oven and line the bottom of the pan with parchment paper. Spray the bottom and sides of the prepared pan with nonstick cooking spray.
Step 1: Combine the wet cookie dough ingredients (butter, sugar, eggs, and extract) in a large mixing bowl and cream on high speed until smooth (about 3-5 minutes)
Step 2: Mix the dry cookie dough ingredients (flour, sea salt, and baking soda) until smooth.
Step 3: Mix the chocolate chips into the cookie dough and then chill the dough in the fridge to make it firm for easy assembly.
Step 4: While the cookie dough chills, combine the caramel candies with the condensed milk in a saucepan over medium-low heat for 8-10 minutes, stirring frequently. Remove from the heat and add the sea salt.
Step 5: Press half of the cookie dough into the prepared baking dish and pour the homemade caramel sauce over in an even layer.
Step 6: Crumble the remaining cookie dough over the caramel sauce layer and bake for 25 minutes.
GARNISH: Remove the baked salted caramel chocolate chip cookie bars from the oven and top with a sprinkling of sea salt flakes. Once completely cooled, slice into dessert bars or squares.
Sea salt flakes are great for providing a contrasting taste to the sweetness of the cookie bar dough. If you don't have sea salt flakes, simply add ¼ teaspoon of sea salt to the caramel mixture (or more to taste) and skip the salt over the top of the baked bars.
Pre-made chocolate chip cookie dough is a convenient alternative. If you decide to go that route, you will most likely need two large rolls of dough to fill the 9×13-inch pan.
Using store-bought caramel sauce in place of melting caramel candies is another convenient option. You may still want to heat the store-bought sauce with the condensed milk to achieve ultra-creamy and smooth caramel.
Chilling the cookie dough has many benefits. Firstly, the chilled dough helps you to press the dough into the pan. It also helps to create soft and chewy cookie bars that will rise sufficiently while baking.
Fun Fact
By definition, a cookie bar is a specific cookie dough pressed onto a flat baking surface. Depending on the recipe, the cookie base could include a double layer with a filling like mine or be kept simple with just one cookie dough layer.
How Should I Store Salted Caramel Chocolate Chip Cookie Bars?
Seal the baked cookie bars in an airtight container or with plastic wrap to keep them stored for up to seven days, or alternatively for up to three months in the freezer.

Another helpful idea is to make your dough mixture and freeze it raw (wrapped tightly with plastic wrap) until needed for baking another batch. This is a great time saver and convenience, especially in the holiday seasons.
Can I Make These Cookie Bars Gluten-Free?
Yes, you can! Simply use gluten-free flour like Bob's Red Mill.
More Caramel Treats You'll Love
If you try these Salted Caramel Chocolate Chip Cookie Bars or any other recipe on my website, please leave a 🌟 star rating and let me know how you liked it in the 📝 comments below.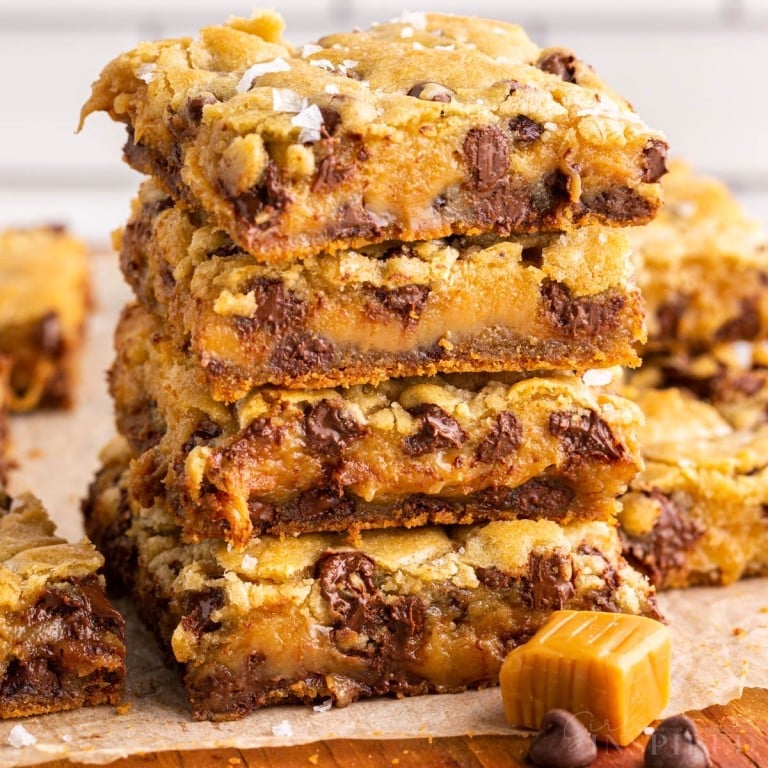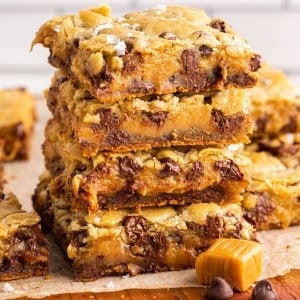 Salted Caramel Chocolate Chip Cookie Bars
Salted Caramel Chocolate Chip Cookie Bars are irresistibly soft, chewy and moist with gooey caramel centers! Enjoy with whipped cream or vanilla ice cream.
Large bars
Ingredients
Cookie Dough
1 cup unsalted butter
1 cup granulated sugar
1 cup light brown sugar packed
2 large eggs
1 teaspoon vanilla extract
2 ½ cups all-purpose flour
½ teaspoon sea salt
1 teaspoon baking soda
2 cups semi-sweet chocolate chips
Caramel Mixture
11 oz. soft caramels unwrapped
14 oz. sweetened condensed milk
½ teaspoon sea salt flakes we like Maldon brand
Instructions
Preheat the oven to 350°F. Line the bottom of a 9×13 baking dish with parchment paper and spray the bottom and sides with non-stick cooking spray.

Beat together the softened butter, granulated sugar, and brown sugar in the bowl of a standing mixer 1-2 minutes.

Add the eggs, vanilla extract and cream on high speed for another 5 minutes.

Mix together the flour, 1⁄2 teaspoon sea salt, and baking soda in a small bowl.

Add to the creamed mixture and beat just until it is combined.

Add in 2 cups of chocolate chips and beat for a few seconds to distribute them evenly in the dough.

Place the dough into the refrigerator whilst preparing the caramel sauce (this will firm the dough sufficiently to make it easier to press into the pan).

Unwrap the caramel candies and place them in a heavy bottomed saucepan.

Pour sweetened condensed milk over the caramels. Heat over medium low, stirring frequently until they are fully melted and the mixture is smooth (about 8-10 minutes). Remove from heat.

Add 1⁄2 teaspoon of sea salt flakes and stir into the caramel mixture.

Press half of the cookie dough into the bottom of a prepared 9×13 pan. If the dough is too sticky, use a spatula or a sheet of plastic wrap to press down the cookie dough layer.

Spread the caramel mixture in an even layer over the cookie dough base.

Crumble the other half of the cookie dough mixture and sprinkle small pieces of dough over the caramel layer, covering most of the surface.

Bake for 25 minutes or until the center of the cookie dough is set.

Remove from the oven and sprinkle with another 1⁄2-1 teaspoon of sea salt flakes.

Cool completely, then cut into rectangular bars or squares.
Nutrition
Calories: 755kcal | Carbohydrates: 108g | Protein: 9g | Fat: 33g | Saturated Fat: 19g | Polyunsaturated Fat: 2g | Monounsaturated Fat: 9g | Trans Fat: 1g | Cholesterol: 83mg | Sodium: 315mg | Potassium: 416mg | Fiber: 3g | Sugar: 81g | Vitamin A: 627IU | Vitamin C: 1mg | Calcium: 176mg | Iron: 3mg