Crack Cake is incredibly moist and dense, with delicious warm hints of cinnamon and a buttery wine sugar glaze that takes this cake to new levels of pure decadence!
This Crack Cake recipe is so incredibly moist and dense, with delicious warm hints of cinnamon and, of course, a buttery wine sugar glaze that takes this cake to new levels of pure decadence!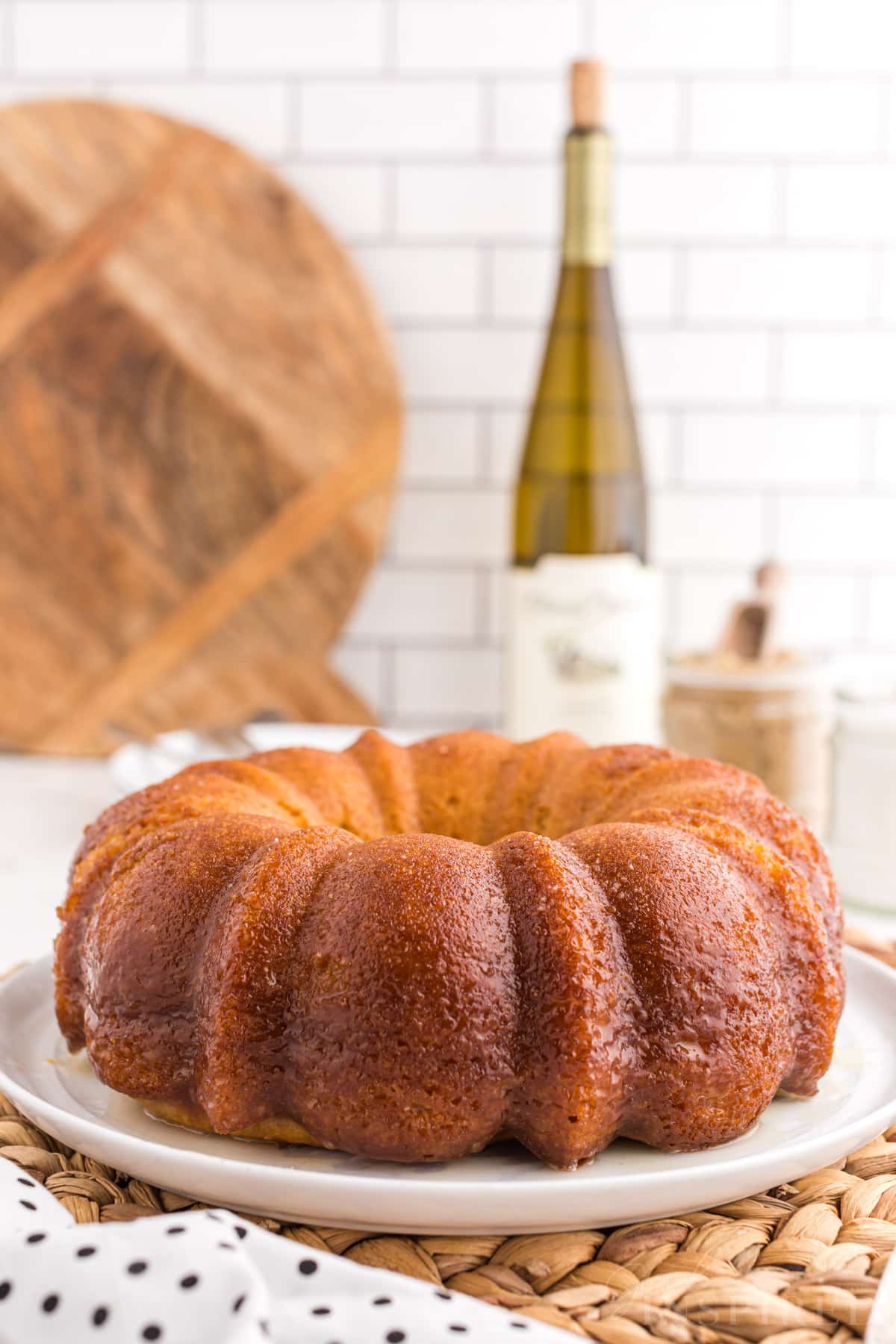 A strange name for a cake, I must admit, but once you try it you'll totally understand its addictive qualities. This cake is perfect for serving guests over the holidays or on special occasions but can just as easily be enjoyed as a family treat. The crack cake also stores well in the refrigerator and freezer, making it the obvious choice when it comes to selecting a scrumptious treat to bake ahead of busy times.
If you love the touch of sophistication that a bundt cake can add, be sure to try this stunning Duncan Hines Lemon Cake Mix Recipe, Pineapple Pound Cake, or Lemon Chiffon Cake.
What do I Need for this Crack Cake?
🍜 Ingredients:
Box of yellow cake mix
Box of vanilla pudding mix
Packed light brown sugar
Granulated white sugar
Cinnamon
Large eggs – At room temperature
Whole milk
Vegetable oil – Melted butter could be used instead.
Sour cream – This adds a delicious tangy flavor, cuts through the sweetness of the cake, and adds moisture.
Sweet white wine – I used a Riesling
Glaze – Salted butter, sweet white wine, and granulated sugar
Optional Garnish:
Add chopped nuts or shredded coconut to the top of the cake in addition to the cake glaze.
Equipment Needed:
Prepared bundt pan or similar loaf pan or tube pan, medium mixing bowl or large bowl, small saucepan, skewer, hand mixer, flexible spatula, and serving plate.
Variations and Substitutions:
While I've used a yellow cake mix (which is the typical option for most crack cakes), you could also use a white or vanilla cake mix instead.
You can omit the wine altogether for this hot cake and use white grape juice instead, although I love the flavor that the wine provides!
Instead of the wine syrup glaze, consider topping this cracked cake with cream cheese frosting with 1-2 teaspoons of cinnamon.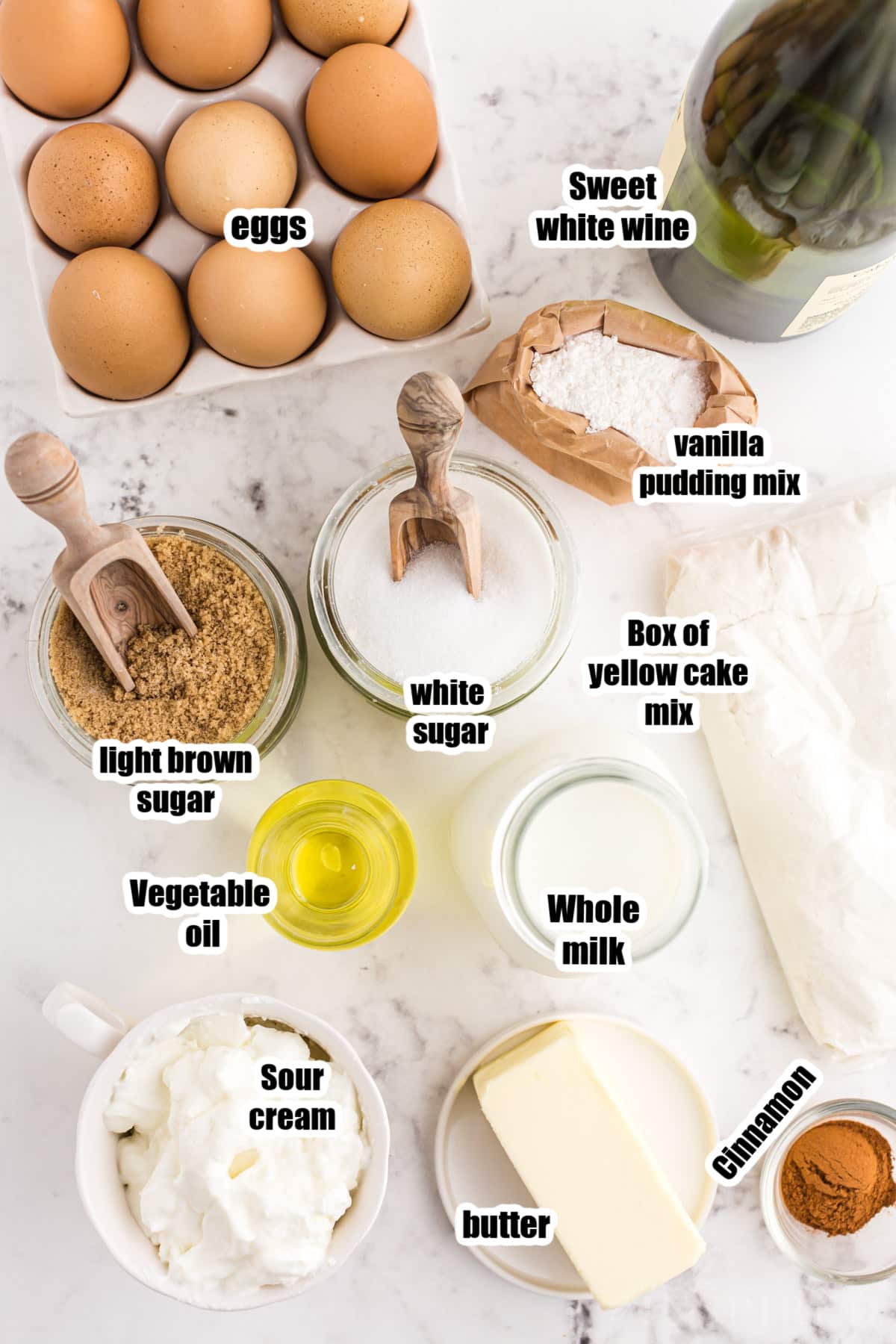 🔪 Instructions:
PREP: Preheat the oven to 350 F oven temperature and prepare the bundt pan with non-stick cooking spray.
Step 1: Add all of the cake ingredients into a mixing bowl.
Step 2: Beat on medium speed well until combined.
Step 3: Pour the cake batter into a prepared bundt pan and bake for 50-60 minutes or until a toothpick can be inserted into the center of the cake and come out clean.
Step 4: In the meantime, make the sugar syrup glaze in a saucepan. Remove from the heat once all of the sugar dissolves.
Step 5: Remove the cake from the oven and poke the cake with a skewer or cake stick.
Step 6: Pour the butter glaze over the cake and let the cake soak it up for 15-20 minutes.
SERVE: Once the cake has cooled, use a spatula to loosen the outside of the cake and turn the cake out onto a cake plate. Slice and serve!
I highly recommend using a baking spray that has flour in it to help keep the cake from sticking to the bundt cake pan. Something like Wilton Bake Easy Non-Stick Spray is a good option.
A dessert wine is great to use in this crack cake recipe. I used a Riesling which I found matched the flavors of the cake beautifully – even better than a Chardonnay.
Sour cream and vanilla pudding added to the cake batter makes this crack cake incredibly moist and dense.
Fun Fact
Before you jump to any conclusions…
No, this cake does not come from dubious origins, and it is not associated with narcotics. But it IS incredibly addictive. Let me elaborate…
The Crack Cake is essentially a cake made from a yellow cake mix base with typical ingredient additions, but in this recipe, I've added an extra level of decadence by incorporating vanilla pudding mix, sour cream, and warm cinnamon. Oh my, can you say "moist"?!
Can I Make This Cake Without Alcohol??
Absolutely! If you're not keen on alcohol in your treats, you could use white grape juice as a substitute. There is a likelihood that this ingredient substitution will result in a slightly different taste, but it'll still be super scrumptious!
Is This "Boozy" Cake Kid-Friendly?
What you need to know is that you won't just be pouring wine into the poked holes of your baked cake base. To make the glaze, you need to first combine the butter, wine, and sugar, and then let that glaze mixture simmer in a saucepan.

The simmering definitely burns off a lot of the alcohol content while leaving you with that wine flavor that infuses so well with the butter and sugar.

If you have any concerns about the alcohol factor in this cake recipe, simply use the white grape juice substitution instead.
How Should I Store Crack Cake?
You can store this crack cake at room temperature in an airtight container for up to 4-5 days. If you live in warm, humid conditions then rather store your cake in the refrigerator.

Another storage option is the freezer. Either store leftover slices (wrapped in plastic wrap) or make your cake ahead of time and store the entire cake in the freezer for up to 1 month. Thaw frozen crack cake on the countertop prior to serving.
Crack Cake
Crack Cake is incredibly moist and dense, with delicious warm hints of cinnamon and a buttery wine sugar glaze that takes this cake to new levels of pure decadence!
Ingredients
Cake Ingredients
1 yellow cake mix
3.4 oz. vanilla pudding mix
¼ cup packed light brown sugar
¼ cup granulated sugar
2 teaspoons cinnamon
5 large eggs room temperature
½ cup whole milk
½ cup vegetable oil
1 cup sour cream
½ cup sweet white wine I used a Riesling
Glaze Ingredients
½ cup salted butter
¼ cup sweet white wine
1 cup granulated sugar
Instructions
Preheat the oven to 350°F. Grease a bundt pan with nonstick baking spray and set aside.

In a medium mixing bowl, beat together all of the cake ingredients.

Beat mixture until fully combined.

Pour batter into prepared bundt pan.

Bake for 50-60 minutes, or until a toothpick inserted into the cake comes out clean and the edges of the cake have pulled away from the pan.

In a small saucepan, heat butter wine and sugar for the glaze. Heat and stir until sugar is dissolved, then remove from heat.

Use a bamboo skewer or toothpick to poke holes all over the cake bottom (still in the pan).

Pour glaze over the cake and allow it to soak up the glaze. This takes 15-20 minutes.

Once the glaze is absorbed into the cake, loosen the sides of the pan with a spatula as much as possible. Turn the cake out of the pan onto a cake plate.

Cut and serve cake.
Nutrition
Calories: 518kcal | Carbohydrates: 70g | Protein: 5g | Fat: 24g | Saturated Fat: 10g | Polyunsaturated Fat: 6g | Monounsaturated Fat: 6g | Trans Fat: 0.5g | Cholesterol: 101mg | Sodium: 464mg | Potassium: 107mg | Fiber: 1g | Sugar: 52g | Vitamin A: 472IU | Vitamin C: 0.2mg | Calcium: 144mg | Iron: 1mg