These chewy peanut butter cup cookie bars are made with reese's cups, chocolate chips, and a few other pantry staples. Each square is gooey, decadent and so simple to make!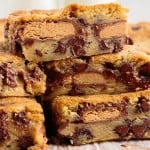 These peanut butter cup cookie bars are chewy and gooey! The best part is that they are much easier to make than individual cookies and use pantry staples, along with your favorite peanut butter candy!
Calling all peanut butter lovers, these delicious bars were made for you! I am always looking for easy recipes, and dessert bars are by far one of my favorites. But when I can combine peanut butter with chocolate, it's so much better! Speaking of, if you have leftover Reese's use them as a garnish on frozen peanut butter hot chocolate or these no bake parfaits.
To get rid of your real peanut butter, you can make peanut butter bars without the chocolate or these bars that have chocolate chips, but no Reese's. Want a fruity version? Go with strawberry, cherry, lemon, or apple cheesecake bars. Now, these are totally different, but I promise you will fall in love with how easy they are to make after the first time.
What do I Need for this Recipe?
🍪 Ingredients:
butter – we prefer to use salted, but you can use unsalted butter if you would like. Don't forget to allow time for the butter to soften so it's easier to mix
granulated sugar and light brown sugar – we can't make peanut butter chocolate chip cookie bars without them being sweet! Also, be sure to pack the brown sugar when measuring so they have the correct texture after baking.
eggs – allow the eggs to come to room temperature, as this is a golden rule in baking!
vanilla extract – vanilla adds just a subtle flavor that blends all of the ingredients together.
all-purpose flour – we have not tested this recipe with other flour, so just stick to the basics here!
baking soda – our leavening agent and what is responsible for fluffing up our bars!
salt – a flavor enhancer that is another must in baking!
chocolate chips – we are using semi-sweet because they have just enough sweetness to create some balance since the cookie dough is already rich.
Reese's peanut butter cups – these are the star of the show! They give us all the peanut butter flavor without having to use natural peanut butter (or creamy peanut butter).
Optional Garnish:
Vanilla ice cream
Equipment Needed:
Stand mixer with the paddle attachment or an electric mixer
9 x 13-inch pan – we prefer using metal pans when baking. Not only is it an excellent heat conductor but it also cooks more evenly. However, if you don't have one, just use a glass baking dish.
Variations and Substitutions:
Chocolate chips – choose your preference! Milk chocolate chips or dark chocolate chips can be used or a half-and-half blend.
PB Cups – while we chose to use the standard size you can use the miniature peanut butter cups if that's what you have on hand.
Peanut butter chips – some like more peanut butter, so fold in some chips after adding the chocolate chips to the dough.
Make shapes – during the holiday season, instead of cutting into squares, use cookie cutters to make different shapes.
🔪 Instructions:
PREP: Line a 9×13-inch baking pan with parchment paper. Heat oven to 375 degrees.
Step 1: In the large bowl of a stand mixer, beat the butter and sugars together at medium speed until creamy.
Step 2: Add the vanilla and eggs, then continue mixing, scraping down the sides of the bowl as needed.
Step 3: Combine flour, salt, and baking soda in a separate mixing bowl.
Step 4: Add the dry ingredients to the wet ingredients and mix just long enough that they are incorporated.
Pro Tip: Use a spatula sprayed with cooking spray or a piece of plastic wrap to press the dough in the pan, it's a little sticky!
Step 5: Fold the chocolate chips in with a spoon or spatula.
Step 6: Press half of the cookie dough into the prepared pan so that it is an even layer.
Step 7: Take the peanut butter cups out of the wrappers.
Step 8: Place them over the layer of dough.
Step 9: Spoon the remaining dough on top, so the candy is covered.
Step 10: Bake until they are almost fully set. The top should be golden brown and the center should not jiggle.
Step 11: Remove from the oven and allow them to cool. After 10 minutes lift them by the parchment paper and transfer them to a wire rack. Slice and serve!
You can make these in a square pan, however, you may need two. One set may also be thinner than the others.
To get more servings out of one batch, cut them into smaller squares. They are thick enough that you can go up to 24 bars and them still be a nice size.
The dough for these peanut butter treats makes more than the average cookie recipe to have enough to cover the pan and the layer of candy.
Fun Fact
Reese's were originally named "penny cups" because they only cost 1 cent back in the 30s.
How to store chewy peanut butter cookie bars?
Keep leftover peanut butter bars in an airtight container in the refrigerator for up to 5 days. To freeze, wrap in plastic wrap then place in a freezer bag for up to 3 months.
What is a cookie bar?
Cookie bars follow the same recipe for cookies, except you don't roll out each one. Instead, you bake them in a pan and then slice them into squares or bars once they are finished baking.
More Decadent Peanut Butter Desserts
Peanut Butter Cup Cookie Bars
These chewy peanut butter cup cookie bars are made with reese's cups, chocolate chips, and a few other pantry staples. Each square is gooey, decadent and so simple to make!
Ingredients
3 sticks 1 ½ cups salted butter softened
1 cup granulated sugar
1 cup packed light brown sugar
3 eggs room temperature
2 teaspoon vanilla extract
3 ½ cups flour
1 ½ teaspoon baking soda
¾ teaspoon salt
3 cups semi-sweet chocolate chips
24 standard Reese's peanut butter cups
Instructions
Preheat the oven to 375 degrees F. Line a 9×13 metal baking pan (with square edges preferred) with parchment paper.

In a large mixing bowl add butter, sugar, and brown sugar. Use a standing mixer or hand mixer to beat together until creamy.

Add eggs and vanilla extract then continue beating until light and fluffy (2-3 minutes), scraping down the sides of the bowl occasionally.

In a separate mixing bowl add flour, baking soda, and salt. Whisk together.

Add dry ingredients to wet ingredients and beat just enough to incorporate.

Add semi-sweet chocolate chips and stir with a large spoon to mix.

Add half of the chocolate chip cookie mixture to the 9×13 baking pan. Flatten evenly into the pan.

Remove the wrappers from the Reese's peanut butter cups and place them into the pan over the bottom layer of chocolate chip cookie dough. Cut peanut butter cups in half, if needed, to fill as much of the space as possible.

Spoon the remaining dough over the peanut butter cups and press to spread it to cover.

Bake for 25-30 minutes, or until almost fully set. The top should be evenly golden brown and the center should not jiggle much. These cookie bars are best just a little undercooked.

Once cookies have cooled completely, lift from the pan and cut into bars.
Notes
Store in an airtight container for up to 5 days or freeze for up to 3 months. This recipe yields more dough than a standard chocolate chip cookie recipe – it lends itself nicely to fully covering the pan for the base and then having enough cookie dough to cover the peanut butter cups, too. The cookie bars come out nice and thick and just slightly gooey. Absolutely delicious. Use a piece of plastic wrap or a spatula sprayed with non-stick cooking spray to press the dough into the pan. It tends to be a bit sticky. You could cut these into even smaller squares – I think you could get about 24 squares out of one recipe and they are thick enough, that would still be a good serving size.
Nutrition
Calories: 540kcal | Carbohydrates: 79g | Protein: 9g | Fat: 22g | Saturated Fat: 10g | Polyunsaturated Fat: 2g | Monounsaturated Fat: 8g | Trans Fat: 0.03g | Cholesterol: 34mg | Sodium: 323mg | Potassium: 341mg | Fiber: 4g | Sugar: 50g | Vitamin A: 79IU | Vitamin C: 0.1mg | Calcium: 61mg | Iron: 4mg