Freezer Chicken Pot Pie is a convenient comforting dish made with a creamy chicken pot pie filling and flaky crust that can be prepped ahead of time and stored in the freezer for a quick and easy meal on busy weeknights!
Is there anything more comforting and satisfying on a chilly day than popping a Freezer Chicken Pot Pie in the oven and pulling out a hot, delicious meal?! I think not! The creamy chicken-packed pie filling and flaky pie crust gets assembled into multiple chicken pot pies and is perfect for anyone who loves a handy freezer meal. When you're ready for an easy dinner, they can go straight from the freezer into your oven.
Chicken pot pie freezer meals are hearty and comforting, loaded with wholesome ingredients and veggies that even picky eaters will be excited to eat! The pie filling is easy to make but you could even thicken leftover Creamy Chicken Stew instead of making the pot pie filling from scratch! While I've used a store-bought Double Pie Crust for this freezer chicken pot pie, you could also use Oil Pie Crust or Butter Pie Crust.
Enjoy a serving of Freezer Chicken Pot Pie with some Air Fryer Roasted Vegetables and warm Apple Bread Pudding for dessert. Or make a huge batch of pie crust – use some for the pot pies and some to make a homemade apricot pie or mini blueberry pies.
Jump to:
🥧 Freezer Chicken Pot Pie Ingredients: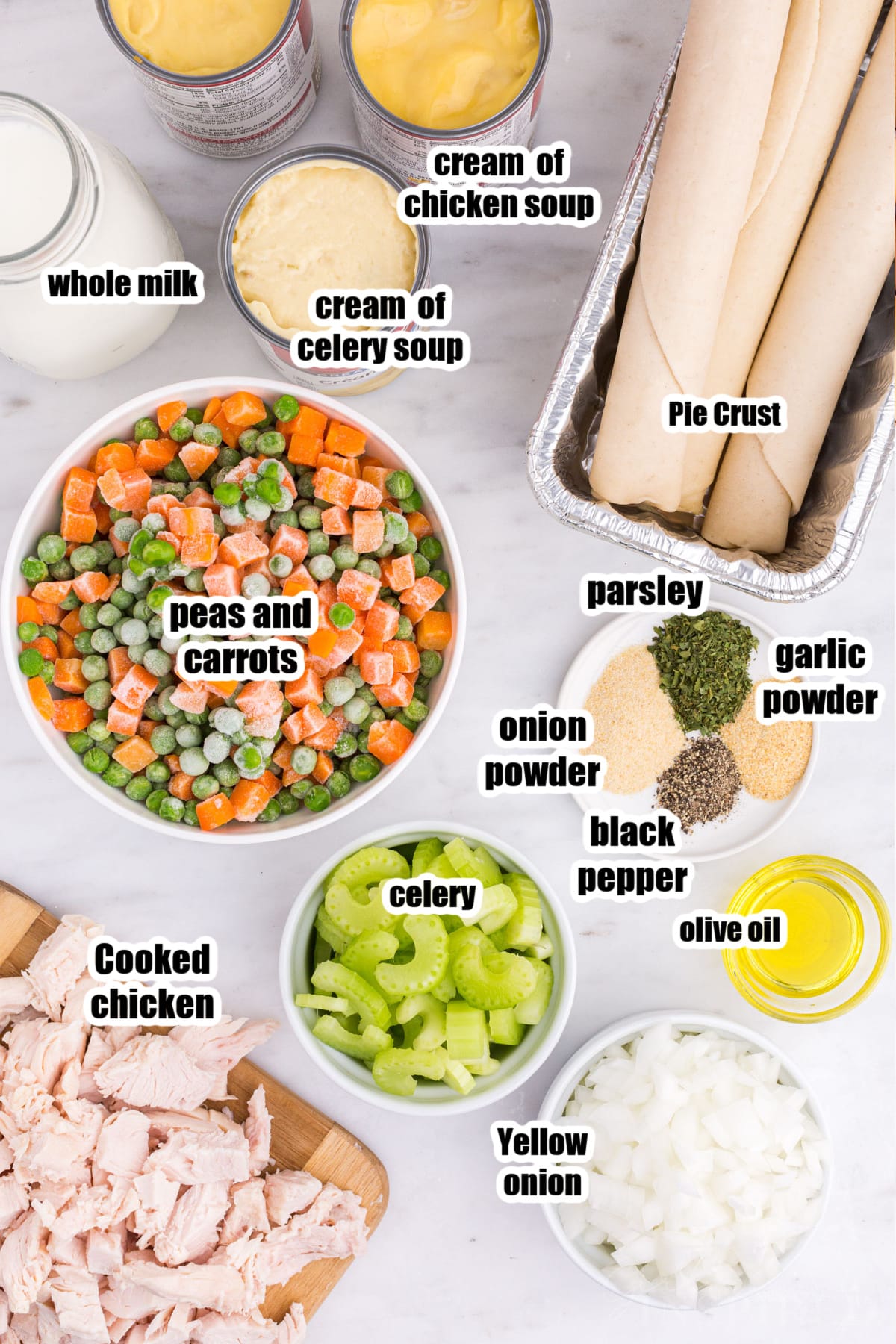 Olive oil – This is used to saute the vegetables. You can substitute nonstick baking spray, butter, or any preferred oil.
Yellow onion and Celery– Diced so that you don't have large chunky pieces of onion in the filling.
Seasoning – We use black pepper, onion powder, garlic powder, and dried parsley. These spices and herbs provide great flavor and are simple and readily available. Feel free to vary the seasonings to suit your taste.
Whole Milk – Milk, along with canned soups, form the base for the pot pie filling. You can substitute a low-fat milk, but the pie filling may not be as creamy and rich.
Cream of Chicken and Cream of Celery Condensed Soup – Canned soup is a quick way to make a creamy, flavorful filling. To achieve tasty, made from scratch filling, use our Easy Chicken Pot Pie recipe.
Peas and carrots – Frozen vegetables are best so that they don't become mushy by the time the entire pie has baked. They're also inexpensive and already cleaned and chopped – WIN!
Cooked chicken – Cook your chicken the night before, dice rotisserie, or use leftover chicken to save time. We love the rotisserie chicken from Costco or we cook chicken in the instant pot for fast results.
Pie Crust – Store-bought or homemade. I, personally, always prefer a homemade pie crust over store bought. But if convenience is your top priority, refrigerated pie dough works well here.
Egg wash – Beat one egg yolk with 1 Teaspoon of water to brush over the top pie crust before baking the pot pie. This gives them a nice golden sheen.
For a complete list of ingredients and their measurements, please refer to the printable recipe card 📋 at the bottom of the post.
Equipment Needed:
Disposable foil food containers are great to assemble this Freezer Chicken Pot Pie, saving you from having to use your ceramic dishes with no additional clean-up either.
Variations and Substitutions
Mini Pies: Easily make mini chicken pies by dividing your pie filling in mini pie dishes, disposable pie tins, or even ramekins. These would be ideal for lunchboxes, picnics, or single-serving purposes. Just note that the baking time may need to be reduced for mini pies so keep an eye on them.
Pie Dough Crusts – Use pre-made refrigerated pie crusts for convenience or make your own from scratch like this Oil Pie Crust recipe or Butter Pie Crust recipe.
Pie Filling- Add fresh vegetables to the filling such as potato, fresh green beans, or corn. Any hardy type of vegetables added to the filling mixture should first be sautéed with the onion and celery to ensure adequate softness by the time the pie has baked. Leftover turkey from Thanksgiving would also be great in this pot pie recipe.
Pie Top Crust: If you don't feel like making or assembling a pie crust top for your Freezer Chicken Pot Pie, you could easily sprinkle crushed buttery crackers over the pie filling.
🔪 Instructions:
PREP: Prepare the ingredients by dicing the onion and celery, dicing the cooked chicken, and setting out store-bought pie crusts to soften. If you will be cooking one or more of the freezer-friendly pot pies right away, go ahead and preheat the oven as well.
Step 1: In a skillet over medium-high heat, melt butter or heat olive oil and sauté the onion and celery until tender and translucent.
Step 2: In a large bowl, whisk to combine soups, milk, pepper, onion and garlic powder, and dried parsley.
Step 3: Add in the cooked vegetables, diced chicken, and frozen peas and carrots.
Step 4: Roll out one of the pie crusts on a lightly floured surface. Turn the aluminum loaf pans upside down and gently press them into the crust to indent an outline for your pie top.
Step 5: Cut the top pie crusts out and make small slits for venting.
Step 6: Divide the pie filling between each container and add the pie crust top. Crimp the edges of the pie crust against the tin to seal off the top. Optional: Brush the top of each pie crust top with an egg wash for color and sheen on the baked pot pies.
BAKE AND SERVE: You can bake these chicken pot pies immediately – heat oven to 350°F and bake for 45-55 minutes – the pot pie is ready when the filling is bubbling up through the slits in the center and the crust is golden brown.
Step 7: After you have assembled them (and are not baking them right away), wrap unbaked pies tightly with a couple layers of plastic wrap and a layer of aluminum foil. Set level in the freezer (you can place them on a baking sheet to help support the bottoms until the pies are frozen.) Freeze for up to 3 months for freshness.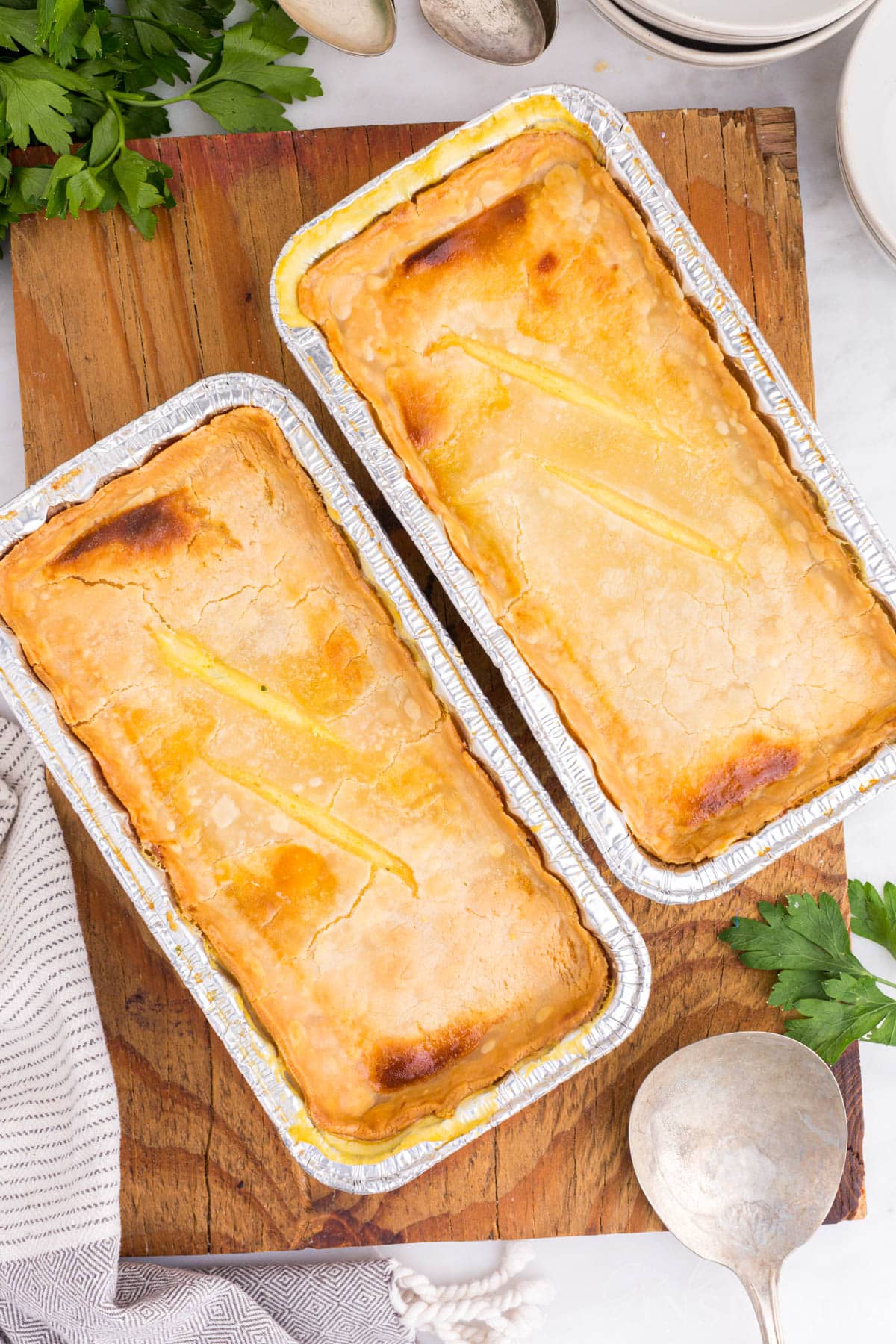 Step 8: When you are ready to take a frozen pot pie from the freezer, they can either be placed in the refrigerator overnight to thaw and then baked according to the instructions above or, alternately, remove the pot pies from the freezer. Unwrap the layers of foil and plastic. Place the foil over the top of the pot pie and bake in a preheated oven for 45 minutes. Then, remove the foil and continue baking another 45-55 minutes, until the pie filling is bubbly and the top pie crust is toasted.
Chicken Pot Pie Freezer Meal Cooking Tips
Label the freezer chicken pot pie with the date and contents, so you know when it was made and what's inside.
These individual pies do not have a bottom crust. If you are looking for the ultimate comfort food, you might prefer additional pie crust. You can crisp up the leftover scraps of pie crust and toss those into your pie when serving. If you want a bottom crust, I would recommend using a pie plate and making larger pot pies that will serve the entire family. You can still use a disposable pie pan and refrigerated or a homemade crust, but it will be easier to line the bottom of the dish with crust if you are working with larger containers.
There are several different sizes of disposable loaf pans available. Make more mini pot pies with the smallest size. We used a 1 lb. size tin and got 6 individual pot pies from this recipe.
Fun Fact
Chicken pot pie is believed to have originated in medieval England, where it was a popular dish among the wealthy. At the time, it was made with a variety of meats such as fowl, rabbit, and even peacock, and was often served in a pastry crust. The dish eventually made its way to America, where it became a staple comfort food, typically made with chicken and vegetables in a flaky pastry crust.
Recipe FAQs
How Should I Store Freezer Chicken Pot Pie?
Store any leftovers in an airtight container or in a pie dish wrapped with plastic wrap in the refrigerator for 2-3 days.
You can also make this pie a few days ahead of time and then bake it just prior to serving or heat it up in the oven if you previously baked it.
Can I Freeze Baked Chicken Pot Pie?
Absolutely! You can freeze your baked Freezer Chicken Pot Pie for up to 3 months. Allow it to completely cool and then wrap it in plastic wrap in an airtight container or with an extra layer of aluminum foil to prevent possible freezer burn. Since this recipe is really intended for batch cooking and freezing the unbaked pot pies, I would recommend that you use our traditional easy chicken pot pie recipe if you are wanting to freeze leftovers.
What Can I Serve With Chicken Pot Pie?
This Chicken Pot Pie is hearty enough to be enjoyed alone or you could add a fresh leafy green side salad or a serving of your favorite roast veggies for an extra dose of vitamins and minerals!
More Comforting Chicken Meals
If you try these Freezer Chicken Pot Pies or any other recipe on my website, please leave a 🌟 star rating and let me know how you liked it in the 📝 comments below.
Freezer Chicken Pot Pie
Freezer Chicken Pot Pie is a convenient comforting dish made with a creamy chicken pot pie filling and flaky crust that can be prepped ahead of time and stored in the freezer for a quick and easy meal on busy weeknights!
Ingredients
2-3 tablespoons olive oil
1 large yellow onion diced
3 cups celery diced
42 ounces cream of chicken soup
10.5 ounces cream of celery soup
5 cups whole milk
1 teaspoon black pepper
1 teaspoon onion powder
1 teaspoon garlic powder
1 teaspoon dried parsley
5 cups chicken cooked and cubed
32 ounces peas and carrots frozen
2 boxes of Pillsbury refrigerated pie crusts you will need 3 rolls of pie crust, there are 2 in each box (substitute two double crust recipes of homemade pie crust)
6 disposable loaf pans We used a 1 lb. size
Instructions
Remove refrigerated pie crusts and set them out on the counter (leave in their wrappers) to warm to room temperature.

In a large skillet, saute onions and celery in olive oil over medium heat. Cook, occasionally stirring, until onions are soft and translucent (8-10 minutes).

In a large mixing bowl, whisk together soups, milk, pepper, onion and garlic powders, and dried parsley.

Stir in cooked onion/celery mixture, chicken, and frozen peas and carrots.

Divide soup mixture between 6 foil loaf pan containers.

Unroll one pie crust at a time. Use the lid of each pan (or an unfilled inverted pan) and press an outline into the pie crust. Position the markings so that you can fit two cutouts on each pie crust. Use a knife to trace the outline and cut out "lids" for each pot pie.

Cut two slits in the top center of each crust.

Place a crust on top of each filled pie and seal the crust by pressing it against the sides of the pan.

Wrap in both plastic wrap and aluminum foil and freeze pot pies for up to 3 months.

To bake, preheat the oven to 375°F. Remove plastic wrap, but leave aluminum covering the top of the pot pie.

Bake, covered with aluminum foil, for 45 minutes. Remove the top and bake for another 30-40 minutes until the top crust is golden and flaky and the filling is bubbling up through the slits in the center of the crust.
Notes
This has so much flavor, and the sauteed vegetables, spices, and milk give these pot pies a homemade flavor with the ease of using cream soups for the base. It's important to watch for the filling bubbling up through the center slits in the crust. Everything is already cooked, but you do want your pot pie piping hot all the way through. It will also start bubbling around the edges, but that center is the last thing that will be heated through. I like to use rotisserie chicken for my pre-cooked chicken – it is super tender and flavorful.
Nutrition
Calories: 165kcal | Carbohydrates: 9g | Protein: 9g | Fat: 11g | Saturated Fat: 6g | Polyunsaturated Fat: 1g | Monounsaturated Fat: 3g | Trans Fat: 0.2g | Cholesterol: 67mg | Sodium: 723mg | Potassium: 130mg | Fiber: 1g | Sugar: 3g | Vitamin A: 2028IU | Vitamin C: 3mg | Calcium: 68mg | Iron: 1mg