Baked meatballs are tender, juicy, and ready in less than 1 hour. Serve as an appetizer, as a quick meal, or use them in other recipes like pasta and subs!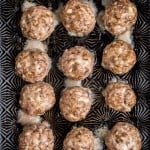 This oven baked meatball recipe is so easy to make and can be used many different ways. From dishes like spaghetti and pasta to meatball subs and those served with gravy. Every bite is filled with comforting Italian flavor. Make a double batch because they freeze and reheat well, making dinner time less stressful!
For a super easy meal, pair these oven baked meatballs with the best marinara sauce you've ever tasted (and doesn't take much time)! If you need to make some for later, you can freeze them before or after they have been baked. You can find more storage tips at the bottom of this post.
Serve Italian meatballs with a simple dinner salad or alongside Caesar Pasta Salad. You can also use this recipe to make meatball calzones, sub bombs, sliders, or fettuccini pesto.
Why You'll Love Baked Meatballs
Use the same recipe in a variety of dishes.
Cheap and easy to make.
Family friendly and kid approved.
Ready in less than 1 hour with minimal cleanup.
You don't have to worry about flipping them as you do when cooking them on the stovetop.
What Ingredients do I Need for Oven Baked Meatballs?
ground pork sausage – can use Mild Italian or Hot Italian Sausage
ground beef
minced garlic – mince your own cloves or use the store-bought kind in a jar.
Italian seasoning
coarse black pepper
coarse sea salt
dried onion flakes
Italian bread crumbs
Worcestershire sauce
light brown sugar
egg
sour cream
parmesan cheese
parsley for garnish
Pro Tip: When mixing the meat with the other ingredients, don't overwork it. You want to end with tender, juicy meatballs. The more you mix the more likely you will end up with tough and dry meatballs.
How to Make Oven Baked Meatballs
PREP: Line a baking sheet with parchment paper and preheat the oven to 425 degrees.
MIX THE MEATBALLS: Combine all of the ingredients in a large bowl and mix until incorporated.
ROLL THE MEATBALLS: Use a cookie scoop to make each meatball (about 2 tablespoons), then place them on the baking sheet.
COOK: Bake for 12-15 minutes if you are making the meatballs that is going into a sauce or another dish. Bake for 15-18 minutes if you are serving by themselves.
Be careful not to over mix the meat mixture. This can cause the meatballs to be rubbery.
If you roll out the meatballs in 2 tablespoon portions, this recipe will make 24 larger meatballs, which is what I made. You can make them smaller, which will yield about 48 and are perfect for appetizers.
Instead of making a half batch, I recommend you make a full batch and freeze them for later. That is much easier than storing leftover ground meat.
Fun Fact
The Guinness World Record of the largest meatball weighs 1,757 pounds. The community donated the food to local programs in South Carolina.
Substitutions
If desired, use ground turkey or ground veal in place of the ground beef.
You can use onion powder in place of the dried onion flakes. Just remember, onion powder is 3 times stronger. So you will only need about a half a teaspoon of onion powder.
Substitute up to a half teaspoon of garlic powder for the minced cloves. If you like more garlicky flavor you can increase the amount.
Panko breadcrumbs can replace the Italian breadcrumbs, however, I feel like regular breadcrumbs make for a moister meatball.
Add mozzarella cheese or replace it parm if desired.
When baking meatballs should I cover them?
In this recipe, we want the meatballs to be browned and have a little crust on them so you should not cover them.
How long to bake meatballs in oven?
To cook the meatballs to fully done, bake meatballs in a 425°F oven for 15-18 minutes. If you are going to put the meatballs into a sauce or dish that is going back into the oven, I recommend baking for just 12 minutes so that they can finish baking without drying out during the subsequent cook time.
How do you know when meatballs are done in the oven?
They will be brown and if you check the internal temperature, they should read at least 145 degrees.
How long do oven baked meatballs last?
Store the leftovers in an airtight container in the refrigerator for 3-4 days. Reheat over medium heat or in the microwave until they are warmed all the way through.
Can you freeze homemade meatballs?
Bake them for 12 minutes and allow them to cool. Place them on a baking sheet in the freezer for 2 hours then place them in a freezer bag. They can be added to tomato sauce (or your other favorite sauce) directly from freezer on the stovetop. Before eating, check the internal temperature with a thermometer to be sure it reads 145 degrees.

If you are not going to use them in another recipe or are going to eat them plain, fully cook them before freezing.

Easy Dinner Recipes You Have to Try
Oven Baked Meatballs
Baked meatballs are tender, juicy, and ready in less than 1 hour. Serve as an appetizer, as a quick meal, or use them in other recipes like pasta and subs!
Ingredients
1 pound ground sausage Mild Italian or Hot Italian will work
1 pound ground beef
2-3 cloves minced garlic
1 teaspoon dried Italian seasoning
½ teaspoon coarse black pepper
¼ teaspoon coarse sea salt
2 teaspoons dried onion flakes
1 cup Italian bread crumbs or panko breadcrumbs regular breadcrumbs yield moister meatballs, in my opinion
1 teaspoon Worcestershire sauce
1 tablespoon light brown sugar
1 large eggs
½ cup sour cream
½ cup grated parmesan cheese
Fresh Italian parsley for garnish
Instructions
Preheat the oven to 425°F. Line a sheet pan with parchment paper or spray with non-stick cooking spray.

In a large bowl, combine all of the ingredients and use clean or gloved hands to mix the meatball ingredients thoroughly.

Scoop 2 tablespoon (or chosen size) balls and roll between your hands to form uniform meatballs.

Bake for 12-15 minutes (if prepping the meatballs to be finished in a casserole or sauce)) or for 15-18 minutes until the internal temperature reaches at least 145°F (for serving immediately.) The tops will begin to brown when they are done.

Serve.
Nutrition
Calories: 150kcal | Carbohydrates: 5g | Protein: 8g | Fat: 11g | Saturated Fat: 4g | Polyunsaturated Fat: 1g | Monounsaturated Fat: 4g | Trans Fat: 0.3g | Cholesterol: 39mg | Sodium: 268mg | Potassium: 134mg | Fiber: 0.3g | Sugar: 1g | Vitamin A: 84IU | Vitamin C: 1mg | Calcium: 42mg | Iron: 1mg