Create a marbled effect hot chocolate bomb with tinted white chocolate and stuff with Lucky Charms hot chocolate for the perfect treat on St. Patrick's Day.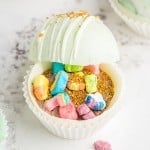 Learn how to make Marbled Hot Chocolate Bombs just in time for St Patrick's Day! High-quality tempered white chocolate with swirls of green makes for a beautiful marble effect. Fill each sphere with your favorite hot cocoa, some golden sprinkles, and rainbow lucky charms. Drop a bomb in with some hot milk and watch it turn into a magically delicious creamy cup of hot cocoa!
This step-by-step guide for Hot Chocolate Bombs is handy to keep around on days when you're wanting to learn the basics of tempering different types of chocolate and not necessarily wanting a fancy marble swirl. Either way, all of my hot cocoa bomb recipes are interchangeable and customizable for any and every occasion!
What is St Patrick's Day?
St Patrick's Day marks the death of St Patrick, the patron Saint of Ireland. Irish folks in North America brought religious and cultural celebrations with them, but today it appears as though (in North America, anyway) it is less of a religious celebration than it once was. Now it is more a celebration of Irish culture and customs.
It's a time to gather, wear green (whether in the form of clothing, accessories, or shamrocks) and drink lots and lots of green beer!
Why is green used for St. Patrick's Day?
Wearing green represents everything from religion, to the land, the flag, and Irish nationalism. Of course, based on deeper historical context, there is a lot more to it than that!
The color green plays a major role in this celebration. So, we are honoring the tradition by creating these beautiful green marbled hot cocoa bombs!
Green beer's got nothing on a delicious cup of creamy hot chocolate! But if you happen to add a little Irish cream into your drink, I won't tell 🙂
Appliance Tips:
Silicone mold – This is essential for creating a perfect sphere that pops out easily once it's set. I get mine here, right through Amazon (affil).
Instant Read Food Thermometer or candy thermometer– If you don't have one, you need to invest in one asap. It gives you an accurate temperature reading for whatever it is you're cooking. Tempering chocolate is a very specific technique requiring specific temperatures. You can alternately use a candy thermometer, but the chocolate changes the temperature so quickly, it may get too hot before the candy thermometer catches up.
Double boiler – This isn't a necessity, but if you have one definitely use it. Otherwise, a tempered glass bowl over a pot of boiling water will work just as well. You can actually use an Instant Pot as well if you have one.
Ingredients:
High-quality white chocolate – Has a higher milk and sugar content than dark chocolate, so it will reach its desired temperature faster. For the sake of simplicity, if this is your first time tempering chocolate, stick with just one kind at a time!
Hot cocoa mix – Use your favorite!
Lucky Charms marshmallows – Yes, the ones from the cereal box. They do sell packages of just the marshmallows now, but I picked my own out because we have a weak spot for Lucky Charms!
Green food coloring – Use gel (not liquid) food coloring to create the marble effect.
Gold sprinkles – The perfect way to represent a pot of gold!
How to Make Hot Chocolate Bombs with a marble swirl:
Step 1: Melt ⅔ of the chocolate over a double boiler. Then, remove it from the heat just as it starts to melt and while there are still unmelted chunks of chocolate. The temperature of the white chocolate should not exceed 105°F. Continue stirring off the heat and add the remaining chocolate. White chocolate and dark chocolate will have different melting points.
Step 2: Once the chocolate is smooth and properly cooled to 82°F, place it back on the double boiler to melt just enough for molding. This should be between the 82°-90°F range. It is important to keep it at that level until it is in the mold.
Step 3: To get the marbled effect, dab the tip of a toothpick or wooden skewer with green gel food coloring. Swirl the stick through the chocolate, but do not overmix.
Step 4: Spread a layer of chocolate inside each sphere and place it in the fridge to set. Gently remove each one and set up your fillings to be able to work quickly.
Step 5: Melt the edges of one half of the sphere on a heated cast iron pan or plate in the microwave. Fill with hot cocoa mix, gold sprinkles, and lucky charm marshmallows. Melt the rim of the other half of the sphere and connect the two halves.
To serve: place one hot chocolate bomb in a mug or heat-proof cup. Pour 6-8 oz. of steamed milk over the hot chocolate bomb. Stir and enjoy!
Save some chocolate for drizzling and sprinkle extra gold sprinkles on top!
If you want to make an entirely green bomb, go right ahead and forget the swirl. You can add more coloring and as a result, it will lead to a darker green, so go nuts!
If you're feeling ambitious, swirl with more than one color which will give you a rainbow effect!
I mean, a rainbow hot chocolate bomb, with a pot of gold sprinkles buried inside? You may just find a little green leprechaun looking for this treasure!
More Hot Cocoa Bomb Inspiration
How do I know if I tempered my chocolate correctly?

Tempering chocolate means melting it and keeping it within a certain temperature range until it is set. This helps create a strong shell with a shiny coating. It is much more durable than non-tempered chocolate and has a lovely snap to it. If your chocolate encompasses all of this, then you've done it correctly.
Marbled Hot Chocolate Bomb Recipe
Create a marbled effect hot chocolate bomb with tinted white chocolate and stuff with Lucky Charms hot chocolate for the perfect treat on St. Patrick's Day.
Equipment
2.5-3" silicone sphere mold
Ingredients
12-16 oz. high quality white chocolate
6 tablespoons hot cocoa mix
1 cup Lucky Charms marshmallows
green food coloring
gold sprinkles
Instructions
Chop the chocolate into smallest possible pieces.

Place 8 oz. (or ⅔) of the chocolate pieces into the top of a double boiler or a glass/metal mixing bowl.

Heat an inch of water to a simmer in a small pot on the stovetop. Place the double boiler or bowl over the top of the simmering water (the top bowl should NOT touch the water). Stir with a spatula while the chocolate begins to melt.

Regulate the temperature of the chocolate carefully. Remove from heat as soon as the chocolate is melting, but there are still some solid pieces. Temperature should not exceed 105°F for white chocolate.

Continue stirring off of the heat until the chocolate is smooth. Add the remaining ⅓ of chocolate pieces, a little at a time, stirring until they are melted as well.

Continue stirring the chocolate until it cools to a temperature of 82°F.

Once the chocolate has cooled, place the bowl/pan back over the simmering water and reheat just a little bit until it is smooth and liquid enough for molding (85-88°F for white chocolate.) It is important to keep the chocolate between 82°F and 88/90°F at all times until it has been placed in the mold.

To make marbled hot chocolate bombs, follow the above steps using white chocolate. At this point, dab the tip of a toothpick or bamboo stick with green gel food coloring. Swirl the stick through the chocolate just enough to leave a trail of color behind. Do not overmix; it's important to keep separate green and white color swirls in the chocolate.

Spread a layer of melted chocolate to cover the full inside of each sphere cavity. Place the filled mold into the refrigerator for 3-4 minutes to set.

Gently remove each half sphere from the mold.

Heat a small plate in the microwave or cast iron pan. Prepare your workspace with the hot cocoa mix, Lucky Charm marshmallows, and gold sprinkles so you can work quickly.

Quickly melt the edges of one half sphere on the heated plate, fill with 1 tablespoon of hot cocoa mix, marshmallows, and sprinkles. Melt the edges of the other half of the sphere on the hot plate and seal the two sides together.

Drizzle the tops with melted chocolate and/or add sprinkles or decorations.

To serve: place one hot chocolate bomb in a mug or heat-proof cup. Pour 6-8 oz. of steaming milk over the hot chocolate bomb. Stir and enjoy!
Notes
Use latex or cotton gloves to prevent fingerprints on the chocolate. Candy melts or "dipping chocolate candy" can be used and does not need to be tempered, but flavor and durability is copromised.
Nutrition
Calories: 87kcal | Carbohydrates: 18g | Protein: 1g | Fat: 2g | Saturated Fat: 2g | Trans Fat: 1g | Sodium: 134mg | Potassium: 1mg | Fiber: 1g | Sugar: 14g | Vitamin A: 2IU | Calcium: 15mg | Iron: 1mg