This carrot soufflé recipe is a delicious side dish made with simple ingredients that is a must have for your holiday table.
Our delightful carrot souffle is a fun twist on the traditional soufflé that has just the right amount of sweetness to compliment any main courses that the whole family will love.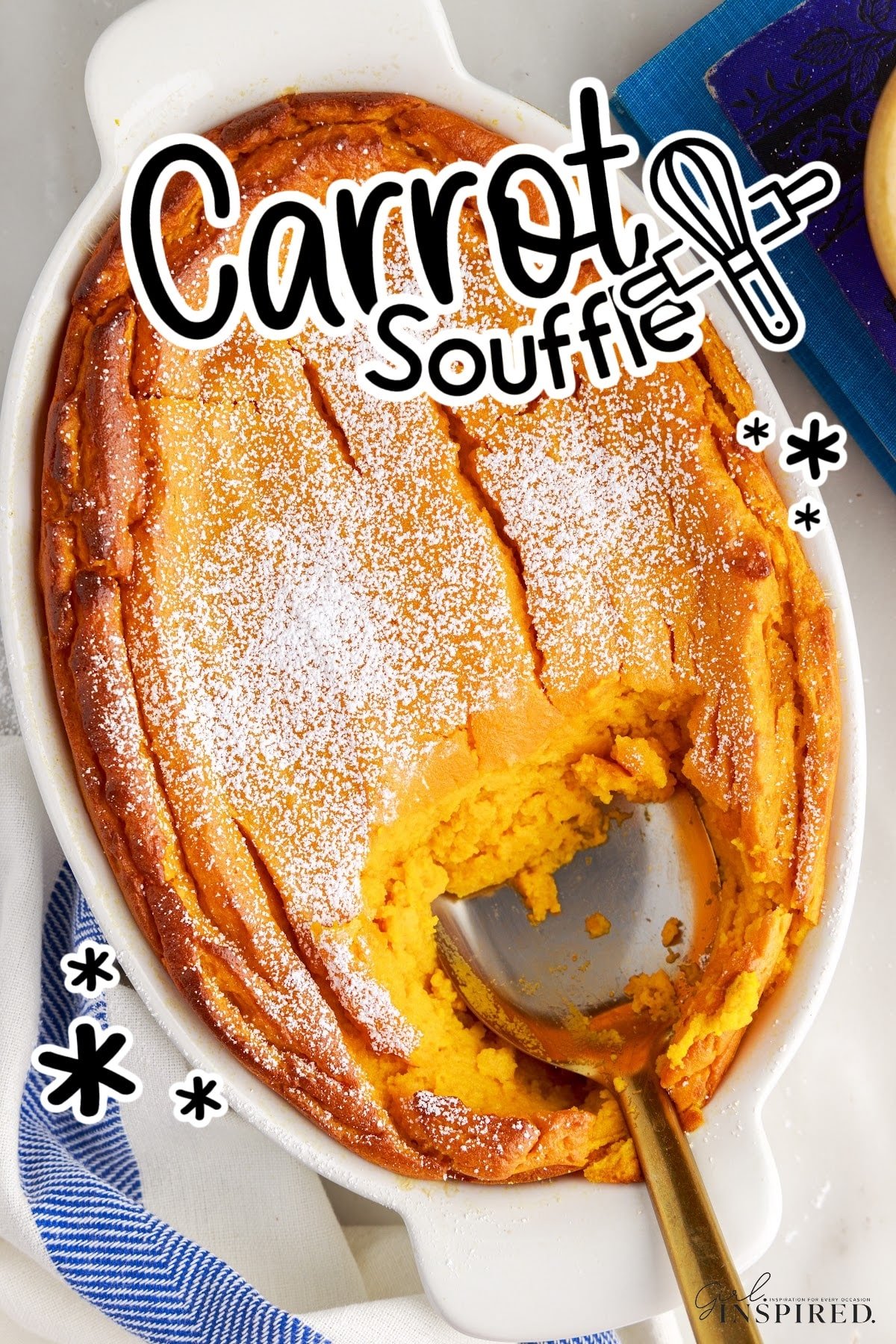 If this is your first time making carrot souffle, you are in for a real treat. It's sweet and savory all at one time, the consistency is light and fluffy, with a subtle carrot flavor. Adding the powdered sugar on top also makes it like a sweet dessert, that even your picky eaters will enjoy.
When it comes to dinner parties and holiday side dishes, other family favorites we can't live without are skillet creamed corn and candied yams with marshmallows. It's super simple and a great dish when you are short on time. We also love using fresh carrots to make brown sugar glazed carrots, carrot cake cookies, and that sweet and ultra moist carrot cake roll.
Jump to:
🥕 Ingredients:
carrots – regular carrots or baby carrots will work.
granulated sugar – can be adjusted based on your liking; home grown or organic carrost may have a different sweetness level than standard grocery store carrots.
unsalted butter – if using salted butter, you may want to omit the other salt.
eggs – allowing the eggs to come to room temperature first adds more air so the souffle is light and fluffy.
all-purpose flour and baking powder – our dry ingredients help bind and lift the souffle.
vanilla extract and salt – adds more flavor.
For a full list of ingredients and their measurements, 📋 please view my printable recipe card at the bottom of the post.
Optional Garnish:
Easy carrot soufflé is great with a light dusting of powdered sugar on top before serving.
Substitutions and Variations
Pecan topping – use the pecan streusel from my sweet potato casserole with pecan streusel.
Sweet potatoes – swap out the fresh carrots for sweet potatoes or use my sweet potato souffle recipe instead.
​Single servings – bake in individual ramekins instead of a large baking dish.
Nuts – adding pecans or chopped walnuts is a great way to give this classic side dish a little added crunch.
🔪 Instructions:
PREP: Preheat oven to 350 degrees F.
Step 1: Peel and chop the carrots so they are even in size.
Step 2: Add the carrots to a large pot of water so it covers about 2 inches over the top. Boil carrots, then reduce to a low boil. Cook until the carrots can easily be pierced with a fork (about 15 minutes). Drain and cool slightly.
Step 3: Transfer the carrots to a blender or to the bowl of a food processor with the rest of the ingredients and pulse on high speed for 1 minute.
Step 4: Add the pureed carrots to a casserole dish and bake in the preheated oven for 40-45 minutes so it's puffed across the top and golden brown.
Pro Tip – If you are making this delicious dish for a holiday dinner, you can make it the day before and simply reheat before serving.
Step 5: Allow the souffle to cool for 5-10 minutes before scooping.
SERVE: Dust with powdered sugar and serve.
Carrot Souffle Recipe Tips
This is a great recipe to use up leftover carrots you may have on hand.
If doubling the recipe, use a 2 quart casserole dish and add an additional 20-25 minutes to the cooking time.
​Do not open and shut the oven door when baking. This could make the souffle fall.
If using really sweet carrots, you may want to reduce the sugar. However, we found the amount of sugar we used was great with grocery store carrots.
A potato masher can be used to mash the carrots, but the souffle will not have as much lift and the carrot mixture will not be as smooth. You could also use a hand mixer or stand mixer if you decided not to blend.
Cooling down the carrots before adding the eggs ensures that the eggs won't scramble before baking.
Fun Fact
The word "soufflé" comes from the French verb "souffler," which means "to blow" or "to puff." This is a fitting origin as soufflés are known for their airy and puffed-up texture, achieved through the incorporation of beaten egg whites and/or eggs.
Recipe FAQs
What is a souffle?
A soufflé is a light and fluffy dish made by folding beaten egg whites/eggs into a flavorful base, often consisting of ingredients like sugar, flour, and pureed fruits or vegetables. It is typically baked until puffed and golden brown, resulting in a delicate and airy texture.
How long does carrot souffle last?
Store leftovers covered with plastic wrap or in an airtight container for 2-3 days. We do not recommend freezing.
More Delicious & Flavorful Carrot Recipes
If you tried this Carrot Souffle Recipe or any other recipe on my website, please please leave a 🌟 star rating and let me know how you liked it in the 📝 comments below.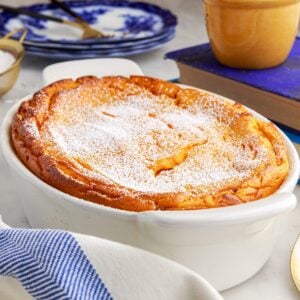 Carrot Souffle
This carrot soufflé recipe is a delicious side dish made with simple ingredients that is a must have for your holiday table.
Ingredients
1 lb. peeled and chopped carrots
½ teaspoon salt
½ cup granulated granulated sugar
6 tablespoons unsalted butter
3 eggs room temperature
3 tablespoons all-purpose flour
1 teaspoon baking powder
1 teaspoon vanilla extract
Instructions
Preheat oven to 350°F.

Peel and chop carrots into evenly sized pieces.

Place carrots in a saucepan and fill with water to about 2" above the carrots. Bring water to a boil. Reduce to a low boil and cook until carrots are very soft (pierce easily with a fork, about 15 minutes.) Drain water and allow carrots to cool slightly.

In a blender carafe, add the cooked carrots and all remaining ingredients. Blend on high speed for 1 minute.

Transfer carrot mixture to a greased 1.5-2 quart baking dish. Bake for 40-45 minutes, until carrot souffle is puffed evenly across the top and begins to turn golden brown (or looks matte across the entire surface.)

Allow souffle to set for 5-10 minutes before scooping into it.

Dust with powdered sugar for serving, if desired.
Notes
Storage: ​Refrigerate leftovers for 2-3 days, and do not freeze. Notes: Handle the souffle gently and avoid opening and shutting the oven door while baking so it doesn't fall. Room temperature eggs adds more air while blending so it's puffed and light. If you are using sweet carrots, you may want to reduce the sugar. However, we got regular carrots from the grocery store and the amount of sugar was perfect. Use a 2 quart baking dish if you want to double the whole recipe. Increase the cooking time to 90 minutes. Using a potato masher will work on the carrots but will not add as much lift. When mixing by hand, beat the eggs well before adding to the other ingredients. Cool the carrots before mixing them with the eggs so they don't scramble.
Nutrition
Calories: 243kcal | Carbohydrates: 27g | Protein: 4g | Fat: 14g | Saturated Fat: 8g | Polyunsaturated Fat: 1g | Monounsaturated Fat: 4g | Trans Fat: 0.5g | Cholesterol: 112mg | Sodium: 350mg | Potassium: 281mg | Fiber: 2g | Sugar: 20g | Vitamin A: 13098IU | Vitamin C: 4mg | Calcium: 81mg | Iron: 1mg