We did it!! We celebrated Addie's third birthday in major mermaid style. And I think all of the kids had as much fun as I did! All of the creative elements of the party came together just as I had envisioned and I think it was pretty darn amazing (am I allowed to say that?) We transformed our hot, weedy outdoor space into quite the beachy destination and I'm really excited to have that space to hang out in now that the party is over!! In fact, we were out there all day Sunday, and Graham and I even sneaked down there after the kids were in bed to have a glass of wine in the peaceful evening with our lantern candles flickering – bliss!
I have a lot I'd like to share about the party and some tutorials planned, but I'm going to just overload you with pictures today and then, when my brain functioning returns, I'll post more of the details – assuming you're interested, that is. It's sort of a weird thing – this blogging gig – because I feel like I'm talking to you, but I don't really have any clue if you're interested…good with a little info….wanting more details or more pictures or tutorials or maybe just something else entirely? Such a guessing game, so speak up, I'm listening, okay?? Now… here's a snapshot (or many) of the party: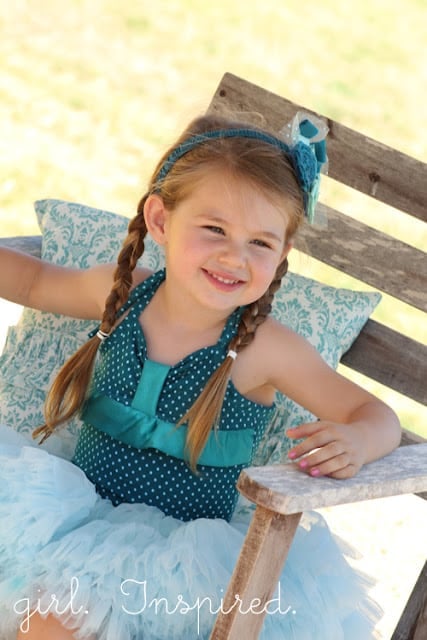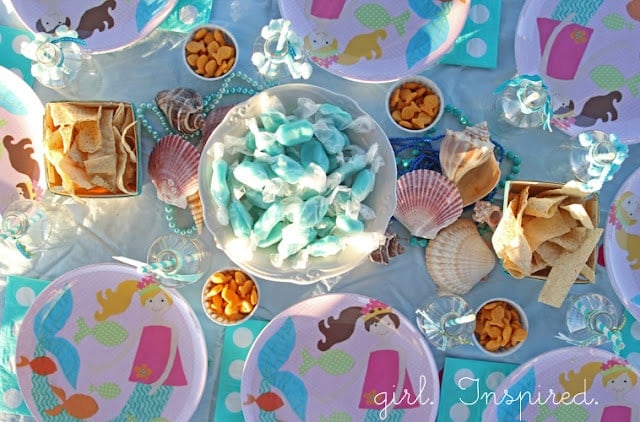 Dining for mermaids and mermen – kid menu items included: goldfish, chips, watermelon, terriyaki chicken wings, and mac and cheese shells.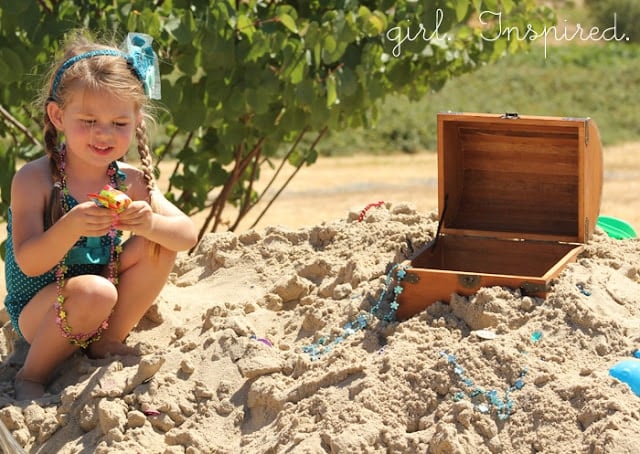 If you can't have your mermaid party at the beach, you can have the beach delivered to you! I knew it would be cool to have a sand pile, but I didn't anticipate just how much it would round out the beachy feel of the party. AND now my girls want to live outside covered in sand. They played pirates all day after the party and built a super cool "pirate ship" – see?
One of my favorite spaces for long term potential – this is across from our kiddie pool – great for hanging towels and admiring my – let's call it whimsical – beachy art (
get the beach art how-to here
).
Homemade taffy. It's not that the party needed homemade taffy, but how much fun is it to have a great excuse to give taffy-making a try?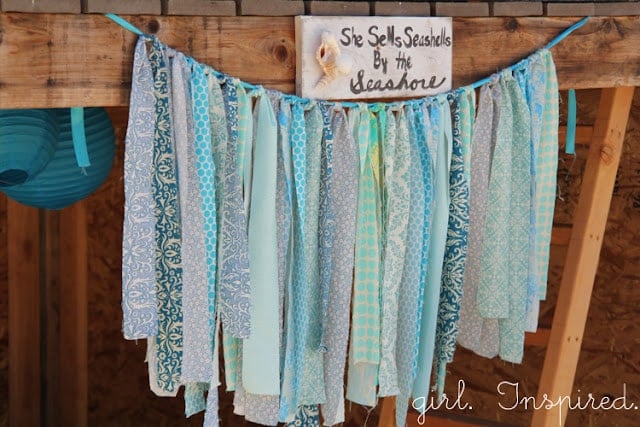 The
fabric banner
found a nice place hanging above the seashell painting area. I kind of love this little seashell sign I painted up, but maybe not as much as I love this next sign….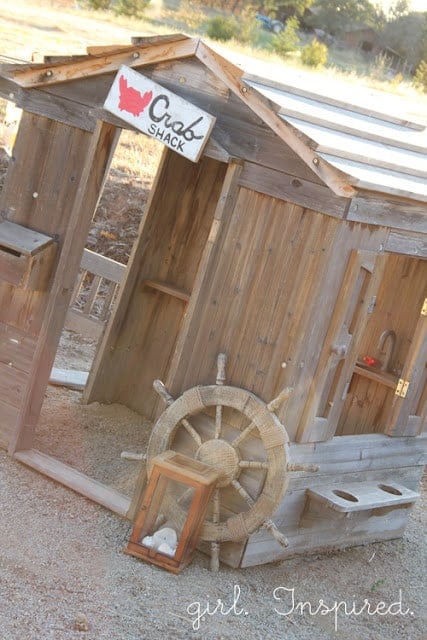 I thought this would be a good spot for naughty children to have a time out. The Crab Shack – get it? sorry….I entertain myself with that kind of humor. Okay, moving on…
More candy on the dessert table – this is candy sea glass, candy making doesn't get easier than this one! And I can't get over how great raw sugar works as "sand." Thank you, Pinterest, once again.
A zoomed out shot of the dessert table mostly set – I also had cupcakes out here, but they didn't make it down from the house in time for their photo shoot. Do you recognize the dessert table?
And as long as we're talking about dessert, let's squeeze in some more yummy pictures of candy and cake. The
candy seashells
turned out pretty on top of that ocean-y cake, right?
I hear the cake was delicious – chocolate with rasberry filling and lemon with rasberry filling, frosted with swiss meringue buttercream. I'm not usually one for fads, but the ombre ruffles were a must for this cake!!
(Full tutorial for the decorating the cake here.)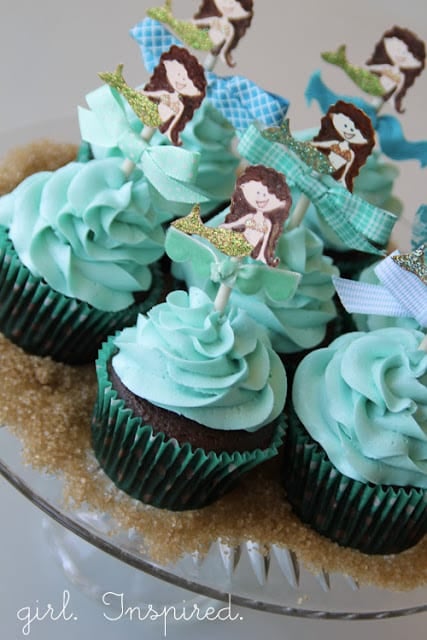 Pillows are so simple to make – I whipped up a pile of them to cozy up the party space and add some extra color.
(Read all about the pillows here.)
I used remnants from the
quilts
I'm working on for the girls' room so that the pillows are ready to accent their beds should I ever finish the quilts!!
And, finally, I even handed off the camera to get my picture taken with the birthday girl herself!!
Alright! Happy Monday everyone! It's a new week, a new month, and I have just tossed my mermaid party to-do list in the trash. Checkity-check-check-check!! What are you working on?