Have you ever made a swimsuit? The thought of sewing a swimsuit can be intimidating and it's hard to imagine that it will fit and serve its purpose, right? Well, I'm not an expert, but I've sewn a few swimsuits now and have been really pleased with the result! Last week, my family was in Maui and it was amazing, of course. I made the older girls new swimsuits for the trip and armed with only my phone camera, I talked them into an ocean side photo shoot! (By "talked them into", I mean I bribed them with extra souvenir money – they'll do anything for shopping!) Today, I thought I'd share some pictures of their swimsuits and pull together some resources for you if you're thinking of jumping into the world of swimsuit sewing! By the end of this post, you're going to have all the inspiration you need to sew a swimsuit!! And if you'd like to venture into sewing a swimsuit for YOURSELF, definitely check out my Bombshell Swimsuit Pattern Review. Are you ready?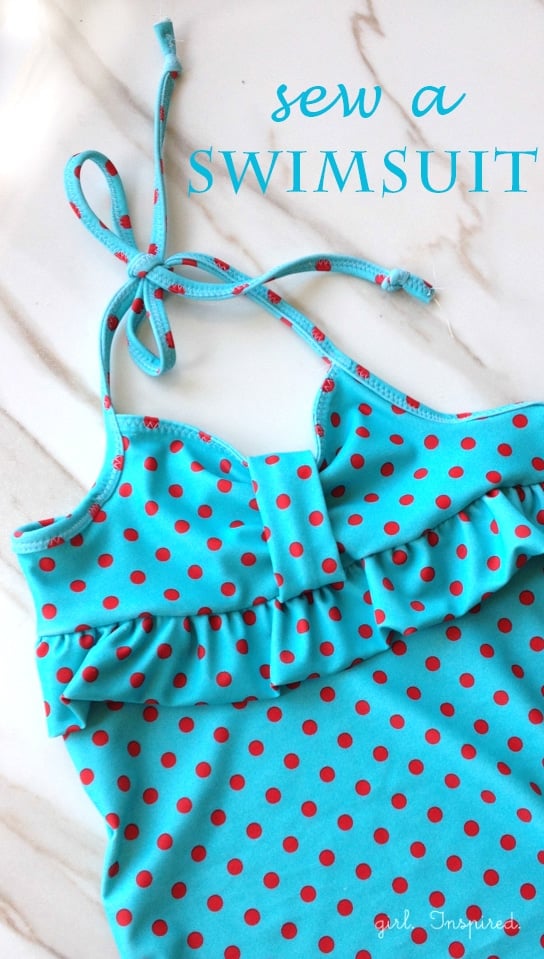 I used the same pattern for these suits that I used for the very first swimsuit I sewed for Addison's mermaid birthday party two years ago! The pattern is the Santa Monica Sweetheart Tankini by Peekaboo Pattern Shop. She has quite a few swimsuit patterns that I'd like to try. I was in a hurry to get these done, though, so I stuck to a pattern that I already had printed out. This pattern takes maybe an hour or two to sew and not very much fabric at all!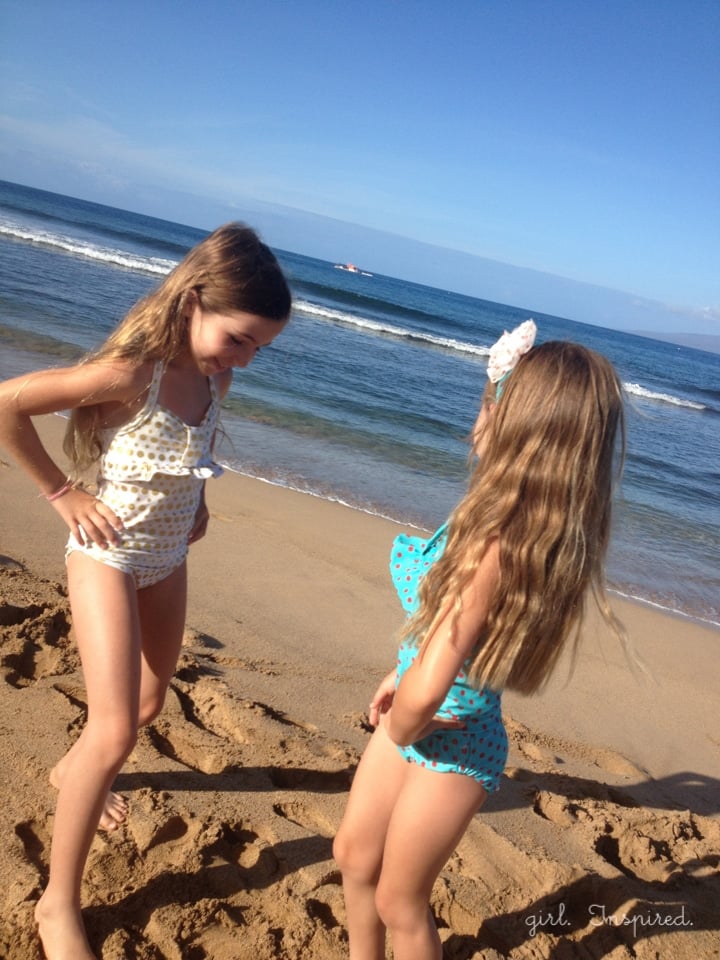 I struggled with the sizing a little bit because my girls are so bitty – I think I ended up making both of them a size 5ish, with a little length added to Olivia's. I didn't use any elastic in the legs of Olivia's either and the fit is just fine. I sewed the suits on the serger, which speeds things along, and I also used my regular machine for quite a bit of the project. Most of the stitching is just a simple zig zag stitch and I noticed that some of the stitches were coming out by the end of the trip – that's about 5 hours of pool time per day for half of the trip (they rotated suits).
Online Children's Swimsuit Patterns
There are a handful of children's swimsuit patterns available online; here are a few:
Swimsuit Fabric
On to the fabric: I have purchased swimsuit material from fabric.com and lowpricefabric.com. I know that you love that gold polka dot because it's absolute perfection and the aqua/red polka dot is really awesome, too! The gold polka dot is the same that I used for my 30-Minute Mermaid Skirt and it doesn't seem to be available right now, but it was from lowpricefabric.com (Michael Levine in L.A.).
I've seen swimsuit fabrics at Joann Fabric & Craft Stores, also, and in MOOD when I was there last year (haven't checked MOOD online, but I'm sure you can find a great selection). From here, I'm going to point you towards this Ultimate Swimsuit Fabric Shopping Guide because she covers a ton of information!
So, what are you waiting for? You are going to be SO PROUD of yourself when you sew your little one (or yourself oh brave one) a SWIMSUIT!!! I just think it's really super cool (and my girls do, too!)