Have you seen these banners made from strips of fabric yet? They're popping up all over the internet and I think they make such fun backdrops for parties, particularly dessert tables. I made one last week in preparation for Addie's upcoming birthday party.
I used about 2 yards of fabric total, cutting 2-2.5″ wide strips selvage to selvage from a variety of aqua/teal fabrics. You simply take a long ribbon and knot the strips of fabric around the ribbon.
Ten minutes later and you've got yourself a great little decoration. The party is still a couple weeks away, but I am loving the festive colors draped up on my antique cubbies in the sewing room.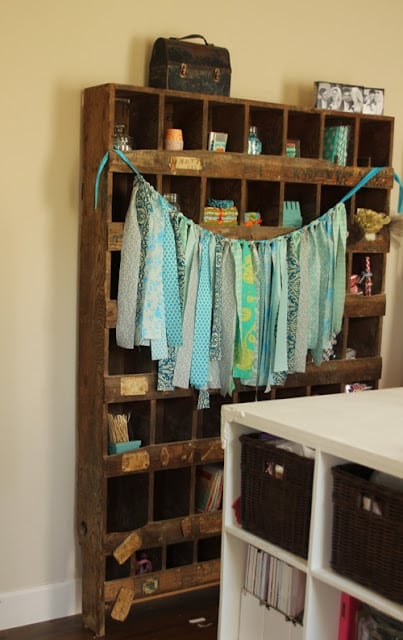 We're still working on the chicken coop, but I'm happy to report the chickens have officially moved in. Summer vacation has begun and we're looking forward to some quality pajama time. Most of my sewing time is dedicated to the girls' scallop quilts, but I did get to sew up the sweetest little dress for Miss Addison. I'll be sharing that tomorrow along with a giveaway I know you're going to love, so be sure to stop back in!!