One of my very favorite seamstress and pattern designing friends has done it again! Lindsay, from
The Cottage Home
blog and
The Cottage Mama
dress and pattern shop, has just released her three latest children's sewing patterns and they are as awesome as ever!
You might remember the
Janey Jumper dresses
that I made my girls to wear this past Christmas, which were made using one of The Cottage Mama's first patterns. Well, Lindsay was kind enough to include me on her blog tour for this pattern release as well and today I'm sharing my creation from the
Charlotte Apron Dress pattern
.
The Charlotte Apron Dress sewed up like a dream. I cannot emphasize enough how straightforward and clear these patterns are. All the pieces are clearly marked, the assembly of the dress makes sense, and there are plenty of ideas for embellishing and altering the pattern to make your own creation.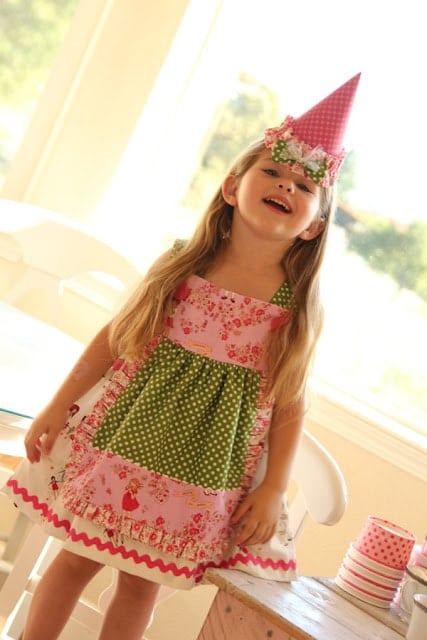 I used several fabrics from
Sarah Jane's On Parade fabric line
. I love the bright colors and playful pictures. And I love that the Charlotte Apron Dress has enough embellishment to allow me to showcase several fabric patterns all at once. Addison LOVES this dress and she was so excited to wear it on her actual birthday for ice cream cone cupcakes and hot fudge sundaes. Along with her party hat, she was so giggly and goofy, I had quite the challenge capturing pictures of this darling little dress.
So…..would you like to create a Charlotte Apron Dress for your little cutie? The Cottage Mama is GIVING AWAY one pattern to a Girl. Inspired. reader! How about that? In order to enter this giveaway, go visit
The Cottage Mama shop
and then come back and leave me a comment! That's it!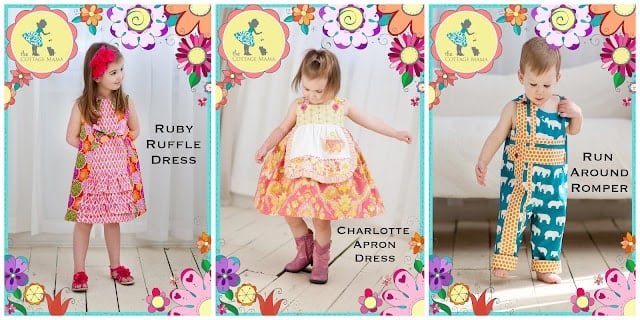 And for more sewing inspiration with all three of The Cottage Mama's new sewing patterns, you can visit all of the stops on:
The Cottage Mama Sewing Patterns
Blog Tour