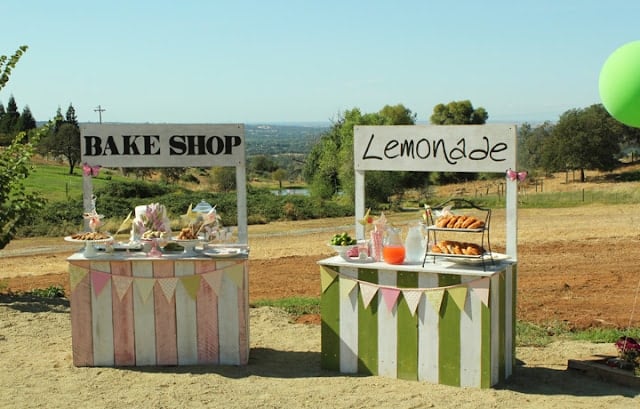 When I came across Kristyn's Vintage Lemonade Stand on
Lil' Luna
, I pinned it to my Dream Home pinterest board. Someday I hoped. But then I figured out a way to get the hubby on board to build it for Olivia's tea party. After all, we didn't have an outdoor table for the party food, and, like I said, we had started our other projects nice and early. Once I got him on board for the first one, I sweetly suggested that perhaps we could do two. He totally agreed because he's cool like that (or he knows I'm crazy and when I get a party idea in my head, there's no stopping me.) We did a bit of studying on Lil' Luna's tutorial and then adjusted for the size we wanted. And when I say we, I mean he. Graham did all the building and I was very grateful. For the paint, I pretty much followed Kristyn's instructions exactly. I will add that you do not need to prime the boards – I wasn't sure, so I did some with and some without, it didn't make a difference. Also, I would suggest using a satin paint, either spray paint or from the can. I used some spray paint and some that I had on hand in a can. The only thing that didn't work was when I used an enamel spray paint – when I tried to sand it down, it got really gummy and gross. I didn't have cool vinyl for the signs, so I painted the letters onto the sign boards.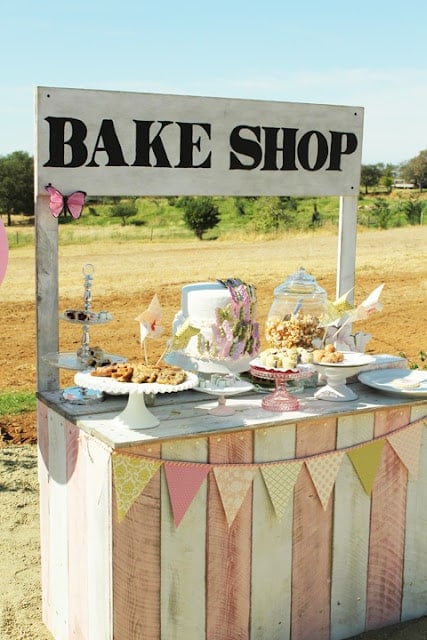 Here's an abbreviated picture tutorial for how we built our stands. Questions? I'll try to give you answers. But once you get started, you'll see that all you have to do is build a simple frame and then hammer up slats to go all the way around the front and sides. To hold up the sign, we just screwed a couple narrow slats onto the back and then screwed the sign onto that.
Do you love? I sure do!
Linking up over at Tatertots and Jello!