I didn't take many pictures along the way, but I'll tell you how I made this butterfly chandelier because I know some of you want to make one, too. And you definitely can, but I'm not gonna lie, it's going to take some serious dedication.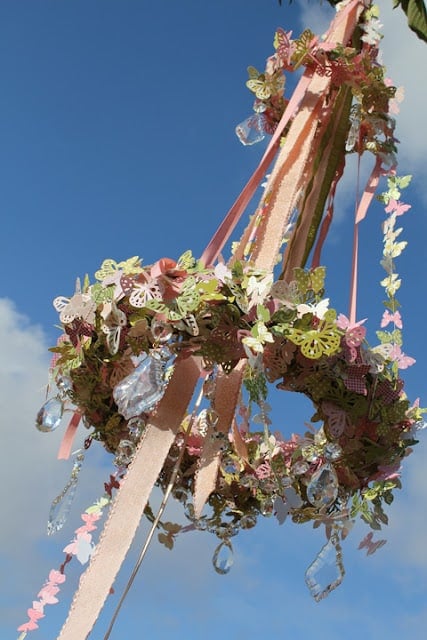 When I first saw a chandelier like this, I knew I'd have to make one if we ever had a butterfly birthday party. Then, Olivia announced her theme – hooray!! All the credit here goes to April Meeker – you can see her incredible version
here
.
I made the chandelier with one foam wreath form (for the larger bottom) and a smaller embroidery hoop (for the top). I punched about ten million butterflies from patterned cardstock using three different craft punches (two are Martha Stewart punches). Then, I started hot gluing the smaller butterflies to cover all sides of the forms. This took a really long time to cover the wreath form. If you don't want to dedicate a good chunk of time to this project, pick a different project you could probably speed things along by using a large embroidery hoop on the bottom as well. After the first layer of butterflies, begin layering again. Use both small and large butterflies and glue, glue, glue!
Once I finished covering the hoops, I used three long pieces of ribbon to connect the two hoops together and then knotted the ribbon at the top so that I could hang it easily. I blinged up the chandelier with leftover crystals from my
real chandelier makeover project
. Then I sewed long strings of small paper butterflies and draped them around the outside and straight down the center. A few other pieces of ribbon at various lengths were also hung down the center, and voila!
It's so pretty, huh? I need to find a place to hang it in my house – I think it's headed to the big girls' bedroom. What are you going to do with yours?
Linking up over at Tatertots and Jello!