Need another reason to eat a healthy breakfast?  How about this – Instant Breakfast Sandwiches!  Yep!  You can make one of these sandwiches in less than two minutes and be out the door with a filling, 200 calorie, nutrient packed breakfast.  Your whole family will thank you.  
The trick to this speedy meal is microwave scrambled eggs!  I didn't know this was possible, either, until my genius cousin told me about her healthy breakfast routine.  Mix up your egg in a ramekin, pop it in the microwave, and 45 seconds later, you have a perfectly sized protein serving to stick into a breakfast sandwich!  We paired it with a pre-cooked turkey sausage patty and a whole wheat mini bagel.  This combo is filling and has lots of the good stuff.  You can adjust for your own personal taste preference.  Add some cheese or leave off the sausage.  Add in some leftover bacon or mix some spinach leaves into the eggs!  I hear this combo is great with some chopped turkey lunch meat – mix it right into the egg scramble before cooking!
I don't even think a recipe is necessary – this is a technique!  Crack the egg into a ramekin and give it a quick whisk with a fork.  Add cheese, chopped turkey meat, or veggies if you want.  ADD SALT AND PEPPER!  This will give it a little more flavor.  You don't need any milk, butter, or oil.  Just the egg and seasonings.
Pop it in the microwave for 30-45 seconds.  Experiment to figure out the correct setting for your microwave.  If there is still some runny egg, microwave it for 10-15 seconds longer.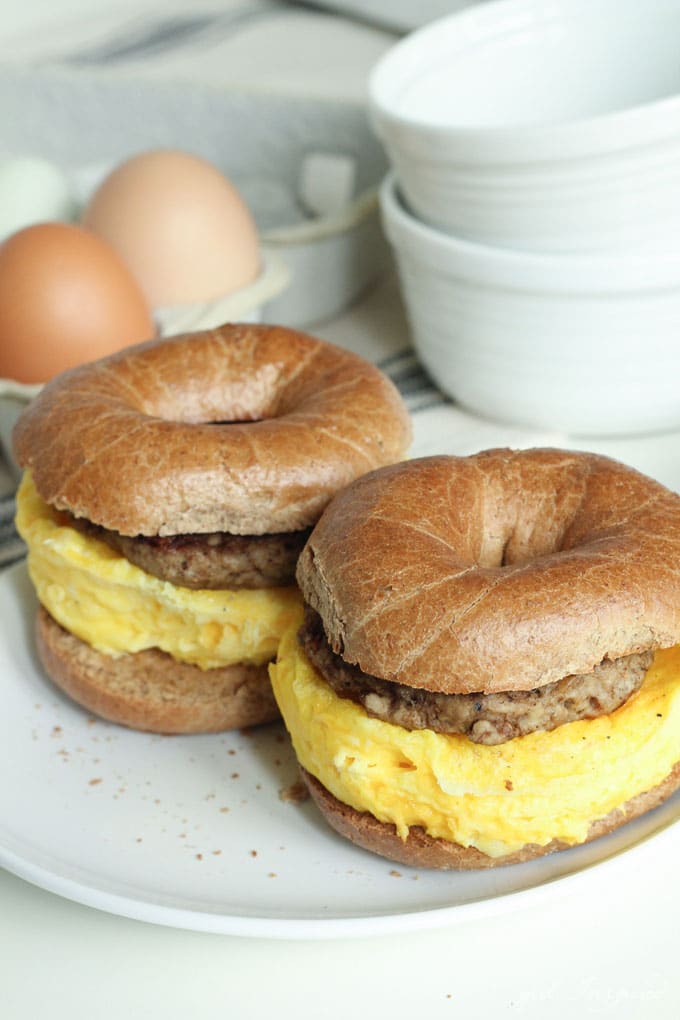 While you're mixing and cooking your egg, toast the mini bagel.  Pop your sausage patty into the microwave to heat it – I like to buy the fully cooked, turkey sausage patties.  They're relatively healthy, have decent flavor, and they heat up in 20-30 seconds, so it's easy!  When the egg is done cooking, simply run a fork around the edge of the ramekin and pop out your egg scramble.  Breakfast done in two minutes – boom!