This crispy baked chicken thighs recipe is simple, baked to perfection every time, uses minimal ingredients, clean up is a breeze, and it's on the dinner table in 1 hour!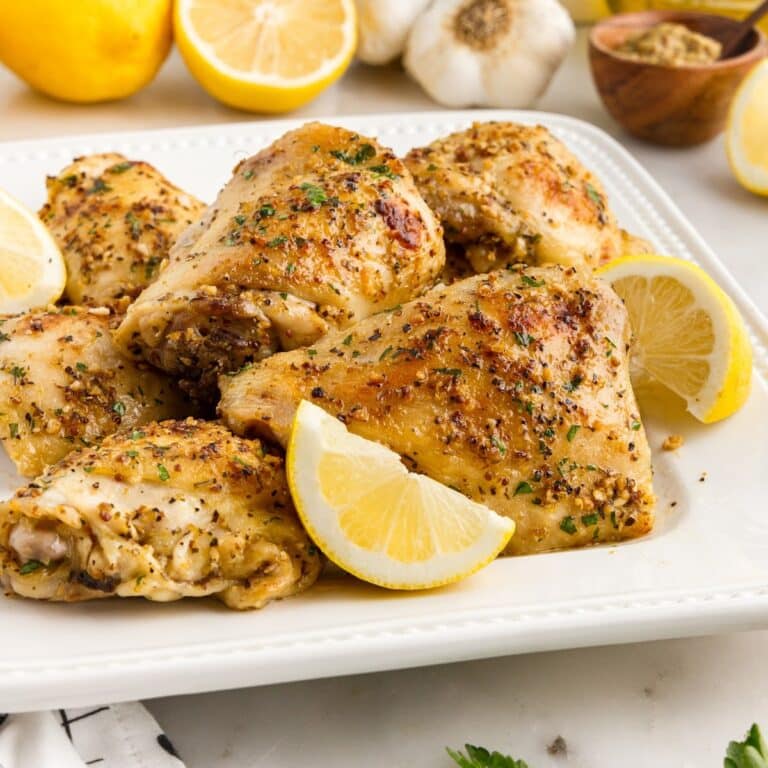 Crispy oven baked chicken thighs are juicy, flavor-packed, and an easy dinner recipe that the whole family will enjoy. It's also a great recipe using simple ingredients for meal prep and goes with any side dish.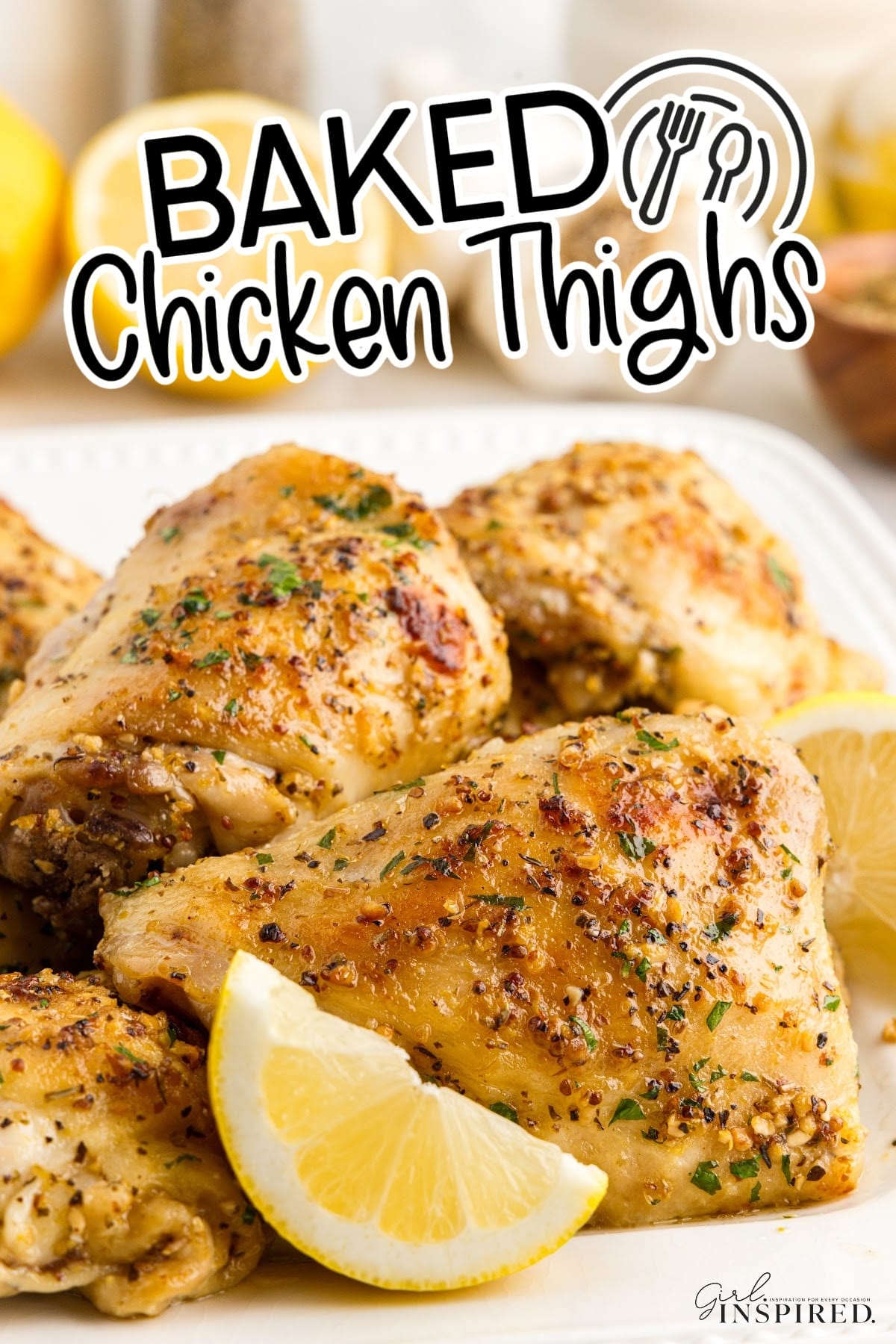 It's hard to beat juicy chicken thighs when they are cooked correctly. We love this cut of chicken because it's budget friendly and naturally full of flavor. Today we are using bone-in thighs, but when we make Huli Huli Chicken we go with boneless, skinless. That's another great thing about thighs – you can use what you have on hand and the only adjustment needed is the cooking time.
Our favorite side dishes to serve with crispy chicken thighs is Amish potato salad or Amish macaroni salad, along with honey glazed carrots. While they are cooking, you can find me sipping on a limoncello spritz or whipping up a no bake eclair cake for dessert.
If you're trying to keep things low carb, we have been eating a lot of pesto zucchini noodles with shrimp, air fryer chicken bites, and crack slaw.
Jump to:
🍗 Ingredients: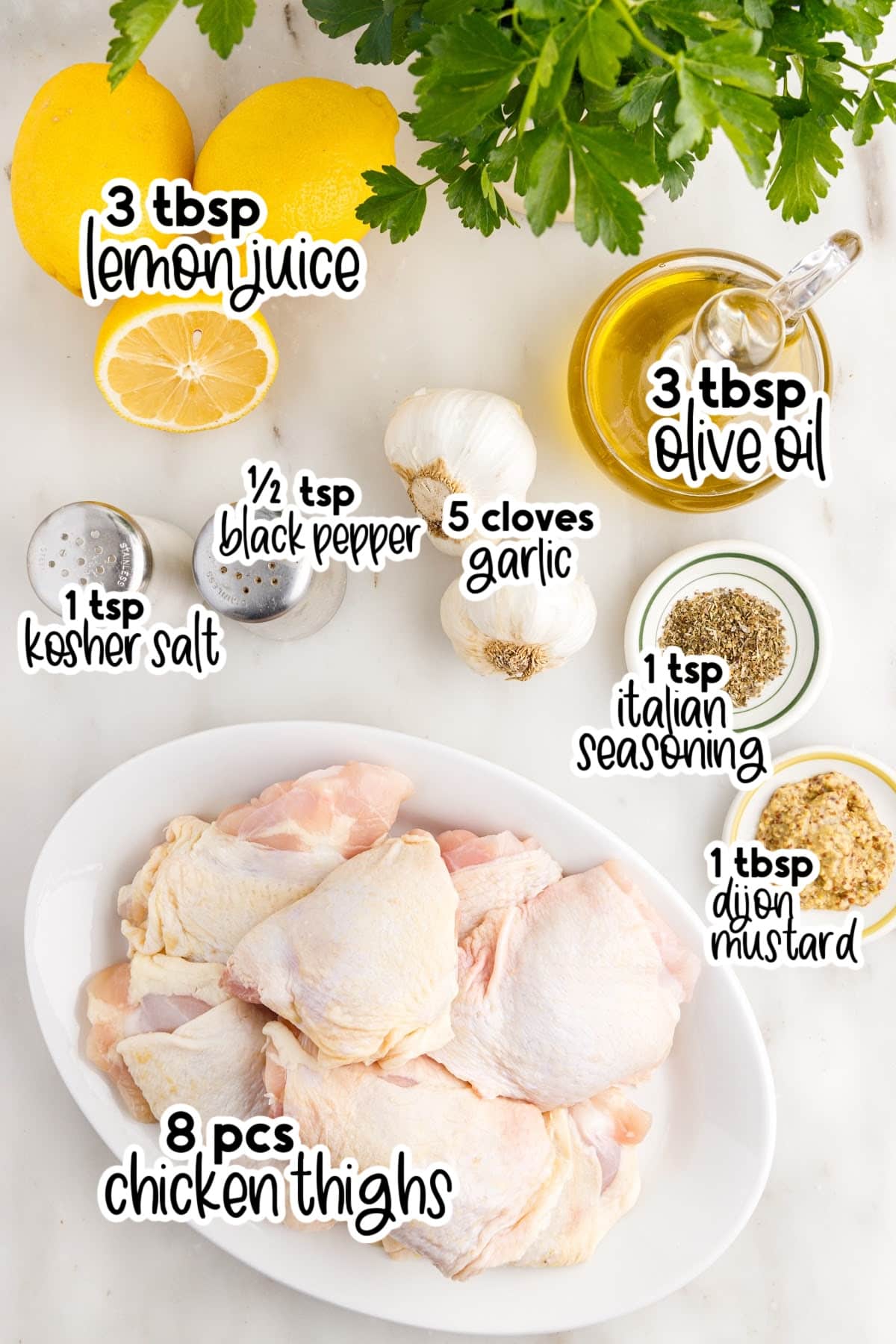 olive oil – helps to crisp the chicken skin.
Seasoning: salt, pepper, Italian seasoning.
fresh lemon juice and lemon zest – adds flavor and tenderizes the chicken.
garlic cloves – we like freshly minced, but you can also use garlic powder.
dijon mustard – adds a little zing and depth to the flavors.
chicken thighs – we are using bone-in chicken thighs.
Italian flat leaf parsley – for garnish.
For a full list of ingredients and their measurements, 📋 please view my printable recipe card at the bottom of the post.
Optional Garnish: Garnish this simple chicken recipe with fresh parsley. Serve with family favorites such as mac and cheese, green beans, or corn.
Substitutions and Variations
Other cuts of chicken – you can use this same recipe with boneless chicken thighs, chicken breasts, or chicken legs, just reduce the cooking time. The flavor may change with breasts or tenderloins because dark meat already has more flavor than white meat.
Spicy – add cayenne pepper or red pepper flakes to the seasoning blend.
🔪 Instructions:
PREP: Preheat the oven to 400 degrees F.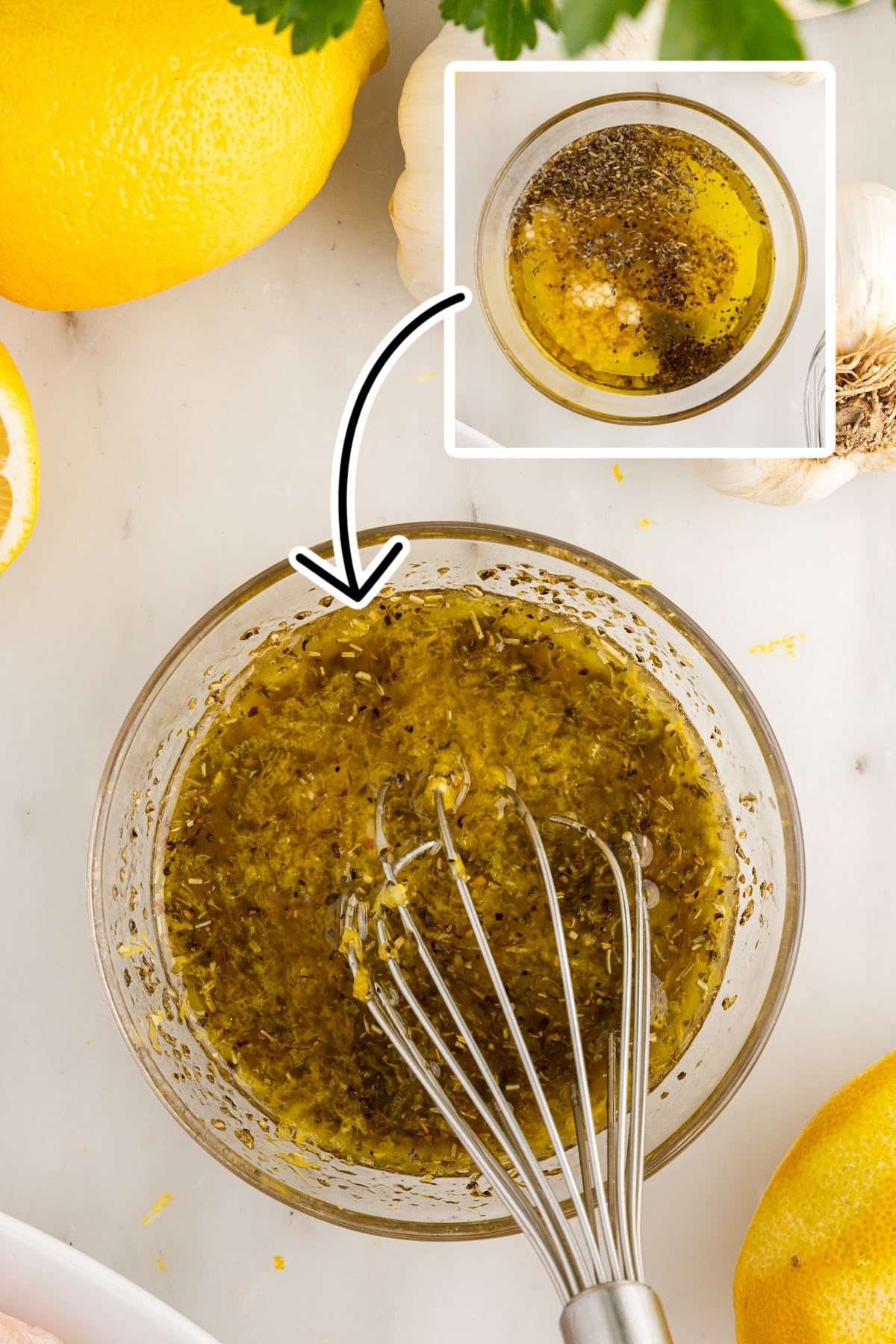 Step 1: Combine the oil, seasonings, lemon juice and zest, garlic and mustard in a small bowl.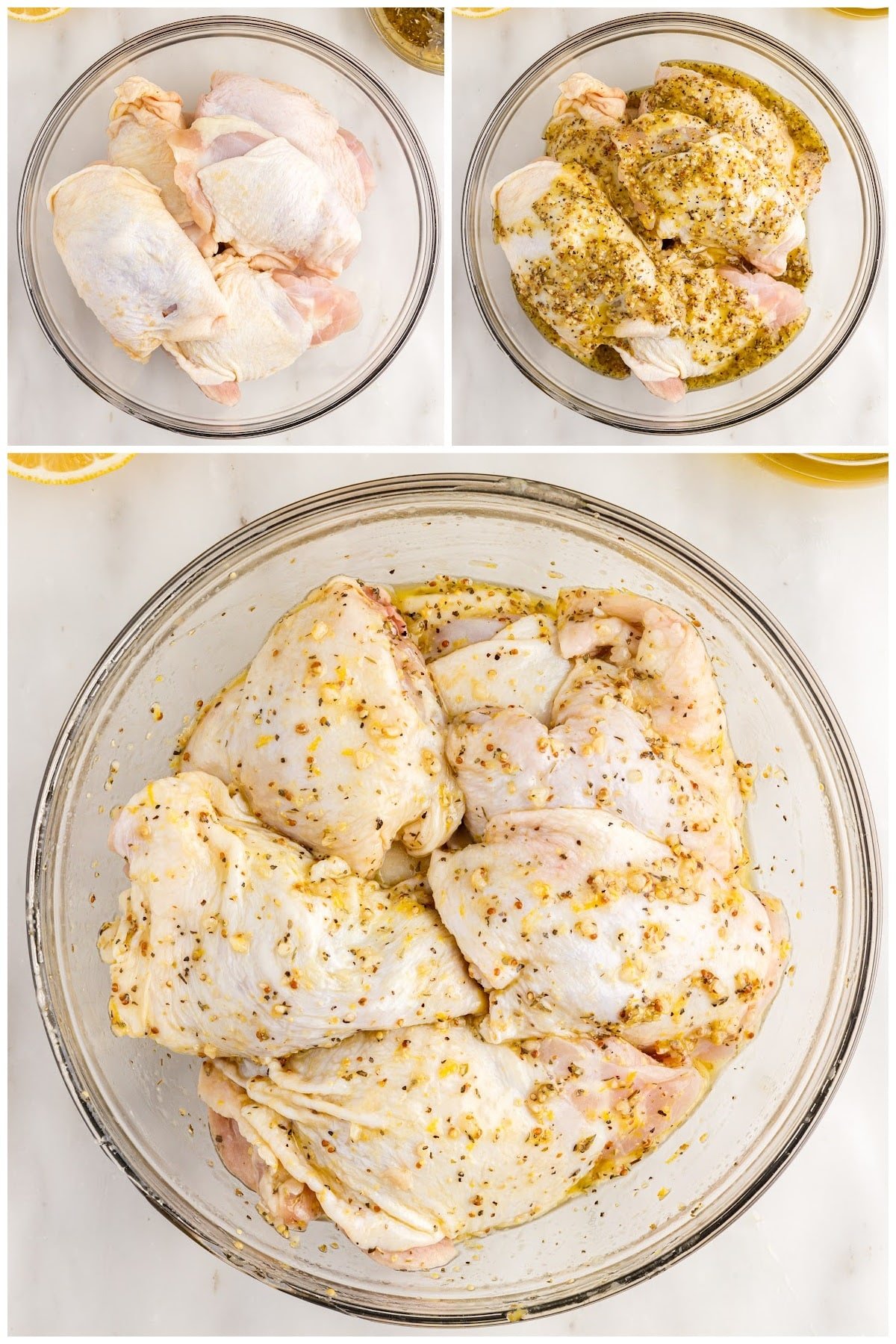 Step 2: Rinse the bone-in skin-on chicken thighs and pat dry with a paper towel. Place the chicken in a large bowl and coat with the seasoning.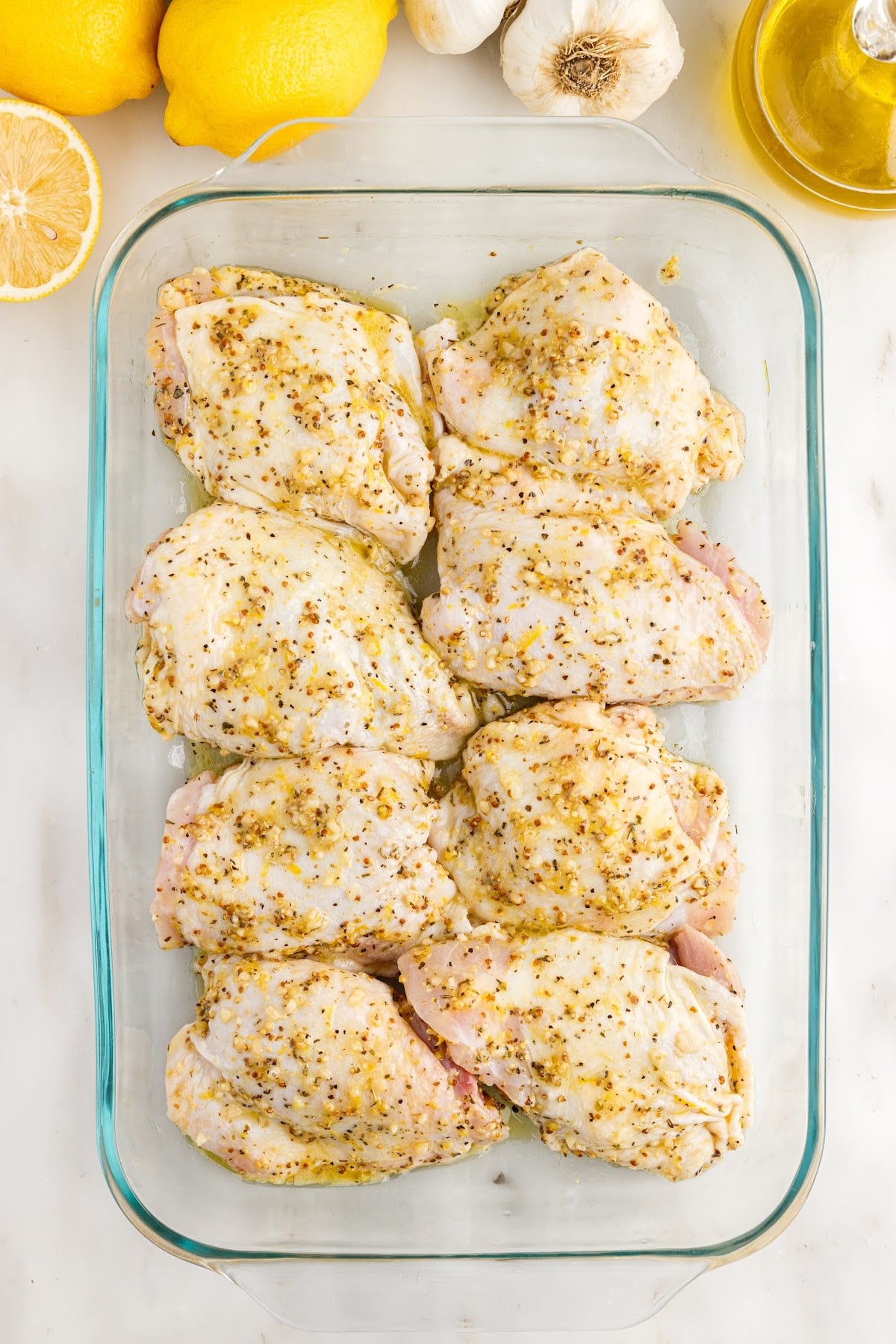 Step 3: Place the chicken in a 9×13 baking dish or on a parchment lined baking sheet in a single layer.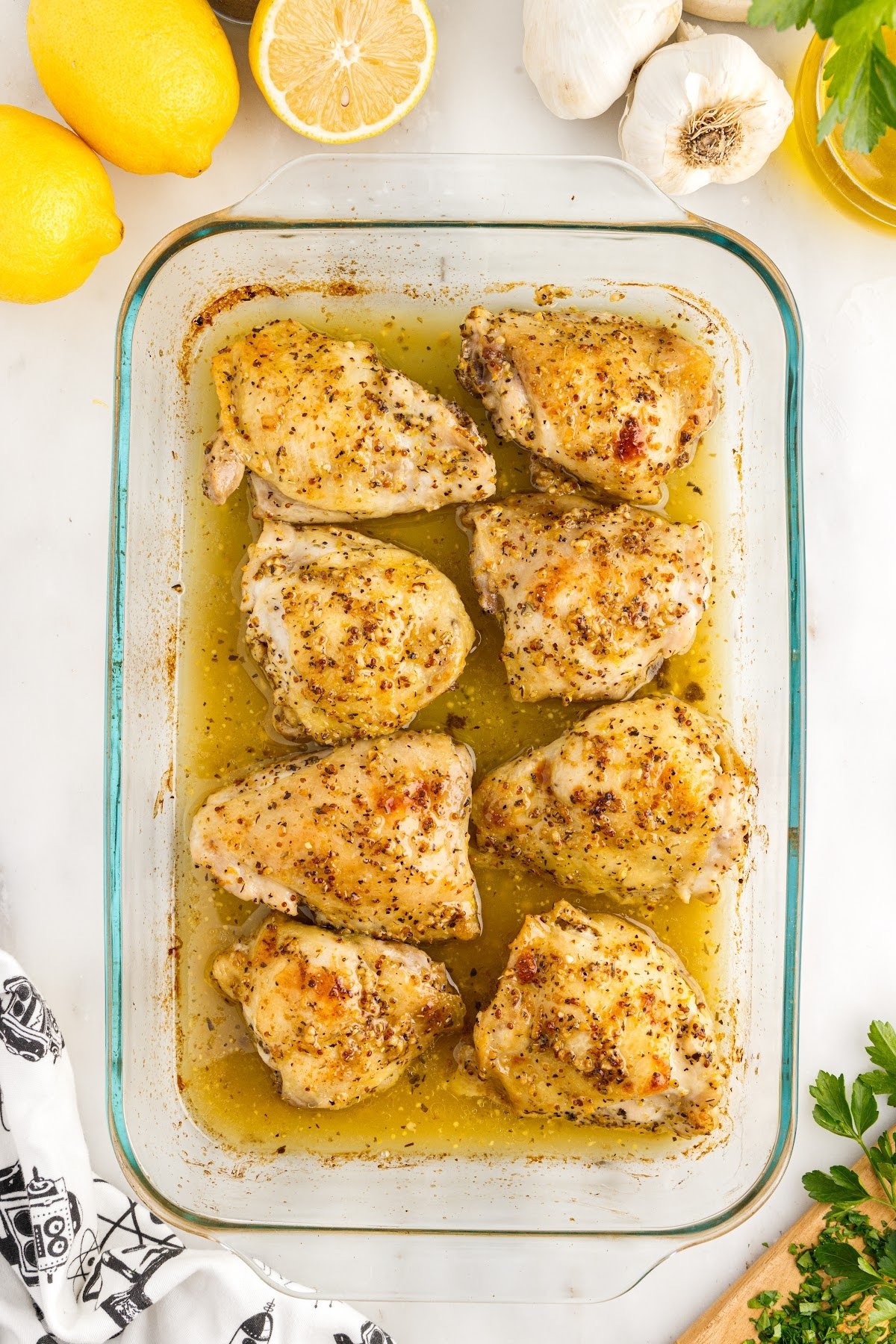 Step 4: Bake for 30 minutes or until the internal temperature reaches 160 degrees. Change the oven temperature from bake to broil.
Pro Tip: Broiling the chicken after cooking will add a little more crisp to the skin, but don't let it go too long! Broiling is a very high temperature and foods can burn quickly.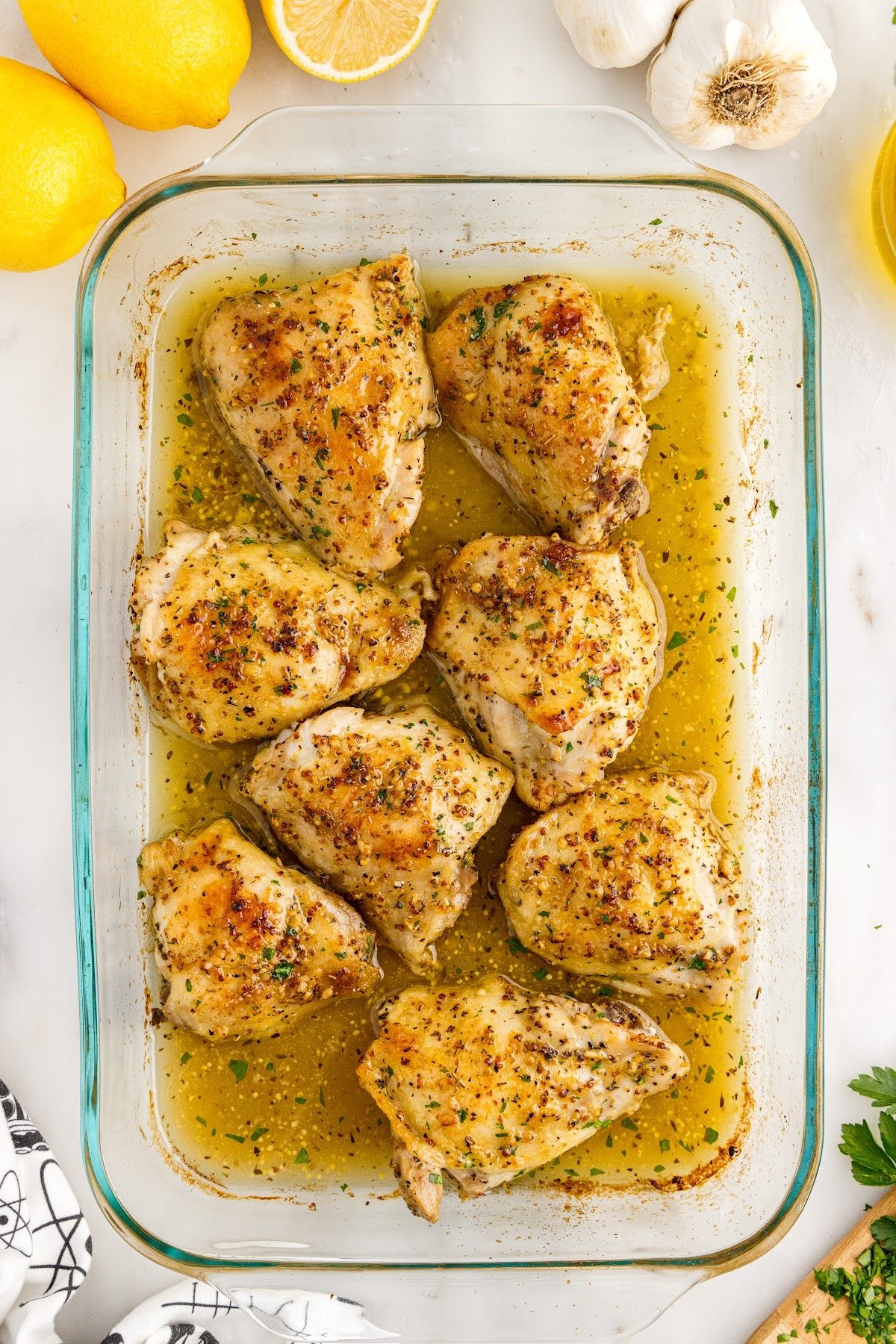 Step 6: Broil the chicken on high heat for 5 minutes or until the center reaches 165 degrees.
SERVE: Garnish with fresh parsley and serve.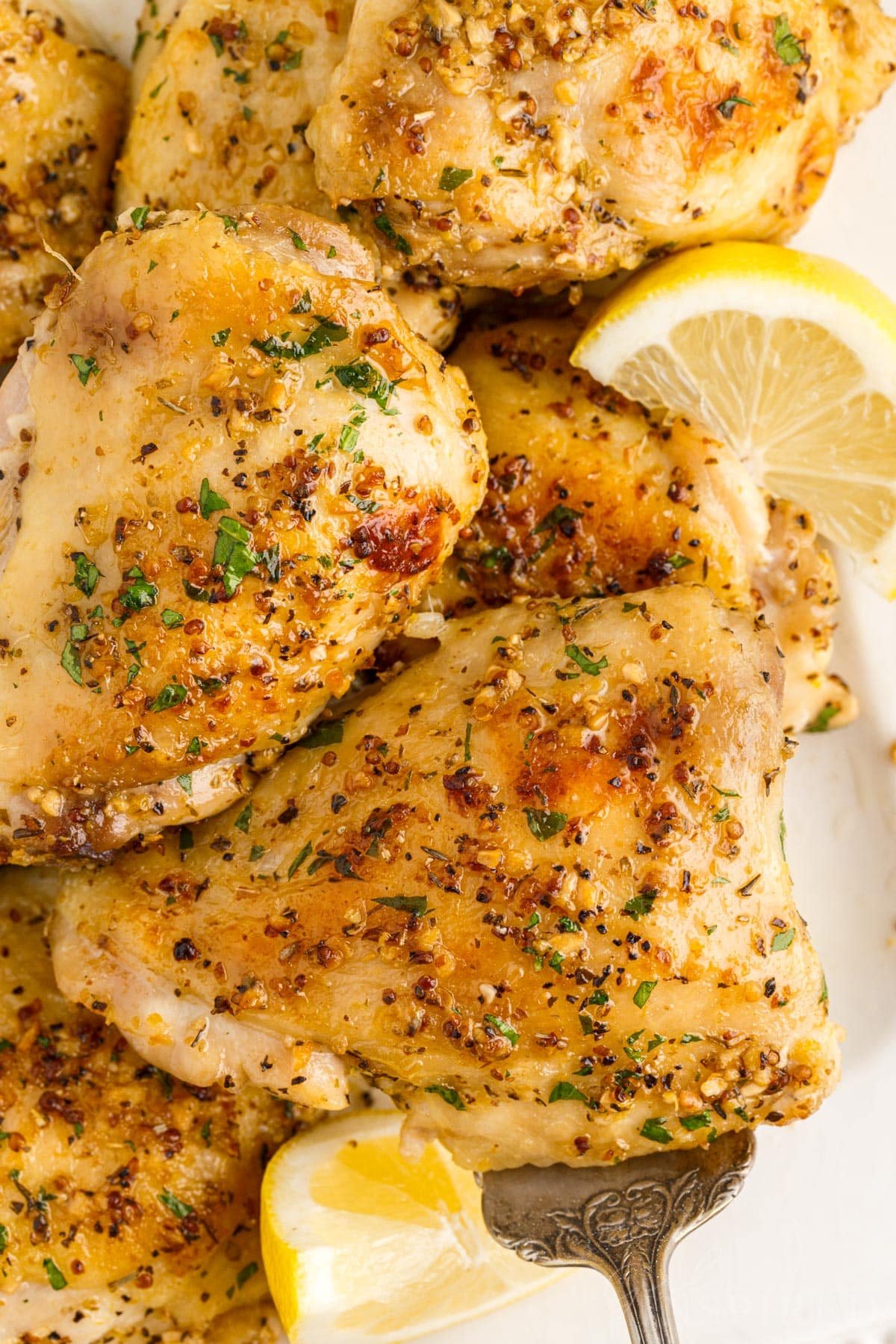 Baked Chicken Thighs Cooking Tips
Patting the chicken dry before starting is key for crispy skin. Also, cooking it at a high temperature helps the chicken skin to get crispy, versus at a lower temperature where it's more like steaming.
Use an instant-read thermometer for best results when checking the internal temperature. Insert it into the thickest part of the meat without touching the bone for accurate results.
To prep ahead of time, season the chicken and cover them in the dish or on a sheet pan. Refrigerate for up to 6 hours.
Recipe FAQs
How to store juicy baked chicken thighs?
Keep leftovers in the refrigerator in an airtight container for 2 days.
How to get leftover chicken thighs crispy again?
After cooking chicken thighs in the oven and refrigerating them, you may find less than crisp skin. It's best to reheat at a high temperature in the oven or air fryer to crisp it back up again. You will need less time to reheat boneless chicken.
More Tasty Chicken Dishes
If you tried this Baked Chicken Thighs Recipe or any other recipe on my website, please please leave a 🌟 star rating and let me know how you liked it in the 📝 comments below.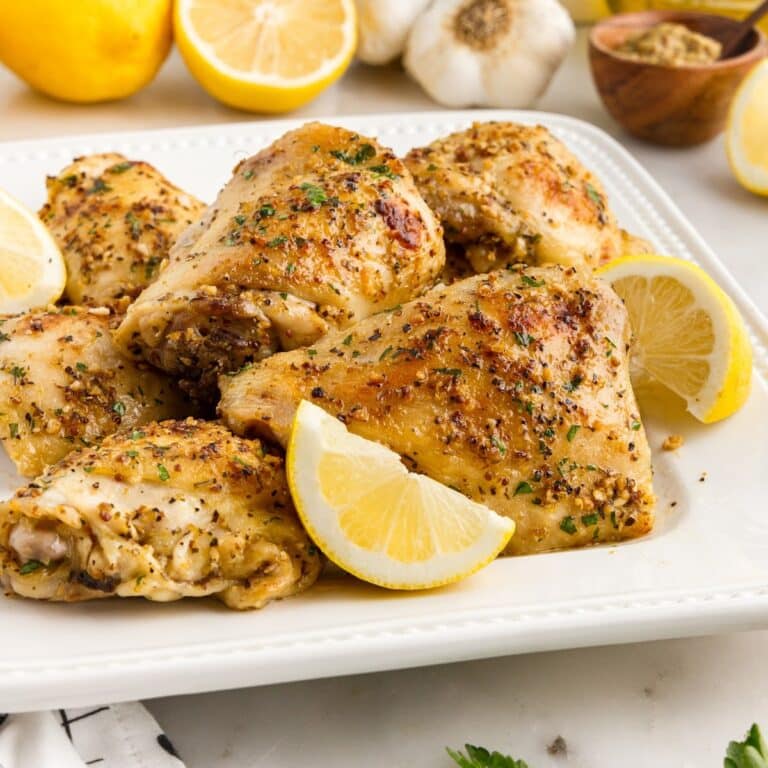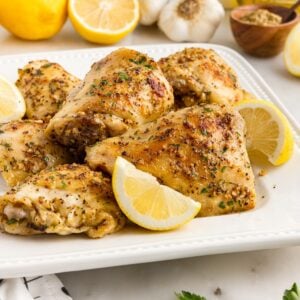 Baked Chicken Thighs
This crispy baked chicken thighs recipe is simple, baked to perfection every time, uses minimal ingredients, clean up is a breeze, and it's on the dinner table in 1 hour!
chicken thighs
Ingredients
3 tablespoons olive oil
1 teaspoon italian seasoning
1 teaspoon kosher salt
½ teaspoon coarse black pepper
3 tablespoons fresh lemon juice
5 cloves garlic minced
1 tablespoon lemon zest
1 tablespoon dijon mustard
8 chicken thighs
Italian flat leaf parsley
Instructions
Preheat oven to 400°F.

Whisk together olive oil, Italian seasoning, salt, pepper, lemon juice, garlic, lemon zest, and dijon mustard in a small bowl.

Rinse chicken thighs and pat dry. Place chicken in a bowl and drizzle seasoning mixture over the thighs. Toss well to coat both sides of the thighs completely.

Transfer chicken thighs to a 9×13 baking dish.

Bake for 30 minutes, or until the center of the chicken registers 160°F and then turn the oven to broil. Broil the chicken for about 5 minutes until crisped and the center registers 165°F .

Garnish with freshly chopped parsley, if desired, and serve.
Notes
Notes: The lemon zest and mustard add tons of flavor to the chicken thighs. When checking the temperature of the chicken, make sure it's inserted into the meat only and doesn't touch the bone. Reduce the cooking time for boneless, skinless chicken thighs. Prep in advance by tossing the thighs with the seasoning, placing them in the baking pan, and then refrigerating them for 1 hour or up to 6 hours.
Nutrition
Calories: 300kcal | Carbohydrates: 2g | Protein: 19g | Fat: 24g | Saturated Fat: 6g | Polyunsaturated Fat: 4g | Monounsaturated Fat: 12g | Trans Fat: 0.1g | Cholesterol: 111mg | Sodium: 399mg | Potassium: 254mg | Fiber: 0.4g | Sugar: 0.2g | Vitamin A: 95IU | Vitamin C: 4mg | Calcium: 20mg | Iron: 1mg