These little pumpkin pie bites are the perfect size for snacks and desserts. They have all of your favorite flavors of traditional pie but are bite sized and topped with whipped cream!
These creamy and irresistible little pumpkin pie bites make a fantastic Thanksgiving dessert. You get the sweet pumpkin pie filling, a buttery crust, and a little whipped cream in every bite. These are great make-ahead desserts, can be prepped in 30 minutes, and each batch makes 32 mini pies!
We are coming up on pumpkin season, which means it's time to bake! Serve these at your turkey day feast or any holiday get-together you are planning, they are a real hit! Before we get started, know that you will not be using the full can of pumpkin puree, so you can use the rest to make homemade pumpkin spice lattes or cinnamon rolls.
Before you sink your teeth into these bites of goodness, load up on the comfort food like holiday ham, candied yams, and creamy mashed potatoes! For more classic dessert ideas to fill your table, try making chess pie, hot milk cake, or a batch of old-fashioned oatmeal chocolate chip cookies.
Why You'll Love These Little Pumpkin Pie Bites
Tastes just like the traditional pumpkin pie, maybe even a little better!
Feeds a crowd with just one batch.
Only takes 30 minutes worth of prep work.
Uses pantry staples.
They are just so cute! (isn't everything cuter when it's smaller?)
What Ingredients do I Need for Pumpkin Pie Bites?
all-purpose flour
salt
unsalted butter – make sure to keep the butter cold before using it.
ice cold water
Filling Ingredients:
pure pumpkin puree – do not substitute for pumpkin pie filling, it's not the same.
evaporated milk
granulated sugar
light brown sugar – when measuring, be sure to pack it in the cup.
salt
egg
ground cinnamon
ground cloves
ground ginger
heavy cream and powdered sugar (to make the whipped topping)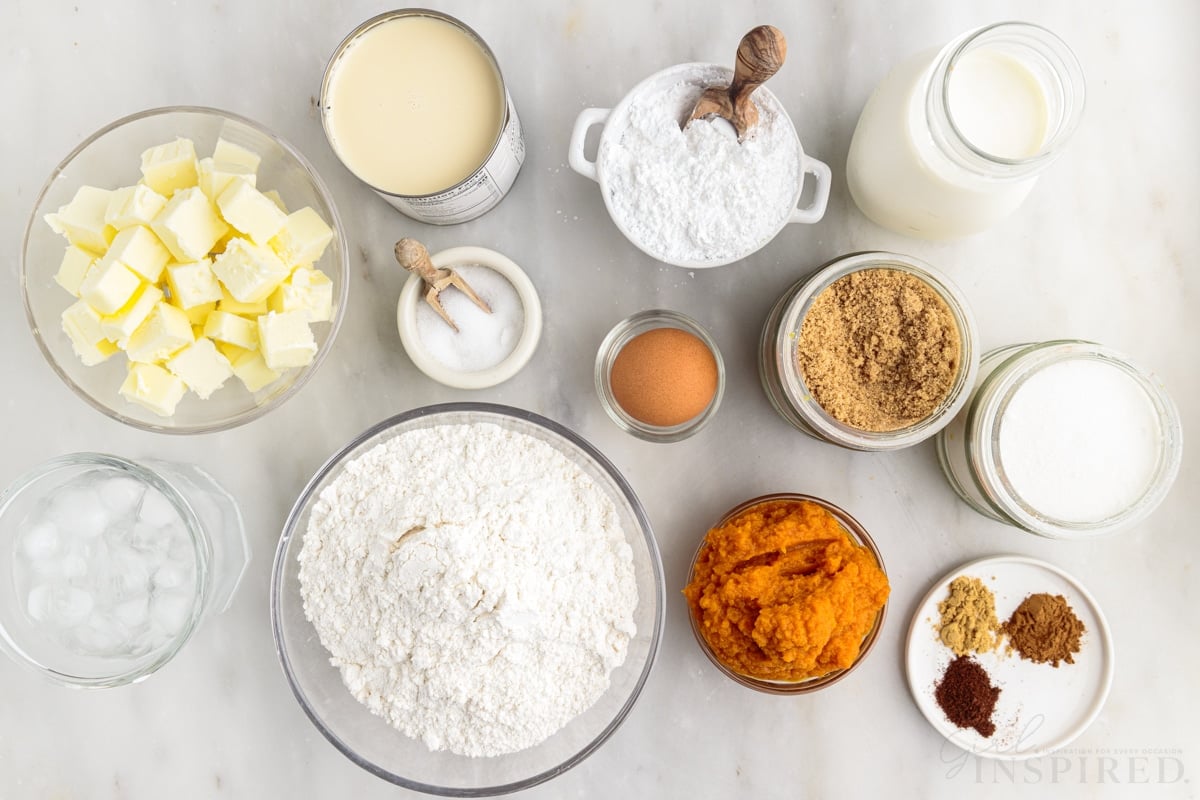 Pro Tip: By keeping the butter cold and using ice water, the crust is much flakier! I like to cube the butter and freeze it until I am ready to use it.
How to Make the Best Pumpkin Pie Bites
MAKE THE CRUST: Mix together the flour and salt in the food processor. Add the cold butter and pulse until crumbly. Slowly add the water until the dough begins to form. Transfer the dough to plastic wrap and chill for 30 minutes. Preheat the oven and grease the pan.
ROLL: Use a rolling pin to flatten the dough on a floured surface. Use a cookie cutter to make 32 crusts. Press into the muffin tin so it's against the bottom and a little over the sides.
MIX THE FILLING: Combine all the pie filling ingredients in a large bowl and whisk. Spoon the filling into the crusts leaving a little room at the top.
COOK: Bake until the pies are set (about 18-20 minutes). Allow the mini pies to cool in the pan before transferring them to a wire rack.
SERVE: Beat the powdered sugar and cream together and add a dollop to each pumpkin pie. Add a sprinkle of cinnamon or chopped nuts and serve!
You will have leftover evaporated milk and pumpkin puree.
Substitute ¾ teaspoon of pumpkin pie spice for the cinnamon, cloves, and ginger if needed.
You will notice the pies puffing up while baking, but once cooled they will go back down.
Do not add the whipped cream until they have cooled completely. It will melt.
If desired, use Cool Whip or canned whipped topping instead of homemade.
Fun Fact
The largest pumpkin pie on record used 80 pounds of pumpkin, was 5 feet around, and took 6 hours to bake!
How to store pumpkin pie bites?
Keep leftovers in an airtight container in the refrigerator for up to 3 days. If you did not add whipped cream to it, it will last a little longer.
Does homemade pumpkin pie freeze well?
Yes as long as it's stored properly. Allow it to cool completely. Wrap it in a double layer of plastic wrap and one layer of aluminum foil. Freeze for up to 2 months. To thaw, place it in the fridge overnight. Do not let it thaw at room temperature. It will weep and make the crust soggy and start to separate.
More Desserts For Pumpkin Lovers
Irresistible Little Pumpkin Pie Bites
These little pumpkin pie bites are the perfect size for snacks and desserts. They have all of your favorite flavors of traditional pie but are bite sized and topped with whipped cream!
Ingredients
Pie Crust Ingredients:
2 ½ cups all-purpose flour
¾ teaspoon salt
1 cup unsalted butter cold, cut into cubes
⅓ cup ice cold water
Filling Ingredients:
1 cup of pure pumpkin puree
¾ cup evaporated milk
¼ cup granulated sugar
¼ cup packed light brown sugar
¼ teaspoon salt
1 large egg
½ teaspoon ground cinnamon
⅛ teaspoon ground cloves
¼ teaspoon ground ginger
1 cup heavy cream for topping
3 tablespoons powdered sugar for topping
Instructions
In the bowl of a food processor, mix together the flour and ¾ teaspoon salt. Add the cubes of cold butter. Pulse several times until the butter is broken up into small pea-size pieces and is mixed throughout the flour. Slowly drizzle the ice water into the flour mixture while pulsing the food processor, just the until the mixture begins to pull together.

Turn the crumbly dough out onto a large piece of plastic wrap and gather the dough into one mound with your hands. Wrap the dough in the plastic wrap and pat to form a disc. Chill the dough in the refrigerator for at least 30 minutes before proceeding with the recipe.

Preheat the oven to 375°F. Spray mini muffin tins with nonstick cooking spray and set aside.

Roll out pie crust (working with ½ the recipe at a time) on a lightly floured surface or on parchment paper/plastic wrap. Use a 2 ½" biscuit cutter to make rounds from the pie crust. Gather the leftover scraps of crust, reroll, and continue cutting out small rounds.

Press each round into the mini muffin tins, ensuring that it is pressed all the way to the bottom of the cavity and reaches to the top of the sides – it does not need to rise up over the sides, but a bit above the top to allow for shrinking.

In a large mixing bowl, combine the pumpkin pie filling ingredients. Whisk to combine completely.

Spoon one tablespoon of pumpkin pie filling into each mini crust.

Bake for 18-20 minutes, until the pies are set.

Cool mini pumpkin pies before removing from the muffin tin.
Nutrition
Calories: 140kcal | Carbohydrates: 13g | Protein: 2g | Fat: 9g | Saturated Fat: 6g | Polyunsaturated Fat: 0.4g | Monounsaturated Fat: 2g | Trans Fat: 0.2g | Cholesterol: 31mg | Sodium: 85mg | Potassium: 58mg | Fiber: 1g | Sugar: 5g | Vitamin A: 1500IU | Vitamin C: 0.5mg | Calcium: 28mg | Iron: 1mg