This hot milk cake recipe is an old fashioned fluffy dessert that melts in your mouth with classic flavors and a dusting of powdered sugar.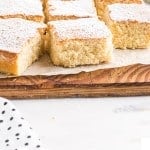 This hot milk cake recipe will take you back to the good ole' days by using classic ingredients for a fluffy and delicious dessert just like your grandma used to make. Milk cake tastes similar to a pound cake (and has about the same texture) but is a cousin to the sponge cake family. While it's made with butter, sugar, and eggs you don't have to worry about separating the egg whites. This classic cake has a tender crumb and uses simple ingredients.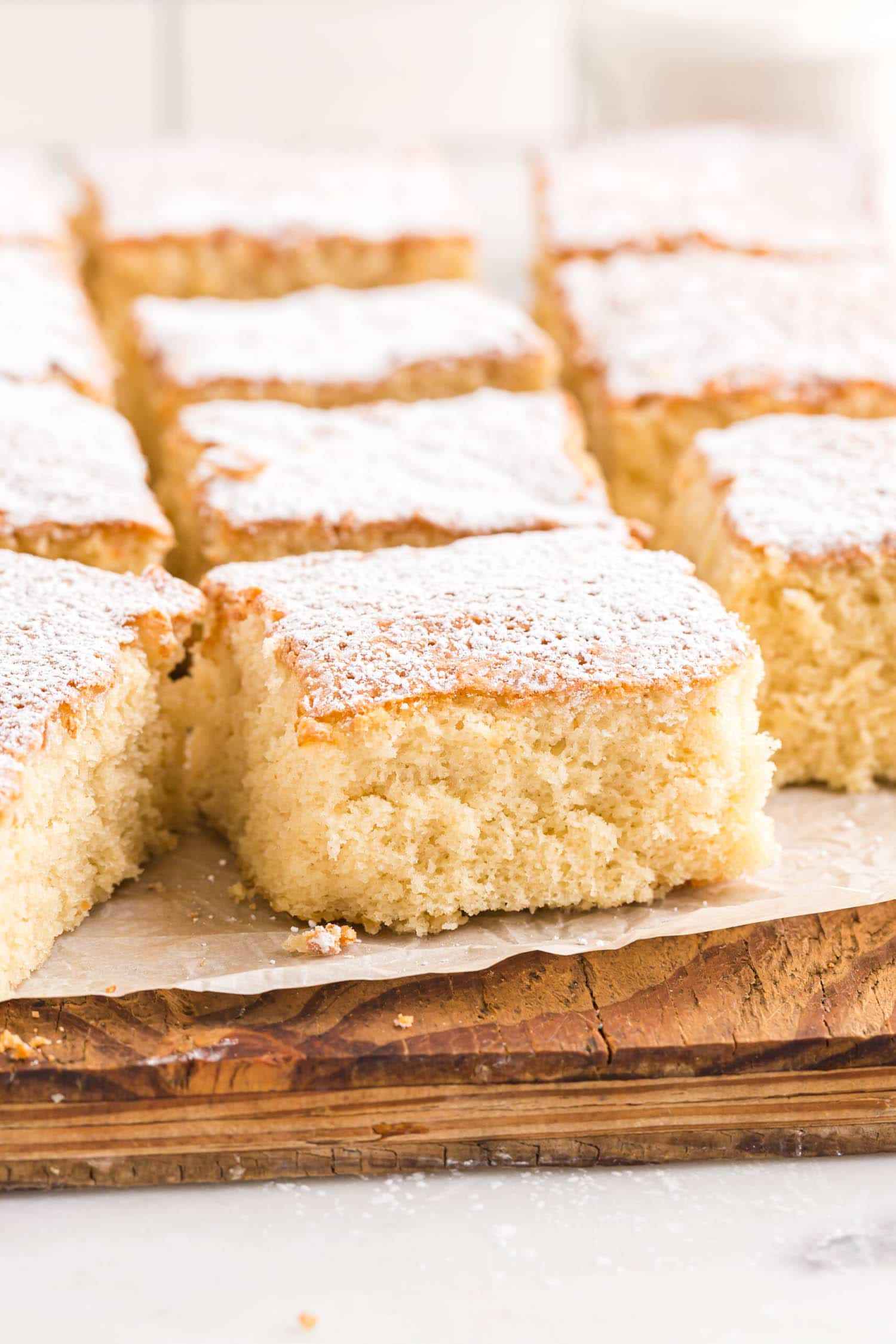 Fun Fact
Who knows where the original hot milk cake recipe came from. It started in the early 1900s and just about everyone has a family recipe. Some may get milk cake confused with tres leches cake. That recipe uses different types of milk, while this old-fashioned cake is known for "scalding" the milk. Hence the name, hot milk cake.
I am a sucker for old family recipes because most of the time they use pantry staples, are easy to make, and there are no fancy techniques required. These are the exact reasons why I made peanut butter chocolate pie and the classic key lime.
When I make this cake I like to use a 9×13 baking dish, but you can follow the same milk cake recipe and use a bundt pan instead. Also when scalding the milk, don't boil it. You wait to heat it up just before it boils then remove it from the heat.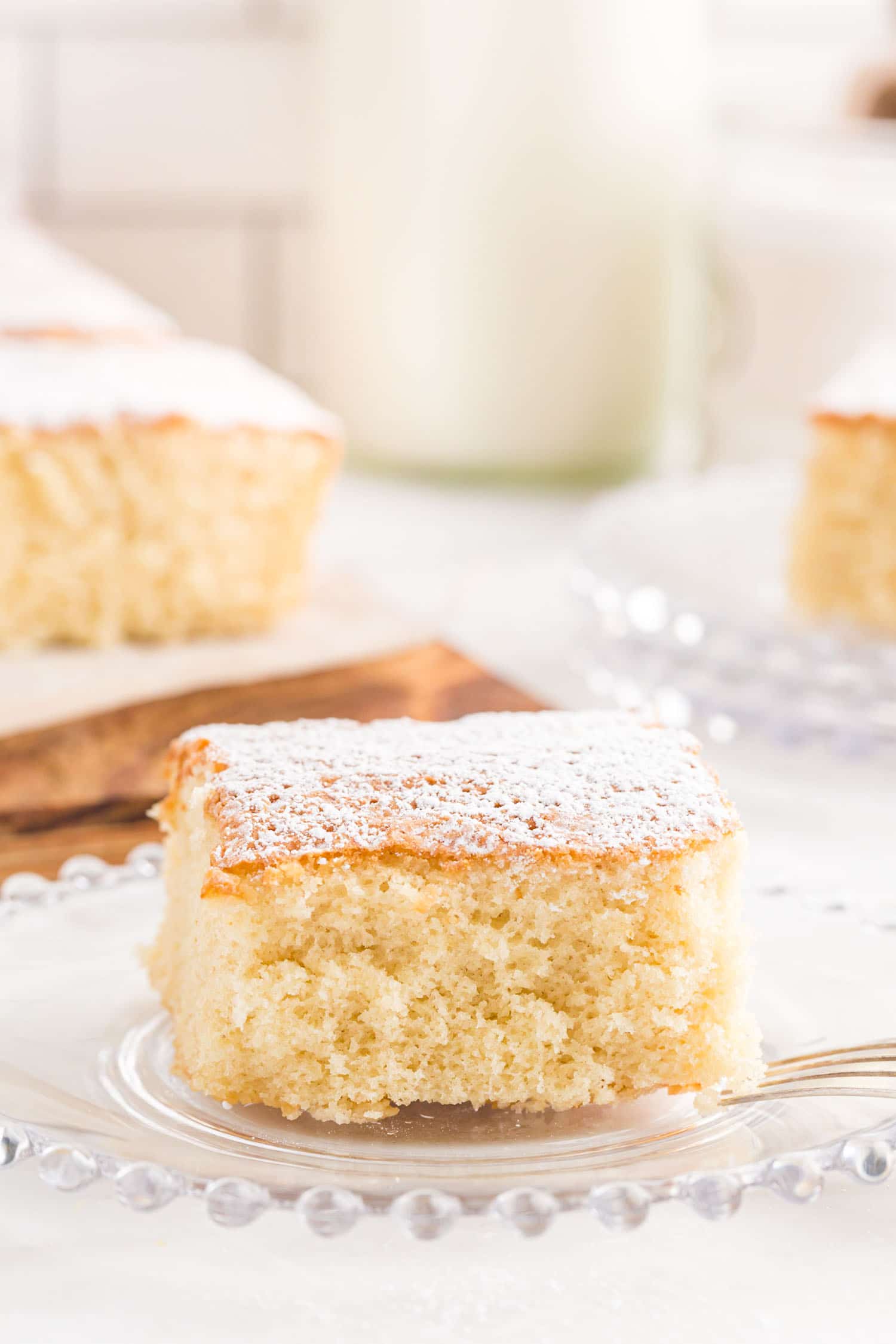 What Is a Hot Milk Sponge Cake Made Of?
Eggs – make sure they are at room temperature before using
Granulated sugar
Light brown sugar – this isn't an ingredient found in traditional recipes, we have added it for more flavor and sweetness so there's no need for icing.
Flour – use all purpose
Salt
Baking powder – helps the cake to rise and keeps it fluffy
Milk
Unsalted butter
Vanilla extract
Powdered sugar – for dusting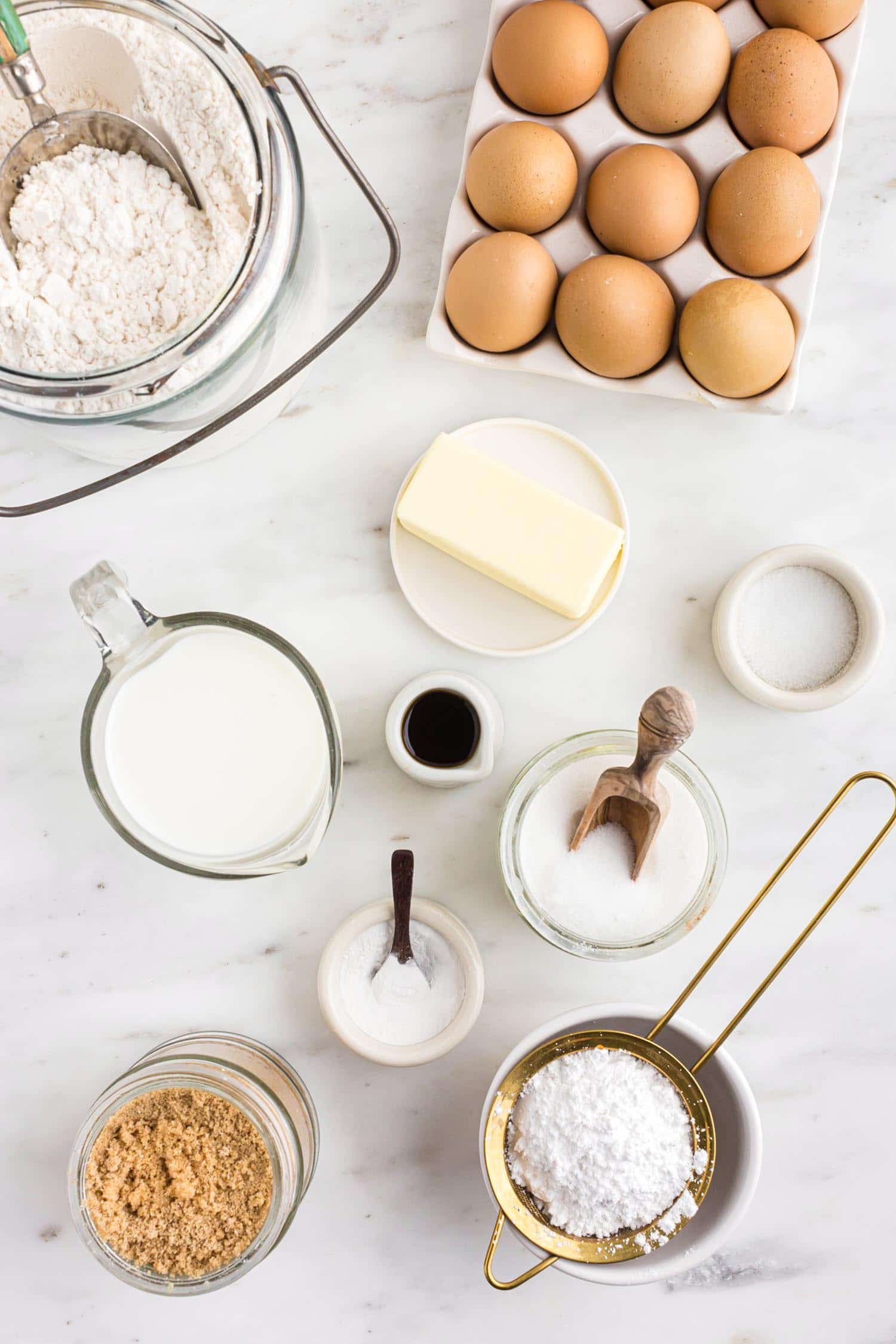 How To Make Hot Milk Cake
Prep cake pan and preheat oven. Spray the baking dish or bundt pan with cooking spray and preheat the oven to 350 degrees.
Beat eggs. Crack the eggs into a large bowl (or the bowl of a stand mixer), and beat with an electric mixer using the whisk attachment for 5 minutes on high speed or until they are pale yellow and very thick.
Add sugars. While mixing, slowly add the granulated sugar and mix for 5 more minutes. Then pour in the brown sugar and mix until combined.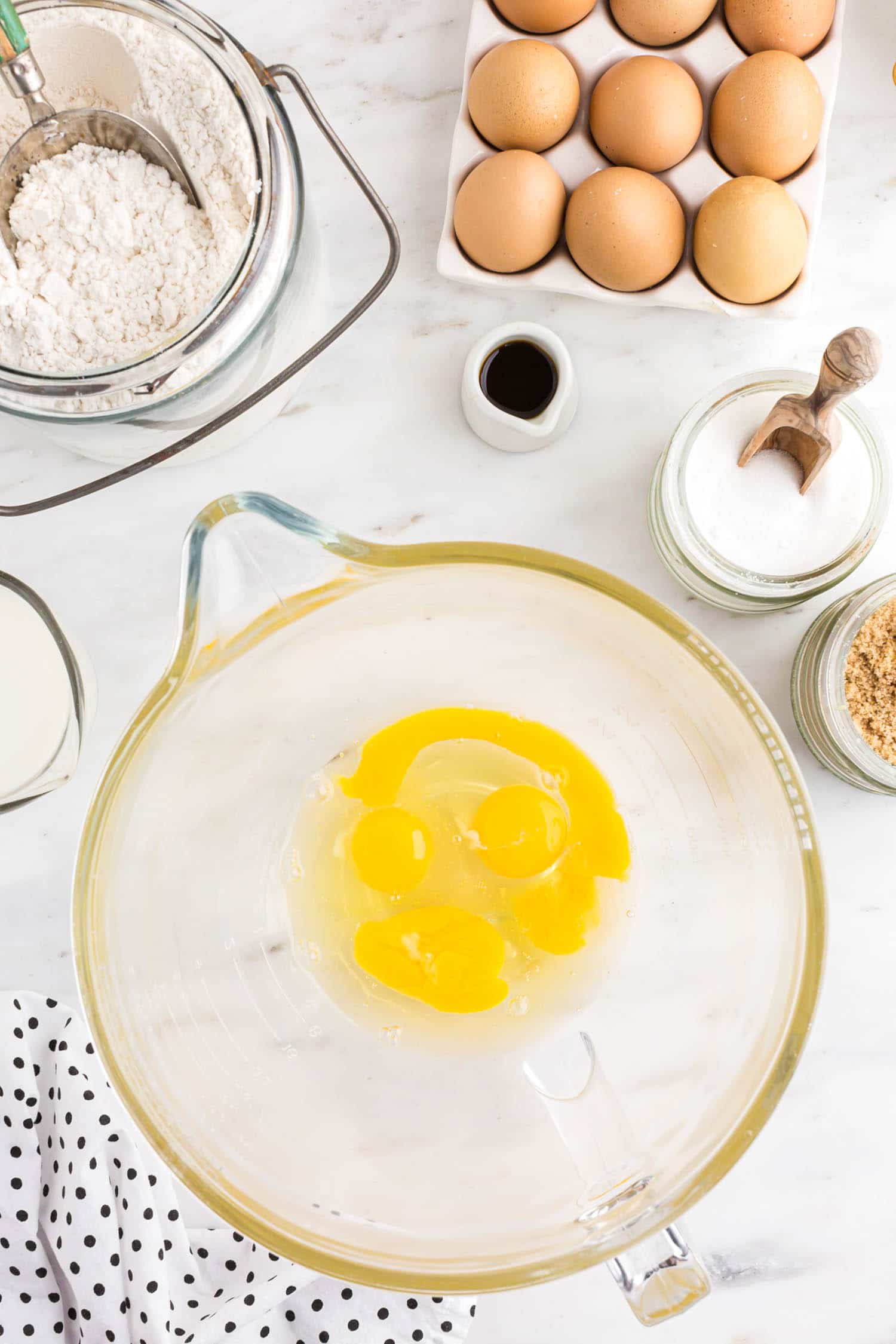 Combine dry ingredients. Combine the flour, salt, and baking powder in a medium bowl and stir. Pour the dry ingredients into the egg mixture and mix.
Heat milk. Heat the butter and milk on the stovetop in a small saucepan or in the microwave until scalding hot. Then stir in the vanilla.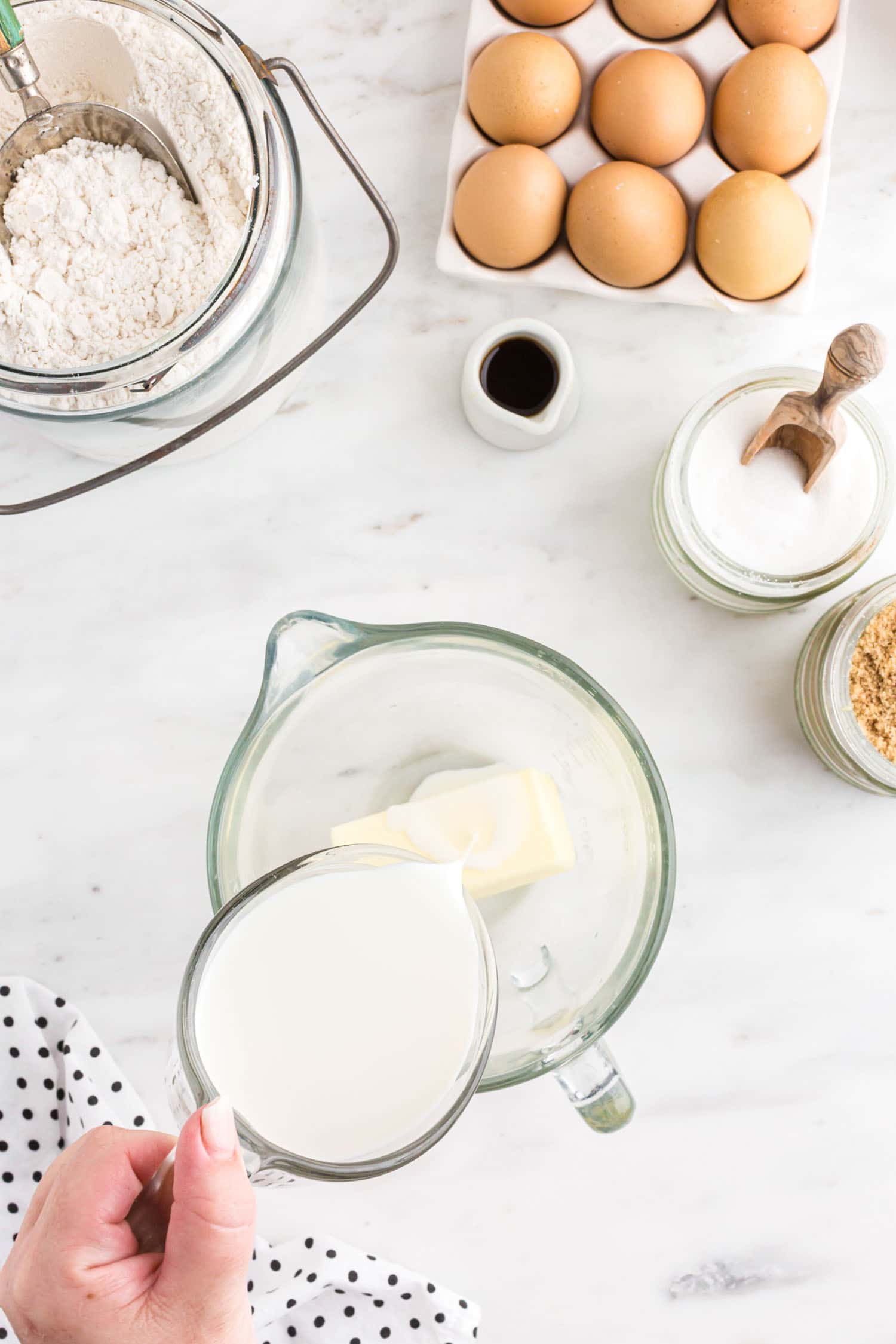 Transfer milk mixture. Beat the hot milk into the batter until all ingredients are combined.
Cook. Pour the batter into the baking dish and bake for 30 minutes or until a toothpick comes out clean.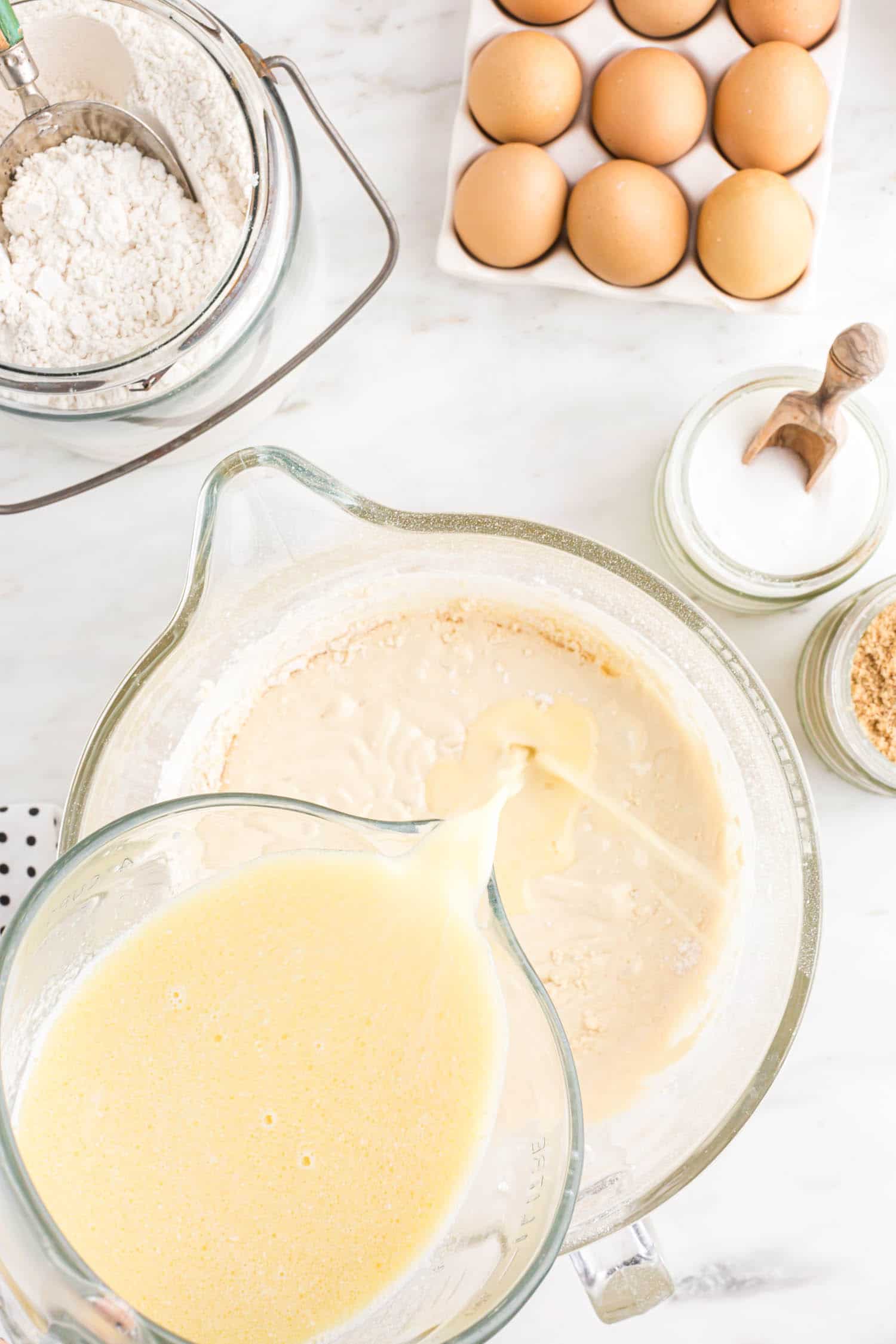 Cool. Remove the cake from the oven and let it cool while it's in the pan. Dust with confectioner's sugar or add a dollop of whipped cream just before slicing and serving.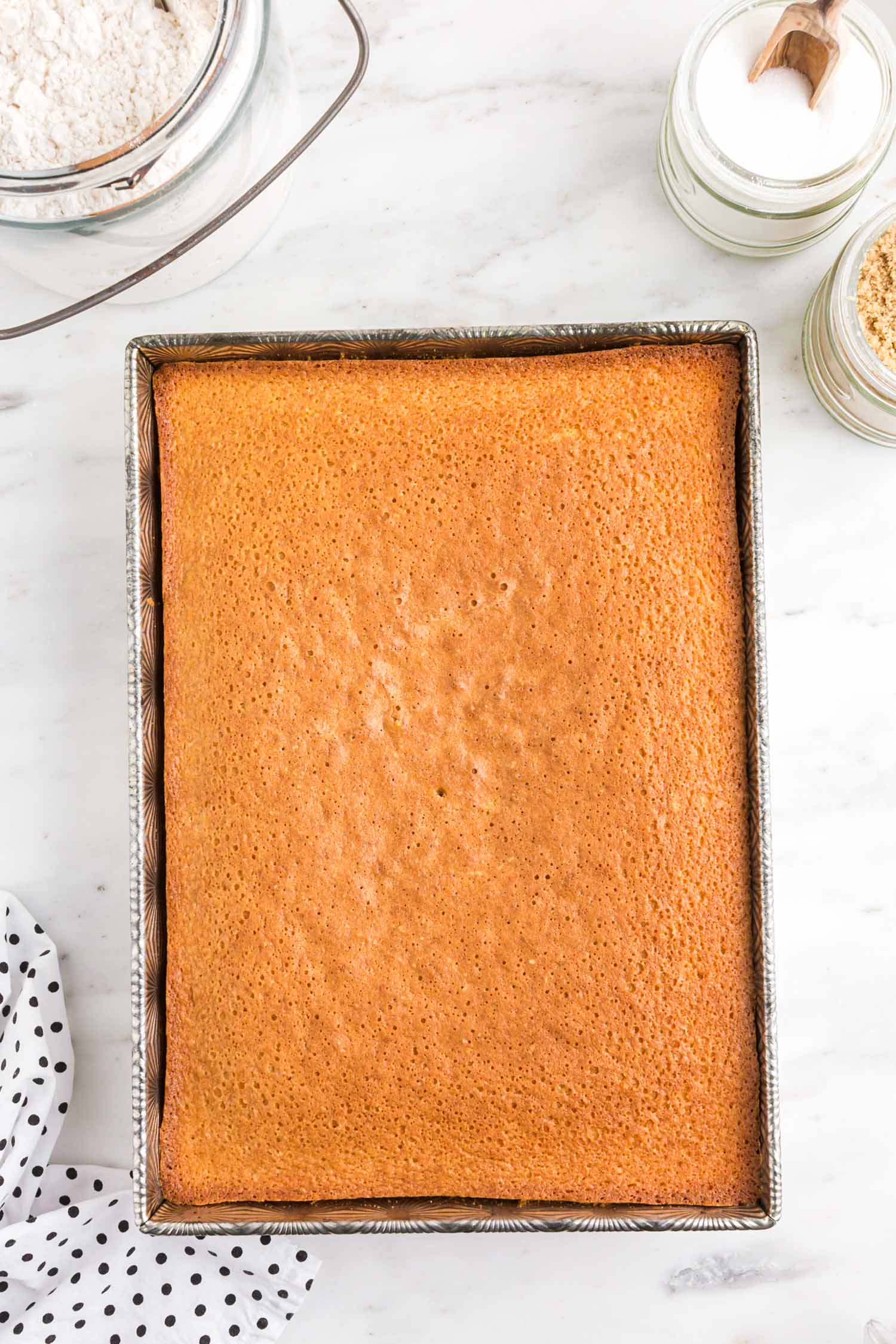 Storing Instructions for this Easy Milk Cake
Cover the cake on the counter in a cake plate or container for 3 to 4 days.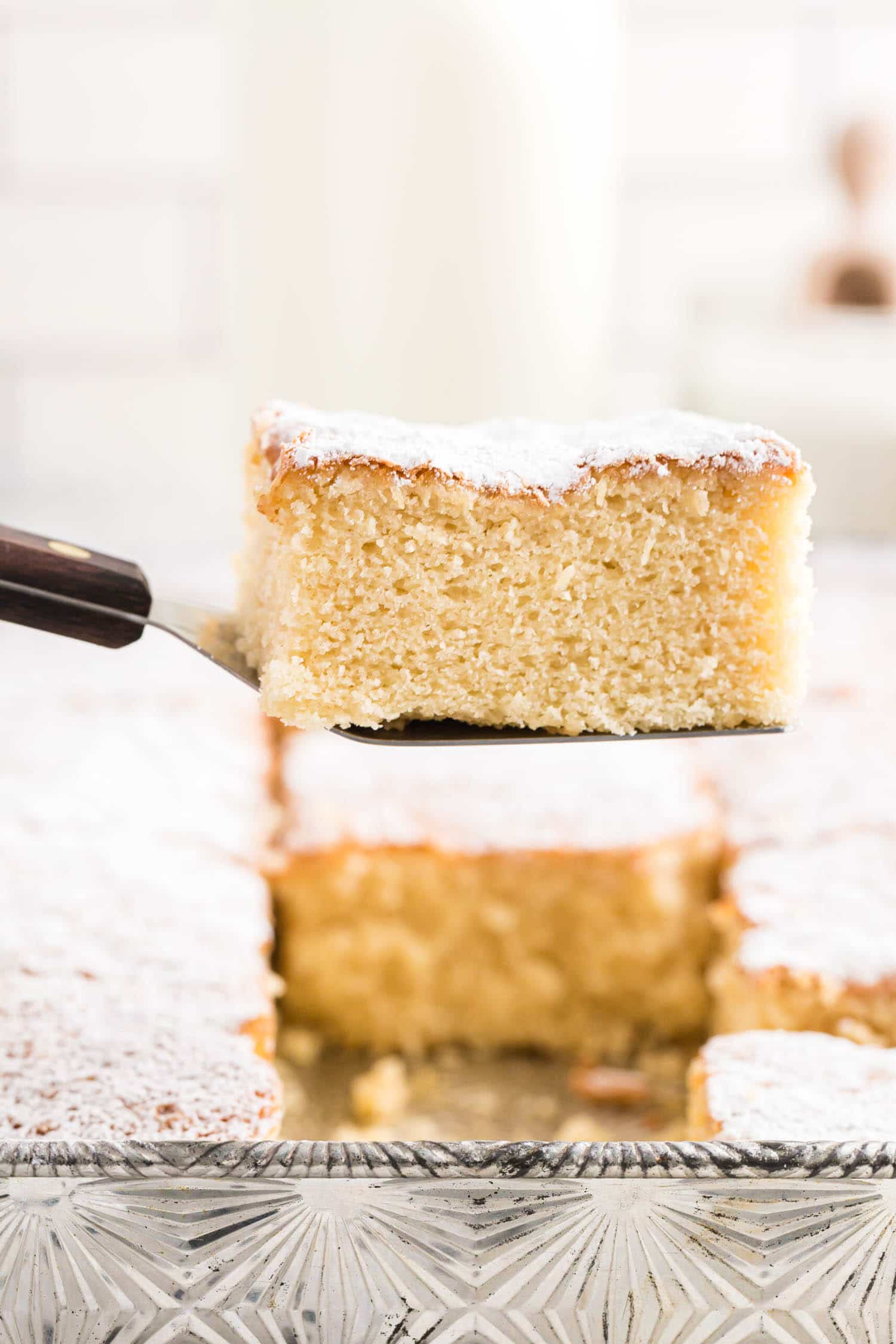 Can this Hot Milk Cake Recipe Be Frozen?
To freeze, wrap it tightly in plastic wrap, then in a layer of foil. It will stay fresh for up to a month when it's frozen. Milk cake is easier to freeze whole when it's baked in a bundt pan. For convenience, you can freeze slices in single servings.
Serving Suggestions
Top the cake with fresh berries and a dollop of whipped cream or chantilly cream.
Slice the cake pieces into layers and stack with fresh strawberries and whipped cream for a strawberry shortcake dessert.
Add lemon juice, lemon oil, or lemon extract to the cake batter and top with powdered sugar and lemon zest.
Add ⅓ cup cocoa powder with the dry ingredients to make a chocolate milk cake.
Milk Cake
This hot milk cake recipe is an old fashioned fluffy dessert that melts in your mouth with classic flavors and a dusting of powdered sugar.
Ingredients
4 large eggs room temperature
1 ½ cups granulated sugar
½ cup packed light brown sugar
2 cups all-purpose flour
1 teaspoon salt
2 teaspoons baking powder
1 cup whole milk
½ cup unsalted butter
1 tablespoon vanilla extract
Powdered sugar for dusting
Instructions
Preheat the oven to 350°F. Spray a 9×13 baking dish with nonstick baking spray and set aside.

In a medium mixing bowl, beat eggs with a whisk attachment for 5 minutes, until very thick and light yellow.

With the mixer still running, gradually add granulated sugar and continue whisking for 5 additional minutes – mixture will be thick and light in color.

In a separate bowl, combine flour, salt, and baking powder. Add the dry ingredients to the egg/sugar mixture and beat just until combined.

Heat the milk and butter in the microwave (or on the stovetop) until butter is melted and milk is scalding hot.

Stir the vanilla extract into the milk mixture. Pour the hot milk mixture into the batter and beat until combined.

Pour batter into prepared baking dish.

Bake approximately 30-35 minutes, or until a toothpick inserted into the center of the cake comes out with just a few crumbs and the cake has pulled away from the edges of the pan.

Cool cake in the pan and dust with powdered sugar just before serving.
Nutrition
Calories: 311kcal | Carbohydrates: 51g | Protein: 5g | Fat: 10g | Saturated Fat: 6g | Polyunsaturated Fat: 1g | Monounsaturated Fat: 3g | Trans Fat: 1g | Cholesterol: 77mg | Sodium: 297mg | Potassium: 90mg | Fiber: 1g | Sugar: 35g | Vitamin A: 349IU | Calcium: 86mg | Iron: 1mg