It's time to wrap up the Frozen Birthday Party with a few of the extra components that made this party come together. It was another really fun party, both to throw and to attend. In the links below, you'll find additional resources for party invitations, printables, activities, favors, and food ideas! Many of these pictures and ideas are from our Frozen party and a number of them are from the amazing creative minds that have shared their ideas across the internet. I'm still planning to do a few of the projects that I didn't get to before the party – like the Olaf hooded towel and the adorable little Elsa and Anna peg people….please enjoy this roundup of Spectacular Frozen Birthday Party Ideas!
Find the full instructions for these DIY Olaf Cupcake Toppers!

Elsa "Summer Dress" Tutorial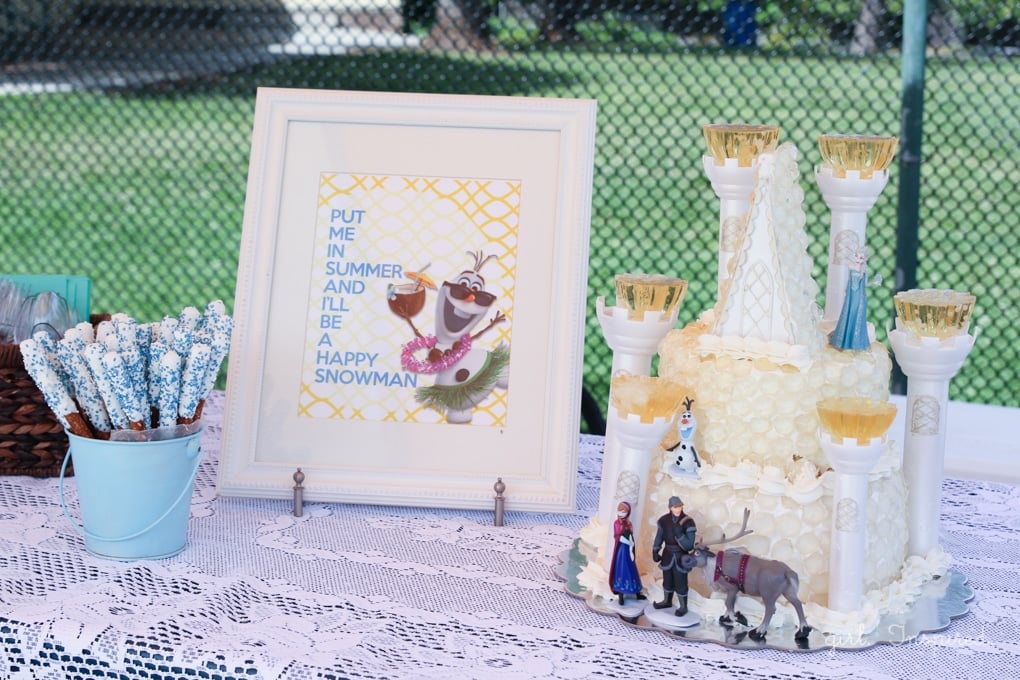 I purchased this Olaf 8×10 printable from splendidINK on Etsy – quickest DIY decor ever!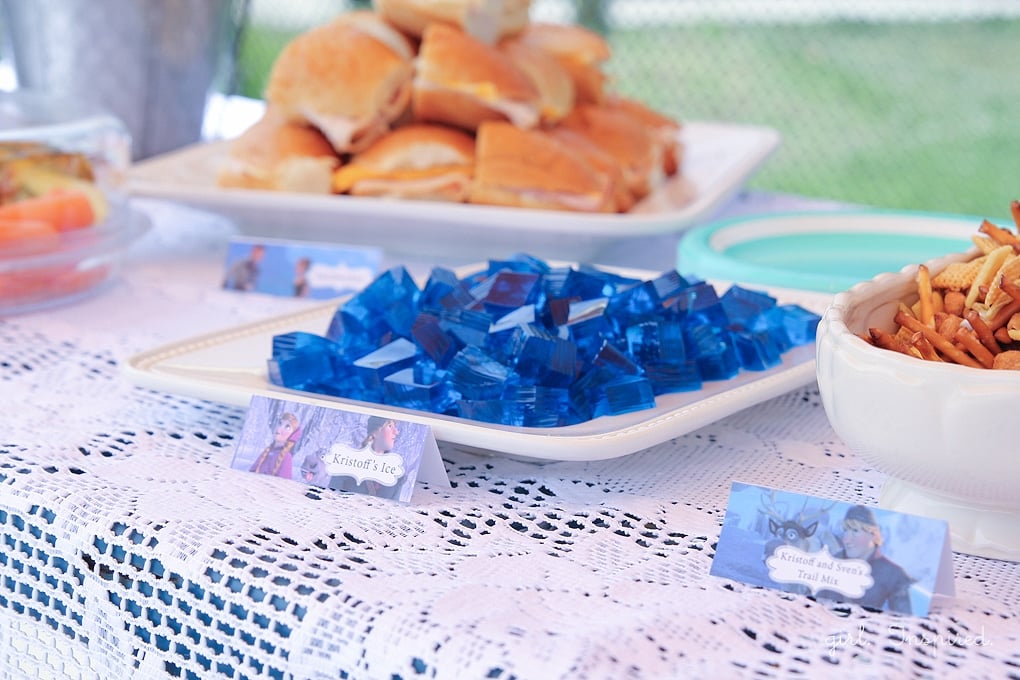 This was our party food table – we kept it really easy with sandwiches, carrot sticks, dill dip (recipe here), Jello Ice (see recipe below), and Frozen Snack Mix (see recipe below).
My kids absolute favorite takeaway from the party were the jars of GAK – I labeled them SNOWK because I have no imagination and snow+gak=snowk. I added peppermint extract, blue and clear glitter, and blue food coloring (in some). Big hit, BIG!! I never knew how easy GAK is to make – get the GAK recipe here.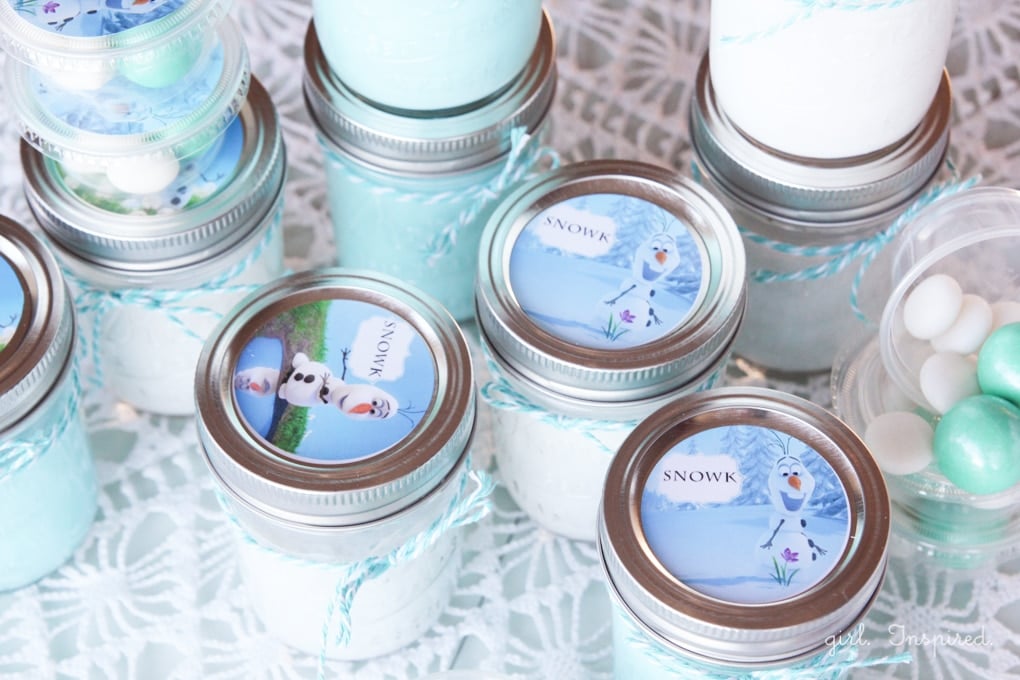 Other party favors included shimmery blue gumballs from Target and white Mentos = Snowdrops. I made 2″ circle labels and printed them out onto Avery glossy white round labels – template 22807. Here is a FREE downloadable Frozen Party Favor Jar Labels file to print your own labels. They fit perfectly on top of the jar lids and pretty good on top of the little candy containers. (Be sure to uncheck "Fit to Page" in the print dialog box.)
Queen Elsa's Ice Castle Cake – get the how-to!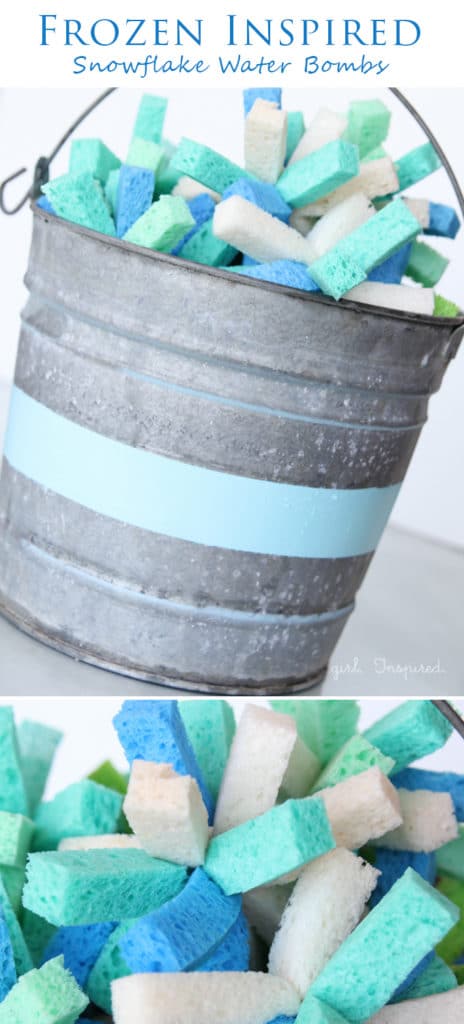 These "Snowflake" water bombs made out of sponges were such a huge hit at the party!! Adults and kids loved them. I found the instructions and inspiration here.
You won't believe how simple it is to make this gorgeous Frozen inspired snowflake cake!
So pretty! Make these Frozen Party Favor Necklaces for all the little guests (and moms!)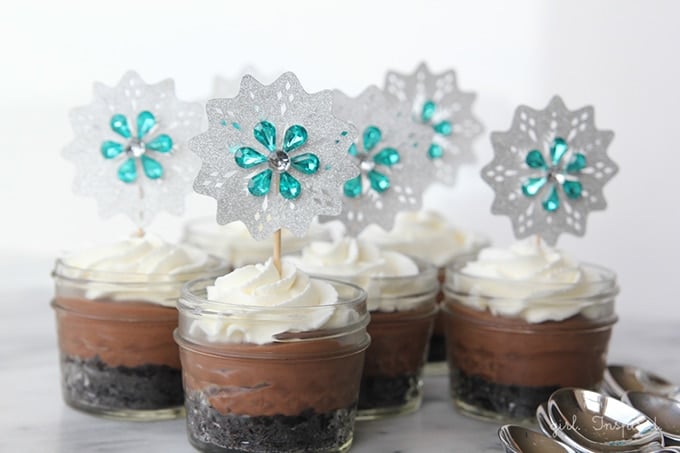 Fun and festive snowflake cupcake toppers!
And here are some more AMAZING ideas from across the internet:

Olaf floating in a bowl of Jello!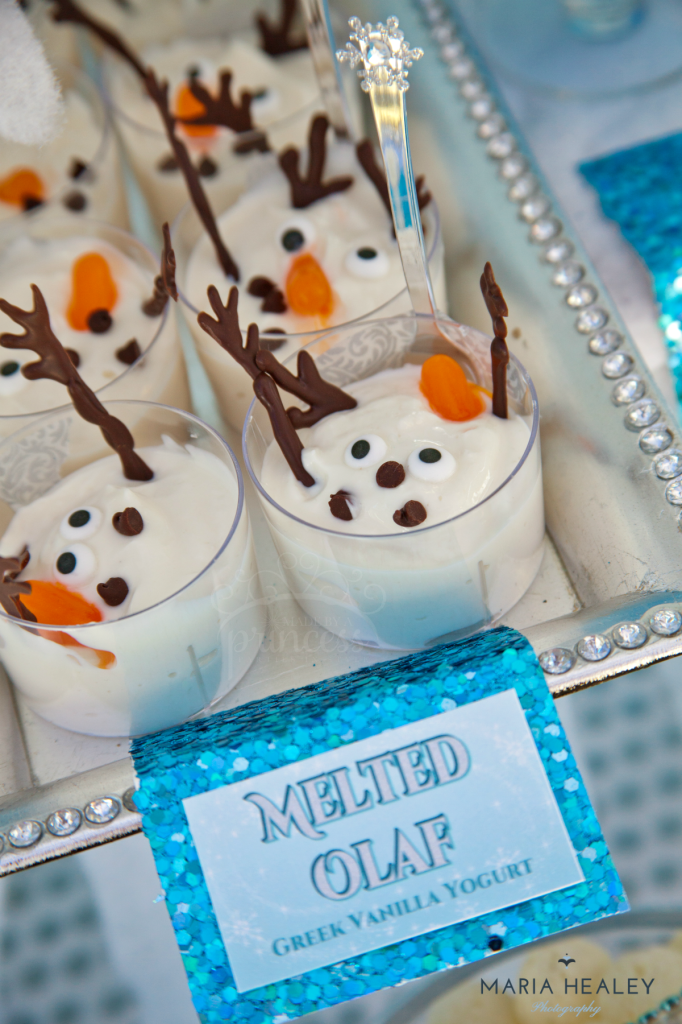 Olaf Cupcakes
How cute are these moose cupcake toppers?
Olaf Graham Cracker Snacks
Free Coloring and Party Activity Printables
This is the invitation (sample pictured) that I purchased for our birthday party – from AMD Designs on Etsy. Super quick turnaround from the Etsy shop owner and really vibrant colors – she has the same invite in a pink colorway and a variety of other Frozen invites/printables. You just give her your details and she sends you the file the next day – print, cut, (pass out in a last minute scramble on the last day of school 😉 )
Painted Peg People – Anna and Elsa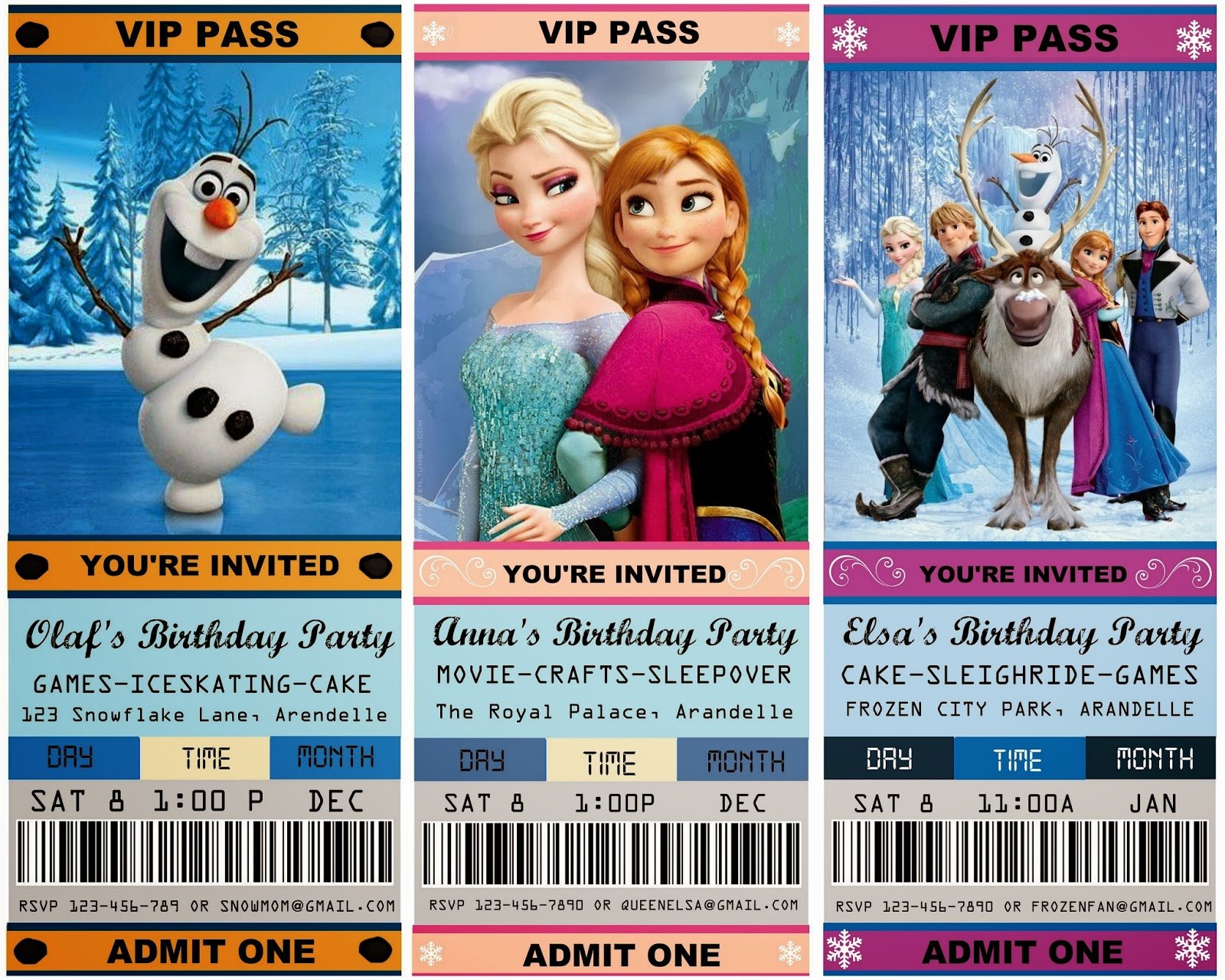 Free Templates for Frozen Party Invitations
Elsa and Anna Bead Necklaces for party activity or favors
Pretty spectacular Frozen Birthday party ideas, eh?