I had so much fun throwing a "Frozen in Summer" birthday party for my little one last week. Addie may enjoy playing princess and love all things girly girl, but even she can't resist the incredible like-ability of everyone's favorite snowman, Olaf. Wanting a "Frozen" birthday party at a public pool in the middle of summer could have been tricky to pull off if it wasn't for the very catchy "In Summer" inspiration from the movie. I'll have more to share from the party over the next few days, but to start, I've got to ask if you want to build a snowman? ? I promise that you can make these really fun Olaf cupcakes and impress all your guests. They do take some time, but other than rolling little balls of edible dough, they really don't require any special skills (sculpting skills, I have not, friends!).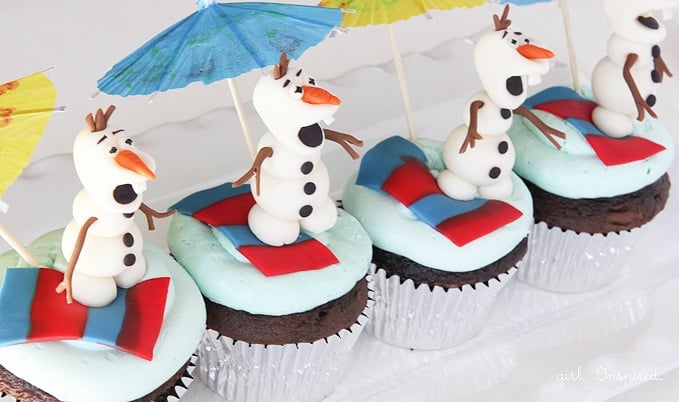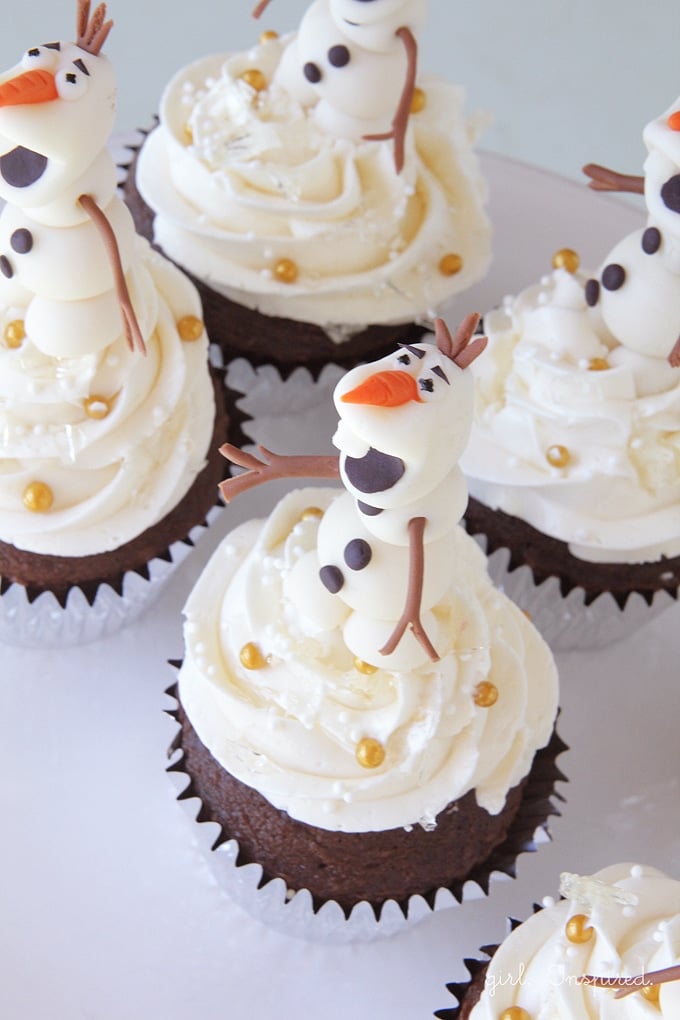 To make these Olaf cupcake toppers, you will need:
Wilton Edible Decorating Dough in white (available at Jo-Ann) 1 package makes 5-6 snowmen
food coloring (black, brown, and orange for Olaf, desired colors for towels)
toothpicks
small paint brush
Begin by tearing off a portion of thedough and working it between your fingers to make it soft and pliable. Divide it into three small balls and add food coloring to each ball to create black, brown, and orange sections.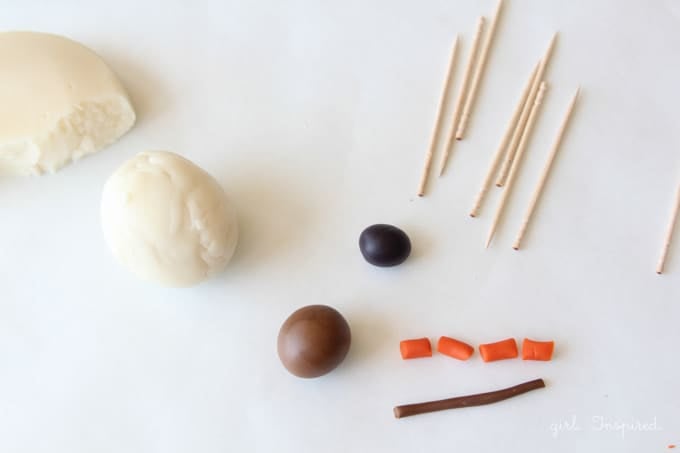 Roll the colored dough pieces into balls and then logs until they are the desired diameter for the various body parts: noses, arms, hair, buttons, eyebrows.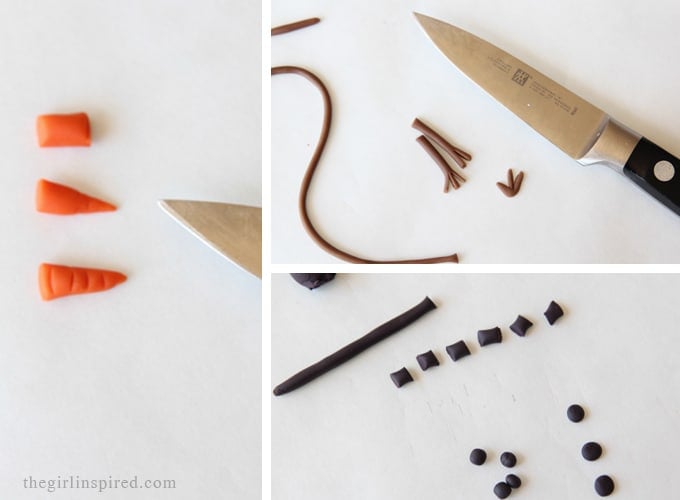 Cut into individual sections and shape into the body parts. For arms, use a knife to slit the end of the log piece into separating sections (e.g., fingers). Group three small pieces for hair piece. Roll short chunks into a cone and then mark with a knife to make the noses. Make enough body parts for all of your Olaf toppers to save time later. Cover parts with a cup or bowl placed upside down over them to help retain moisture (parts "glue" together more easily before they've dried).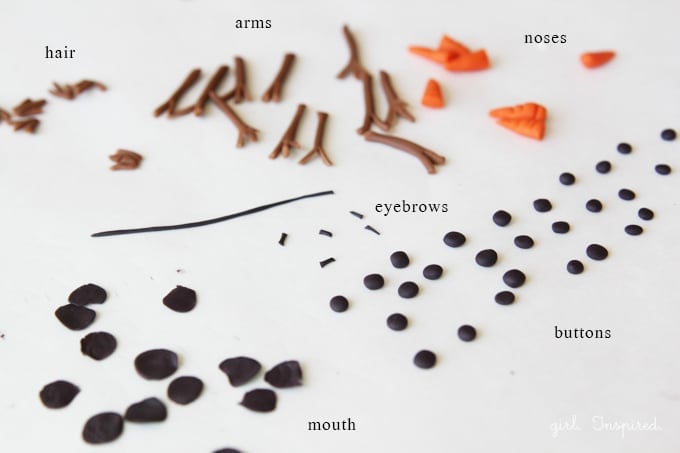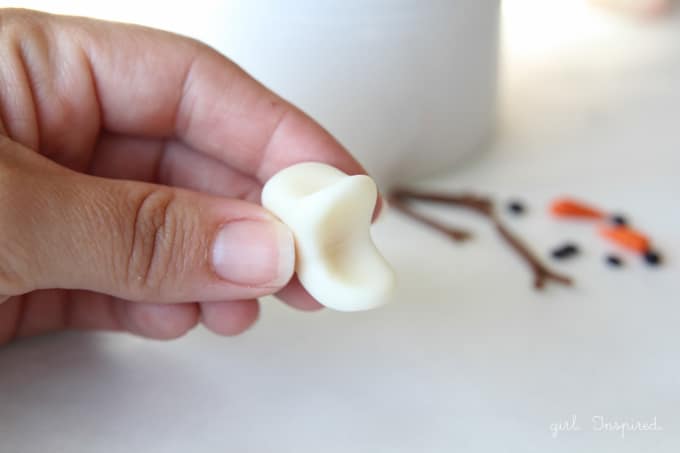 Time to make the head. Form a small ball of white dough into a smooth oval. Gently pinch in the center of the oval and form a mouth top extending out in the center. Make a small indentation in the bottom piece which will become the open mouth.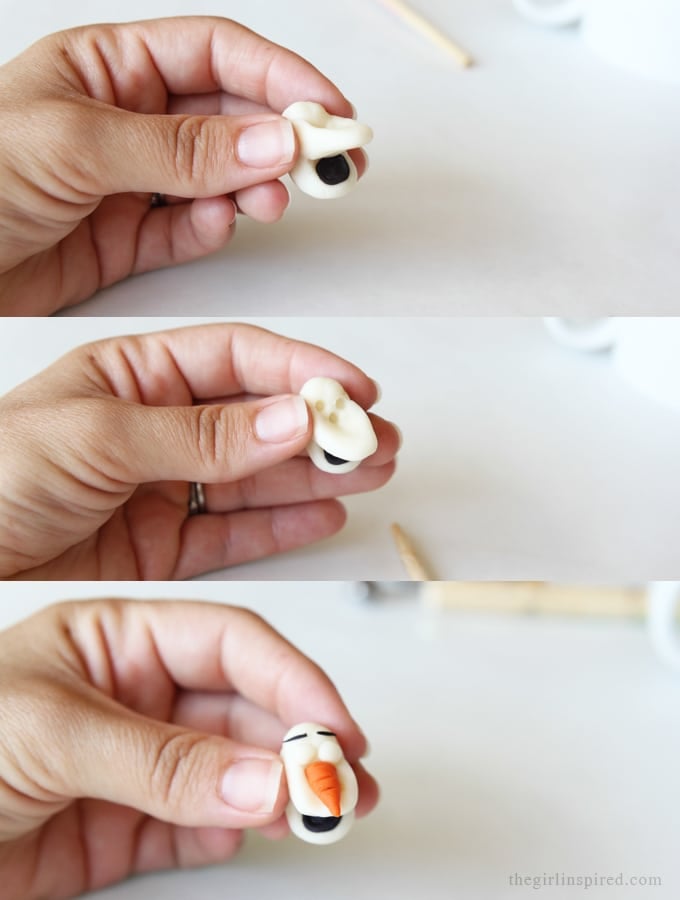 Use a small paintbrush dipped sparingly in water and "glue" on the black mouth. Use a chopstick to make a small indentation for the nose and eyes immediately above the top of the mouth. Glue on the carrot nose. Roll two tiny white balls of dough for the eyeballs and glue them into place. Attach the eyebrows (Olaf's expression will change with various eyebrow placements – it's fun to make them all unique).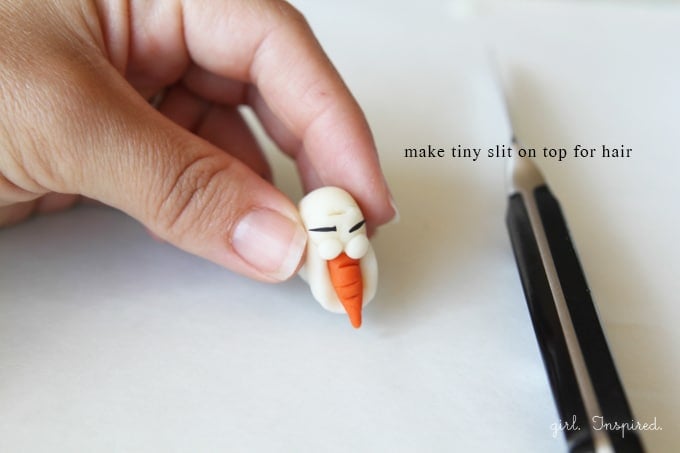 Use a knife to make a tiny slit in the top of Olaf's head, just above the eyebrows. Brush with a dab of water and insert the hair piece.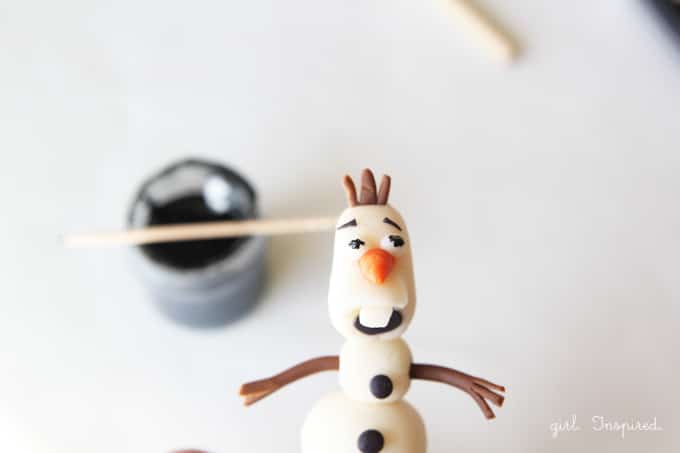 Dip a toothpick in black food coloring and draw the pupils of the eye. You can also draw a little line over the pupils like an eyelid.
Now your head is done!
Roll out three more balls of white dough for Olaf's body. Two should be smaller and one should be larger. Cut one of the smaller balls in half to form the two legs. Use a little brush of water between each section and layer the legs, then larger ball for body, then smaller ball for chest, then head. Connect with a toothpick. Add buttons.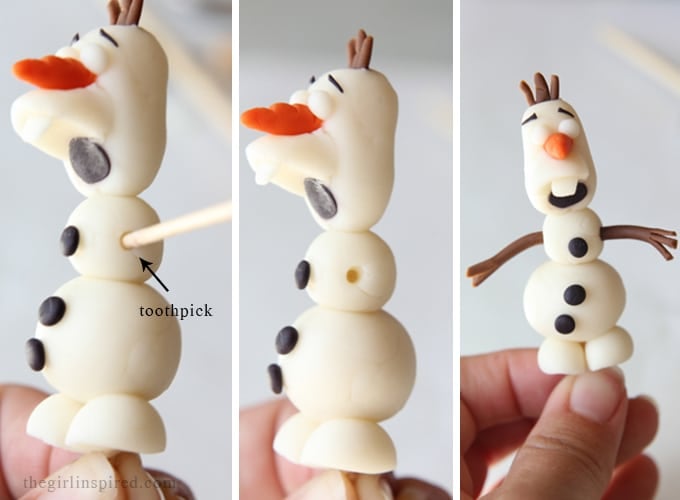 Use a toothpick to make a hole in each side of the chest and glue the little stick arms in. And you're done!! Stick them in a piece of styrofoam until ready to serve the cupcakes!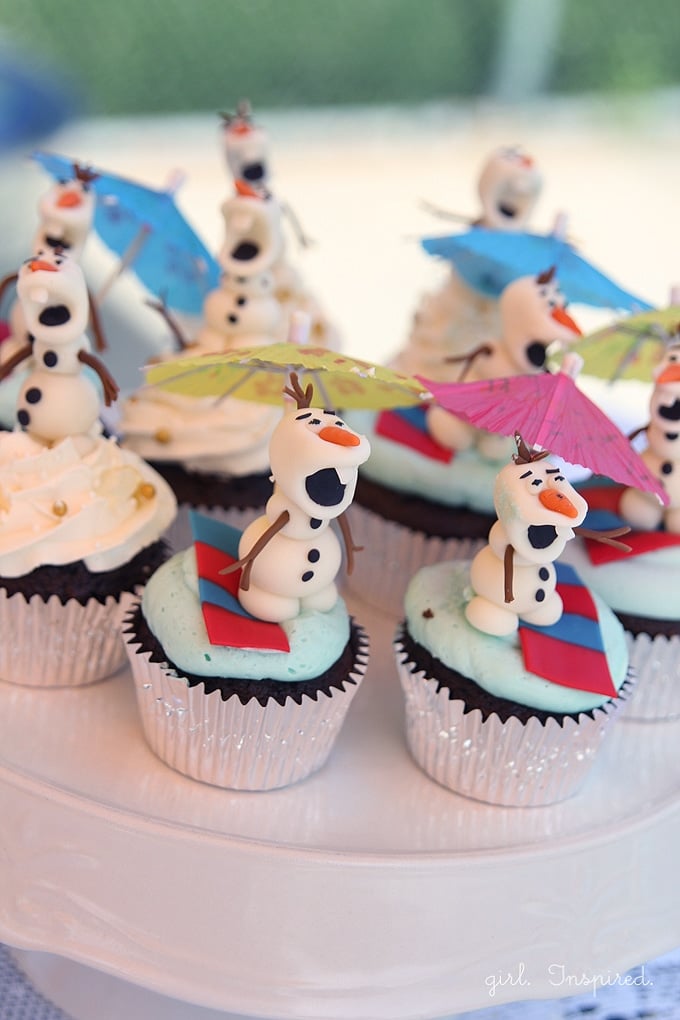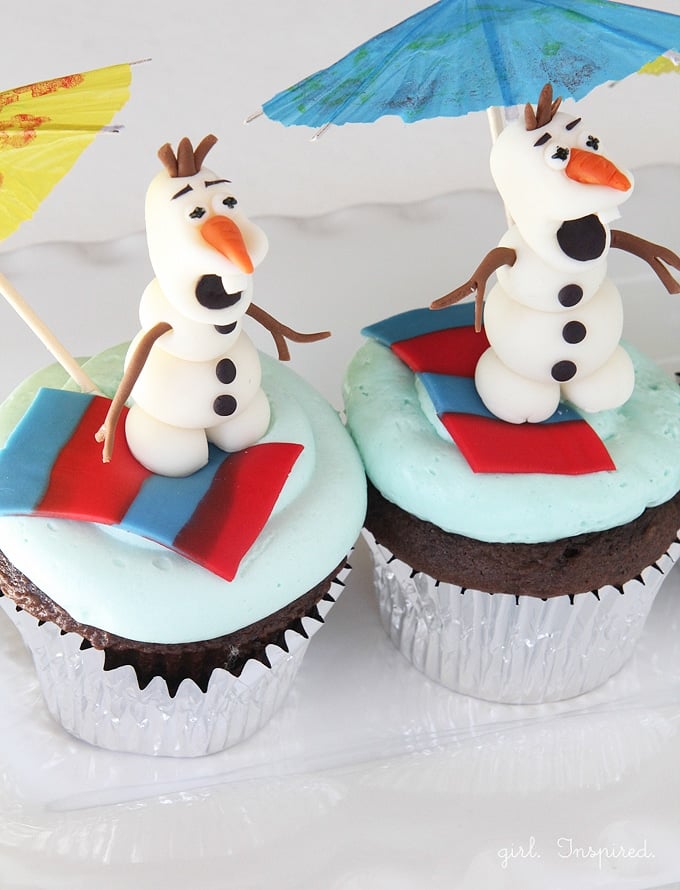 If you want summertime Olaf's, you can plunk them on some blue icing with a "beach towel" and a little drink umbrella. The kids were all over these. To make the beach towels, just roll up four logs of decorating dough and place them side by side, alternating colors. Press them together side by side and roll them flat with a rolling pin; then slice into "towels."