The Frozen birthday cake for our "Frozen in Summer" party became quite the impressive work of art. As with many of my party ideas, I didn't really know what I was going to make and it developed little by little. I wanted to create an "ice castle" and used the Wilton castle cake kit, a styrofoam 10″ cake base and a two-layer, 7″ lemon cake to build the castle.
For decorating, I made batch after batch of hard candy "jewels". They have a clear/yellow tint as I did not add any food coloring, and I think they look very much like ice.
The hard candy is so simple to make – you simply heat 1 cup granulated sugar, ¼ cup water, and 2 Tbs. corn syrup over medium heat until the temperature reaches exactly 300 degrees. At 300 degrees, turn off the heat; you can add food coloring and extract for flavor. Pour the hot liquid into the jewel mold tray, let it cool, then dump it out. Be sure the plastic mold tray is greased with Pam or the candies won't pop out. I "glued" together the castle pieces and the candies onto the bottom tier using royal icing. The top tier, however, we actually wanted to eat so I frosted and adhered those jewels with Swiss meringue buttercream. For the castle pillars, I used those from the cake castle kit. I sprayed them with white metallic "color mist", also made by Wilton. Then, I used a gold luster dust and brushed it over the windows and the front of the castle tower for accent. The castle pillars were topped with hard candy molded from some miniature jello molds that I found at the thrift store last year (I knew I would have a use for them at some point!) The cake held up remarkably well after being driven across town and set out in the warm weather for two hours before serving.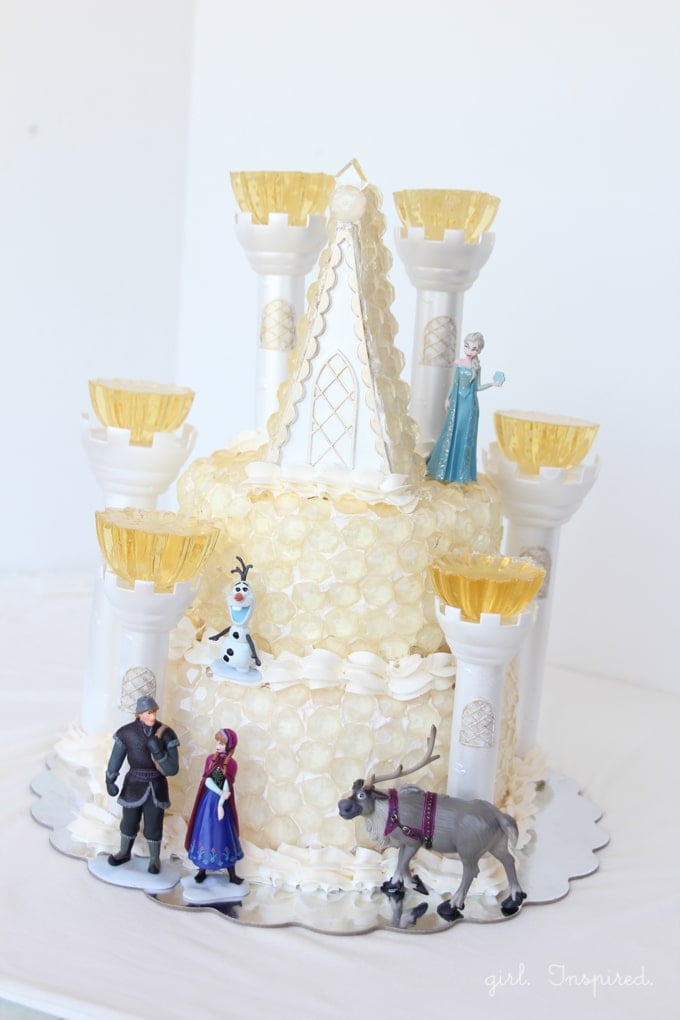 The kids were entranced by Elsa's ice castle cake! And now I can check castle cake off my bucket list.
Hard Candy for Ice Castle Jewels
Ingredients
Pam/nonstick spray
1 cup granulated sugar
¼ cup water
2 Tbs. corn syrup
candy thermometer
molding tray for jewels or desired hard candy shape
Instructions
Spray molding tray with Pam.

Stir together sugar, water, and corn syrup in a small saucepan.

Heat over medium until the temperature reaches exactly 300 degrees on a candy thermometer.

Immediately remove from heat and stir in food coloring and/or ½ tsp. extract for flavor.

Pour the hot liquid into the jewel mold tray, let it cool, then dump it out.
Nutrition
Calories: 18kcal | Carbohydrates: 5g | Fat: 1g | Sodium: 1mg | Sugar: 5g
You might also like:
More Frozen Birthday Party Ideas