The lace princess crowns we made for Grace's princess party continue to receive much wear around here. When the girls put on their leotards or princess gowns for their nightly performances, they now bring crowns and bobby pins to complete their look.
The little girls enjoyed helping when the crowns were made and we thought we'd share how we did it so that you and your little princesses can make some crowns, too. I got the original how-to on Jessica's blog, Joyfolie, which you can check out, here.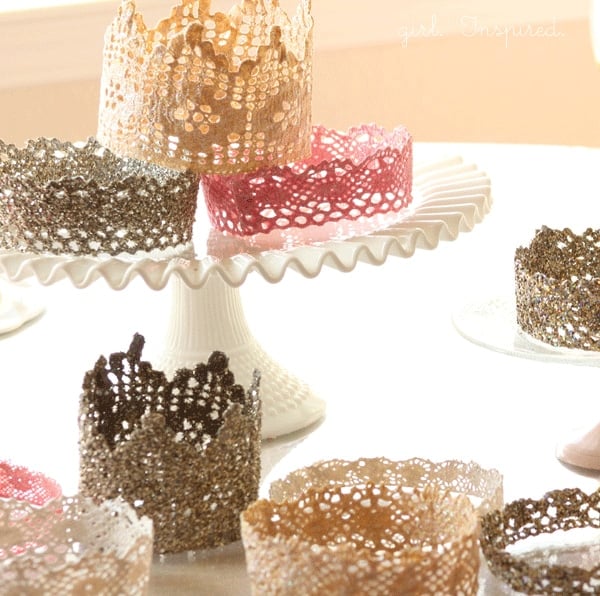 We used a variety of vintage and newer crocheted lace pieces (we made a total of 10 crowns) cut to about 15″ long. Pour a good amount of fabric stiffener into a wide cup and place the lace pieces inside. Wearing gloves, work the fabric stiffener into the lace until they are completely saturated. Spread the lace pieces out onto washable mats or wax paper and allow to dry. While the lace is still very wet, flip the pieces every now and then and make sure that the liquid does not form "windows" in the lace holes. We left the lace to dry overnight and it became very stiff. Then we painted with acrylic paint in several colors of gold, silver, bronze, pearl, and pink. (Actually, for the silver, I used spray paint which was MUCH faster!)
After the paint was dry, we spread mod podge on the lace and sprinkled on glitter, obviously an optional step. This was definitely the girls' favorite part! Shake the excess glitter off and leave the lace pieces flat to dry completely. Once they were fully dry, I gave them a couple coats of clear spray laquer to try to keep the glitter under control. Then, form the lace into a circle and hot glue the overlapped ends (match the pattern). Done!
And here's the birthday girl in her crown!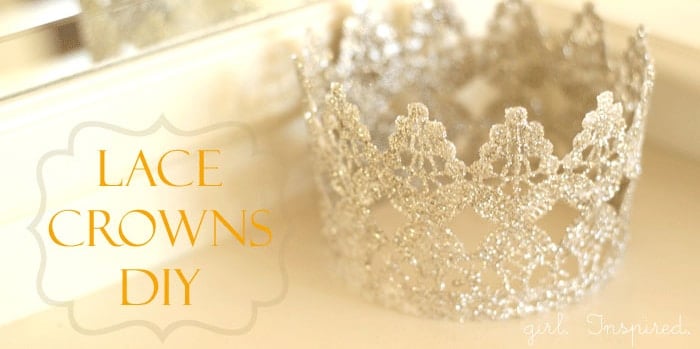 I've created an updated post with LOTS of TIPS to make your crowns even better! Click here for more tips!
If you're planning a princess party, you might also like these tutorials, click on the picture to go to the post: