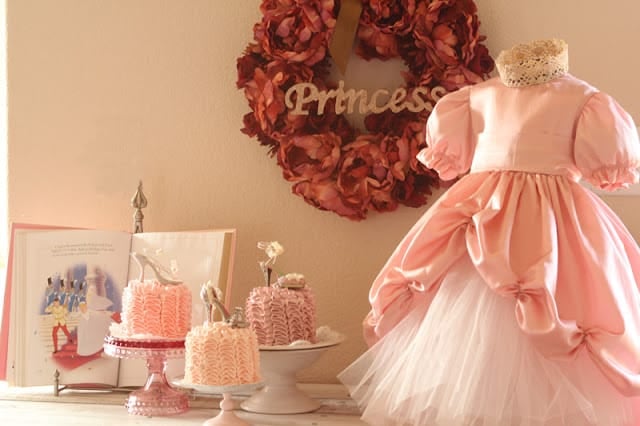 I promised I'd tell you how to make the skirt of the princess gown, so here goes. You can use your favorite dress pattern for the bodice and sleeves, this tutorial will cover how to create the skirt portion of the dress. The dress should be worn over a very full pettiskirt/tutu to really get the lifted effect. I assembled the whole dress and did the bustling last.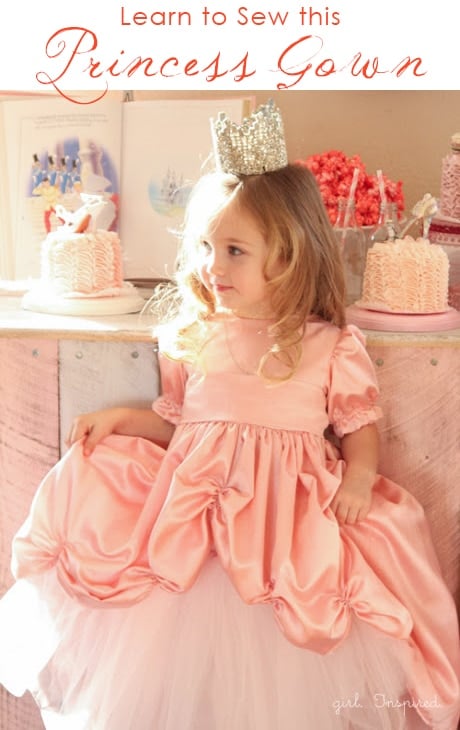 Assemble dress, making sure that you have a very full skirt. I used a full width of the fabric for both the front and the back of the dress skirt – I didn't measure the fabric, but it was probably 45″-50″ wide or so. So, the full circumfrence of the skirt would be around 90″ – a very full skirt!! Gather the skirt and attach it to the bodice – here's a more detailed tutorial on gathering – How To Gather Fabric
Find and mark the top and bottom center of the front of the skirt.
Measure the distance from the center to the side. Divide by 3 and mark along the bottom of the skirt. So, let's say that the distance from the center to the side is 24″. You're going to mark every 8″ – the center, at 8″ over from the center, at 16″ over from the center, and at the side seam (24″). Repeat for the other front half.
Mark 6″ up from the bottom at each side seam. Then, 9″. Then 12″. Then 16″ at the center. These increments may vary depending on the length of the dress you're making. I made about a 2T/3T. The top of my center point (16″ from the bottom) was about 3 ¼″ down from the top of the skirt.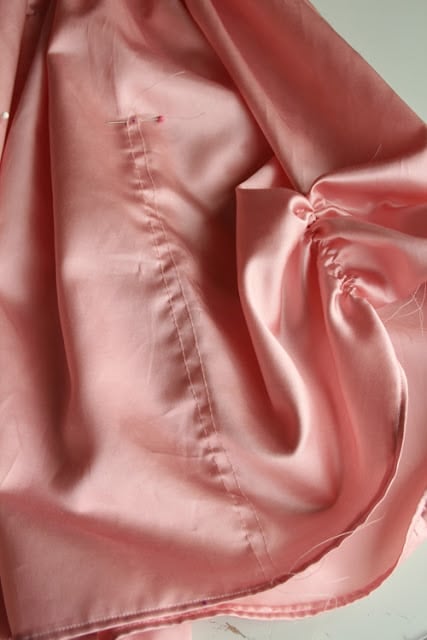 Sew two parallel lines (using a gathering, or a loose, stitch) straight down from the top mark to the bottom. Secure your thread at the top so that you can scrunch it up without the bobbin threads pulling loose.
Now scrunch…cinch…whatever you wanna call it! Be sure you scrunch all of your bustles an even amount. The finished length of my scrunched portions were about 2 ½″.
Secure the threads. I tried to just tie triple knots in the thread, but this won't hold. Stitch using a regular stitch right down the center of the gathered portions; be sure to backstitch at the beginning and end of the section.
Fluff and wear!!
You might also like: