Last January, I made a tutu tablecloth for
Grace's princess birthday party
and I have had ongoing requests for a tutorial. Being in the thick of Project Run and Play sewing back then, I didn't take pictures of the project or have time to put together a tutorial. I pulled out the tablecloth again for Olivia's slumber party last week and was able to try a new top for it, so I thought this would be a good time to share how I made it. What will you need?
Fabric for the tabletop – make sure your piece is wide enough to fully overhang all sides of the table. I found a fabric that was 52″ wide, so a square of it easily covered over the sides of my 45″ table. If your table is too wide, join two pieces together to form your needed width (make sure the seam runs down the center of your table.) I also looked for a fabric that would clean easily, but I have a glass tabletop that can set on top, so this wasn't too much of a concern for me.
A LOT of tulle – tulle is quite inexpensive, so even though you'll probably need 15+ yards, you can use a coupon or buy it on sale and end up getting it for a buck a yard or so.
First, we'll make the portion of the tablecloth that covers the tabletop – take your fabric and drape it over your table.
Weight the fabric down on the table so that it doesn't shift when you're cutting. I didn't do this and I ended up with a very not-so-perfect-too small- tablecloth – ugh! Now, you're going to cut your tablecloth top into a circle. You want your finished tutu effect to cascade down from the top edge of the table, but you will need to cut a circle a little larger than your tabletop to allow for the seam and just a tiny bit of wiggle room (¼″ or so). Basically, you'll want to cut your tabletop fabric ½″ larger in a precise circle around the tabletop. (If you have a glass tabletop, it works A LOT better to lay your fabric on the floor, set the glass on top, and trace around (allow that ½″ of room for overhang and seam allowance). Cut with pinking shears so that you don't have to finish a fraying edge later.
Now, we're going to cut tulle. How much tulle will you need? Ready for some math?
Each cut of tulle should be your desired length from the top of the table to just above the floor (or wherever you like). I cut my strips 28″ long.
Now, how many cuts? Figure out the circumference of your table.
Circumference = diameter of the table x 3.14
My table is 45″ in diameter, so 45″ x 3.14 = a circumference of 141″ I am going to need to ruffle strips of tulle so that, once ruffled, the tulle goes all the way around the circumference of the table. So, when I ruffled one strip of tulle, it gave me 12″ to work with.
141.3″ (circumference) divided by 12″ = approximately 12 ruffled cuts of tulle. AND I WENT AROUND TWICE for enough fluff. So that's 24 ruffled cuts of tulle. Are you with me?
You're cutting along your yardage, right? So, multiply the desired length (28″) of your strip by the number of cuts that you'll need (24 cuts) and you'll get your total inches of needed tulle (672″). Now, divide by 36″ in a yard (672/36) equals approximately 19 yards of tulle. (I did a lot of rounding here, so just follow the calculations on your calculator and then add a yard or two extra to your order for "just in case.")
Here's your condensed math equation:
TOTAL TULLE YARDAGE= ((2 x (table diameter x 3.14)) / ruffled width of tulle) x desired length of tablecloth – then divide that whole number by 36″ to convert inches into yards.
Is your head spinning yet? I seriously had no idea I was going to be typing up such complicated calculations. If you prefer, you can just buy a truckload of tulle and go forward blindly.
So, you'll cut all of your tulle to desired length of tablecloth, then ruffle away. Just feed one piece after the next into your sewing machine (please use a ruffling foot – PLEASE!!). You can refer to the nice visual of this in my
Pettiskirt Tutorial
if that helps.
Then, sew the ruffled tulle around the edge of the cut tabletop piece. Sew the tulle onto the right side of the tabletop fabric, with raw edges matched. Be sure to stitch inside (to the left of) the stitching on your tulle so that it doesn't show on your finished tablecloth.
Go all the way around twice with your tulle (I doubled up the tulle from the start and just went around once. You also might be able to ruffle two strips of tulle together from the beginning, but I didn't try it.) Flip the tulle down and you're done!! You could press the seam a little if you want, but DON'T touch the tulle with the iron or it will melt!!!
Gorgeous tablecloth!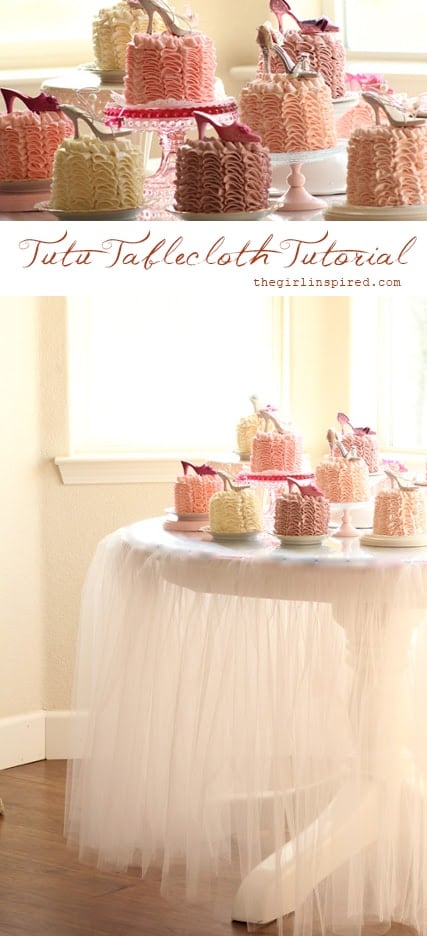 You might also like: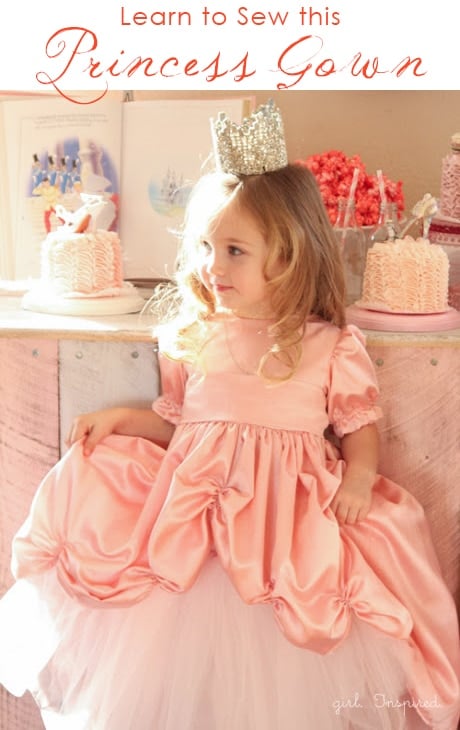 Princess Party Pictures and Ruffle Princess Cake Tutorial