With three girls, it is inevitable that there will be more than one request for a princess party in our house. And four seems to be the age where princess dreams need come true! As you know, Addison turned four a couple weeks ago and requested a princess party to celebrate with some friends. Her favorite movie is Barbie Princess and the Popstar, so I proposed a little combination party of all of her favorite things! We scaled back a lot with this party, but it didn't matter a bit to the birthday girl. She was thrilled to play her role as both princess and singing sensation for a Princess and the Popstar Birthday Party. I loved how intimate the party was with just a couple of her little friends and my family over.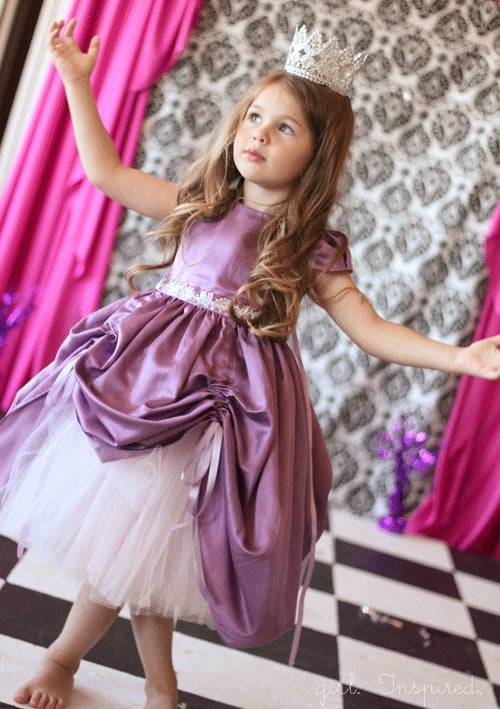 First pictures should be of the birthday princess. I made her her own special princess dress with ribbon tie ups that could be lowered for her debut as princess and raised for a set change into popstar costume. I got some pretty adorable pictures of her in the princess attire, complete with a new lace crown, but we unfortunately turned on the music too soon and instead of smiling for the camera, she was heavy into performance mode while I tried to get pictures – always makes me work for those pictures. She was out of her longer pettiskirt before the other girls even arrived and changed into a hot pink shorter pettiskirt for the "popstar" look. She cracks me up!!!
The party was centered around a stage that Graham built out of two sheets of plywood – making it a large 8′ x 8′ square. I painted a black and white checkerboard pattern onto it and stapled silver fringe around the short rise. Something about a stage just brings the performer out in those kiddos. I also made a disco ball pinata (find the full tutorial here) and a fun stage backdrop. It turned out really super awesome, if you ask me.
I cut out a bunch of photo booth props – glasses, mustaches, bow ties/hair bows/hats with my Silhouette and then picked up some silly glasses and other hats from the dollar store. The kids loved having fun with these!! We also turned up some music and let the girls loose with the real microphones. That got loud real fast….
Other activities included decorating microphones …
…and eating snacks from the plethora of options that my sister cooked up… I tried my hand at homemade donuts – very excited to have this new obsession to pursue! I also cut the little guitar food picks out on the Silhouette. I expected to be the only one to appreciate guitar toothpicks, but actually all the kids kept dipping them back into the melon bowl and the cheese platter. You just never know what the kids are going to appreciate – that's why you've got to go to such efforts!! haha!
We also set up a princess station with lace crowns, jewelry, and dress up clothes. The kids didn't spend as much time here aside from the whirlwind of everyone wanting their fingernails painted all at once.
I didn't really create any new decor beyond the disco ball and stage – just plastered tissue poms and puffs on the walls from past parties, set out some princess decor from Grace's princess party, and added some feather filler to try to bring the pink and purple colors together.
We ended the party by bashing open the disco ball pinata that we had spent so many hours making. The kids loved it – I'm still trying to figure out if there's a way to put it back together.
So, that's a wrap for today! I have a few party details to share over the next week.