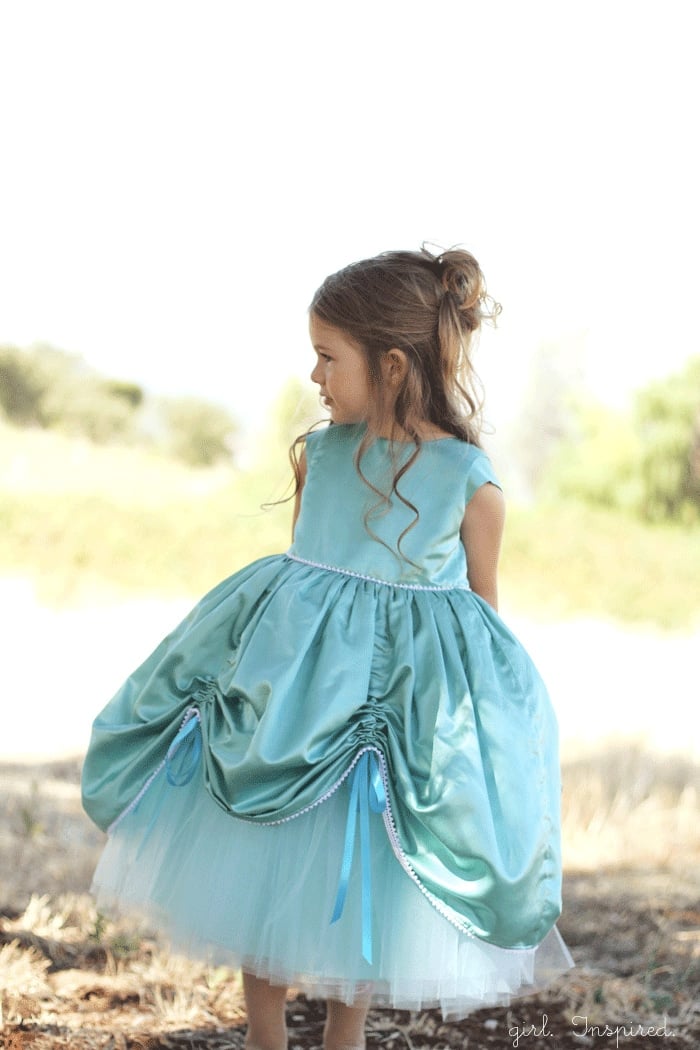 As promised, today I'm sharing the other dress design that I contributed to the first 5&10 Sewing Pattern eBook and is now available as an individual pattern here. You probably spotted it from a mile away – it's the princess dress! I am really excited to be able to share this pattern with you – princess dresses seem to be popular among the little girls in my life and I receive frequent emails asking for a pattern for the other princess dress I designed more than a year ago. So, I'm happy to give you all the tools you'll need to create this new princess gown complete with a built-in pettiskirt.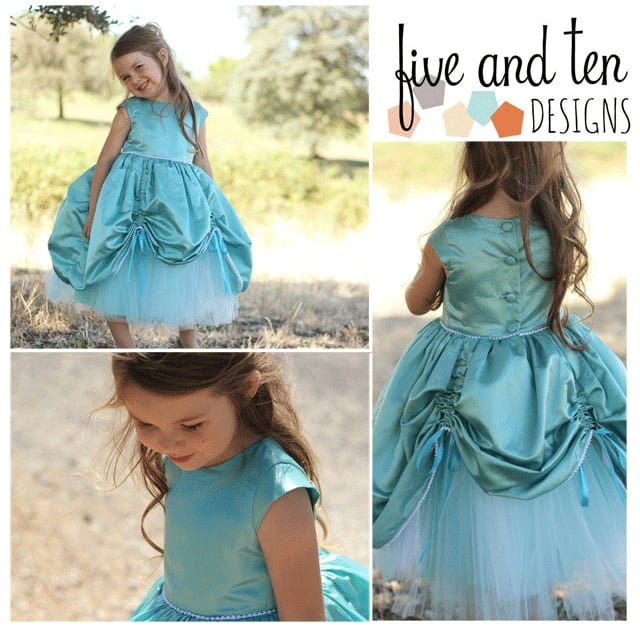 This dress was made with my favorite fabric, Robert Kaufman Radiance, which is a silk-cotton blend and is gorgeous and easy to work with. In my opinion, this is the perfect material for this gown, but you can use whatever type of fabric you like! I picked up this particular cut of Radiance at Michael Levine last month during Fabric Weekend – you can purchase it online, here. (it looks like they have a million other colors available online, too).
The Princess Dress sewing pattern, also known as Look no. 10, uses the basic bodice pattern pieces provided in the eBook. It also uses the included cap sleeve pattern. It buttons up the back with fabric-covered buttons. The real transformation in the dress, though, is in the skirt. The pettiskirt is built in to the lining and lifts the whole dress up. Detailed instructions and pictures will walk you through every step of constructing this dress, including the addition of trim to the waistline and the hem of the dress.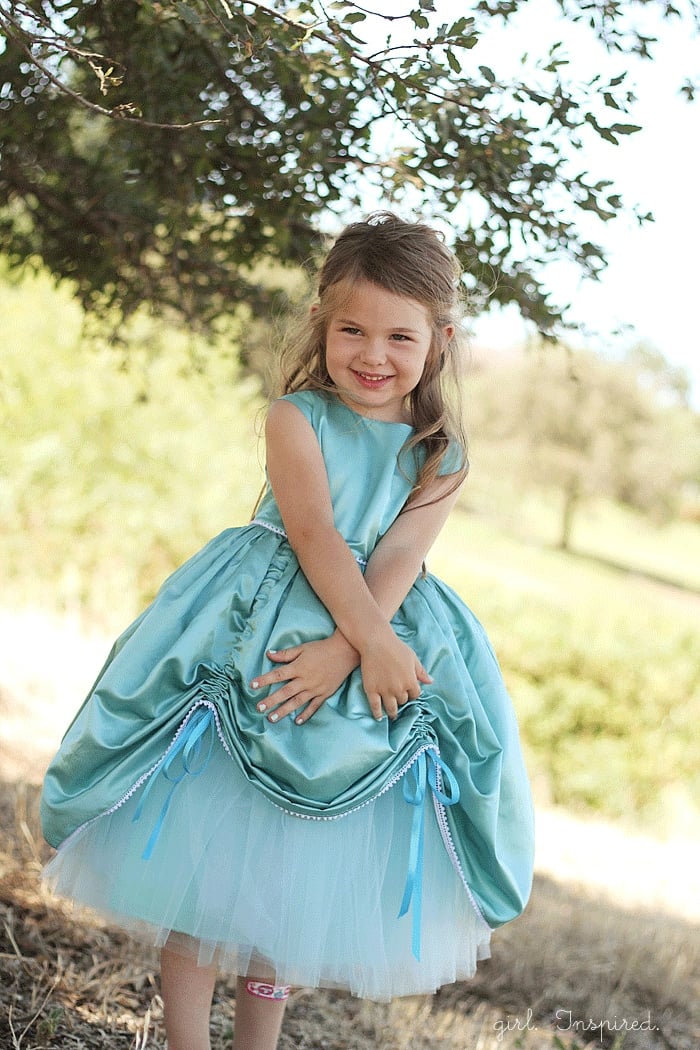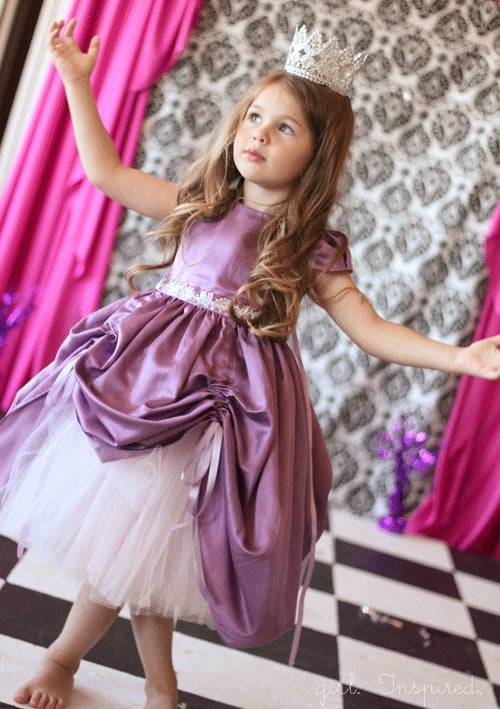 I used the same pattern for Addie's Princess and the Popstar princess dress, but used a rolled hem to finish the bottom of the main skirt. (I deviated from the included cap sleeve). This one is also made with Radiance (color: Wisteria).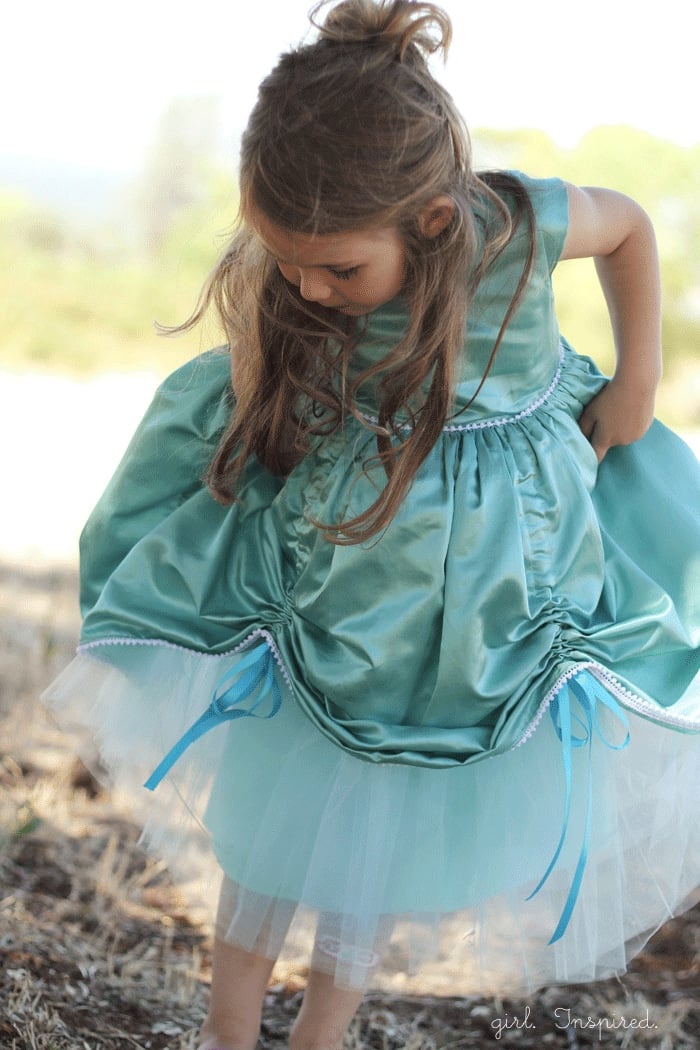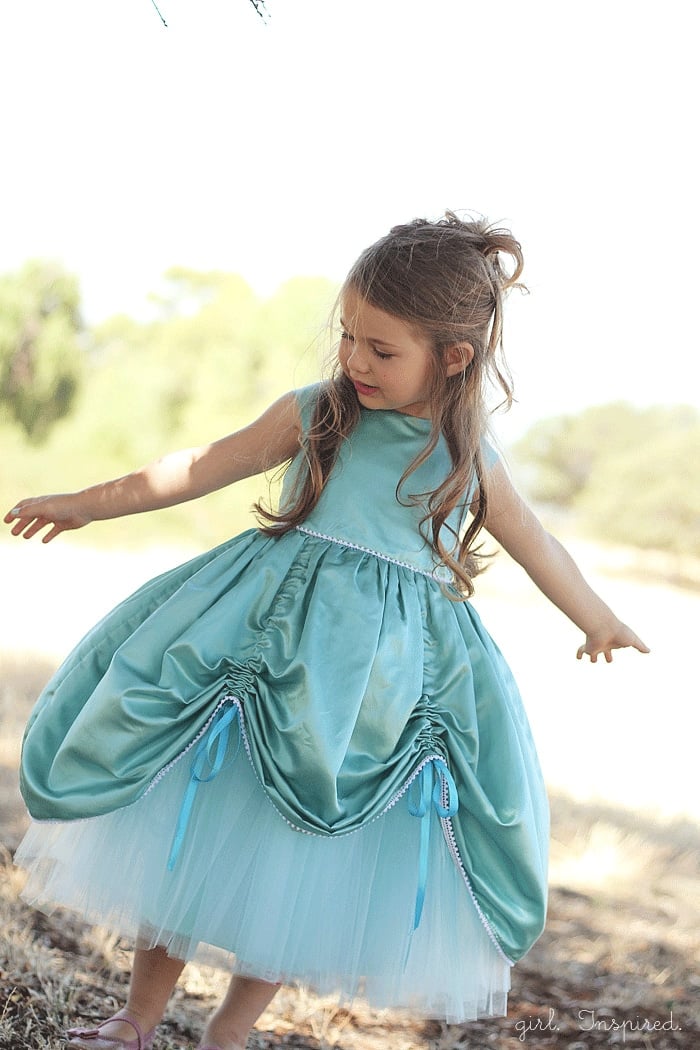 Even though we already had the purple princess gown in the house (and the pink one from last year), the little girls fought over who the blue one would belong to…I guess you can't have too many princess dresses, huh?!!! Frankly, I'll keep handing them out if I get pictures like these.
UPDATE: As of September 7, 2016, 5&10 Designs has closed its doors. Pattern eBooks are no longer available for purchase. However, I am working on creating individual patterns for my looks from the original eBooks. Currently, the PETITE PRINCESS DRESS SEWING PATTERN (as seen here) is available for individual purchase in my Etsy shop, which you can access by clicking here. Thank you for your continued support and encouragement over the years!