Hello!! I'm slowly recovering from the end of the school year and Addie's birthday, coupled with returning from the most overwhelming and wonderful fabric shopping weekend ever! How are you? I finally got all of my bags from Fabric Weekend unpacked, my fabric mostly washed, and all of it stashed someplace other than on top of my sewing table. I have yet to cut into any of it, but I'm pretty happy just looking and petting! I'm excited to share some pictures and report on the weekend a bit while it's still fresh. If you haven't ever been shopping in the Los Angeles fabric district, maybe this will give you a few ideas or pointers should you go! I should also add that, although I carried my camera all the way to L.A., I didn't pull it out a single time, so I have a lot of phone pics and they're mostly all of fabric. But I swear I was with so many wonderful, talented ladies who share a love of fabric, sewing, and blogging. The social aspects of the weekend were completely incredible and inspiring!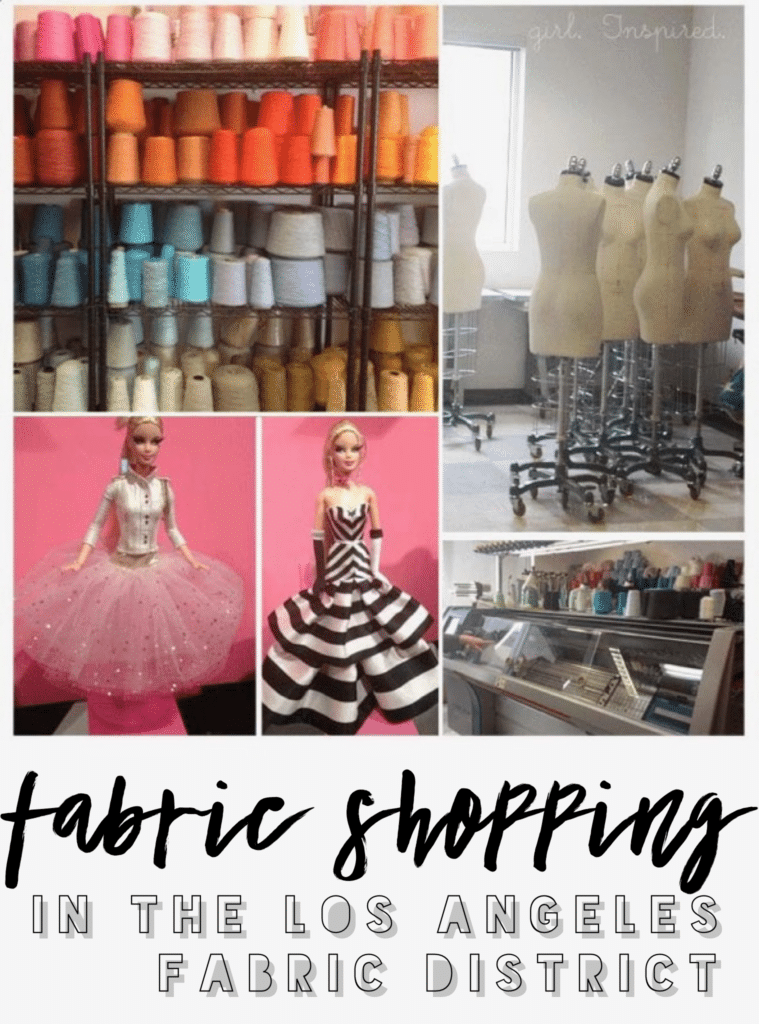 We started off our weekend at FIDM – the Fashion Institute of Design and Merchandising – in downtown L.A. where we were treated to a tour of the campus. There were so many displays to look at and classrooms to drool over. I found myself plotting out how we could move to Southern California and I could go back to school for Fashion Design. Ahhh, it was so cool. We also popped in to the Scholarship Store on campus where I picked up some really fun fabric for $1-2/yard. Great start to the weekend!
After FIDM, we headed to Michael Levine, which is the heart of the fabric district, I think. The owner, Larry, gave us a spectacular tour of the warehouses and they.were.amazing. Floor to ceiling warehouse floors with aisles and aisles of fabric. Michael Levine also provided a lunch for us and fun goody bags – I felt so honored to be part of the whole experience. By the afternoon, I was totally wound up and ready to shop. I didn't make a shopping list going in to the weekend, but I knew I was looking for three main things: a variety of knits so that I can gain more experience with knit garment-sewing, leather for who knows what, and good quality apparel fabric. I did the mad dash over to Michael Levine's Loft for knits by the pound. At $2.50/pound, the fabric mostly comes out to about $1-2/yard and it's a big loft of bins to dig through. I found a number of knits and also some fluffy stuff that I'll use for party decor – tablecloths, backdrops, that sort of thing. I spent most of the rest of the afternoon in the main Michael Levine store. I bought some Liberty of London, silk, Heather Ross for Kokka cotton linen, some sweatshirt material, hand-dyed silk ribbon, the list goes on and on. Too much beautiful fabric in that store – things that I don't have access in an actual store at home. It was amazing to see so many types of fabric in person, feel them, compare them. Awesome!
We also ran around to some of the smaller shops in the late afternoon. It was so exciting. Everything you could possibly want is available in the fabric district – buttons, ribbon, elastic, snaps, spikes, fabric of every kind, lace trims, EVERYTHING! I bought zippers for a quarter each and spikes for some unknown project of the future. As the shops closed, I felt like I hadn't even scratched the surface of the fabric district.
The next day, we headed to MOOD. It was a beautiful store, and again, whatever your need might be, they had it there. I spent many wavering minutes at the large racks of leather – small hydes in every color were available and pretty affordable. How to choose??? I also focused on the silk department and then just wandered down the aisles. Fabric is just so beautiful, particularly when you can see one type of fabric in, like, 50 shades of pink. haha! The salespeople were super friendly, although they didn't seem to get excited when we sang, "Thank you, Mood," as we left. Do you think everyone says that?
I went with a few of the girls back to the fabric district that afternoon and was able to pick up some really inexpensive knits ($1-3/yard) from several of the stores – I really liked Angel Fabrics, got several things I'm pretty excited about from there. And then…
It was time for Girl's Night Out, a quarterly event hosted by Jessica, The Sewing Rabbit. What a great event! Jess is just so amazing and committed – I could barely pack my clothes for the weekend and here Jess organized an entire dinner, complete with swag bags full of goodies, and such a good time for everyone to chat and laugh as the weekend came to an end.
I headed home with my (three) suitcases stuffed full of fabric and so many good memories. I'm so grateful to have been included. Here are some organized pictures of my haul from the weekend! I can't wait to start playing with it all!
I want to say thank you to Andrea, Bev, and Justine, who put so much time into ensuring an amazing weekend for all of us non-locals. You girls are truly incredible! I'm also so thankful to the sponsors of the weekend, Michael Levine and Jo-Ann Fabric & Craft Store, in particular. It was a dream to see the behind the scenes at Michael Levine and have access to such a variety of gorgeous, quality fabrics. And it was also wonderful knowing that I didn't have to haul every last sewing supply back from L.A. because I have Jo-Ann just down the hill from me at home and they have all the staples. I better get sewing now so that I can be ready for the next weekend dedicated to good friends and fabric shopping!!! I'll leave you with my very favorite picture from the weekend…