If you're looking for a great indoor activity to do with your kids, making clay jewelry is the perfect thing to beat the heat! My girls made a huge collection of jewelry with me and it was so simple that even my four-year-old was able to participate. An adult does need to help with the baking of the clay, and probably the attachment of the jewelry parts, but the kids will have so much fun molding the clay and painting the glazes on after they've been baked! We made pendants, earrings, and rings and purchased all of the supplies at Jo-Ann Fabric & Craft Stores.
Ready to make some?
Step 1: Gather your supplies: sculpting clay, silicone molds, jewelry parts, Super Glue, clay glaze, gold metallic acrylic paint, and a cookie/baking sheet.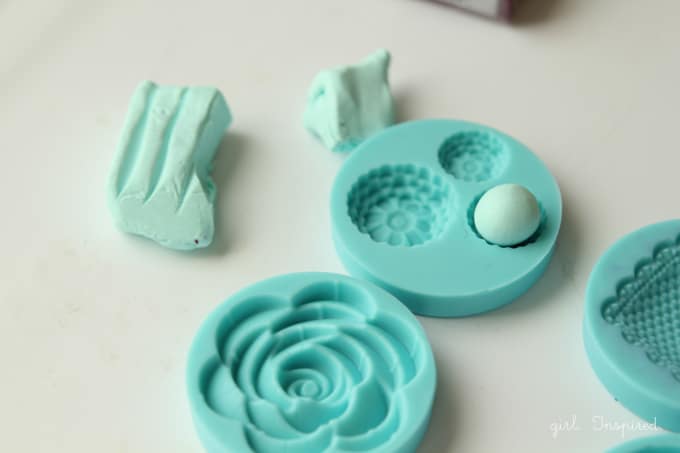 Step 2: Tear off a piece of clay and knead it between your fingers until it is soft and pliable. Roll it into a ball that will fit the size mold you wish to use.
Step 3: Use your finger to press the clay fully into the mold. Scrape off any excess with your fingers so that the back of the clay is flush with the top of the mold area.
Step 4: Pop the clay shape out of the mold and set aside. Continue for all desired pieces.
Step 5: For jewelry pieces that have an inset metal part, you will need to insert this into the clay before baking. You can also poke holes into the clay before baking. If you are making beads, there are special pins and holding props to help the clay maintain its shape while baking.
Step 6: Bake according to package instructions. Allow to cool. Paint with glaze and/or metallic acrylic paint if desired. Use super glue to attach jewelry components.
For more details, product information, and instructions, visit the project sheet in the Jo-Ann Summer Trends and Ideas Lookbook! Also….if you have the Jo-Ann app on your smartphone and you open it to get your coupons while shopping, you might see this project pop up. You probably won't squeal at the cashier like I did, but it's kind of fun to share!