Have you ever wanted to make an ice cream cake? Everyone loves ice cream cake, but making your own means it's possible to choose your favorite cake and ice cream flavors and decorate it however you please. This Oreo ice cream cake is a favorite combo of ours! Once you have the basic technique down, customize the cake to your liking!
The first time I made an ice cream cake, I was scooping 31 flavors at my first job at Baskin' Robbins. We don't have alllll the same tools to make a Baskin' Robbins ice cream cake, but we can get pretty darn close with this easy ice cream cake recipe.
To make a homemade ice cream cake, we need just three basic components – a layer of cake, a layer of ice cream, and frosting. Basically, you'll need to bake a thick, single layer of cake, top it with a formed layer of ice cream, then frost it with a nice freezer-friendly icing. Although "naked" cakes are all the rage and you could even skip the frosting all together and go with a naked ice cream cake! I am going to tell you the best way to frost your cake though.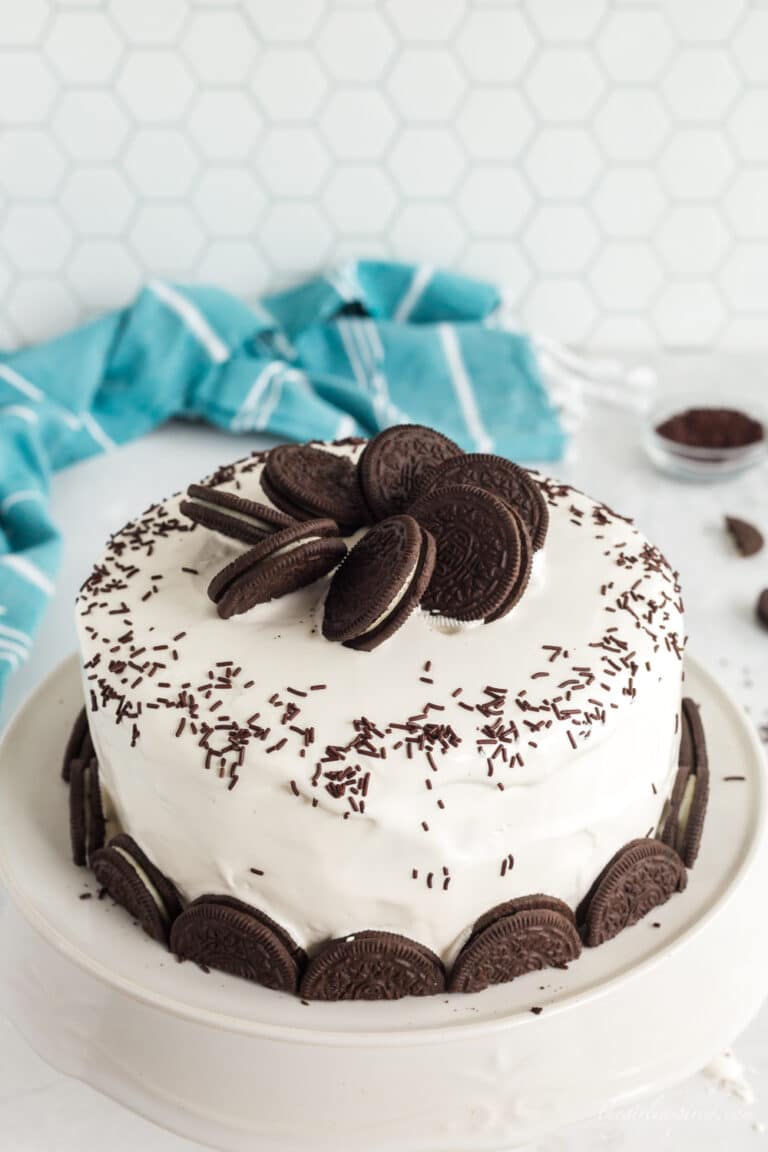 What do I use to frost the ice cream cake?
You will find two different cakes in these photos. Notice that one of the cakes has piped borders around the top and bottom and pretty swirls on the top. The other cake uses halved Oreo cookies as a bottom border and a swirl of cookies on the top.
The cake with the pretty piping has been frosted using a non-dairy frosting called Pastry Pride, which you buy as a frozen quart, defrost, and whip up to stable, pipe-able, freezable perfection.
The cake with the Oreo border was frosted with Cool Whip. Cool Whip is a really easy option and readily available. It is not my first choice for ice cream cakes though. For one, it will not hold its shape for a piped border or fluffy swirls. For another, it becomes too soft and can even begin sliding down the sides of the cake if it is out of the freezer for too long. For simply and quickly coating the cake, Cool Whip can work if Pastry Pride is not available.
You could also use a buttercream. Buttercream will pipe well and freeze well. It does take some extra work to prepare homemade buttercream, which is why I love using Pastry Pride. Find more about my favorite frosting recipes, including some various types of buttercream, here.
What is Pastry Pride
Pastry Pride is a non-dairy dessert topping that you can buy from cake supply stores. Smart 'n' Final – a discount grocery store on the West Coast – also carries pastry Pride in the freezer section. It comes in quart-size cartons. I keep a supply in my freezer. When I need a quick batch of frosting, I thaw a carton out, whip up the amount I need, and I'm ready to go! It's great for spreading out smoothly and also for piping swirls, borders, and dots; it isn't the best frosting for a lot of detail. Frosted cakes and treats need to stay refrigerated. The texture and flavor is similar to whipped cream, not too sweet, and really light and yummy.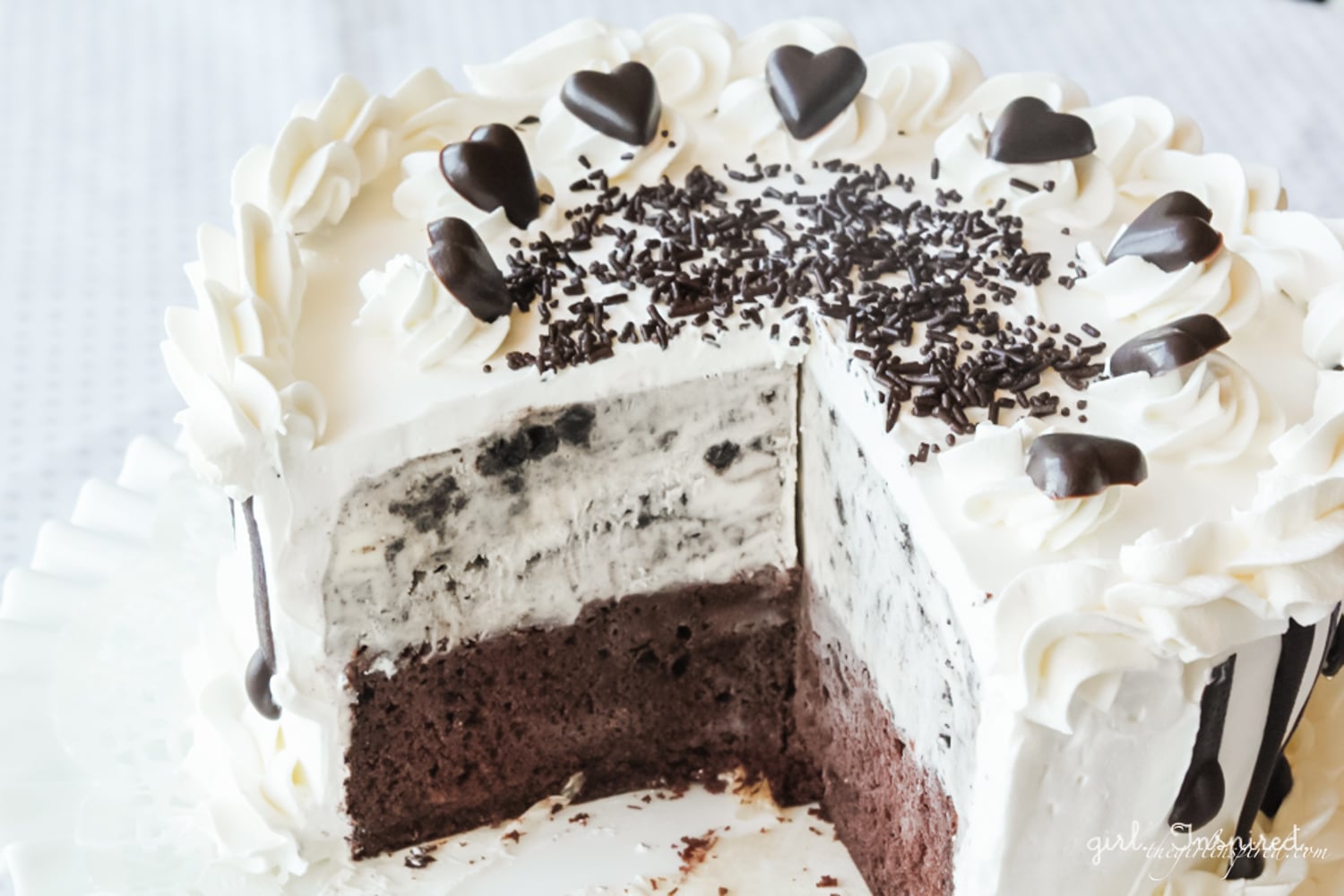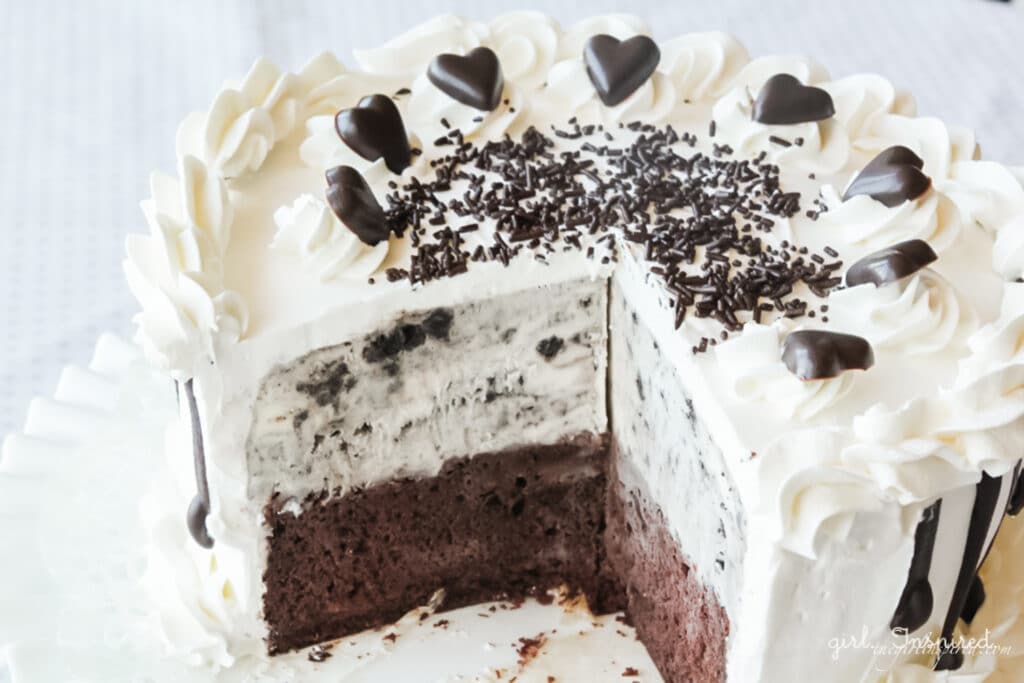 Ice Cream Cake Ingredients
prepared batter for one cake (1 box cake mix + eggs/oil/water/etc.)
2 containers of ice cream (3 Quarts)
1 Quart of Pastry Pride (or 12 oz. tub of Cool Whip)
one sleeve of Oreo cookies, chocolate candy melts, chocolate sprinkles, heart mold (optional)
Supplies
9 inch baking pan
plastic wrap
spatula
icing spatula (optional)
piping bag, coupler, and decorating tip #1M (optional)
How to Make the Oreo Ice Cream Cake
Prepare the cake batter according to the instructions on the box. Fill your cake pan 2/3 of the way full. Please note that you can use any size or shape cake pan you'd like – just as long as you have enough batter for your cake layer and enough ice cream to fill the same size pan for your ice cream layer. You may not use all of the batter. Use the leftover batter to whip up a few cupcakes.
Bake the cake layer until a toothpick inserted in the center comes out clean. Once the cake is cooled, remove it from the pan, cool it completely, then wrap in plastic wrap and freeze for at least 3 hours.
While the cake is freezing, prepare the ice cream layer. Set out 2 tubs of ice cream (1.5 Qts each) to soften a bit. Once the cake is in the freezer, wash and dry the pan thoroughly. Line the cake pan with plastic wrap. Mound the softened ice cream into the plastic-lined cake pan.
Smash it down and spread it out, making a smooth and level top. Be sure the ice cream is pressed all the way down into the pan and that you fill the pan to the top (or as thick as you'd like the ice cream layer – I wanted the cake and ice cream layers the same thickness). For this size cake, I used about 2.5 Quarts of ice cream. Place the cake pan in the freezer for 2-3 hours.
Assembling the Cake
Alright, be sure you are working with a well frozen cake layer and ice cream layer. Remove both from the freezer. Let's begin by leveling off the top of the cake layer. Remove the plastic wrap and use a bread knife to slice the domed top off of the cake layer, leaving a flat even layer.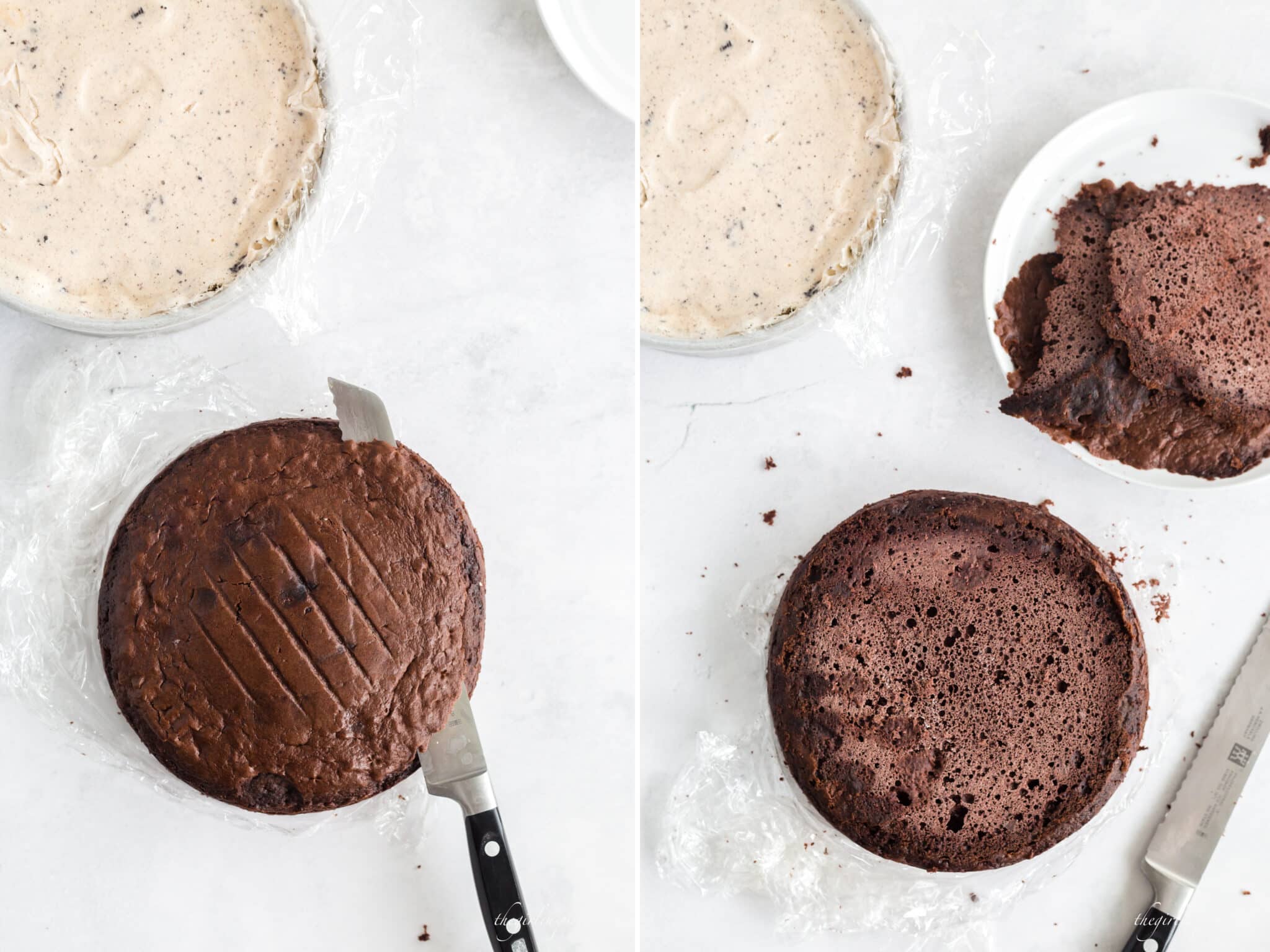 Now, lift the ice cream layer from the pan by lifting the pastic wrap. If it won't come out, you can dip the bottom of the pan in some warm water to soften it enough to remove it. Tip the ice cream layer upside down on top of the cake layer.
Use a large icing spatula to smooth the softened outer layer of ice cream to form a nice flat top on the cake. Smooth the ice cream down over the sides to the separation where it meets the cake. You want a nice smooth, sealed edge. Smooth out any lines from the plastic wrap, but maintain the structured shape of the cake. Place the cake back into the freezer for 30 minutes-1 hour until the ice cream has hardened again.
Prepare your icing. If you are using Pastry Pride, whip it up until it holds its shape. Cool Whip should be set out to soften until it is spreadable. Remove the frozen cake from the freezer. Mound a large pile of icing on the top of the cake. Spread it down and around the sides, maintaining at least 1/2″ thickness of frosting all the way around the cake.
When the icing is smooth, get that cake back into the freezer as soon as possible. If you have used Pastry Pride, you can finish decorating before you put it back in the freezer. It will hold up just fine. Cool Whip will start sliding off the cake if it is out of the freezer for too long.
I melted some chocolate candy melts and drizzled them around the top edge (be sure to freeze up the frosted cake very well first if you're going to add a warm chocolate drizzle!!)
Then use tip #1M to pipe a border around the top and bottom. Pipe a few swirls in a circle around the top, pop on some little molded hearts (read more about molding candy melts here), and toss on some chocolate sprinkles.
If you use Cool Whip, you can do quick and simple decorations by cutting Oreos in half and lining them around the bottom of the cake like a border. Place Oreos in a spoke pattern standing on their ends on top of the cake. Then tip them almost like you're tipping dominoes to nestle them in a spiral on top of the cake.
Freeze the cake really well until it's time for serving. The cake will need to sit out for just a little bit before cutting if your freezer is super cold. In general, if you are lighting candles and singing the birthday song, that is enough time for the cake to soften just a tad. A sharp knife will cut the cake just fine.
Not only does this baby look impressive, but it tastes amazing! Totally doable, right? Now go pick out your favorite flavors and make someone an ice cream cake!!
Oreo Ice Cream Cake
Everything you need to know to make your own Oreo ice cream cake (or any kind of ice cream cake!!)
Print
Pin
Rate
Ingredients
1

prepared batter from boxed chocolate cake mix

2

1.5 quart tubs

cookies and cream ice cream

1

quart

Pastry Pride non-dairy frosting

or 16 oz. tub of Cool Whip

14

Oreo cookies

chocolate sprinkles
Instructions
Prepare cake according to the instructions on the box. Fill 9" round cake pan 2/3 of the way full. Bake until toothpick inserted in center of cake comes out clean.

Remove cake from pan. Cool completely. Wrap in plastic wrap and freeze for several hours.

Set out cartons of ice cream to soften.

Wash and dry pan that cake was baked in. Line with plastic wrap.

Mound ice cream into lined cake pan and spread until the pan is full, forming a layer of ice cream about the same thickness as the cake.

Place pan of ice cream into the freezer for several hours.

Prepare Pastry Pride (defrost in advance) by whipping until it holds its shape – it will be the consistency of whipped cream.

Remove cake and pan of ice cream from freezer. Cut the domed top off of the cake layer so that it is flat.

Place ice cream layer over the top of the cake layer. Use an icing spatula to smooth the ice cream down and over the sides of the cake layer, sealing up the crack between the layers.

Return cake to freezer for at least one hour.

Frost with whipped Pastry Pride. Use tip #1M to pipe a top and bottom border around cake. Make swirls on the top of the cake and place an oreo in the center of each swirl.

Alternately, spread Cool Whip over the frozen cake to frost. Work quickly and return to freezer to keep Cool Whip stable. Decorate with Oreo cookies and chocolate sprinkles.
Nutrition
Calories:
658
kcal
|
Carbohydrates:
88
g
|
Protein:
10
g
|
Fat:
31
g
|
Saturated Fat:
15
g
|
Cholesterol:
84
mg
|
Sodium:
586
mg
|
Potassium:
555
mg
|
Fiber:
3
g
|
Sugar:
64
g
|
Vitamin A:
797
IU
|
Vitamin C:
1
mg
|
Calcium:
312
mg
|
Iron:
4
mg