I have been waiting to get my hands on a baby to photograph and my sweet cousin let me play with her precious little girl for hours last week! I was making the drive toward the Bay Area and the skies got gloomier the further I drove – what would we do without light?? I used my new, handy 50mm 1.8 lens for all of the pictures. That, and the dining room table pushed up to a nice, little window provided enough natural light for some gorgeous shots.
We had a chance to put this cutie in the tiny newborn ruffle jumper that I made her as part of her
baby shower layette
. So cute!!
These parents were nice enough to oblige when I tried to recreate another photo I had seen. I like how this picture makes me feel like I'm peeking in on their newborn bliss!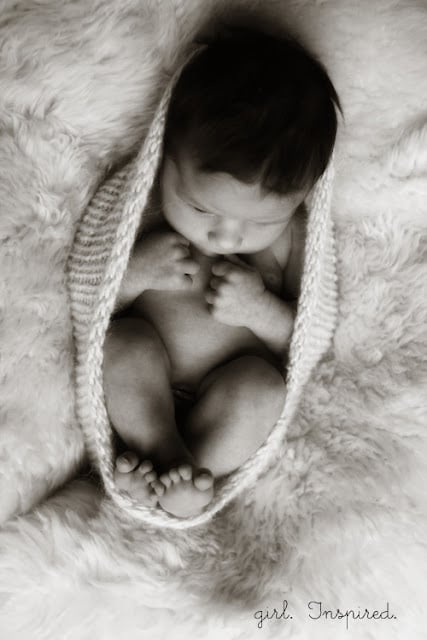 If you follow me on instagram (girlinspired1), you know that I decided to take up knitting. Knit or Crochet have been on my "try that someday" list for a long time – so far I've knitted a couple straight stitch scarves and this baby pod. At 7 pm, the night before this photo shoot, I decided that we needed a pod – you know me, when I get an idea in my head….
The sweetest family picture ever. The sweetest family, too.
Awwwww, cute squishy happy baby. i love her.
Photography Tips and Ideas