WEEK 5!!! I can hardly believe it. Thank you again and again for cheering me on during this fun adventure!
This week's theme is probably my favorite type of sewing – Special Occasion/Partywear. Since the very first garment I ever made was Addie's first birthday dress, it has become a tradition to sew the girls dresses for each birthday party. And of course, Grace got a perfect princess gown for her pink princess party a few weeks ago. I just wasn't able to show you until now! Olivia and Addie also got new gowns and I will be posting photos of those next week so stay tuned!
Today, we'll be looking at Grace's dress, my entry for this week at Project Run and Play. I called this dress "Dancing on a Cloud." Have I told you how much I [don't] love naming my outfits each week? Not my best trick. But I DO think the name this week suits this pretty puff of a dress.
Vote here!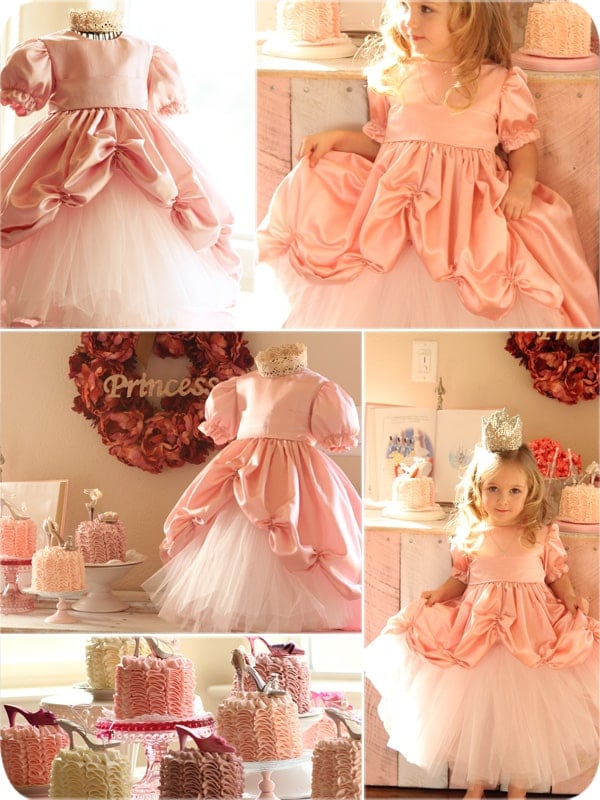 I used a cotton silk blend in the most delicious shade of peachy pink for Grace's gown. The gown has a scoop neck and short-sleeves that are large and billowy, but cinched with two rows of elastic thread for a simple, princess look. I wanted to keep the top of the dress simple for the main show…the skirt. The very full skirt was bustled in several places in a stair-step fashion to form an inverted V. I think the finished effect is stunning. The sheen and drape of this particular fabric suits the style perfectly. The back of the dress closes with ten, tiny fabric-covered buttons – I love this detail. It's so fitting for a special occasion dress. The dress is finished with a wide sash that ties into a large bow in the back. In order to provide the right support for the princess gown, I sewed a pettiskirt from multiple layers of lining, stiff netted tulle, and lightweight tulle. The stiff tulle provides the support to hold up the gown's skirt while the top layer of lightweight tulle adds a bit more fluff and a pretty compliment to the gown where it is bustled. I encased all of the pettiskirt layers with a thick cotton knit waistband for extra comfort.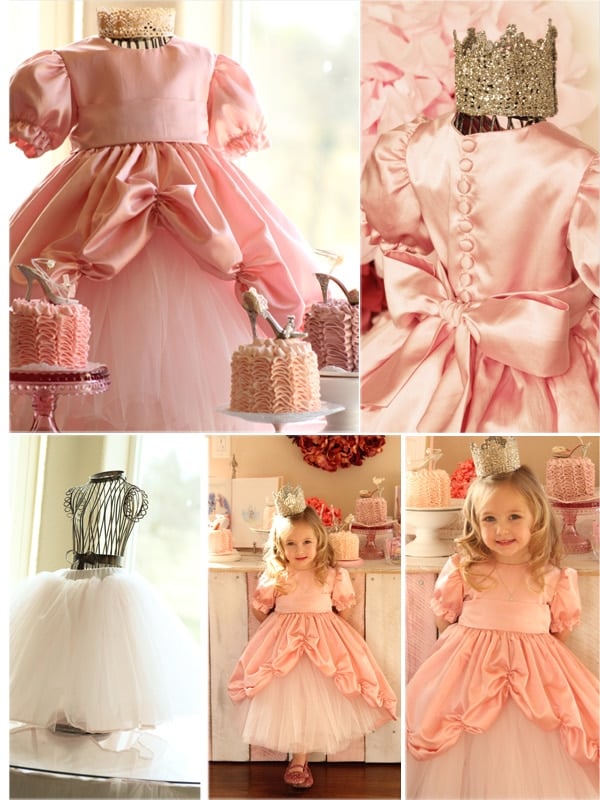 This dress was really fun to make for a "princess gown", but I also think it would be the cutest formal dress for a wedding or other super special occasion. I think we'll do a little how-to on the skirt of the dress in the next week or so – sound good?
If you've been following along, you already know that the girls and I made a pile of glittery princess crowns for the party. Grace selected a smaller, tall silver crown to wear on her special day – I think she looks like the most beautiful little princess, giving me such sweetie peetie smiles and holding her skirt out just so. Gosh, I love that girl.
And thank you, thank you, thank you for your kind comments every week, I truly appreciate each and every one of you!
If you're planning a princess party, you might also like: