Fellow Halloween enthusiasts!!! I just had to show you my favorite favorite look of all time – my skeleton couple costume with the most amazing skeleton face makeup!! This look is all about the makeup and can be paired with just about any clothes you might have in the closet, making it an easy and IMPACTFUL costume!
Graham and I hosted a Halloween party the last few years, and even though we'll obviously be taking this year off, I still like to reminisce. No murder mystery parties this year, but I DID spend last weekend making candy apples and putting up most of my Halloween decor. My mummy heads are in place, my "slightly spooky" pumpkins are set out, and I'm building the witch's lair and the chemist's laboratory.
Products for this look:
How to do Skeleton Makeup:
For my skeleton face makeup, I didn't want a completely white base – I wanted just a little color. My friend Ari did our makeup for the party – this girl is out of control amazing!! She started with a nice matte white foundation. Graham got a more solid application, but she blended mine in more. I wanted to be "pretty" along with my skeleton face. hahaha. She gave me the most fab eyebrows ever and then brushed in around my eyes with expert shadowing. Graham got a skeleton makeup black eye surround which was just perfect for his manly look. As you can see, there is a good eyeliner surrounding my eyelids and then dark browns both on my lid and under my eyes.
Next, Ari did some major contouring with black shadows on my neck and under my chin – that'll take care of a double chin in no time!! Black paint also fills in under my newly pronounced cheek bones. She did our noses next. As you can see, the key to a fantastic skeleton nose is a hint of contouring and creepy little split lines heading up toward the eyeline.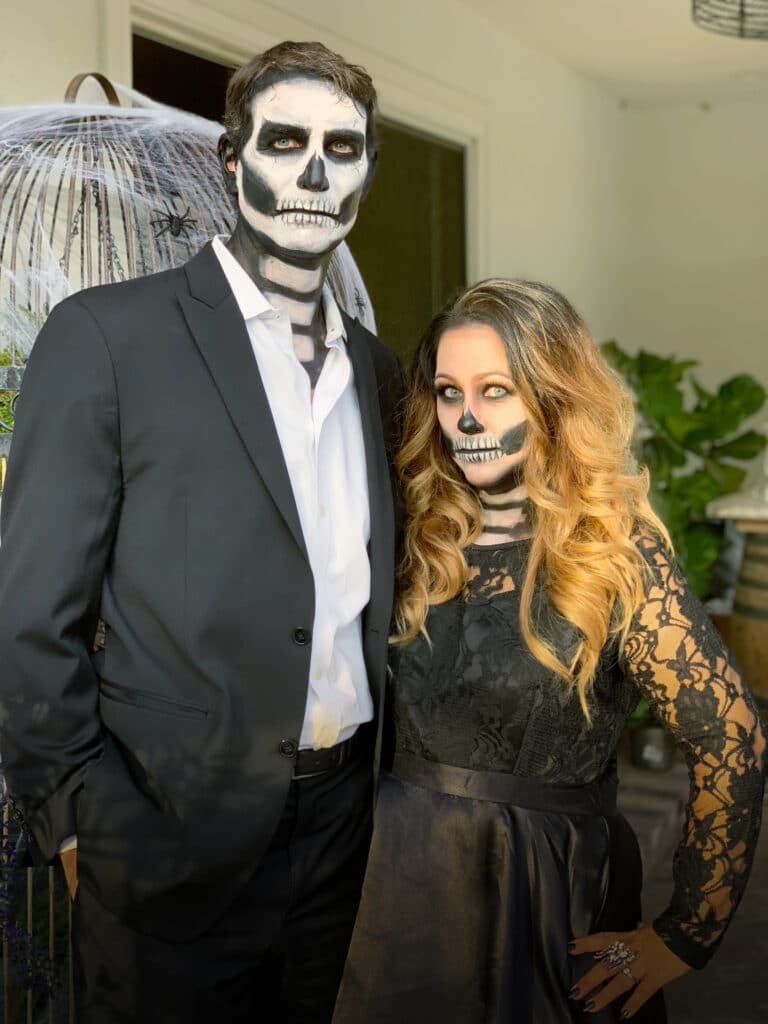 Black ears and black all the way up around the hairline are important. And then there's the neck and teeth. White makeup covers the mouth area and then it's time to fill in the lines for the teeth. A nice black line right across the center of the lips also helps to define the separation between upper and lower jaw. lol. Line and shade until you've got that perfect skeleton mouth – this is the best part about the skeleton costume look – you don't have to smile for a single photo – just flare your eyes a bit wider and stare into the lens. Perfection!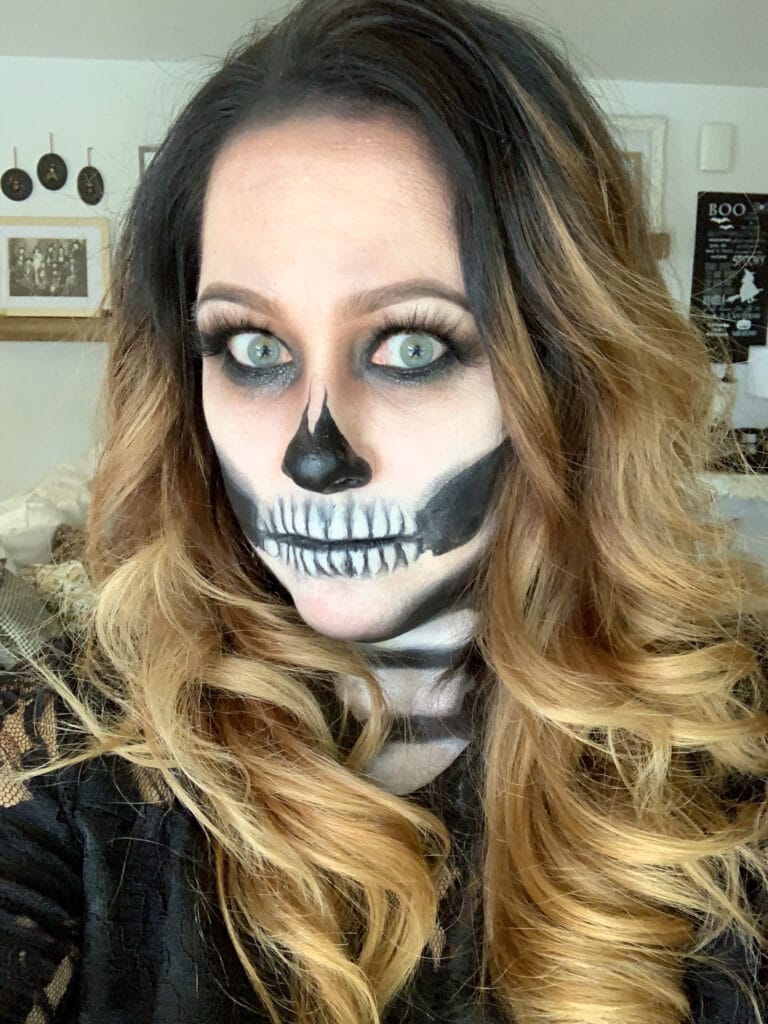 If you'd like to add some creepy light colored contact lenses, you can. Magically, Graham and I both have light eyes that became just that much lighter and creepier when our makeup was applied. So we didn't do contact lenses, but of course that would add to the skeleton makeup look! Don't forget to fill in the neck vertebrates. Cover the neck with white and then make the cross shadows with black. Check out how she covered the sides and back of Graham's neck with black makeup, too. Mine stops at the side of my neck since my hair is covering.
Now go get dressed and you're all ready to spook out your friends! I picked up this cheap black satin and lace dress from Amazon (affil) and Graham just threw on one his black work suits. Presto!
More Halloween Awesomeness