Delicious, crisp Autumn apples dipped in a thin and crunchy, perfectly sweet candy coating - easy to make and a quintessential addition to your Halloween treat table!
Oh, sweet crisp Autumn apples dipped in a thin and crunchy, perfectly sweet red candy coating. These are unbelievably easy to make with our fool-proof candy apple recipe. They'll be a quintessential addition to your Halloween treat table! Keep it bright and beautiful with red food coloring or take the creep level up a tad by turning this treat into a "poisonous" black halloween candy apple.
Believe it or not, I have never tried a candy apple until this year! What??! I've always opted for the sophisticated sister – the caramel apple over its seemingly stickier counterpart, but I was pleasantly surprised to sink my teeth into one of these treats and find a new love. Not TOO sweet and not TOO sticky – not sticky at all, in fact, and I didn't lose a single tooth!
Yes, that first bite takes a little muscle to crack into the shell, but after that, yumm! Because we cook the candy coating to the precise temperature of 305°, achieving the hard crack stage, this candy coating is crisp and dissolves almost immediately. No sticking in your teeth, no tugging at your molars.
Once I tried my hand at making candy apples and saw how easy it was, I had some fun mixing up a batch of black apples. Wouldn't these be so fun to serve at your next murder mystery halloween party or set out on your kitchen counter to complete your Halloween decor?
INGREDIENTS:
Apples – crisp, fresh apples; organic apples are great since you will be eating the skin. see notes in the FAQ section regarding which variety of apple to choose
Light corn syrup – corn syrup is an invert sugar which means that it prevents sugar crystals from forming and produces a glossy, smooth surface to the hard candy – perfect for this candy apple recipe!
Granulated sugar – we use a standard, widely available sugar to make our sweet candy coating – since we are dissolving and boiling the sugar, we don't need a specialty texture or grain size.
Water – tap water will do just fine
Food coloring – use about ½ teaspoon of liquid food coloring or a few drops of a gel/paste food coloring. I used red liquid food coloring and it worked great! I used black gel food coloring – a few drops was adequate to make a dark coating for my dark Red Delicious apples, but you could add more for an even deeper, more opaque candy coating.
Candy Thermometer – while not an ingredient, a candy thermometer is an absolute necessity when making homemade candy apples. It is imperative to heat the candy syrup to the correct temperature so that the finished candy is the right consistency.
Candy Apple Sticks – you can use bamboo sticks, these cute plastic "sticks", lollipop sticks, or popsicle sticks. (referral links here) Just be sure the craft stick you choose is thick enough to hold up your candied apple.
How to Make Candy Apples:
Alright! Let's get to it. Making candy apples is so much fun and quite easy, actually. The first step is to combine the three ingredients (everything but the food coloring) in a small, but deep saucepan. Heat the mixture over medium heat until it begins to boil. Attach the candy thermometer (or use an instant-read digital candy thermometer) to the side of the pan now (or from the start.) Be sure that the tip of the thermometer is emerged in the boiling mixture, but not touching the bottom of the pan.
While the sugar mixture is cooking, prepare the apples. You want to make sure the apples do not have a waxy coating – for smooth application of candy on the apple, they need to be clean and dry. Wipe any waxy residue from the apples with a hot water/white vinegar solution and pat dry. Place a large lollipop, cookie stick, or a popsicle stick into the top center of the apple and place apples on a sheet of parchment or wax paper.
Continue cooking the candy mixture, stirring occasionally, until the temperature on the candy thermometer reaches precisely 305°F, the hard crack stage. Remove from the heat and mix in a small amount of food coloring. Do not stir too vigorously which could introduce additional bubbles to the mixture.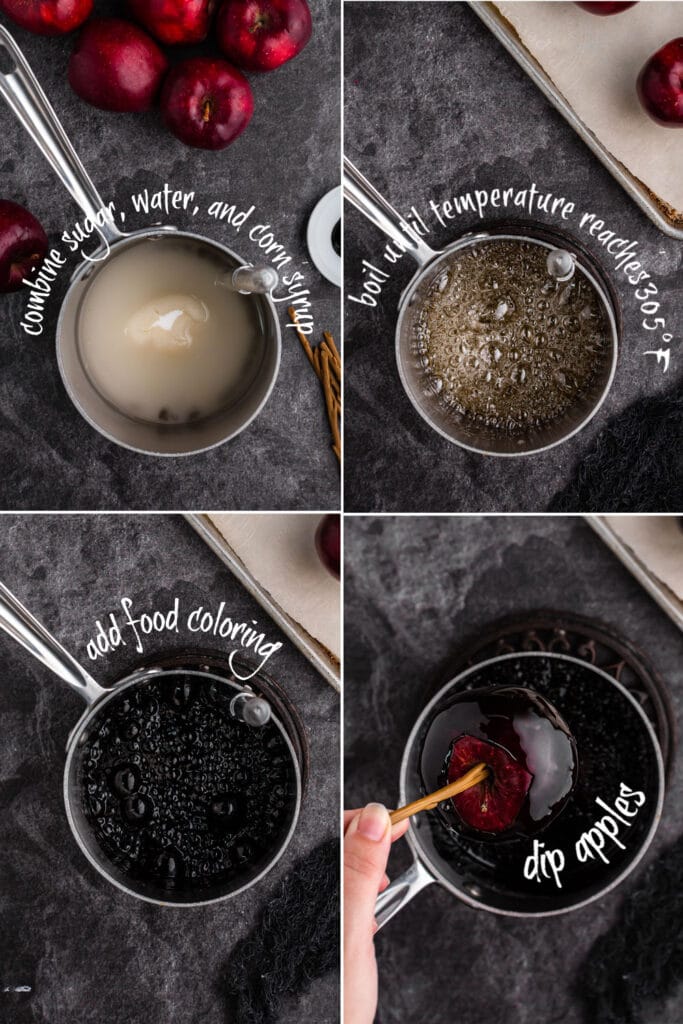 Dip the apples into the candy coating, rotating gently to coat them completely. Let the excess candy drip off the bottom of the apple for a few moments and then place on the parchment paper and allow them to cool. The apples will cool quickly and the coating will be smooth, hard, and dry. They will lift easily off of the parchment paper once cooled.
Recipe FAQs
Why do my candy apples have bubbles in the coating?
Candy apples might develop bubbles in the coating as they cool. This could be from too much movement while dipping the apples, so dip gently. Water or waxy residue left on the apples can also cause bubbles to form. If your apples have some bubbly, don't worry! They still taste just as delicious.
What if my candy apples are sticky or chewy?
The hard crack of the candy coating comes from cooking the sugar until the candy reaches the precise hard crack stage in the candy apple recipe- 305 degrees. The temperature of your candy might quickly reach 305° and continue climbing, even up to 310° Do not pull the candy off of the heat early – even at 295°, your coating may not have the desired finish. A sticky or chewy texture comes from candy that is not heated to a high enough temperature to remove all of the water from the candy.

What kind of apples are best for making candy apples?
The thin layer of candy coating is a great compliment to the sweetness of apples. You don't necessarily need a strongly flavored apple to compete with the candy like you might when making caramel apples. I like to use red delicious, gala, rockit, or granny smith apples.
How do I store candy apples?
Keep the candy apples at room temperature and they will keep on the kitchen counter for several days. If you'd like to wrap them loosely in plastic wrap, parchment paper, or a cello wrap, the hard coating will not stick. After a few days, the candy will pick up moisture from the apple itself and from the environment and will start to get sticky. They're best eaten in the first couple days after making.
How do I eat a candy apple?
Ha! This is funny after you've tried to bite into one of these beauties. That first bite can be a challenge, but the candy coating is thin. Bite in with your teeth and you'll find it's much easier than you'd think. Alternately, slicing the apples off the stick makes eating them a cinch.
What do I do if the candy gets too thick to continue dipping apples?
As the candy cools, it thickens and hardens. Place the saucepan back on the stovetop and heat it until it thins enough and is the perfect temperature to continue dipping the apples.
How do I clean up the leftover candy that hardens in the pan?
Soaking the pan in hot water will eventually dissolve the hardened candy. For quicker cleanup, fill the pan with water and bring to a simmer on the stovetop until candy dissolves into the water. Then rinse and wash the pan as usual.
I hope you love making this candy apple recipe as much as I did! Yummy fall flavor with some fun thrown in! For more Halloween fun, you might like:
Candy Apples
Delicious, crisp Autumn apples dipped in a thin and crunchy, perfectly sweet candy coating – easy to make and a quintessential addition to your Halloween treat table!
Ingredients
½ cup light corn syrup
2 ½ cups granulated sugar
1 cup water
½ teaspoon food coloring gel or liquid food coloring is fine
9 apples cleaned with a 50/50 vinegar/hot water mixture
Instructions
Combine corn syrup, sugar, and water in a small, but deep saucepan. Heat until mixture begins to boil.

Place candy thermometer in saucepan so that the tip is submerged, but not resting against the bottom of the pan.

Continue cooking, stirring occasionally, until the mixture reaches 305°F.

Remove from heat and add food coloring. Adjust the amount of food coloring to achieve desired color.

While mixture is cooking, prepare apples by wiping with a vinegar/hot water mixture (50/50) and pat dry. Place a stick in the top center of each apple and set on a sheet of parchment paper.

Dip apple into hot candy coating and rotate gently to coat apple.

Place on parchment paper to cool completely. Candy will harden and apple will lift easily from parchment when cooled.
Nutrition
Calories: 363kcal | Carbohydrates: 95g | Protein: 1g | Fat: 1g | Saturated Fat: 1g | Sodium: 15mg | Potassium: 195mg | Fiber: 4g | Sugar: 89g | Vitamin A: 98IU | Vitamin C: 8mg | Calcium: 13mg | Iron: 1mg