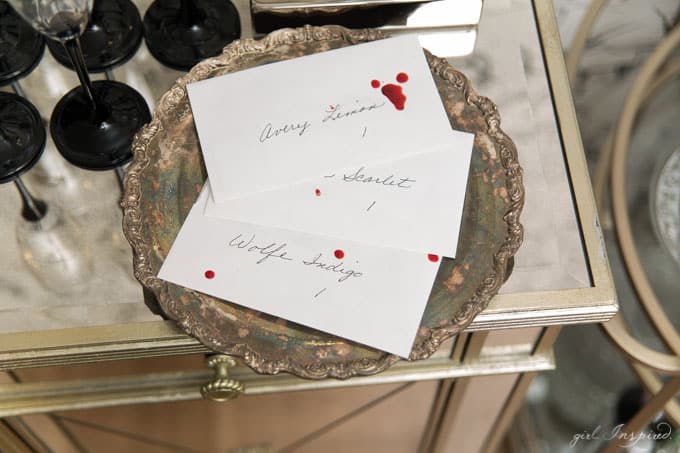 Every month, I get together with girlfriends from high school and we take turns hosting "Bunco," except that we haven't played the actual game of Bunco in about five years. HOWEVER, we do always have a great night filled with good food, good drinks, and laughing until our sides ache. I snagged the month of October this year and it was the perfect excuse to go all out with Halloween craziness. I have never participated in a murder mystery dinner, but I thought there was no better time than now to throw one! Want to see how it all came together? Great! because I have a LOT of pictures to show you and a few affiliate links for products, too.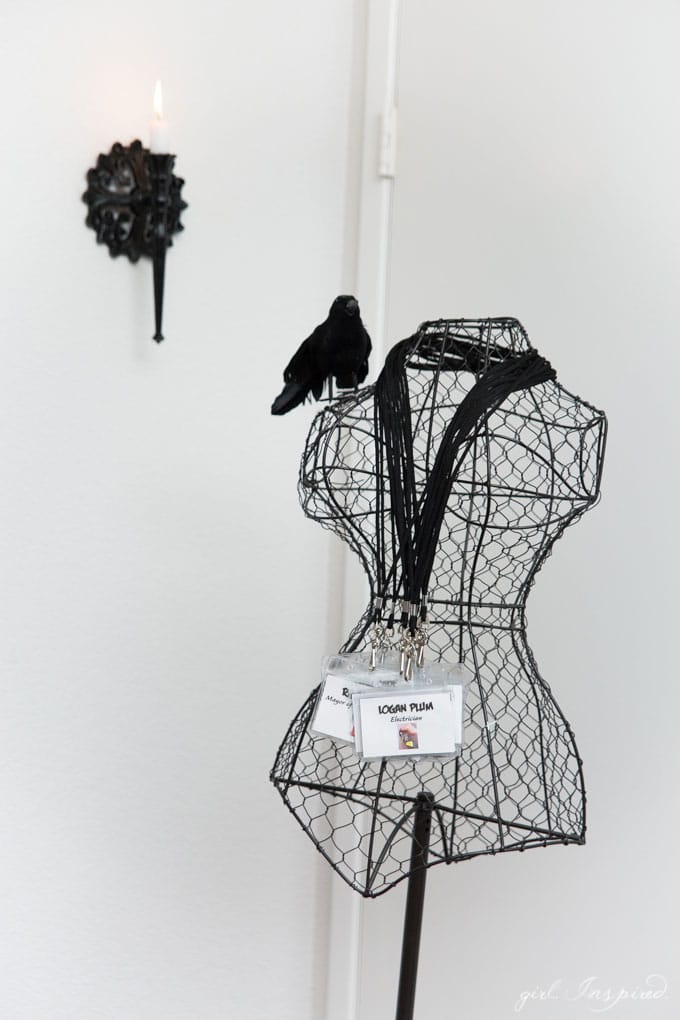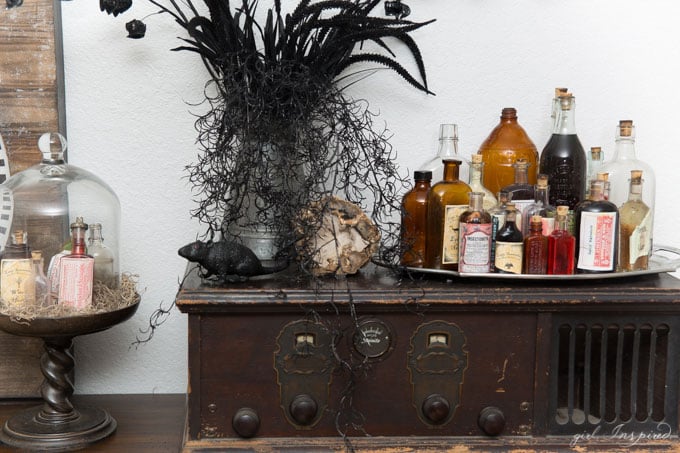 For the murder mystery game itself, I purchased a downloadable version online. The full instructions for the party, including name tags, scripts, invitations, investigation sheets, and the full plot were included. There was still a bit of prep work involved – I had to assign the roles to my guests, mail invitations, assemble name tags (I used these hang tags so that my guests didn't have to pin or stick name tags to their nice clothing), print out and envelope all the "clue cards" for each guest for three rounds of the game, and coordinate the game as the night unfolded. I was grateful to have the hard work done for me, although I think it was still challenging to manage the game along with playing bartender, chef, and hostess.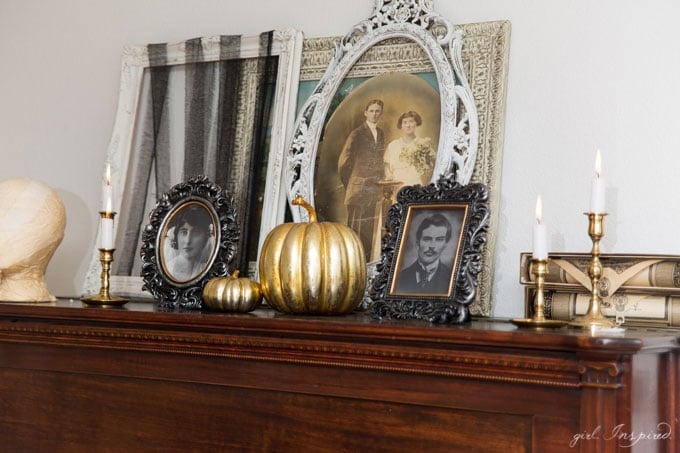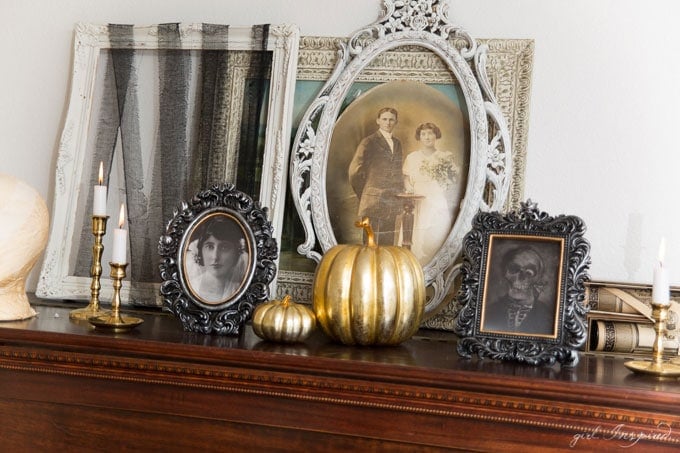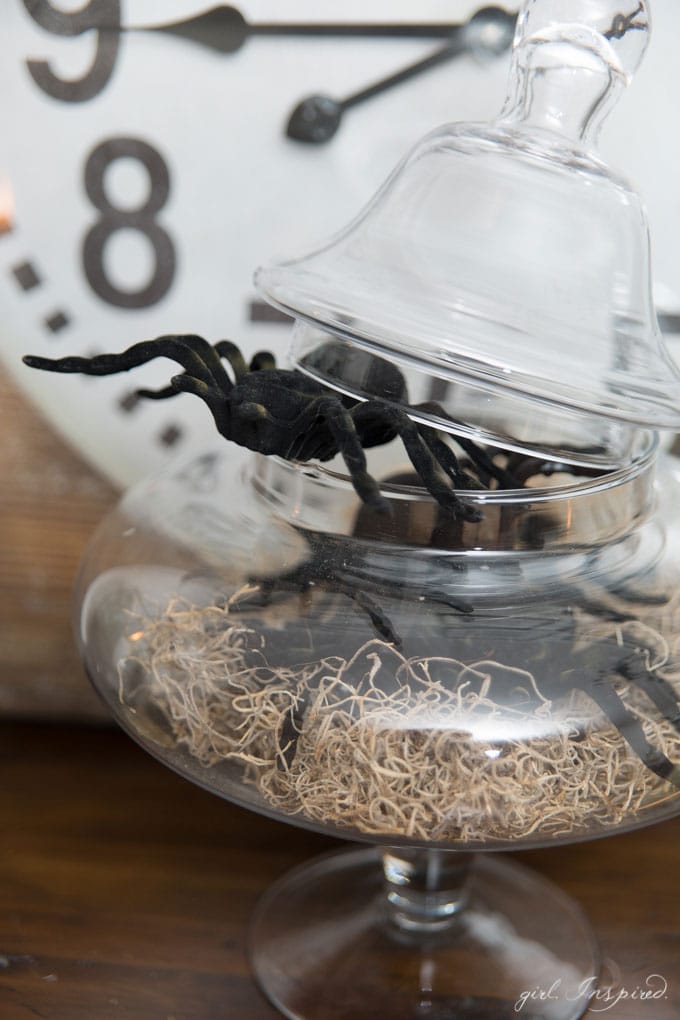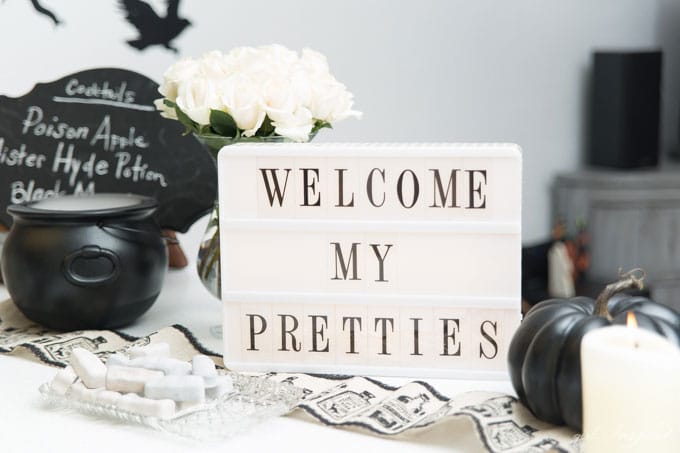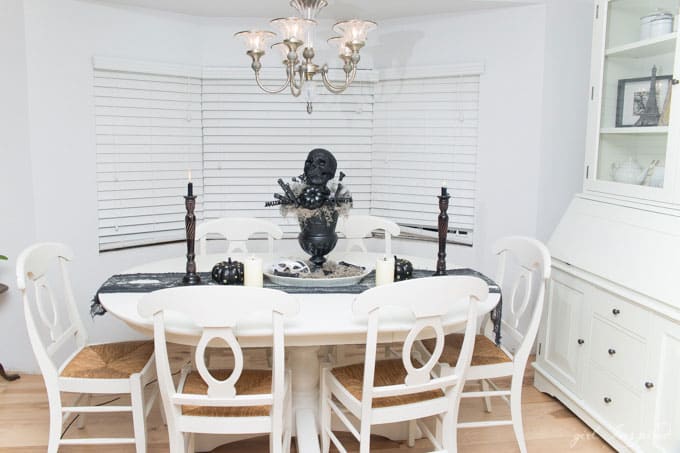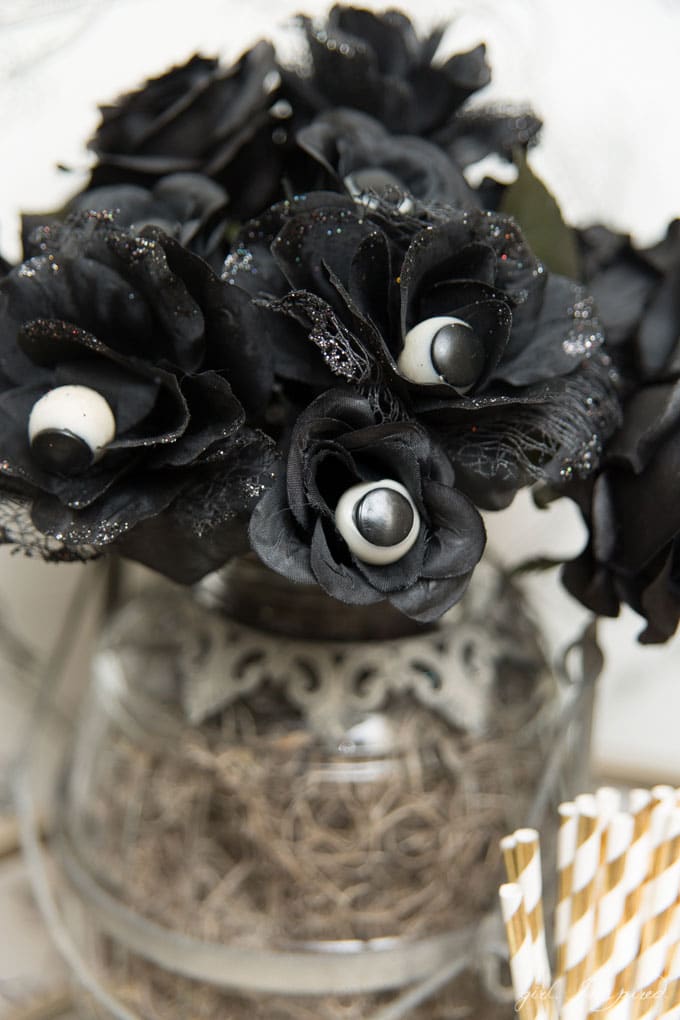 Decorations? Oh, the decorations. You guys – I couldn't stop. I'm surprised my husband and children didn't have me committed. My mom commented to my daughter that I must have always wanted to live in a haunted mansion. I probably could have carried on for months if the party date hadn't stopped me. Many of my decorations have been collected over the years. Old antique bottles were collected and labeled years ago; collections of dollar store rats, tarantulas, spiders, and millipedes are divvied out into apothecary jars that normally house seasonal decor. This year, I added more black roses to my collection and popped sticky eyeballs (from Target) into their center (an idea I saw somewhere on the internet). They make me extremely happy. I purchased a bulk package of white tapered candles and popped them in every candlestick I could muster up from around the house. I was able to find a few additional candlesticks at thrift stores, but not as many as I'd hoped. I also dug into my box of pillar candles leftover from our wedding – still a use for them 12 years later – ha!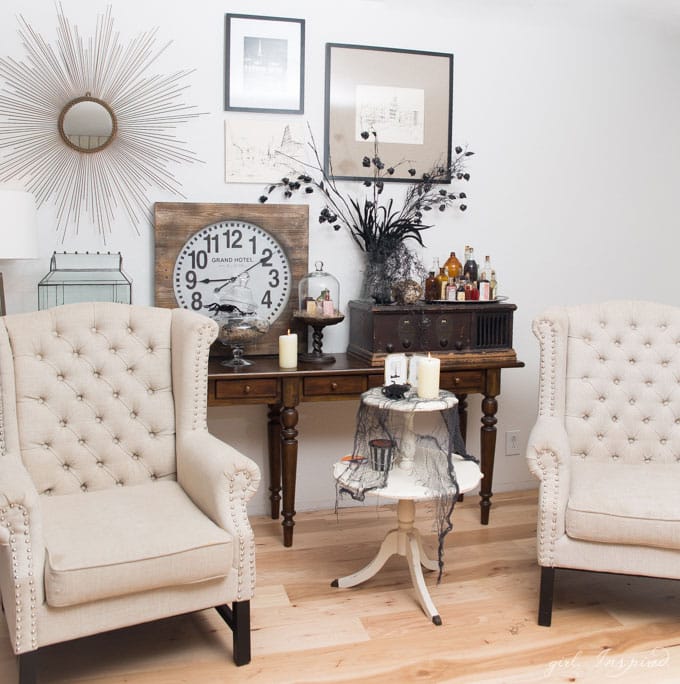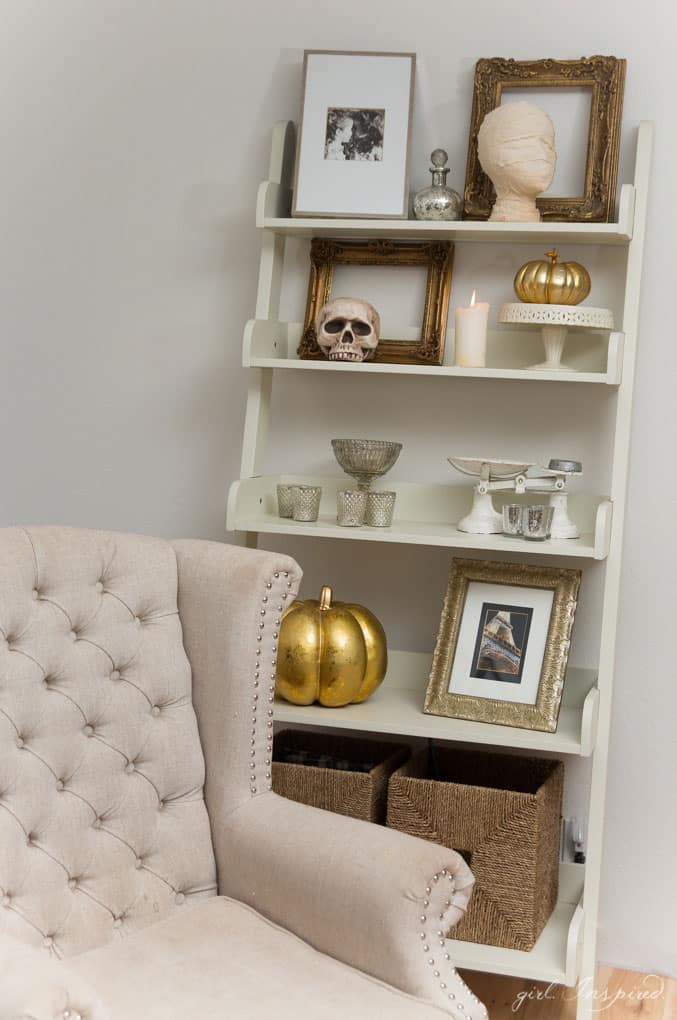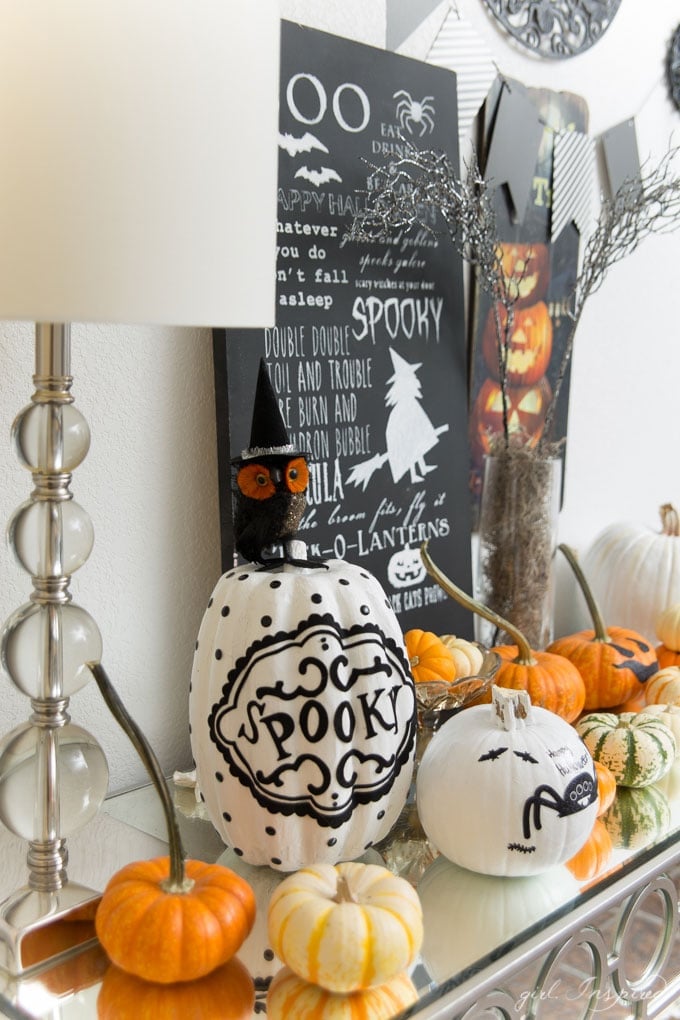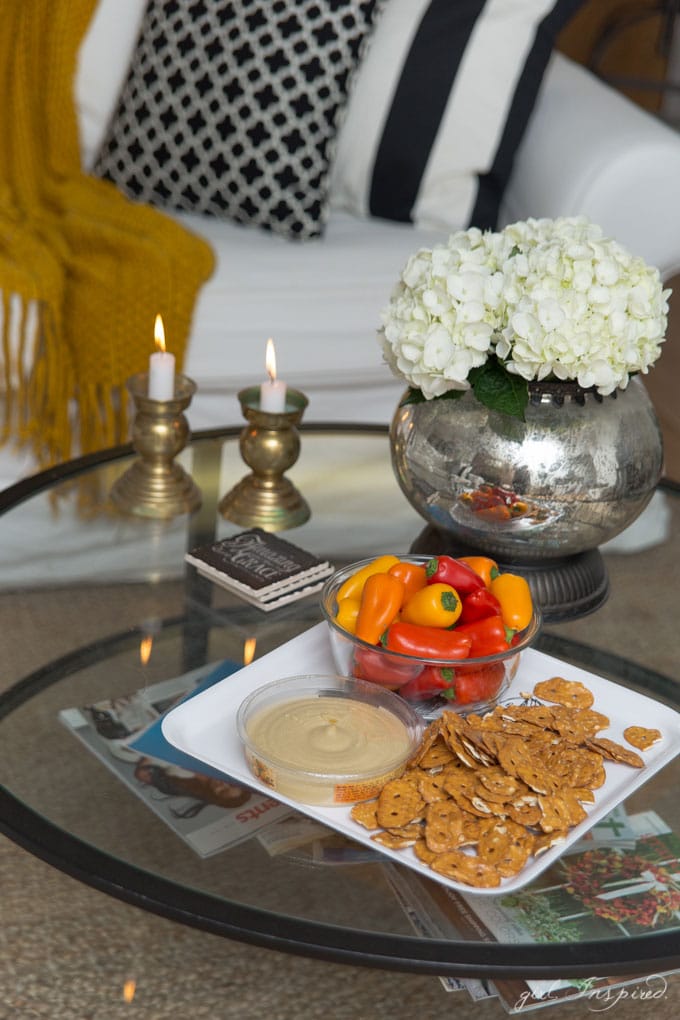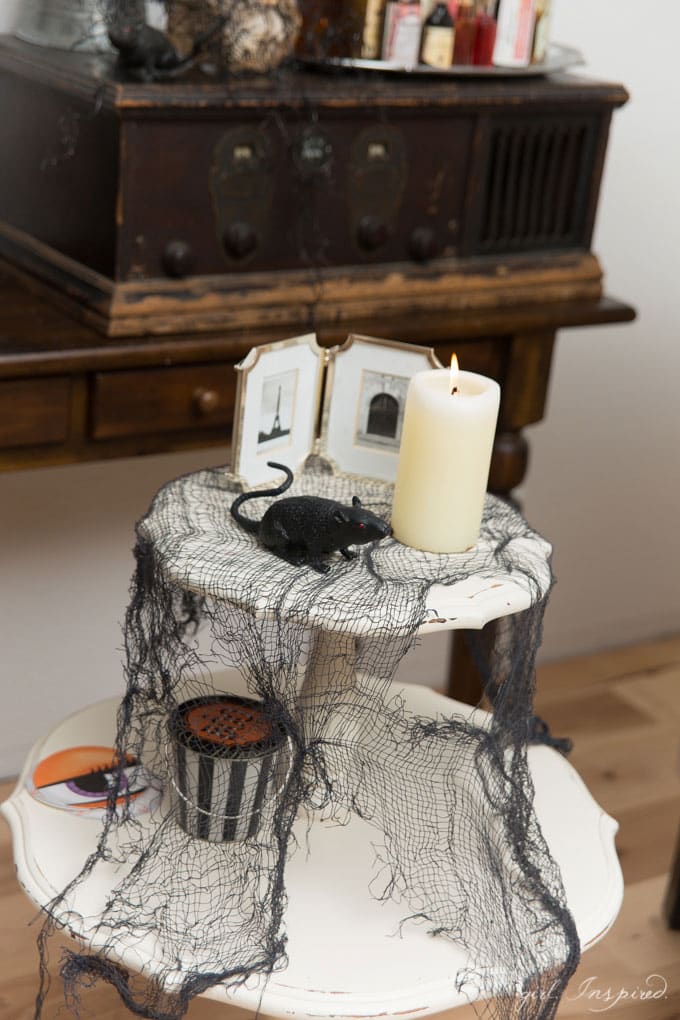 "Spooky" fabric transforms all the spaces easily – I used it for tablecloths and over bits of furniture here and there. My girls stockpiled the mini pumpkins from Trader Joe's so I gathered all of them in the foyer, along with my favorite DIY Halloween sign,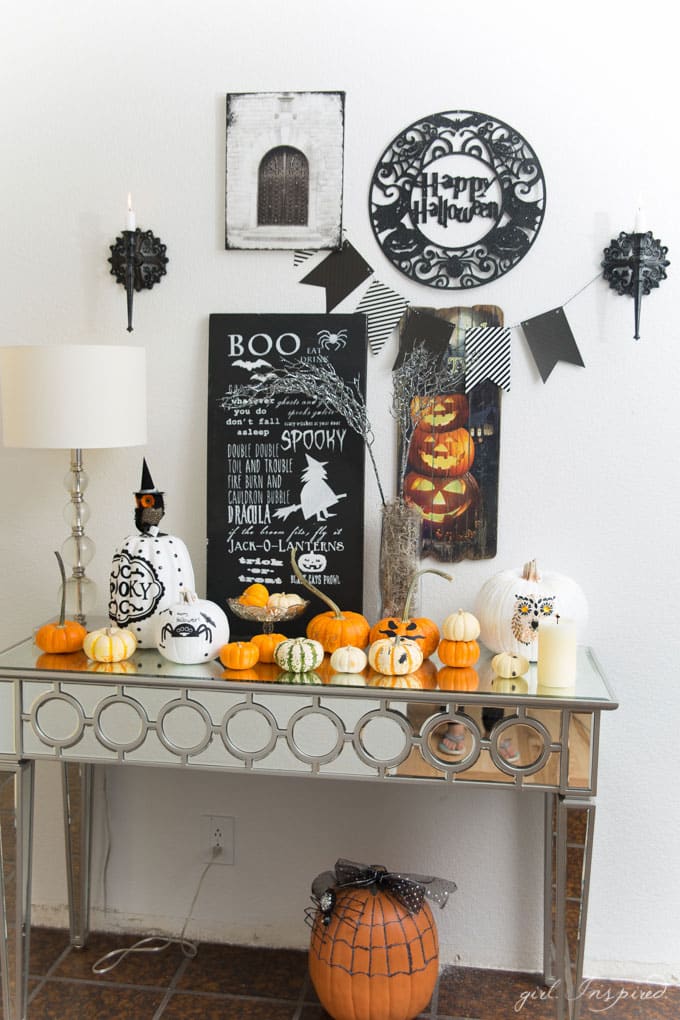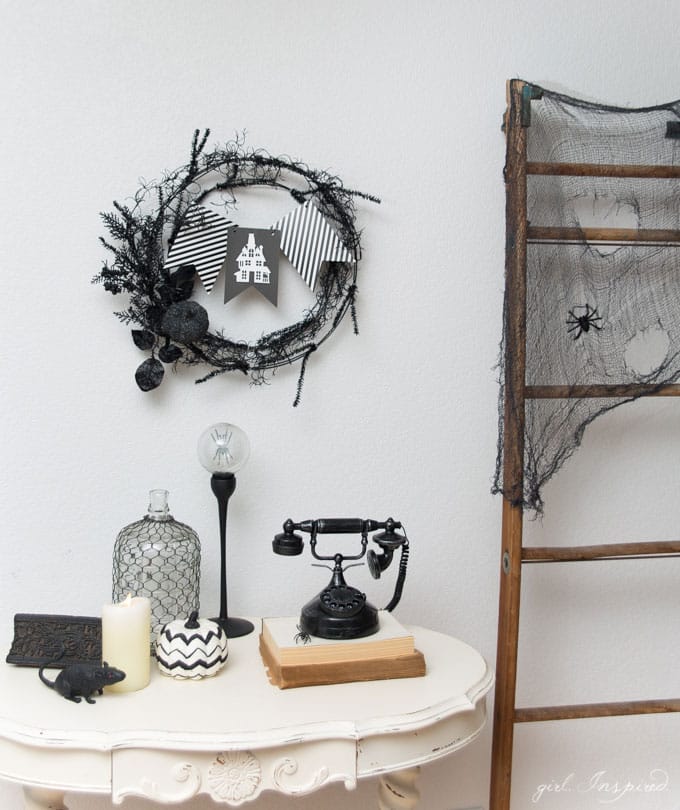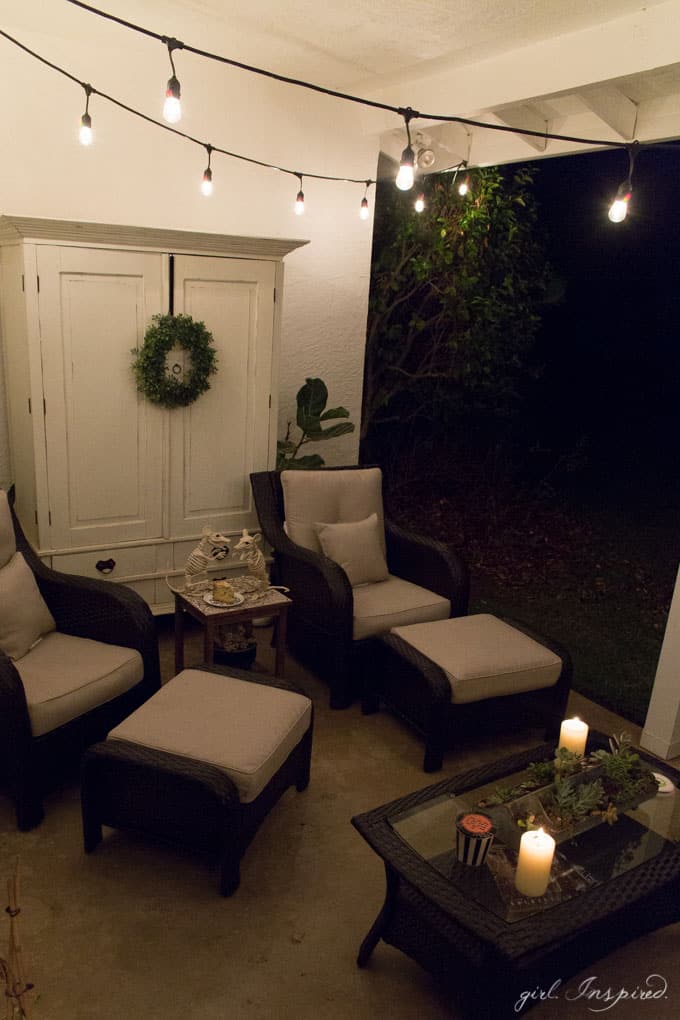 What do you do when you want to make the very stark hallway festive and also keep your guests from looking into your children's messy rooms? You staple up some caution tape and hang a flickering light. So much fun, right??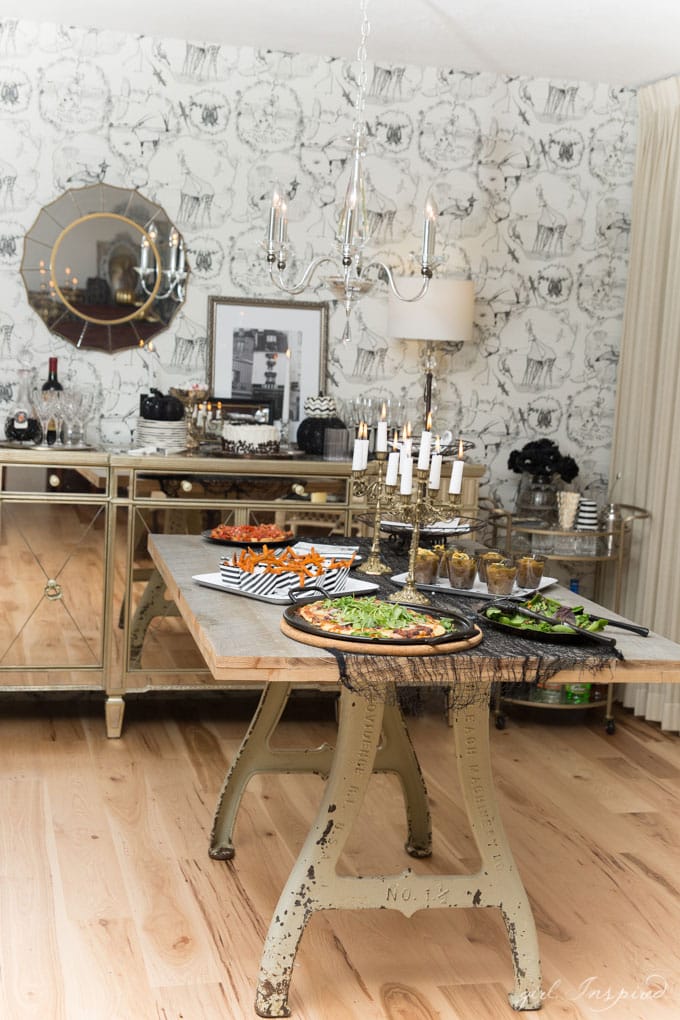 Let's talk food. I was a bit stumped as to what to serve for dinner. Typically, our group sits down to dinner, but the murder mystery course of events dictates quite a lot of mingling in order to communicate the various clues to as many people as possible. I served finger-ish foods so that people could grab and chat with their food. Meh. I don't know how well this turned out. It probably would have worked just as well to sit down around a table.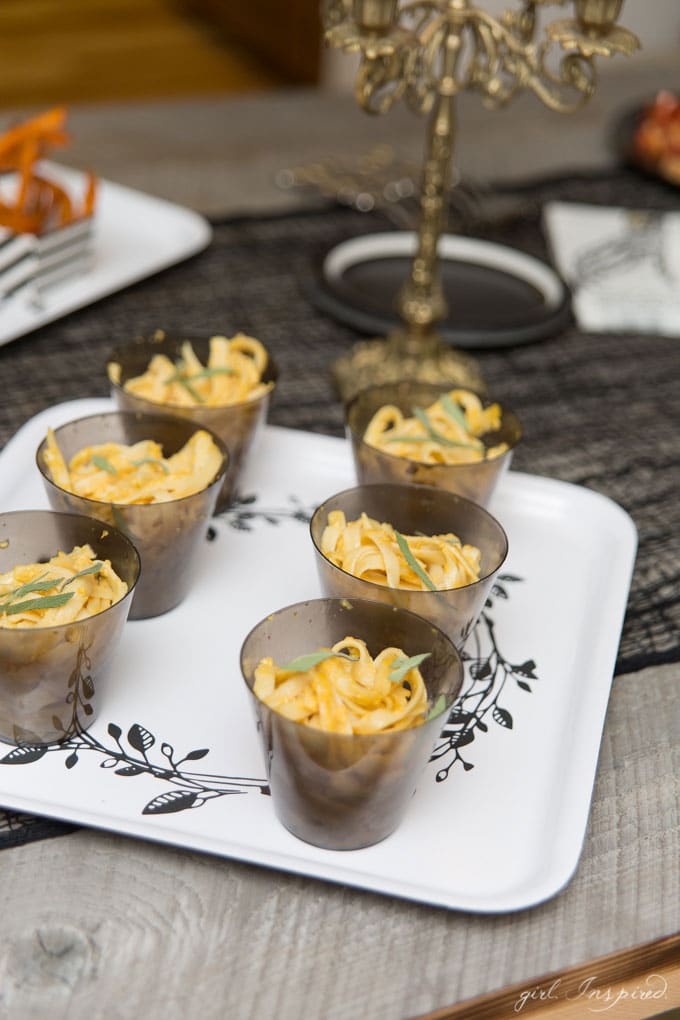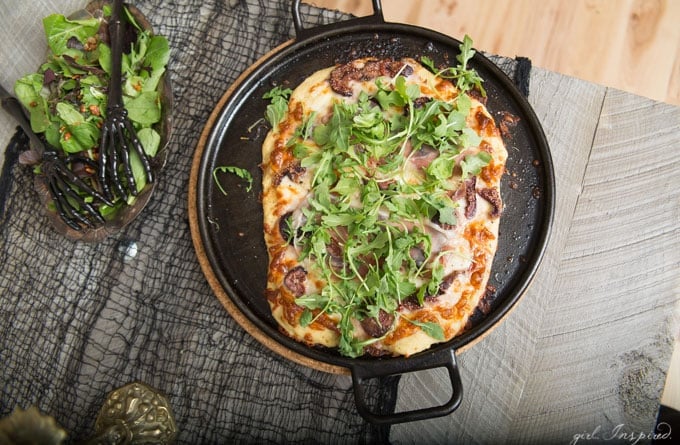 The menu included Pumpkin Fettuccine Alfredo and Fig-Prosciutto pizza.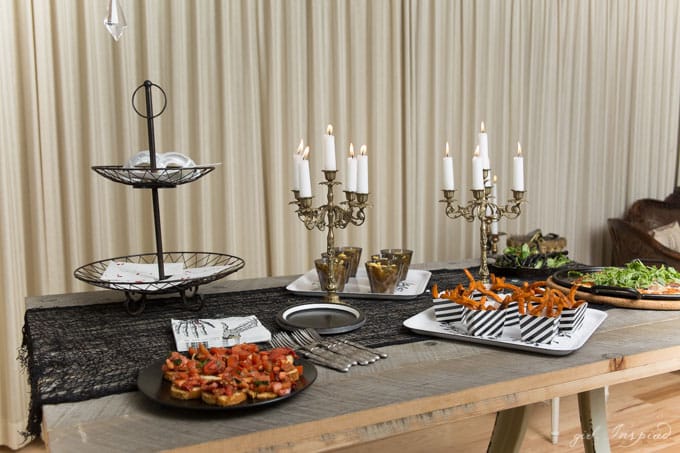 We also did some freezer sweet potato fries and my yummy sun-dried tomato Bruschetta.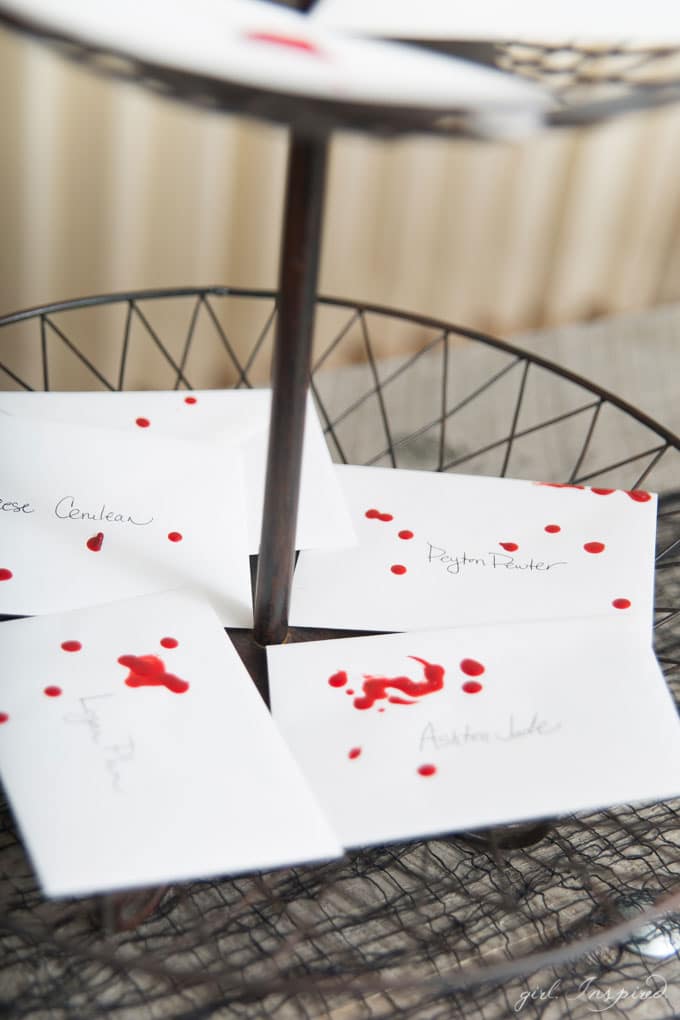 I delivered Round Two clue cards during dinner. I just couldn't resist dripping red wax on the envelopes. I sealed the back with this fabulous spider wax stamp. It's all in the details, friends.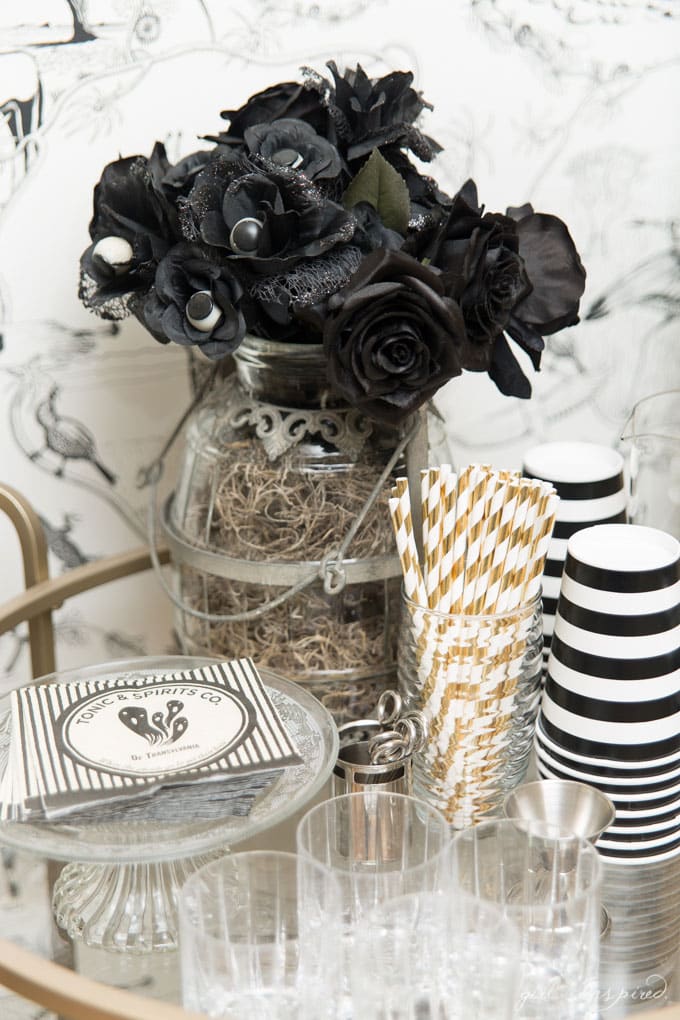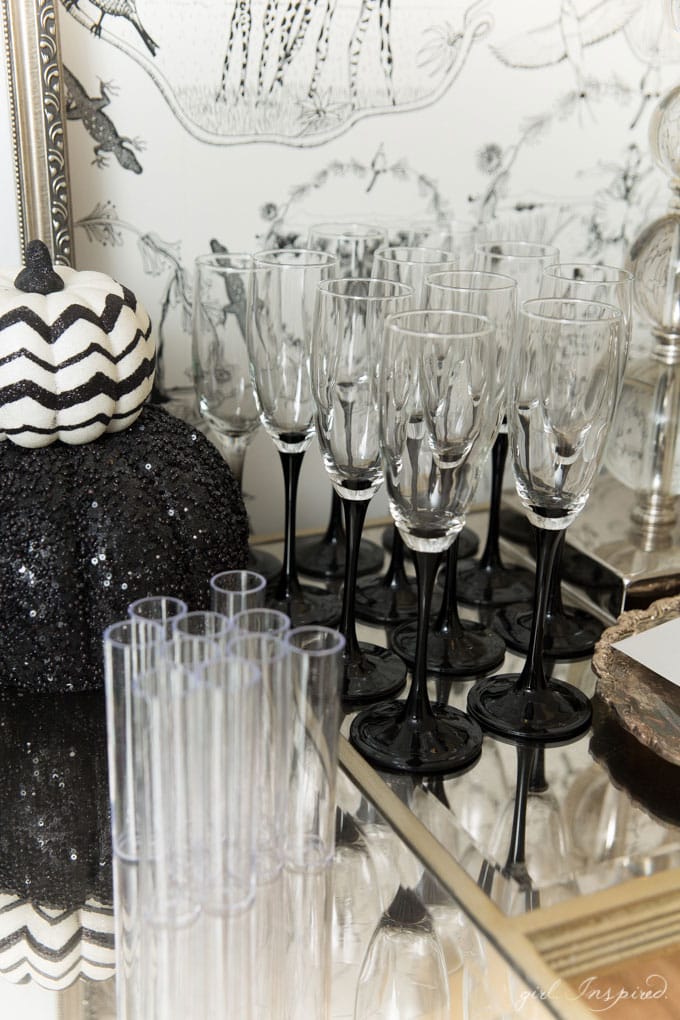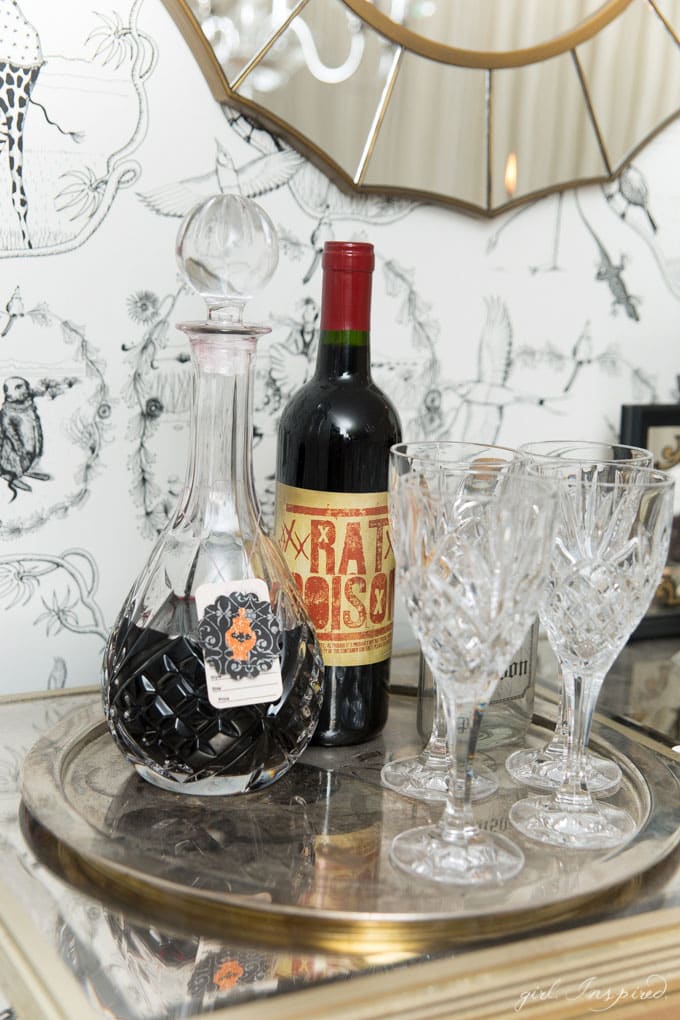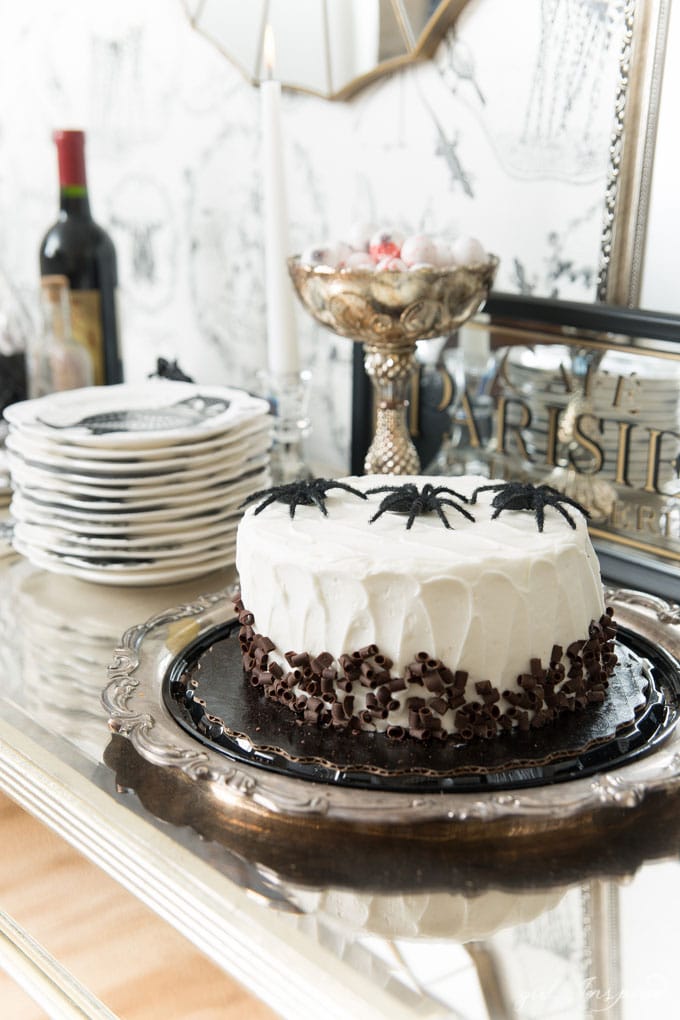 Dessert and cocktails! This is my favorite area. I purchased (gasp!) store bought cake and stuck a few spiders on top. I would have loved to bake something awesome, but a girl's got to know her limits. I knew my crowd and decided to give myself a break on dessert. Wine bottles got the spooky label treatment – so easy to do and fun! I found gorgeous black-stemmed champagne glasses at the antique mall and plastic "test tubes" at Michael's.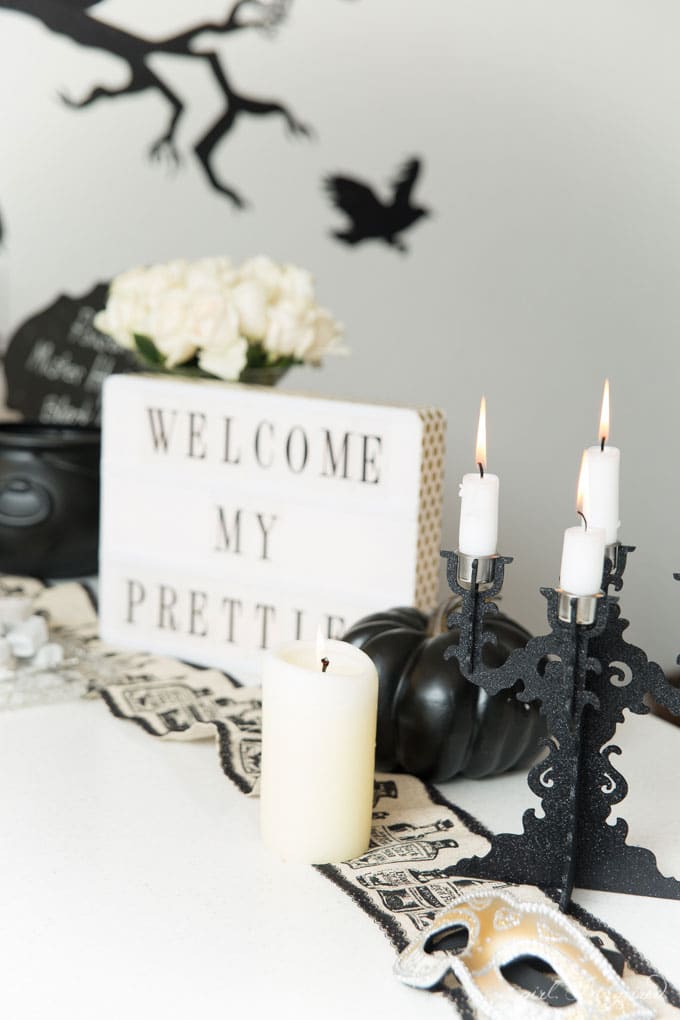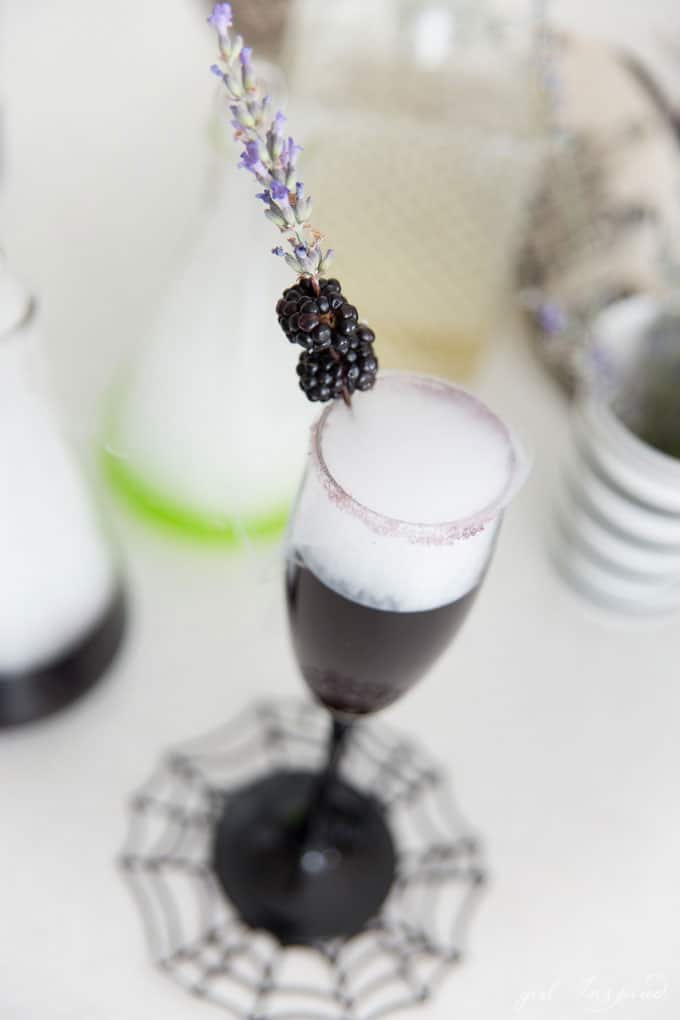 Halloween drinks require two things, I've decided – beakers and dry ice. Who can tell me this isn't the most fun ever??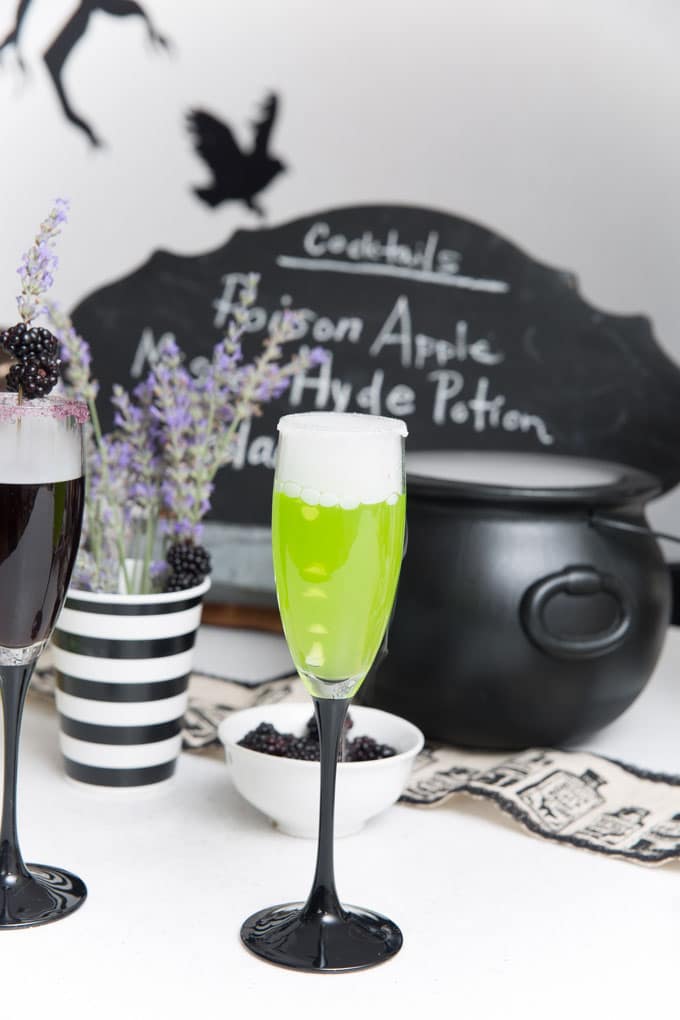 I served a "Poison Apple" cocktail. This was deeeelicious! Yum! Sour apple and orange with vanilla vodka and a splash of champagne – good stuff. If you add dry ice to your drinks, you need only a dime size piece and be sure to tell your guests not to drink until the dry ice is completely dissolved.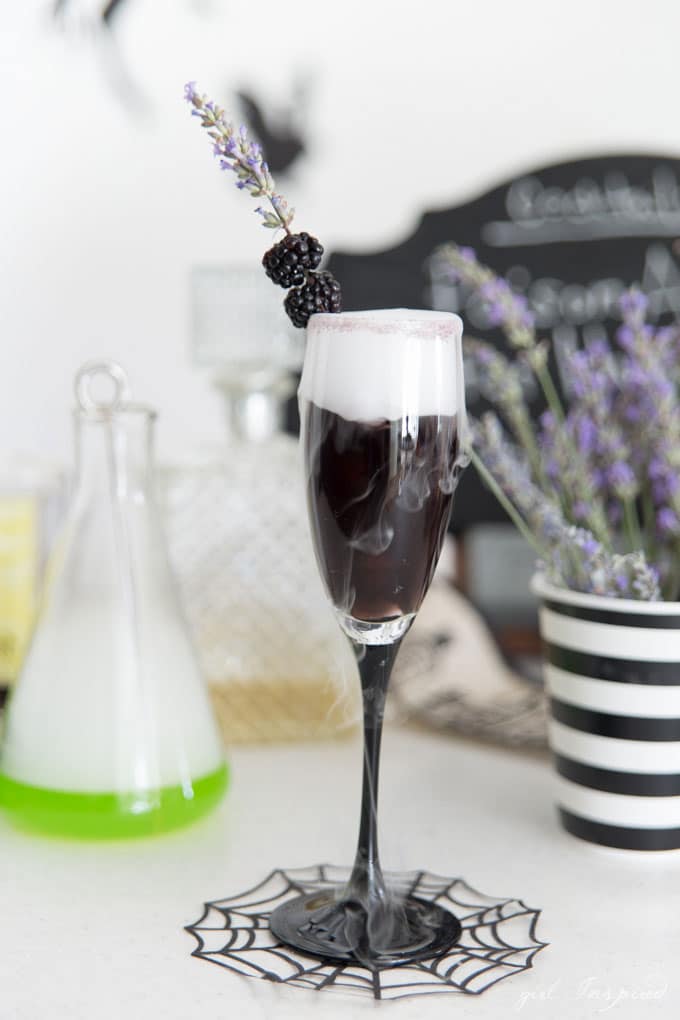 The other cocktail was my favorite and made a great impression! We adapted this recipe for Mister Hyde's Potion. It has a blackberry, herby flavor and looks so so Halloween chic!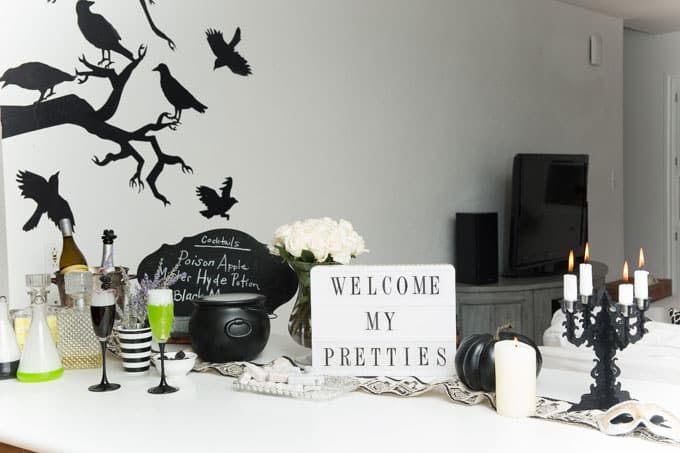 I tried to transfer all of my liquors and simple syrup concoctions into various old liquor bottles/decanters with spooky labels. I love how it adds to the mood. I added the Heidi Swapp lightbox to my party supplies recently and it is so versatile! You can't see the fun glow of "Welcome My Pretties," with my flash pictures, but it was great!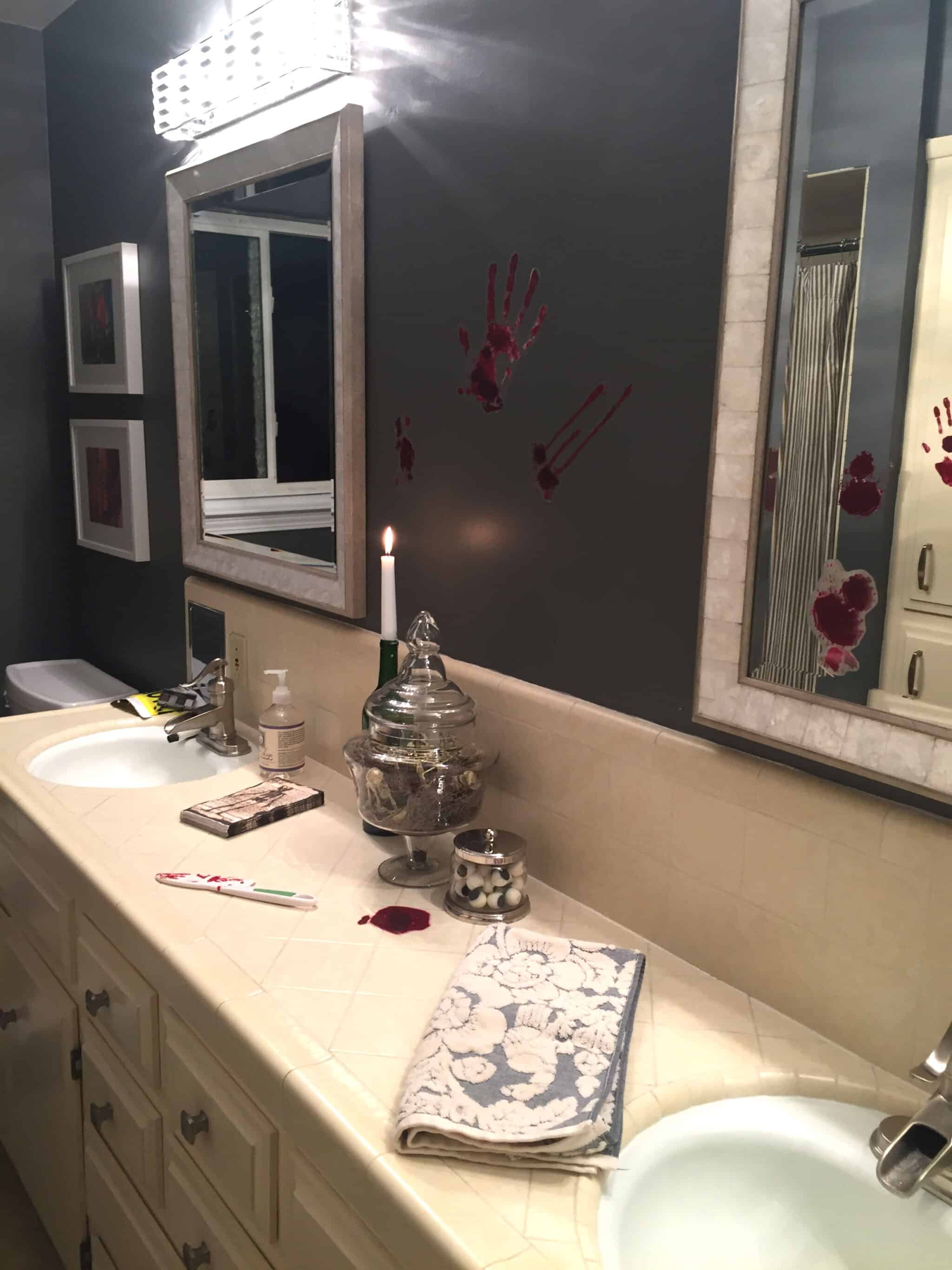 Had to share pictures of the crime scene. My girlfriends are absolutely THE BEST! They came in full masquerade costume and totally played along with all my wild ideas. Have you ever thrown or attended a murder mystery party? I think next time I might need to use a less involved script OR have a co-host. It was a lot to manage all at the same time, but everyone still had SO MUCH FUN!!