Need a festive and fast tablecloth for your next party? I have just the project for you today. You should be able to dress up your table in less than 30 minutes!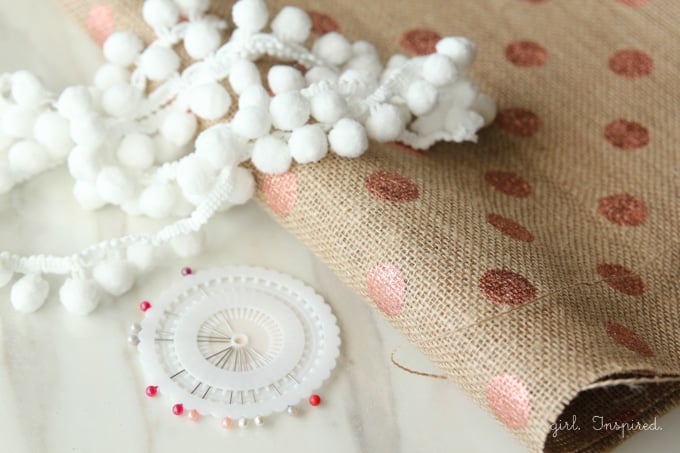 Grab some pom pom trim and fabric and you're ready to go! You will need a piece of fabric large enough to cover your table and drape over the edge by about 5 inches. Piece two lengths together for some added width. You will also need enough pom pom trim to go around the perimeter of the table cover (plus a couple inches for overlap). I found this metallic polka dotted burlap and pom pom trim and Jo-Ann. They have quite a few different printed burlaps right now that I'm loving!
Step 1: On the right side of your fabric, pin the pom pom trim right side down with the ribbon edge aligned with the raw edge of the fabric. Pin all the way around your fabric, overlapping the ends when they meet. Stitch as close to the poms as possible.
Step 2: (Serge or finish the edge of the fabric/trim if you're concerned about the edges fraying on the underside, this isn't necessary with the burlap). Turn and press under the edge and trim to expose the pom poms and create a finished edge. Pin in place if needed.
Step 3: Stitch along the top edge of the fabric, securing the trim and raw edge on the underside. Move the needle position on your sewing machine to stitch closer to the edge.
And DONE! Wasn't that easy? Now go throw a party!
You might also like: