Here's a quick weekend project for you! An easy way to dress up a plain set of sheets – use your sewing machine to add an embroidered dot border across the edge!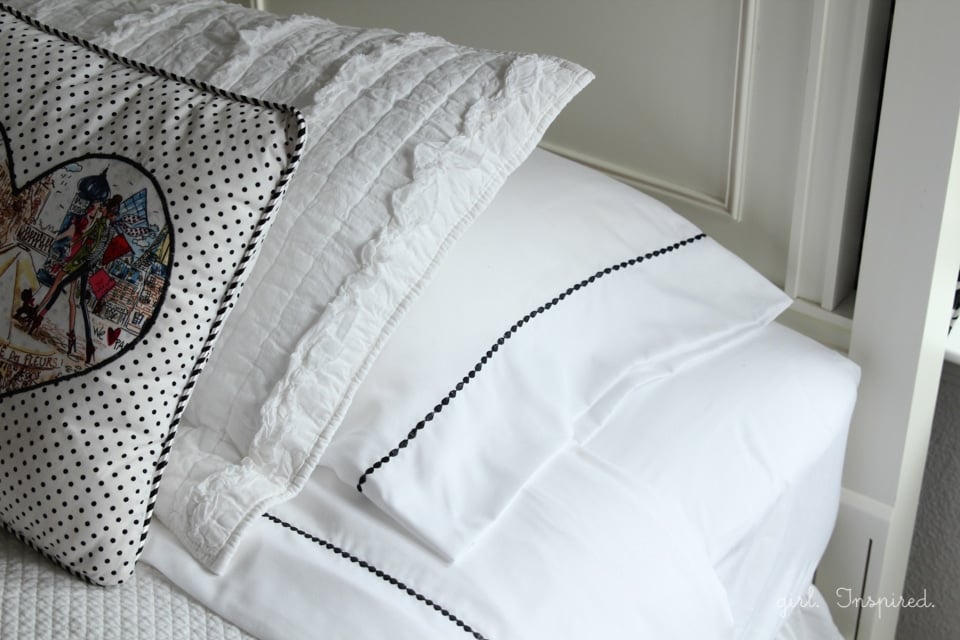 I've used this embroidery stitch on my machine (it's not a fancy embroidery machine, just one of the basic embroidery stitches built in) previously to accent the cuffs and hem of a coat and to embellish this Little Red Riding Hood cape. I LOVE this stitch.
I picked up a new white sheet set for my daughter's bed for about $15.00. Be sure to wash and dry the sheets before embroidering.
Align your presser foot with where you want the embroidery centered. I experimented in a few spots and decided that I liked the dots centered right over that stitch line about 6 inches down from the top of the sheet.
With your colored thread in the needle and bobbin of your machine, and the specific embroidery stitch selected, begin stitching down the line. Let the machine do the work. You can guide it gently to make sure that the sheet doesn't get caught up, but you don't want to pull the sheet through or the stitching will be uneven.
My dots aren't perfectly even, but I don't think anyone will notice except me!
Repeat around the edge of the pillowcase and then press the stitching really well, working out any cinching of the fabric that occurs with the stitching. And that's it! You could add a monogram to the sheets, too, if you have a fancy machine, but I really like the simplicity of these embroidered pearl dot sheets just as they are!
Have a great weekend AND please stop in Monday because I have the giveaway of all giveaways coming for you – you're seriously not going to believe the prize!!