It's Week Four over at
Project Run and Play
. Thank you for all of your votes and support so far. We're past the half-way point now; I'm very excited!! I hope you'll continue to visit over there and
VOTE
!!
This week we're working on Outerwear and I am so, so thrilled with how this outfit came together. While last week's 80s look was a lot of fun, this week's look is much more "me." I called this one "Sunday's Child", like the poem. I just think Olivia looks ready to go to church or a fancy lunch date, or to prance down the sidewalk in the rain, happy and curious, full of joy, as every child should be.
Mondays child is fair of face,
Tuesdays child is full of grace,
Wednesdays child is full of woe,
Thursdays child has far to go,
Fridays child is loving and giving,
Saturdays child works hard for his living,
And the child that is born on the Sabbath day
Is bonny and blithe, and good and gay.
I will let you read the details on the outfit over at Project Run and Play, but I wanted to share a little about the photo shoot here. One of the most stressful parts of this process, for me, has been finding the time to photograph the outfit each week in order to get the post put together for the Project Run and Play team. Between nasty bouts of weather and preset schedules (school…gymnastics…the sun setting), it takes careful planning to go do a photo shoot.
My mom kept the little girls with her so that I could concentrate when I picked Olivia up from school to do these pictures. Liv was really excited because I told her I'd take her to the church where Graham and I got married to take the pictures. The church is old and beautiful, with stained glass, and a busy, small town street in the front. We got out of the car and Olivia just wandered the grounds, twirling her umbrella, and looking every which way to take it in. We had a lot of fun and, in addition to photographing the outfit, I got some great pictures of my little girl.
The blue cotton velvet was the inspiration for this outfit. I love how soft it looks and how plush the coat and hat turned out, with their fancy little embroidery and trim details. And what do you think of the ruffle umbrella? I've been wanting to glue ruffles onto an umbrella for ages! So glad it finally made sense to do it – Olivia loves it!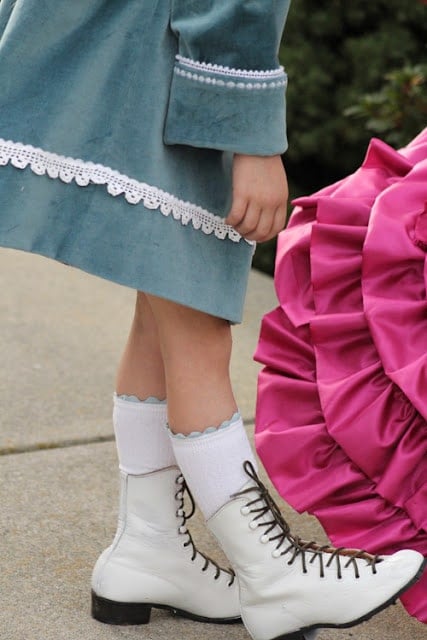 And did you see the boots? From thrift store ice skates??!! Aren't they great?
Olivia got pretty goofy toward the end of our photo shoot. She flashed me some big, sparkly eyes and when I asked her to do it again, she gave me the biggest eyes ever. Silly girl. This picture just makes me laugh.
Alrighty! Thanks for reading through and please go check out what will surely be another spectacular line-up of outfits – go
HERE to VOTE!!!