My kids recently headed back to school which, among other perks, means I get to go shopping ALONE!!! Oh, the glorious minutes of slowly wheeling my cart down the aisles at Target, am I right??! I can now spend ample time in the cosmetics section and during my last trip, I picked out a few new personal products from Target's up & up line. Of course, new cosmetic products require a new cosmetic bag, and I'm going to show you a really quick method to sew yourself one today! Plus, I get to tell you about a few fun products and give away a huge Target GiftCard®, so stick around!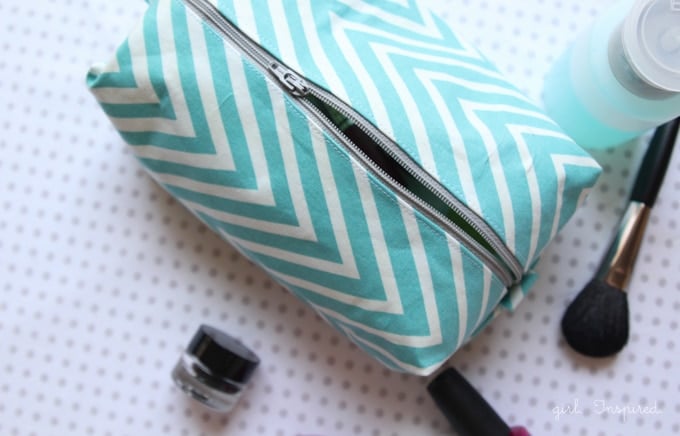 Let's start with the super simple cosmetic bag tutorial! You will need:
main fabric – 12″ x 16″
lining fabric – 12″ x 15.5″
two-sided, sewable fusible web such as Heat 'n' Bond Lite – 12″ x 16″
14″ zipper
small piece of remnant fabric – 7″ x 3″
Step 1: After cutting your fabric pieces to size, follow the package instructions to fuse one side of the fusible web to the wrong side of your main fabric piece. Peel off paper backing.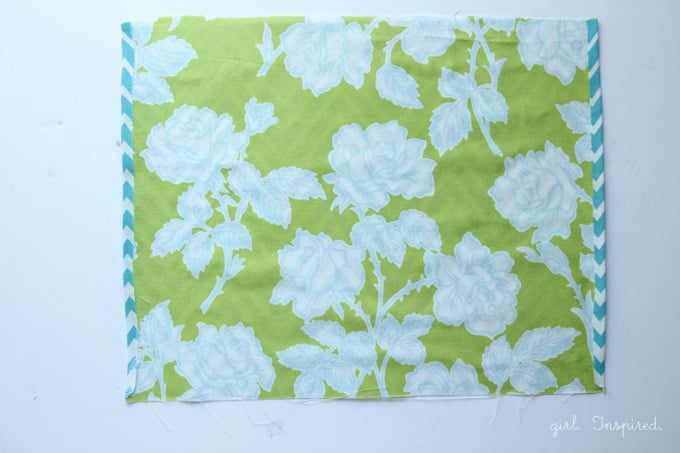 Step 2: Place lining fabric, wrong side down, onto the fusible web/backside of main fabric. Center the lining fabric – you should have about ¼″ excess of the main fabric on each side. Fold the excess main fabric/webbing over the side of the lining fabric and iron (following package instructions) to fuse the two pieces of fabric together. Be sure no excess fusible web comes into contact with your iron. Fuse the two brics across their entire width.
Step 3: Open the zipper. Place the zipper stop approximately ½″ from the top edge of your fused rectangle. The folded edge should lie close to the zipper teeth. Pin in place if desired (I just held it and sewed). With a zipper foot on your sewing machine, sew the fabric piece to the first side of the zipper as shown above.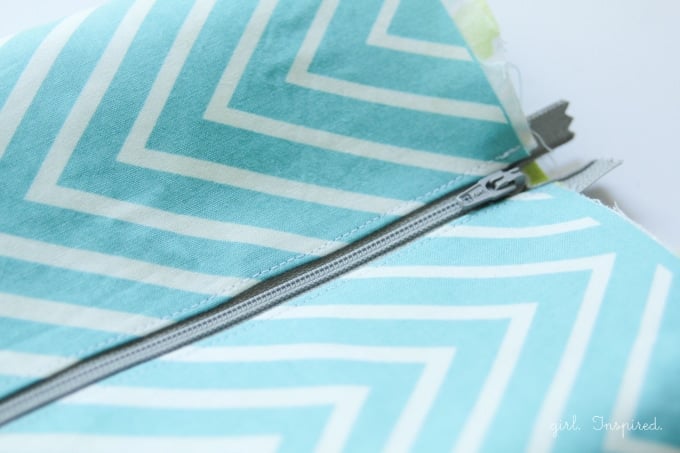 Step 3: Wrap the fabric piece around to form a tube and sew the other folded edge to attach it to the other side of the zipper. You will likely need to have the zipper open to maneuver the project in your sewing machine. Be sure that the top edge of the both sides align so that the zipper is straight.
Step 4: Lay your project flat in front of you as shown above. Measure to center the zipper exactly. Pin the project together to hold the zipper centered in place. Measure 1.5″ along each side from the corresponding corner and make a mark.
Step 5: Using your marks as a guide, cut through both layers of fabric to remove a 1.5″ square from each corner. Set aside for a moment.
Step 6: With your 7″ x 3″ fabric remnant, fold and press it in half along its length. Press each side in to the center crease and refold to form a strip with no raw edges along its length.
Step 7: Edgestitch down each side as shown.
Step 8: Cut the strip into two pieces – one measuring 2.5″, the other measuring 4.5″ in length. Fold the longer strip into a loop and pin it to the top layer of your cosmetic bag, centered over the zipper, and at the end opposite the zipper pull (when closed). Baste in place using a ⅛″ seam allowance. Be sure you sew the loop only onto the top layer with the zipper.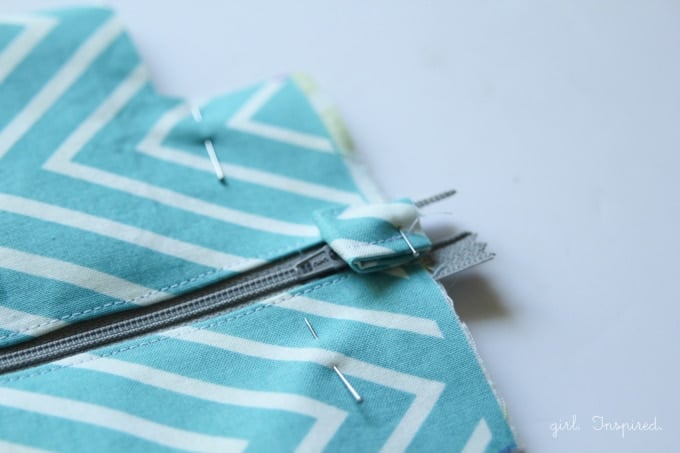 Step 9: Pin the smaller strip in a loop centered over the zipper pull as shown. (Your loop will be slightly larger than the one shown.) Baste in place using a ⅛″ seam allowance. Be sure you sew the loop only onto the top layer with the zipper.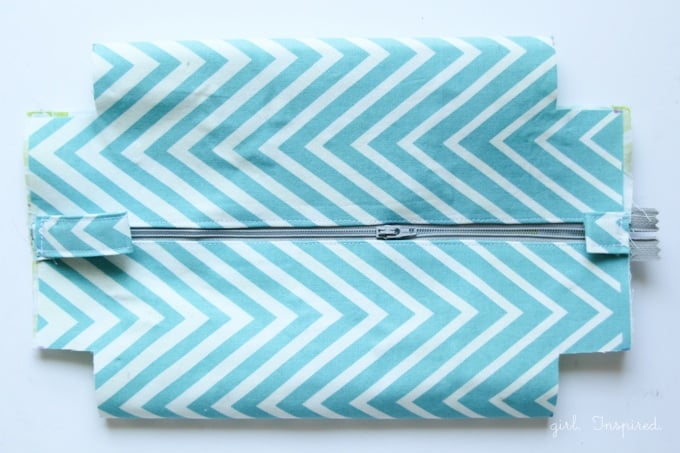 Step 10: Almost done…here's your bag with the tabs basted in place. Now, turn your bag inside out and trip any excess fabric or zipper.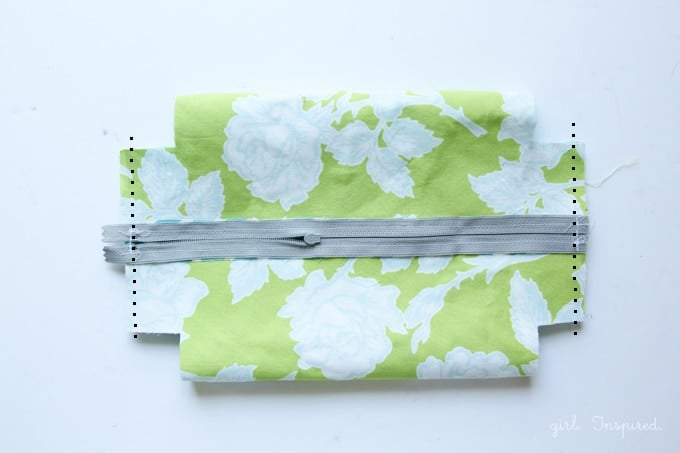 Step 11: Recenter the zipper. Sew using a ⅜″ seam allowance through both layers of the bag along each of the open ends.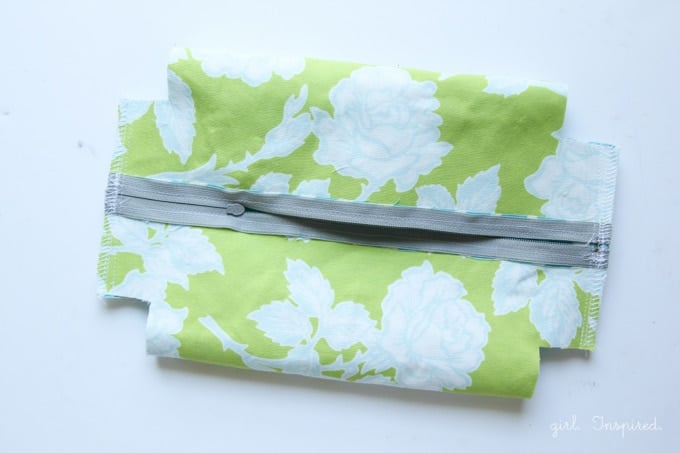 You can serge to finish the raw edges neatly as they will be visible on the inside of the bag.
Step 12: Lastly, open up each cut square around the corners and match the raw edges to form a straight line (they will actually be a tiny bit off because of the seam from the previous step, but it works just fine). Sew to form the boxed of corners. Serge these seams if you wish.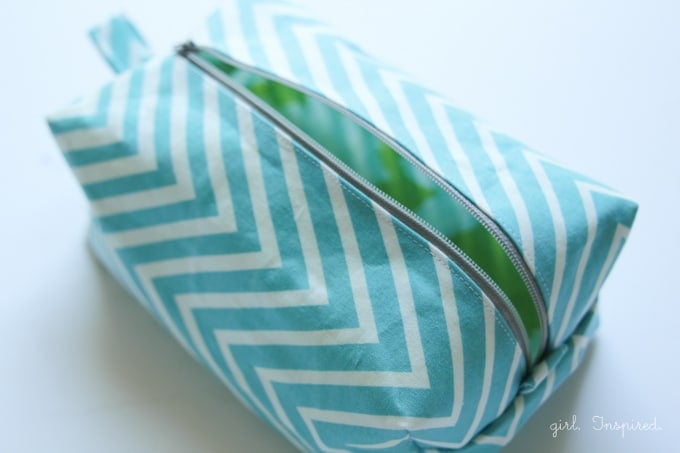 Turn the bag right side out through the open zipper and get ready to fill it up!!
I wanted to share a few of the up & up products with you that I have been enjoying. Do you buy products from Target's up & up line? I've found that Target makes an up & up product for most of the everyday products that I use and the quality is on par with the name brands. I like to save a little money and still get good quality items; I love that I can depend on the up & up brand for this. So, a few new products to introduce to you… These cleansing towelettes for sensitive skin are fabulous! They're thick and plush so I can really wipe my makeup off without worrying about them tearing. They remove waterproof mascara (hooray!!) and are fragrance and oil free. So far, I haven't had any skin reactions to using them and I love having them on hand!
Also, I got my hands on one of these dispenser pumps. Have you ever used one of these? I filled it with nail polish remover and it makes life so much easier!! Seriously love!
Did you know you can buy nail polish drying spray?? I didn't – I thought the nail salons had an exclusive supply! I tried out this up&up nail enamel dryer and it worked really well. The directions say to wait only 1 minute after painting your nails and then give them a spray. My nails were dry to the touch when I tested them about 30 seconds after spraying with the dryer. I would say they still weren't ready for heavy use, but this product will be so handy, particularly for when I paint the girls' nails! The spray has a really refreshing baby powder scent – a nice finish to all the strong chemical smells involved in nail care!
Now that you're all set with your new cosmetic bag and some fun product recommendations to try out, it's time to give away a $100 Target GiftCard®. To be entered to win, just leave a comment below telling me what is your favorite Up & Up product!
Sweepstakes Rules:
No duplicate comments.
You may receive (2) total entries by selecting from the following entry methods:
Leave a comment in response to the sweepstakes prompt on this post
Tweet (public message) about this promotion; including exactly the following unique term in your tweet message: "#OnlyAtTarget" and "#SweepstakesEntry"; and leave the URL to that tweet in a comment on this post
Blog about this promotion, including a disclosure that you are receiving a sweepstakes entry in exchange for writing the blog post, and leave the URL to that post in a comment on this post
For those with no Twitter or blog, read the official rules to learn about an alternate form of entry.
This giveaway is open to US Residents age 18 or older. Winners will be selected via random draw, and will be notified by e-mail. The notification email will come directly from BlogHer via the sweeps@blogher.com email address. You will have 72 hours to respond; otherwise a new winner will be selected.
The Official Rules are available here.
This sweepstakes runs from 9/8-10/22.
Be sure to visit the Target up & up brand page on BlogHer.com where you can read other bloggers' posts!