This delicious cherry bread recipe is quick and so much easier than traditional homemade bread! Each bite is packed with sweet cherries and topped with an almond cherry glaze.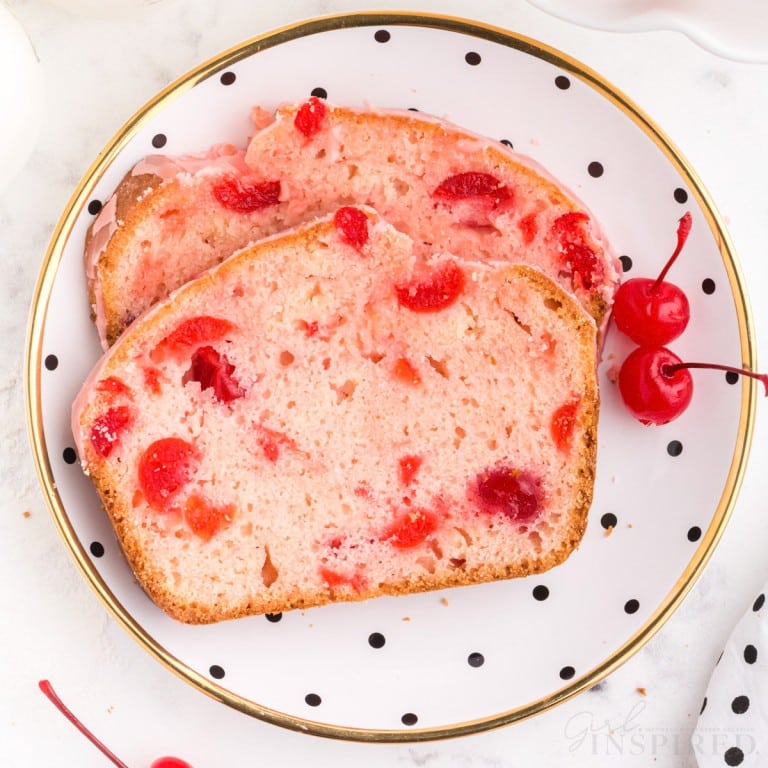 Maraschino cherry bread is moist, delicious, and the color is almost mesmerizing! Each slice is topped with a simple, but sweet glaze and is perfect for serving on special occasions. This is a yeast-free quick bread, so you can start devouring the loaf in just over 1 hour!
There's nothing like the smell of fresh cherry bread straight from the oven! I love how once the loaf is sliced you can see the juicy cherries spread throughout every slice! There's a secret trick to that you know! That's why we sprinkle flour over them, so instead of sinking they stay in place once the batter is poured into the pan.
If you find yourself with leftover maraschinos, use them in this decadent no-bake chocolate cherry pie or Martha Washington candy. You can even garnish your pina colada or tipsy mermaid, if you still have a few to spare. Still inspired to make more breads? We love raspberry lemon or blueberry lemon. Both give off those same refreshing vibes as the cherry.
Why You'll Love This Easy Cherry Bread Recipe
It's festive and perfect for Valentine's Day, Easter, or Mother's Day.
A cherry loaf is great in the summer months because it's light, refreshing, and colorful.
Since it's a slightly sweet bread, you can enjoy a slice for breakfast or an afternoon snack, not just dessert!
🍒 Ingredients:
Bread Ingredients:
granulated sugar
almond extract and vanilla extract – these add quite a bit of flavor to the bread. Almond extract compliments the maraschino cherries exceptionally well. For more cherry flavor (and a bit more color), you can add or swap in the cherry extract as well.
vegetable oil – using oil instead of butter in a quick bread tends to give a moister crumb.
milk
eggs
sour cream
all-purpose flour
salt
baking powder
maraschino cherries and maraschino cherry juice – add that signature flavor as well as color.
Glaze Ingredients:
powdered sugar
heavy whipping cream or milk
almond extract
cherry extract or maraschino juice
Substitutions and Variations:
📋Instructions
PREP: Preheat the oven to 350 degrees.
Step 1: Combine the sugar, almond extract, vanilla, oil, eggs, cherry juice, milk, and sour cream in a large bowl. Whisk until thoroughly combined. (This is your opportunity to get everything mixed because once you add the wet ingredients to the dry ingredients, the bread will become tough if you over-stir.)
Step 2: In a medium bowl, sift together the salt, flour, and baking powder.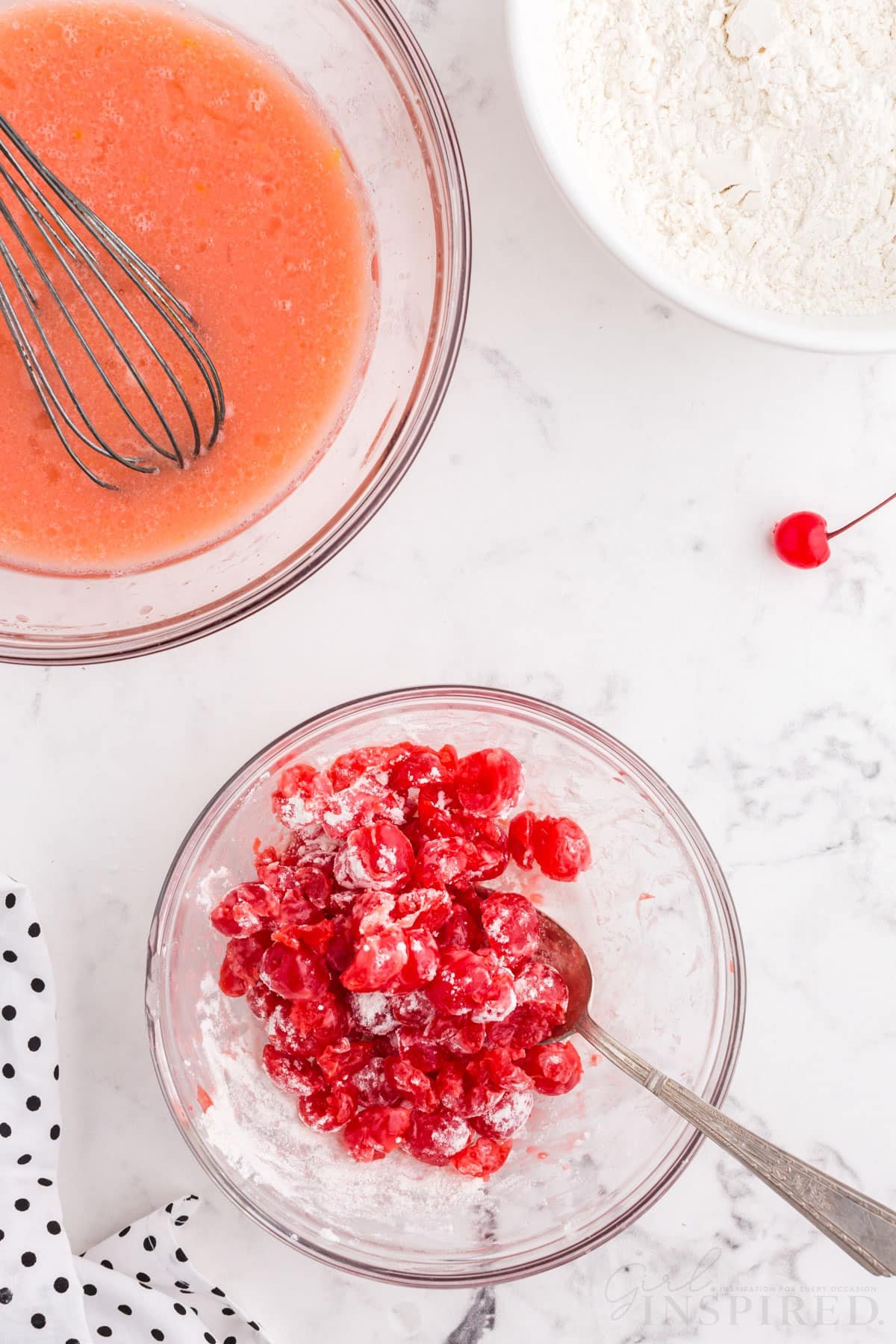 Step 3: Drain the cherries and chop. Sprinkle a couple of tablespoons of flour over the cherries and toss.
Step 4: Stir the dry ingredients into the wet ingredients.
Step 5: Use a rubber spatula to fold in the cherries until mixed.
Step 6: Pour the batter into a greased bread pan.
Step 7: Bake for 45 minutes uncovered, then cover with a sheet of aluminum foil and continue baking for another 15-20 minutes. Remove from the oven and cool for 10 minutes, then transfer to a wire rack.
Step 8: In a small bowl, whisk together the glaze ingredients and drizzle over top of the cooled bread. It will take about 30 minutes to set.
Pro Tip: Wait until the bread has cooled completely before covering it with the glaze or else it will run off the bread.
Using parchment paper makes it super easy to lift the bread out once it's finished cooking versus using cooking spray.
The cherry juice adds a nice pinkish/peach tint. You can also add a few drops of red food coloring.
Tossing the cherries in flour keeps them from sinking to the bottom of the loaf when baking.
We like moving the bread to a wire rack on top of another pan so that when glazing, there's not a big mess to clean up.
Fun Fact
Maraschino cherries were first served in the United States at upscale restaurants and bars.
How to store almond cherry bread?
Wrap the bread tightly with plastic wrap and store it on the counter for 3-4 days or in the freezer for up to 1 month. If you know you are going to freeze the loaf, wait to glaze it before serving.
What defines a quick bread recipe?
Most of the time when you make bread from scratch it requires yeast. This means it has to be proofed, which can be time-consuming. This easy quick bread recipe uses baking powder as the leavening agent, so it's ready after 50 minutes of baking.
More Easy and Delicious Quick Bread Recipes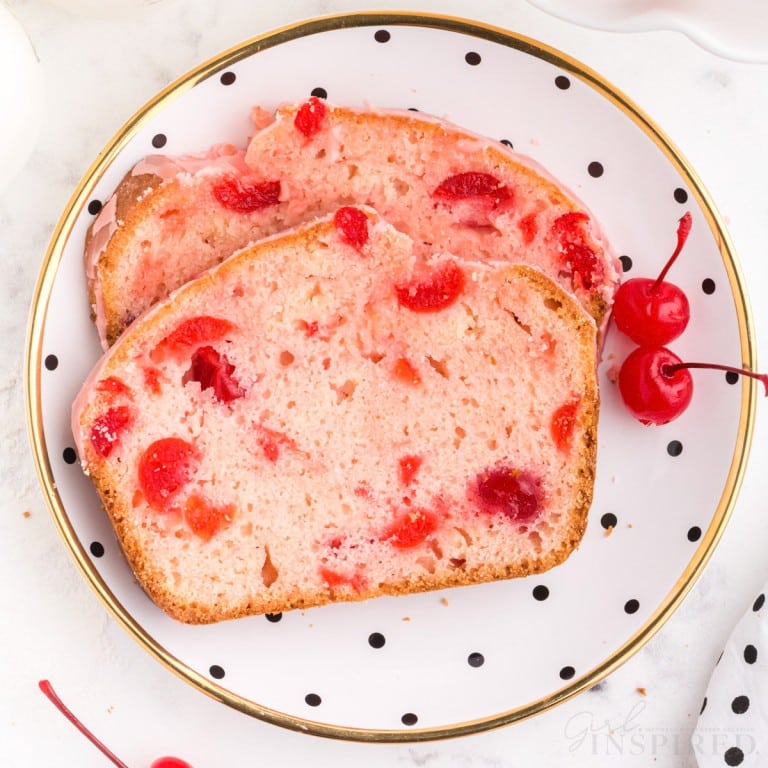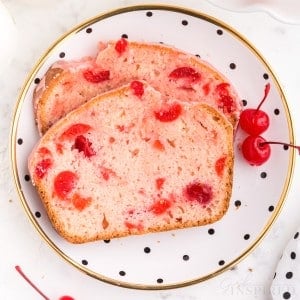 Cherry Bread
This delicious cherry bread recipe is quick and so much easier than traditional homemade bread! Each bite is packed with sweet cherries and topped with an almond cherry glaze.
Ingredients
Bread:
¾ cup granulated sugar
1 teaspoon almond extract
1 teaspoon vanilla extract
½ cup vegetable oil
½ cup milk
¼ cup maraschino cherry juice
2 large eggs
½ cup sour cream
2 cups all-purpose flour
½ teaspoon salt
1½ teaspoon baking powder
maraschino cherries from a 16-ounce jar chopped
Glaze:
1 cup powdered sugar
2-3 tablespoons heavy whipping cream or milk
½ teaspoon almond extract
1-2 drops cherry extract or 1 tablespoon maraschino juice
Instructions
Preheat the oven to 350°F.

In a large mixing bowl, combine sugar, almond extract, vanilla, vegetable oil, milk, cherry juice, eggs, and sour cream. Whisk to combine well.

In a separate bowl, sift together flour, salt, and baking powder.

Drain maraschino cherries from the rest of the juice (you've already used ¼ cup of the juice in the bread batter) and coarsely chop the cherries into halves and/or quarters.

Sprinkle 1-2 tablespoons of the flour mixture over the cherries and toss to combine.

Stir the remaining flour mixture into the milk/eggs mixture. Stir just until wet and dry ingredients are combined – lumps and streaks of flour in the batter are fine.

Gently fold the cherries into the batter to distribute evenly, but do not overmix.

Pour batter into a greased or parchment-lined 9×5 loaf pan.

Bake for 55-60 minutes or until a toothpick inserted into the center of the bread comes out clean. Cover bread with aluminum foil after 45 minutes to prevent it from over-browning on top.

Remove from the oven and cool. (You can turn the bread out onto a wire cooling rack after it has cooled for an initial 10 minutes in the pan.)

Whisk together the ingredients for the glaze. Drizzle the glaze over the bread. The glaze will set, dry to the touch after about 30 minutes.
Notes
Storage: Wrap bread tightly with plastic wrap. Store on the countertop for 3-4 days or freeze for up to 1 month. Notes: The cherry juice will color the bread a pinkish/peach tint. For more color, you can add a couple of drops of red food coloring. You can find cherry extract at most grocery stores if you'd like to add additional cherry flavoring (and a bit more color). Use in addition to or instead of the vanilla extract. The almond extract is perfect with the maraschino cherries. You can add almond extract to the glaze for more flavor, too. Tossing the cherries in the flour will help them to remain suspended throughout the batter as it cooks instead of sinking to the bottom.
Nutrition
Calories: 219kcal | Carbohydrates: 30g | Protein: 3g | Fat: 10g | Saturated Fat: 2g | Polyunsaturated Fat: 4g | Monounsaturated Fat: 2g | Trans Fat: 0.1g | Cholesterol: 27mg | Sodium: 127mg | Potassium: 53mg | Fiber: 0.4g | Sugar: 18g | Vitamin A: 110IU | Vitamin C: 0.1mg | Calcium: 45mg | Iron: 1mg